Tour de France Cycling News, July 23, 2008
Edited by Laura Weislo
Come-back work pays off for Dessel
By Hedwig Kröner in Jausiers
Cyril Dessel (AG2R La Mondiale)
Photo ©: Roberto Bettini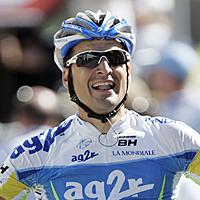 The second French victory at this Tour de France is not only special to the Grande Nation because it was French, but also because stage winner Cyril Dessel has come back a long way to grab his first success at the Grande Boucle. The AG2R rider first came into the limelight at the Tour two years ago, when he conquered the yellow jersey for a day, missing out on a victory only by a hair.
But since then, Dessel was anonymous again. The 2007 season of the Frenchman was a blank one, due to a toxoplasmosis infection which took all of his energy. But Dessel came back in spring, took some of his finest victories in June with stage wins at the Volta a Catalunya and the Dauphiné Libéré, and now added "the cherry on the cake", the French equivalent of the icing.
Coming up on
Cyclingnews will cover the 60th edition of the Dauphiné Libéré live as of stage 4 on Wednesday, June 10, at approximately 15:00 local Europe time (CEST)/ 23:00 Australian time (CDT)/ 9:00 (USA East).

WAP-enabled mobile devices: http://live.cyclingnews.com/wap/
"This victory is very special to me," said an overjoyed Dessel in the finish. "Last year, I was really at the lowest ebb. The Tour de France public was waiting for me because I had done really well the year before, but I just couldn't perform because of my illness. Fortunately, I could count on the support of my family and the team, which allowed me to rest for two months after the Tour.
"In the beginning of November, a long period of hard work started. I had to start over from scratch, basically. During winter, I got the first signs that I was getting better, as I recovered well from the training sessions, whereas the winter before, I was just powerless all the time. The winter was encouraging.
"But the season start was hard again. I was sort of back to form, but I couldn't get any results. I had to be patient, and not doubt my abilities to come back. After all, you don't get back to top shape from scratch in three months."
Evans bullish after Alpine stage
By John Trevorrow in Jausiers
Cadel Evans keeps an eye on the yellow jersey
Photo ©: Roberto Bettini

As expected, the CSC-Saxo Bank threw everything at Cadel Evans and Denis Menchov, but could not shake them on the steep slopes of the 2800 metre Col de la Bonette-Restefond, the highest road in France. Andy Schleck set a damaging tempo in the rarified air, and whittled down the group of contenders to a select few on those moonscape slopes. But while Evans would not crack, Menchov lost a crucial 35 seconds on the treacherous descent into Jausiers
The climb was made hard by Andy Schleck, but aside from the young rider's wicked tempo, neither the yellow jersey, Fränk Schleck nor his co-captain Carlos Sastre made a concerted effort to dislodge Evans.
Instead, Evans seemed intent on putting time into Fränk Schleck on the final descent, perhaps in hopes that Schleck's crash in the Tour de Suisse would have him riding conservatively on the twisty, steep road down to the finish. But he quickly changed his mind and took the lead for most of the lower portion of the descent. "That was a very dangerous. I tried to go with [Samuel] Sanchez but a motorbike got in the way. As it was we caught him just before the finish."
The Australian took something positive away from the day, however. "It was good to take time on Menchov, but tomorrow is the most crucial day. CSC rode an incredible pace for the entire climb and I'm not sure exactly what happened on GC," he said, suffering from dehydration and cramps after the day at high altitude. "Schleck and Sastre are still there. But it's tomorrow that's going to be the mountain stage of the tour."
Evans, who suffered a horrendous crash on stage nine which shattered his helmet into three pieces, was clearly still using his head following the stage finish. This time, it helped keep a pesky cameraman out of the way as Evans tried to make his way through the media scrum to get to his team bus.
Serge, his bodyguard, worked to divert Evans around corners, and he had avoided most of the action until a cameraman propped right in front of Evans, who was still doing about 15 kph. It was like trying to stop a charging bull, and Evans just dropped his head and charged straight through. El Toro!
Vande Velde faces Tour setback
By Gregor Brown in Jausiers
Christian Vande Velde (Garmin-Chipotle)
Photo ©: Roberto Bettini

American Christian Vande Velde's run for the Tour de France's maillot jaune took a major setback when he was gapped off of the group of favourites going up the day's second hors categorie climb of Bonette-Restefond and then crashed on the backside towards the finish.
"It was a bad day and I crashed," said Vande Velde, the Garmin-Chipotle team leader who has until this point ridden a flawless Tour. He lost 2'36" on the other classification contenders and now sits 3'15 back on race leader Frńnk Schleck.
Vande Velde was one of the six riders within one minute of the overall lead heading into Tuesday's stage of Tour ľ 157 kilometres to Jausiers. The work of CSC-Saxo Bank put paid to his chance to win the race's overall on the 25.5-kilometre Bonette-Restefond. He was helped by team-mate Ryder Hesjedal to limit his time loss over the top of the climb, but the work went down the drain when he crashed on the way to the finish.
"I had a lot of help from Ryder [Hesjedal] ľ he did an amazing job. We were really close, I was only 35 seconds behind. Then, on the way down, I crashed along with the Cofidis guy. ... I just crashed through a tight corner; it was my fault.
"We completely lost our rhythm and it took us a while to get going again. We started going again towards the bottom, but at that point we had lost so much time and momentum."
Vande Velde may now have lost his possibility to win the Tour, but he has a chance at a podium position. Russian Denis Menchov joined Vande Velde in those who lost time from the classification favourites. He sits in fifth overall, just ahead of Vande Velde, at 1'13" back from Schleck.
"Anything can happen tomorrow," Vande Velde said of the stage to Alpe d'Huez. "It is not over by any means. There are a lot of guys who are suffering."
Canadian Hesjedal commented that it was the first red mark in the team's check book. He is not concerned with his team-mate's strength with one hard mountain day remaining.
"We did what we could. ... Tactically we did a good job," he said to Cyclingnews. If he could not stay in that group that is the first mark against us. ... I think we salvaged as much as we could given the day."
Augustyn unhurt in spectacular plunge
By Daniel Benson in Jausiers, France
John-Lee Augustyn (Barloworld)
Photo ©: Roberto Bettini

What do Frederico Bahamontes, Robert Millar and John-Lee Augustyn all have in common? Still thinking? Well let Cyclingnews put you out of your misery. All three, and only those three have lead the race over today's final climb of the Col de la Bonette-Restefond. However unlike his esteemed colleagues, the young South African, riding his first Tour de France spectacularly crashed on the descent and was lucky to escape with just minor cuts.
"I could not see how far I was going to fall at one point as it looked like a straight drop. It was so scary and everything flashed before me. I remember sliding across the road, trying to stop and my bike just kept on going," he said on lucky escape.
Augustyn misjudged a bend and was launched up and over the earthen berm at the edge of the road. He then slid down the loose, rocky slope for 30 metres before coming to a stop on a firm boulder.
It was an anti-climactic end after such a promising attack on the last climb. "I didn't have strong legs this morning but as the day went on I started feeling better and better. I was motivating myself the whole time, telling myself I could do it and that's what gave me the impetus to attack."
Augustyn's decisive move came within the final kilometre and he briefly held the lead until being caught on the long and winding descent into Jausiers. "I was holding onto Popo's wheel but I took the wrong line and that's when I crashed," he added. With spectators coming to his aid and despite the wait for a new bike he still felt he could have gone on to take the win. "I was confident, even though they caught me. I could have still won."
Today's mishap was Augustyn's second major crash in the last two years. He crashed heavily in the Tour of Portugal and broke his femur last season.
Popovych fights back from bad form
By Gregor Brown in Jausiers
Team Silence-Lotto's Yaroslav Popovych was a surprise name in the winning breakaway which fought for victory in Jausiers on Tuesday. Hired to the team as a domestique for Cadel Evans, Popovych struggled to stay with his team captain as he fought to defend the yellow jersey. He blamed his bad form early in the Tour on an ill-timed training camp at altitude in June.
His team gave him the latitude to enter the breakaway, and he found the right move at kilometre 42. "It was good because I made the escape," said Popovych to Cyclingnews following the 157-kilometre stage from Cuneo to Jausiers in the Alps.
The Ukrainian went on to fight for the stage win against Cyril Dessel (AG2R La Mondiale), Sandy Casar (Franšaise des Jeux) and David Arroyo (Caisse d'Epargne). Popovych, winner of a stage in 2006, was unfortunately last of the four to arrive. "I provided coverage for the team and I also tried to race a little for myself."
He explained before the stage that he would give his all to help lead Evans off the 23.5-kilometre descent of Bonette-Restefond. He planned to put pressure on race leader Frńnk Schleck and CSC-Saxo Bank team-mate, Carlos Sastre.
"The team gave me the right to try for a stage win. Certainly, if something dangerous happened to Evans I would have waited."
A crash on the previous decent of Col de la Lombarde put some fear into Popovych on the drop into Jausiers. "I was with a lot of strong riders on the descent. I crashed on the first descent and I did not want to risk it on the second one. I wanted to try an attack in the last kilometre."
The finish did not go to plan, just like much of Popovych's Tour de France. He revealed before the stage that he suspects the reason his form is off is that the team's pre-race camp on the high-altitude roads in Italy did not suit him.
"I did the Passo Stelvio camp and, for my body, it was not good to be so far up for one week. Everyday we were riding up and down the climb."
After the Tour, he plans to examine more closely where he might have gone wrong in his preparations.
Hincapie and Hansen: Down but not out
By Daniel Benson in Jausiers, France
Team Columbia tucked behind stage winner Dessel
Photo ©: AFP
With team orders dictating that Team Columbia make the day's break, it was perhaps no surprise America's George Hincapie was one of three riders that made the selection. The versatile veteran was one of the first riders chasing behind the four men who sprinted for the line at the top of the final climb, keen to chase after his second Tour stage victory.
"It was nice to have some freedom to attack but I'm disappointed to have missed out on the win," Hincapie said after the stage.
The Columbia rider was an instrumental character within the break, helping to reduce the lead of the lone escapee, Stefan Shumacher, with the aid of team mates Kanstantsin Siutsou and Marcus Burghardt, before the German was dropped.
"I was feeling good on the last climb but I lost too much time in the last section as it became really steep." Unable to catch the leaders on the descent he was forced to try and chase. In normal circumstances he might have succeeded, but the technical and dangerous roads meant that it was almost impossible.
"There was just no room to come back to them, with too many corners and technical sections. Unless you wanted to risk your life it just wasn't going to happen."
Tomorrow Hincapie and his team will have to do it all again as the race climbs the mythical peak of Alpe d'Heuz. With team leader Kim Kirchen lying seventh overall, 3'23" behind the yellow jersey, the team aren't yet giving up hope.
"We're still committed to Kim and it's not over. Not by a long shot. There's still the time trial and tomorrow to come," added Hincapie's team-mate Adam Hansen.
The young Australian, competing in his first Tour de France and his second Grand Tour of 2008 was optimistic, despite an early set back in the stage.
"I couldn't eat and I paid the price near the end. We had three guys in the front break though so it worked well for us. We didn't get the stage but we rode well. I'll just recover as best I can now and prepare for tomorrow. Hopefully it won't be so bad."
Nibali will keep fighting for white
By Gregor Brown in Jausiers
Vincenzo Nibali (Liquigas)
Photo ©: Roberto Bettini

Italian Vincenzo Nibali lost his grip on the Tour de France leader's group and the maillot blanc that he held for the last four stages. The Liquigas rider fell victim to the pressure of CSC-Saxo Bank's super-domestique Andy Schleck in the mountainous stage to Jausiers on Tuesday. He was dropped on the massive final climb, and came in 3'45" behind his nearest competitor in that classification, none other than Schleck.
"Andy Schleck was firing today just like he showed two days ago," Nibali told Cyclingnews following Tuesday's stage. Nibali now sits six seconds behind Schleck, who worked double-duty in the leaders' group up the Bonette-Restefond for brother and maillot jaune Frńnk Schleck.
"I tried hard to hang in there on the second climb. I could not maintain the rhythm those guys were holding. Up until the last eight kilometres, I was doing well. I had Murilo Fischer helping me out after he dropped back from the escape."
Nibali needs to keep in contact with Schleck throughout the next day's stage to Alpe d'Huez, the final high-mountain run through the Alps. The two are similar in their time trial strengths and the fight for the right to be the Tour's best youngster will be settled on the penultimate day, the 53-kilometre time trial to Saint Amand Montrond.
Basque team still on the hunt
By Hedwig Kröner in Cuneo, Italy
Mikel Astarloza (Euskaltel-Euskadi)
Photo ©: Isabelle Duchesne

The Basque team of Euskaltel-Euskadi is still on the hunt for a stage win at this Tour de France. Unlucky in its home region of the Pyrenees, the orange-clad outfit now hopes to vindicate itself in the Alps.
"Together with Samuel Sanchez, we're well-placed on the general classification," said Mikel Astarloza, one of the squad's leaders, to Cyclingnews before the start of stage 15 in Embrun on Sunday morning. "But our main goal is to win a stage, which we haven't achieved yet. So we will continue trying in the Alps."
Euskaltel had one of its riders, Egoi Martinez, in the four-man break heading towards Prato Nevoso in Italy. But Martinez lost out to Simon Gerrans' track-like racing tactics in the final sprint and finished second.
"We will try again, also with Samuel," continued Astarloza. "For the team, it's great if we can hang onto our overall placings or improve them, but a stage win has even more value. In this way, we have two goals. Sanchez' goal is to finish top five in Paris, but also to win a stage."
The former AG2R rider was happy to share the responsibilities with a team-mate rather than being a lone leader. "This way, both of us have less pressure. We're happy with how the Tour went for us so far, but we still miss a victory."
Astarloza was happy to take a break from the race during the rest day in Cuneo, Italy. "I do feel tired, that's only normal," he said. "We've come to the third week now, and it starts to get harder. But for the moment, everything is fine. It's good that we've come to the Alps now; I like the Alps better than the Pyrenees. From my time with AG2R, I know these mountains very well. The climbs are longer, less steep, so they are a bit less demanding. They suit me better, too, as I'm a tall guy."
With two high mountain stages on the menu for Tuesday and Wednesday including the event's queen stage up the 21 hairpins of L'Alpe d'Huez - the fantasy of every climber, including Astarloza. "If I could choose which stage I'd like to be in front, I'd take L'Alpe d'Huez. It'll be the most difficult stage of this Tour, and it's a mythical mountain. If you ask me to dream, then I'd dream about that..." he said.
Knowing that many others will ride hard to the summit that day, the Spaniard predicted a fast race that day, decisive for the overall classification. Yet he hoped to come out of the Alps in a good enough condition to excel in his other specialty: the race against the clock. "Normally, I'm quite a good time triallist," continued Astarloza. "It's true that my performance at the first time trial of this Tour wasn't so great. I was a bit disappointed that day, as I was on one level with all the other GC contenders [he finished 27th 1'42 behind winner Stefan Schumacher - ed.].
"I had hoped to gain some time on them that day. Now, I think about the last time trial to move up on the classification. It's longer, too, so it should be good for me. In theory, it's my specialty, so it should be a good opportunity to gain some time."
Finally, the Spaniards's ambitions are realistic, and he is does not measure his performance in terms of his final raking in Paris. "Whatever the outcome of this Tour, I will be satisfied," he said. "I say this in the sense that I always give everything that I have, so there's no reason for regrets. Which means that the final result is not so important. Sure, I would like to improve my ninth placing of last year, but my dream is to win a stage. I'm a rider who doesn't win very often, unfortunately, so a victory at the Tour would be absolutely amazing. Unfortunately, it's also the most difficult to achieve!"
Your chance to win in the Cyclingnews-Felt TdF competition!
You can win this!
Photo ©: Felt
Here's your chance to win some great prizes while the 2008 Tour de France is underway, featuring a prize roster of kit that is being tested in the world's greatest bike race by some of the world's leading cyclists.
Our lead prize is the 2009 model Felt AR road frame, currently being ridden in the Tour de France by members of the Garmin-Chiplotle professional cycling team, as well as supplementary prizes from Craft - manufacturer of team clothing to CSC-Saxo - and eyewear from BBB, supplier to Team Barloworld.
The US-based Felt Bicycles is becoming one of the world's leading bicycle manufacturers, with its bikes now being raced by the USA's Garmin-Chipotle in the 2008 Tour de France. The team are riding the 2009 model Felt AR, which combines Felt's expertise in time trial and track bike technology, while maintaining the necessary ride and handling characteristics of premium road bikes.
But wait! There's more. All entrants in the Cyclingnews-Felt 2008 TdF competition will also go into the draw to win great supplementary prizes from our friends at Craft and BBB. Cyclingnews also has four 2008 model Team CSC jerseys, designed and made by Craft, one of the world's leading technical clothing manufacturers, as well as 10 sets of BBB's BSG-29 Attacker eyewear, the exact eyewear used by riders from Team Barloworld in this year's TdF.
Our thanks to our friends at Felt, Craft and BBB for providing such awesome prizes. Hurry and enter now to be in the draw. Good luck!
Stage video highlights and podcasts
Just can't get enough of the Tour? Well fear not because Cyclingnews has expanded its coverage once again this year to bring you video highlights of every stage plus daily podcasts courtesy of Bikeradar.com and Procycling magazine.
Our video comes directly from Tour de France owners Amaury Sport Organisation (ASO), and will be online shortly after the finish of each stage. We've also got highlights from classic Tours of the past so click here to see the full archive.
Check out the podcasts page in our Tour de France section for a full round-up of news and views from the Tour.
(All rights reserved/Copyright Future Publishing Limited 2008)