Latest Cycling News, July 21, 2008
Edited by Ben Abrahams
Every second counts
Frńnk Schleck (CSC-Saxo Bank) heads into the final week with a close lead of seven seconds
Photo ę: Roberto Bettini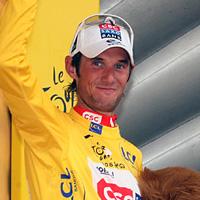 In the most suspenseful Tour de France for years, there are still six riders within a minute heading into the race's final week. The top three are separated by a mere eight seconds. Before the final showdown in the Alps, the riders spend their second rest day in neighbouring Italy. Cyclingnews' Bjorn Haake and Shane Stokes reflect on the week that was and look ahead at what is still to come.
Cadel Evans (Silence-Lotto) lost his one-second lead to Frńnk Schleck (CSC-Saxo Bank) in the first Alpine stage. But Evans is hardly out of contention, sitting just eight seconds back. Nonetheless the Australian has dropped to third as Bernhard Kohl (Gerolsteiner) moved up into second place. Kohl is only seven seconds adrift from the older of CSC-Saxo Bank's Schleck brothers. It can't get much more suspenseful than this.
Three more riders are still within reach of the yellow jersey, with fourth placed Denis Menchov (Rabobank) still sitting pretty at 38 seconds back. Menchov rode into Italy strongly, despite a crash on the lower slopes of the Prato Nevoso. American Christian Vande Velde (Garmin Chipotle - H30) is another general classification hopeful, sitting just one second further back in fifth place. Even Carlos Sastre (CSC-Saxo Bank) in sixth can still dream of yellow, being only 46 seconds back. By all accounts the little Spanish climber gets better in the third week.
Coming up on
Cyclingnews will cover the 60th edition of the Dauphiné Libéré live as of stage 4 on Wednesday, June 10, at approximately 15:00 local Europe time (CEST)/ 23:00 Australian time (CDT)/ 9:00 (USA East).

WAP-enabled mobile devices: http://live.cyclingnews.com/wap/

What makes the scenario especially interesting is the fact that the sextet is divided right down the middle. Schleck, Kohl and Sastre are from the mountaineering department. Evans, Menchov and Vande Velde are really strong against the clock. But none of them are slackers in their weaker discipline, either.
A big doping scandal prevented last week from becoming as quiet for the general classification contenders as they had hoped for. Riccardo Ricc˛ (Saunier Duval-Scott) returned a non-negative A sample from the time trial in Cholet, which led to the Italian being thrown out of the race before Stage 12 started. In fact his entire team left the race, with fellow stage winner Leonardo Piepoli reportedly revealing to team management later that it was he who supplied Ricc˛ with the third generation EPO substance. Both riders have since been sacked from the team.
Read the complete rest day wrap-up.
Bettini on track for Beijing
Bettini at the Tour of Austria
Photo ©: Klaus Titzer

With the Olympic road race in Beijing now less than three weeks away, world champion Paolo Bettini continues to fine-tune his form for the last major goal of his career. On Sunday in Pescara, Bettini took the 63rd Trofeo Matteotti in a five-man sprint and said his form is progressing well after a training camp in the mountainous Abruzzo region of central Italy. Prior to that, the Italian had taken his first victory of the season on stage one of the Tour of Austria.
"The Matteotti race is the conclusion of a very intense training cycle we've been undergoing recently on the roads of Abruzzo," said Bettini. "We feel good and our pedalling is improving day by day. It was definitely a good test considering the distance and the temperature, which remained steady at about 35 degrees."
Bettini will now finish his Olympic preparations at the Tour de Wallonie in Belgium from July 26-30. He will then fly to Spain to compete in the Clásica San Sebastián on August 2, his final race before flying out to China.
Martínez rues missed opportunity
By Monika Prell
Martínez was left behind in the final sprint
Photo ©: Roberto Bettini

Spaniard Egoi Martínez was left wondering what might have been after spending all day in the break on stage 15 of the Tour de France and then losing the final sprint to Australian Simon Gerrans. Martínez was widely tipped as the strongest of the quartet that escaped on the road to Prato Nevoso, but the seventh year professional couldn't shake Gerrans or American Danny Pate on the final climb.
The Euskaltel rider was given the most aggressive award for the stage, but after descending from the podium with tears in his eyes claimed that Gerrans had said he would not contest the victory if they arrived in Prato Nevoso together. "Fifty kilometres before the finish Gerrans began to say that he was not in good form, that he lacked strength, and that he would not be able to fight for the stage victory," Martínez told Spanish newspaper Marca.
"Gerrans said that he would settle for reaching the finish line with me and being second. So when he was not able to follow on the ascent to the Prato Nevoso, we waited for him."
Regardless of whether any deal existed between the breakaway riders, as Martínez claimed, the Spaniard realised that such a great chance to win a Tour de France stage was unlikely to come his way again. "I committed a fatal error, and I have paid for it very dearly," he said.
'Obvious' EPO positives being ignored by WADA
A report by the BBC has claimed that the World Anti-Doping Agency (WADA) is failing to catch a large number of athletes using the banned blood booster EPO due to a flawed criteria by which samples are declared positive. The report also highlights the growing problem of bio-similar EPOs - those which have a slightly different molecular fingerprint to regular EPO and therefore may not produce a positive sample under WADA's current criteria.
According to Dr Rasmus Damsgaard, an anti-doping expert who oversees the internal testing programs for both CSC-Saxo Bank and Astana, WADA laboratories are sitting on "a mountain of positive EPO" from athletes that have not failed a test. Dr Damsgaard inspected the electronic profiles, or gels as they are known, of five samples declared negative by a WADA laboratory, and said they showed clear signs of EPO being present.
"It was very obvious that the gels were very un-natural or very different from natural distributions," Damsgaard told the BBC. "But I also saw that they were declared negative because they didn't fulfil the WADA criteria of a positive test; although they looked suspicious and had no natural bands at all, they were still declared negative.
"WADA is sitting on a mountain of positive EPO. They have these very strict rules, and declare that everything is working fine. But it's not working at all! You can more or less do whatever you like with EPO and you will not be charged."
German anti-doping expert Professor Werner Franke, well known for his stance against Jan Ullrich and the former T-Mobile team, said the large number of bio-similar EPOs makes it difficult to formulate a single test to detect all of them. "There are now a number of compounds that bind to the EPO receptor, and there is no single test for them," Franke told the BBC. "You can order it here over the internet and it will be delivered to you here in the UK or in Germany; Chinese-made doping substances."
Following the failed doping test by Riccardo Riccò at the Tour de France, who was reported to have been using a new form of EPO called Micera, WADA spokesman Frédéric Donzé told Cyclingnews that his agency was aware of new EPOs coming onto the market.
"WADA is very much aware of the development of new EPOs and bio-similar EPOs in an expanding market," Donzé said. "A number of these new EPOs and bio similar EPOs are well known and can be detected through current tests."
Moreover, WADA's scientific director Dr Oliver Rabin said he was "reasonably confident" that any athlete using EPO at the upcoming Olympic Games in Beijing would fall foul of anti-doping controls.
"It would be very presumptuous on my part to say that we are absolutely 100 percent sure we are going to get everyone," Rabin told the BBC. "But I can assure you that if you were to take recombinant EPO and that would be in your urine - then, yes, we would detect it."
Sylvain Chavanel's Tour diary - Chasing that elusive stage win
You probably saw that I attacked the peloton yesterday with eight kilometres to go, but I couldn't prevent a bunch sprint in the end. I waited for a long time to jump away - I didn't attack early at all, like the day beforehand. But again, I was out there on my own... Sometimes I ask myself whether I attack too fast or why is it that nobody ever follows me? Just joking!
But it's really hard to understand sometimes. You get these phenomenons like Liquigas pulling for Pozzato, even though he finished in like 20th position. Since the start of the race, they've been at it, chasing hard every day even though the guy never does anything! As Cavendish had already exploded on the climb, Columbia chased for Ciolek, but he didn't succeed in the sprint. So it was sort of frustrating darting for the line once more, and losing out again. I've been trying for a stage win three times now, and that is not counting the stage to Super Besse, which really was a mission impossible.
Read the rest of Chavanel's Tour diary.
Milram and Gerolsteiner for upcoming races
With the Tour de France currently dwarfing everything on the international calendar, it's easy to forget there are two stage races starting this Wednesday. In Germany the Sachsen-Tour (Tour of Saxony) kicks off from Dresden for five stages and a total of 795 kilometres including and individual time trial on stage four.
The Brixia Tour, in the north of Italy, spans the same five-day period but is marginally longer at 814 kilometres with six stages in five days. The opening day features a 150-kilometre road stage followed by a 12.3 kilometre team time trial. Both Milram and Gerolsteiner will send teams to both events.
Milram for Sachsen-Tour: Alberto Ongarato, Artur Gajek, Christian Kux, Dominik Roels, Enrico Poitschke, Martin Velits and Sebastian Schwager.
Milram for Brixia Tour: Luca Barla, Sergio Ghisalberti, Andrey Grivko, Matej Jurco and Elia Rigotto.
Gerolsteiner for Sachsen-Tour: Thomas Fothen, Johannes Fröhlinger, Tim Klinger, Volker Ordowski, Stephan Schreck, Carlo Westphal and Peter Wrolich.
Gerolsteiner for Brixia Tour: Mathias Frank, Oscar Gatto, Davide Rebellin, Matthias Ruß, Oliver Zaugg and Markus Zberg.
Dirk Demol to Astana
Belgian directeur sportif Dirk Demol will leave his position at Quick Step and re-unite with old colleague Johan Bruyneel at Astana, according to the Belga news agency. Demol, the 1988 Paris-Roubaix winner, previously worked with Bruyneel at US Postal Service and then Discovery Channel before moving to Quick Step after Discovery disbanded in August 2007. The move brings an end to Demol's association with Tour of Flanders winner Stijn Devolder, who is likely to remain with Quick Step next season.
Tour of Colorado loses final event
Organisers of the Santa Fe Trail Stage Race, the final round of the Tour of Colorado, have cancelled the two-day event scheduled to take place from August 30 - September 1. The North Boulder Park Criterium on August 17 will now be the final event in the Tour of Colorado series.
Besides the closing criterium, there are two other events in the Tour of Colorado. This coming weekend sees the The Salida Omnium from July 25-27, comprised of a time trial, road race and downtown criterium. It also forms the ACA Senior Colorado Road Championship Race and the State Games of the West.
Next up is the Gateway Canyons Road Cycling Festival from August 8-10. The August 8 time trial is the Colorado USCF State Time Trial Championship and the August 10 road race, the Unaweep Canyon Classic, is the Colorado US Cycling Federation's State Road Race Championship.
Your chance to win in the Cyclingnews-Felt TdF competition!
You can win this!
Photo ©: Felt
Here's your chance to win some great prizes while the 2008 Tour de France is underway, featuring a prize roster of kit that is being tested in the world's greatest bike race by some of the world's leading cyclists.
Our lead prize is the 2009 model Felt AR road frame, currently being ridden in the Tour de France by members of the Garmin-Chiplotle professional cycling team, as well as supplementary prizes from Craft - manufacturer of team clothing to CSC-Saxo - and eyewear from BBB, supplier to Team Barloworld.
The US-based Felt Bicycles is becoming one of the world's leading bicycle manufacturers, with its bikes now being raced by the USA's Garmin-Chipotle in the 2008 Tour de France. The team are riding the 2009 model Felt AR, which combines Felt's expertise in time trial and track bike technology, while maintaining the necessary ride and handling characteristics of premium road bikes.
But wait! There's more. All entrants in the Cyclingnews-Felt 2008 TdF competition will also go into the draw to win great supplementary prizes from our friends at Craft and BBB. Cyclingnews also has four 2008 model Team CSC jerseys, designed and made by Craft, one of the world's leading technical clothing manufacturers, as well as 10 sets of BBB's BSG-29 Attacker eyewear, the exact eyewear used by riders from Team Barloworld in this year's TdF.
Our thanks to our friends at Felt, Craft and BBB for providing such awesome prizes. Hurry and enter now to be in the draw. Good luck!
Stage video highlights and podcasts
Just can't get enough of the Tour? Well fear not because Cyclingnews has expanded its coverage once again this year to bring you video highlights of every stage plus daily podcasts courtesy of Bikeradar.com and Procycling magazine.
Our video comes directly from Tour de France owners Amaury Sport Organisation (ASO), and will be online shortly after the finish of each stage. We've also got highlights from classic Tours of the past so click here to see the full archive.
Check out the podcasts page in our Tour de France section for a full round-up of news and views from the Tour.
(All rights reserved/Copyright Future Publishing Limited 2008)