Tour de France Cycling News, July 16, 2008
Edited by Laura Weislo
Evans expects tough battle ahead
By John Trevorrow in Pau
Cadel Evans reads the newspaper
Photo ©: AFP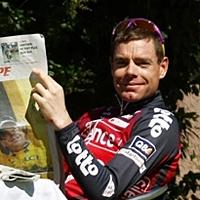 The new leader of the Tour de France, Cadel Evans, was brought out to an impressive display put on by his Silence-Lotto squad for the rest day press conference on the outskirts of Pau. Held outdoors in brilliant sunshine at the team hotel, he emerged to the sounds of the Australian band 'Midnight Oil', to take his seat at a table decorated with the toy lion draped in the Maillot Jaune and the garlands of flowers that are presented to every recipient of the yellow jersey every time they win or defend it.
Team manager Marc Sergeant welcomed the guests and recalled the somewhat idyllic first week. "I remember more than a week ago that our goal was to have the yellow jersey in Paris and it still is. Every day it went perfectly and we didn't lose time. Cadel rode a perfect race, he didn't lose any time were others did. But then came Sunday and the crash.
"[It was] a bit of shock, I remember coming into the hotel that evening and being relieved that nothing was broken, only bad bruising. Yesterday Cadel was great. He didn't not only survive the race but he took the yellow jersey. I think it's a dream come true for him and the team."
But both Sergeant and Evans know that his one second lead over CSC-Saxo Bank's Fränk Schleck will set up a fierce battle to keep the yellow jersey. "For the next couple of stages it will be very hard - we know but we have to be strong we have to be smart and tactics will be very important. But I think we have the team for it. Some may have some doubts but yellow in Paris is still our goal and we are determined."
Evans said that he made a calculated effort to take the overall lead. "I was making some calculations on the climb and I thought if we hit out in the final 500 metres I may get yellow - and here we are with yellow jersey," but conceded it might have been better to let CSC have the jersey.
"CSC are strong, perhaps the strongest, and they rode a good tactical stage with Cancellara in front, and I have always considered them one of the strongest teams. ... they certainly have strength in numbers. They took advantage of that yesterday and it made it difficult but also to our advantage at times.
The yellow jersey is proudly displayed
Photo ©: AFP

"It will be tough to defend the jersey. But there are five riders within a minute and a few including the Saunier Duval guys, not much further back. This Tour has along way to go and, with it being so close, fifth will be worrying about fourth and so on."
"I still feel my biggest threats are [Rabobank's Denis] Menchov and Fränk Schleck as well as [Carlos] Sastre. These guys are proven three week performers." One thing is for sure, said Evans, Schleck will not be repeating his performance which won him the Alpe d'Huez stage in 2006. "Put it this way, we're not going to let him go away in a breakaway like he did in 2006."
Evans' ascent into yellow was made even more remarkable by the fact that he crashed the previous stage and was badly scraped and bruised. But Evans expects those injuries to get better quickly. "I was still a bit sore this morning. But the bruising and swelling are going down. I reckon it will take about 48 hours. It's getting better each day."
Coming up on
Cyclingnews will cover the 60th edition of the Dauphiné Libéré live as of stage 4 on Wednesday, June 10, at approximately 15:00 local Europe time (CEST)/ 23:00 Australian time (CDT)/ 9:00 (USA East).

WAP-enabled mobile devices: http://live.cyclingnews.com/wap/

Evans said that it is after the stage when his injuries cause him the most problems. "It's actually the trapezius that is causing the most trouble (a muscle on the upper back). You don't realise how many people want to pat you on the back until you have a problem. Then it becomes a major issue."
While he stood on the second step of the final podium in Paris last year, it was the first time he'd taken the yellow jersey, and he admitted to making a faux pas at his first Maillot Jaune presentation.
"I left the podium on the wrong side, not realising I was supposed to go the other way and shake hands with some important people. I was in trouble with Bernard Hinault," he said. "Next time I'll get it right. I was too busy looking at all the Aussie fans and their flags.
"But the best part was that I got a helicopter ride home. The Pyrenees are very scenic from up there."
Schleck must attack for a podium finish
Riis estimates Schleck and Sastre need three minutes on Evans
By Brecht Decaluwé in Pau, France
Fränk Schleck is one second from yellow
Photo ©: AFP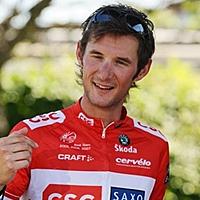 The CSC-Saxo Bank team narrowly missed out on gaining the yellow jersey after an impressive offensive on the slopes of the Col du Tourmalet and the later the climb of stage ten to the Hautacam ski resort. With Fränk Schleck now just one second behind new maillot jaune Cadel Evans, the team will look to the Alpine stages to launch its next big push to seize the Tour de France lead.
"One second is nothing. Close your eyes and open them again, that's the difference," Fränk Schleck said. The Luxembourg champion survived a frightening crash during the fifth stage of the Tour de Suisse, but wasn't planning on taking his rival down during one of the next stages. "I'm not going to crash Cadel Evans to get the jersey," Schleck joked, but knows that gaining that single second back on Evans will not be easy.
"Does anybody know an option to win a second on him? I've always dreamed about winning the Tour de France and now I'm only one second away from wearing the yellow jersey. There's still ten days to try and get it."
The Danish team went into the Hautacam stage with its three leaders, Carlos Sastre, and brothers Fränk and Andy Schleck, clustered at tenth, eleventh and twelfth overall, but more than a minute and a half down on Evans who was then second on the overall classification.
Director sportif Scott Sunderland told Cyclingnews that CSC had marked the tenth stage as the day where they would "put the hammer down" and try to break up the race. The high pace on the Col du Tourmalet set by Jens Voigt dislodged Caisse d'Epargne's GC hopefuls Alejandro Valverde and Oscar Pereiro as well as Lampre's leader Damiano Cunego.
The surge also cost the CSC team one if its leaders when Andy Schleck failed to keep the pace of the main group of contenders and conceded nearly nine minutes to the stage winner. He will now have to settle for a role as lieutenant, while Sastre and 28 year-old Fränk Schleck are now the team's major contenders for the general classification.
Looking back on the climb to Hautacam, Fränk Schleck explained that he probably used too much energy to jump away from the Evans group in order to take the yellow jersey. "When I went with Piepoli it was really hard. I paid for that in the end. I had to let go off them as I was 'à bloc'," Schleck said he was riding on his limit.
Freire on point for maillot vert
By Gregor Brown in Pau
Triple green on the podium
Photo ©: Isabelle Duchesne

Team Rabobank's Oscar Freire, known for sprinting to four world titles and two Milano-Sanremo wins, pulled double duty in one of the most demanding mountain stages of the Tour to take points towards the maillot vert and help team-mate Denis Menchov's classification fight.
"The team stated we needed a rider in front for Menchov and I thought that it would also be good for me because I need the points," said Freire following Monday's 156-kilometre stage ten which passed over the climb of Col du Tourmalet and finished on top of the Hautacam.
Freire was four points back in the maillot vert points competition going into the high-mountain Pyrénéan stage. The sprints in Lamarque-Pontacq and Pouzac – before the Col du Tourmalet – allowed him to gain 12 more points and take the green top. His move, with six other riders, also gave Menchov a man 'up front' if the Russian became isolated.
"I was also there for Menchov; if he flatted I could drop back to give him my tire and or if he needed a team-mate I could easily sit up," continued Freire, who is more accustomed to following the wheels of rivals in bunch sprints and then pouncing for wins.
Freire even managed to survive in the escape over the Col du Tourmalet.
"I feel better every day. I now have the green jersey and Menchov is in front. We still have two weeks. The Tour is not easy and it is very complicated, but it has been okay up until now."
The first week of this year's Tour de France was more complicated than normal for Freire, who counts three stage wins from past editions. The stages have been particularly demanding and not the normal sprinters' affairs. The chances of a sprint finish now become even less likely as the classification spreads out.
"It is really complicated because the stages coming are for the attacking riders and it is really difficult to arrive in a sprint through these stages." He will fight even it is for second and third place points. "The green jersey is the second most important in the tour – with the mountain jersey – and for or the sprinters it is the best jersey you can take."
Cavendish unfazed by dangerous sprints
By Gregor Brown in Pau
Mark Cavendish is not afraid.
Photo ©: Isabelle Duchesne

To be a sprinter in the Tour de France, a rider must be unafraid of a close encounter with the pavement at 60 kilometres per hour. In the rain-soaked finale to Toulouse, Mark Cavendish paid his Columbia team back for its hard work by demonstrating that he is no fazed by his profession's dangers when he delivered his second sprint victory.
"Sure it is dangerous, but if you start to think about that you are not going to win," said Cavendish during the race's first rest day in Pau.
Cavendish is well aware of the dangers after fighting his way to the front to come up victorious on two occasions in the 2008 Tour de France. Cavendish's first win was a dry and sunny affair in Châteauroux, but in Toulouse – with all the lead-out focused on Columbia and intermittent showers dampening the roads – the stakes rose. He confirmed his position in the top ranks when he topped off a textbook lead-out by Columbia.
Led by Marcus Burghardt, Columbia finished off the escape at 3500 metres out. "We did a lead-out for Mark by taking over at five kilometres before the finish. Everyone did their job really well," described Burghardt to Cyclingnews. Thomas Lövkvist, George Hincapie, then-race leader Kim Kirchen and Gerald Ciolek followed Burghardt's lead-out to deliver the win.
Cavendish backed this up three days later in Pau. He described Columbia's work as integral to his success, something that is different from sprinters Robbie McEwen and Oscar Freire, who are basically working on their own.
"First and foremost, it takes an amazing team to get you there to the finish. I have a strong team that takes me there and puts out the speed. You have to save all the power you can so you can use it over those last few hundred metres – that is when you need a great team behind you."
Columbia protected him by making sure he made it through the Pyrénéan Mountains within the time cut. Domestique Bernhard Eisel shepherded Cavendish on Monday's stage to Hautacam, a day that became worse by a stray football.
"We were riding along when a football appeared rolling onto the course," Eisel told Cyclingnews at the team's hotel in Pau. "I saw it coming, a motorbike policeman kicked it away but it must have bounced back."
Cavendish went tumbling down and then American Danny Pate collided into him from behind. "It was sort of funny, Cavendish blamed Pate because he saw his water bottle lying there and he assumed that it caused the crash."
The footballs and mountains have passed for now and Cavendish might get a chance to return to the 'normal' danger of the sprints when the race enters four 'transitional stages' before the next set of high-mountain stages.
"There is not much going through your mind in those final metres apart from being first across the finish line. You haven't got time to think about everything else – you haven't got time to think about consequences or anything... you just have to be first because that is what matters."
Being first is all that is on Cavendish's mind. Columbia will back that that ambition and get to the front pulling Cavendish through the dangers and to a third win, likely to come in stages Narbonne (12), Nîmes (13) or Paris (21).
"If you start to think about the dangers you are not going to win. If you are driving a car and come fast into a corner there is something in your mind that says 'maybe I should slow down because maybe the brakes or tires won't work...,' but in cycling you don't have that and you can't have that.
"You can't think of the consequences, you just have to be first across the line."
Young African Chris Froome making progress at the Tour
By Jean-François Quénet in Tarbes
Chris Froome (Barloworld)
Photo ©: AFP

Although it was behind Riccardo Riccó, it was interesting to see Chris Froome attacking in the col d'Aspin in the first stage of the Pyrénées. The Kenyan rookie from Barloworld showed pure climbing skills, giving an indication of the bright future he has and the support he could have given to Juan Mauricio Soler, should the king of the mountains of the previous Tour de France have still been in contention.
When Soler crashed on stage one, Froome waited for him but the Colombian had to pull out three days later due to an injured hand. "It was a big loss and a big disappointment for the team," Froome said during the rest day in Tarbes. "But we had to continue and do our job. Hopefully there's still time to do something with Robbie Hunter, Baden Cooke or Moises Duenas."
"My personal goal is to arrive in Paris and maybe pick a few stages to be up there to help my team-mates," he continued. He had seen the Tour on television but now he's in the middle of it. "For me it's incredible to be here, there's such a huge atmosphere around the race. It really brings out everything you have."
Froome discovered that he liked the Pyrénées. "It wasn't as steep as I expected", he said. "It was great for me. In the col d'Aspin I attacked just to try and see what would happen, but it was still very long with 5km to go to the top." So far, the Tour de France rider who impressed him the most was Jens Voigt. "His ability to work for the team is incredible," Froome said.
He has enjoyed receiving messages from Africa since he started the Tour. "Friends and family in Kenya and South Africa watching the race on TV have been very supportive," he said. After the Tour de France, he will miss the Olympics because Kenya hasn't qualified and their national Olympic committee hasn't released him since he recently took up the nationality of his second passport: from the UK. So he'll have to wait for three years until he becomes eligible for Great-Britain at the world's and the Olympics.
(All rights reserved/Copyright Future Publishing Limited 2008)