Tour de France Cycling News, July 15, 2008
Edited by Laura Weislo
Evans bounces back to seize yellow
Cadel Evans
Photo ©: AFP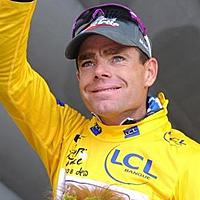 Australian Cadel Evans thought his Tour was over when he suffered a crash on stage nine which split his helmet in three pieces and left him grazed from "toe to neck" on one side of his body. But his fears could not have been farther from reality as he ascended into the yellow jersey with a tenacious ride on stage ten's first big mountain test at Hautacam.
The Silence-Lotto rider was close to tears on Monday, but they were tears of joy as he received the yellow jersey following a relatively short but wickedly hard stage ten. The course passed over two hors categorie climbs: the Col du Tourmalet and the finishing climb, the 14.4 kilometre ascent to Hautacam, either one of which could have cost him the Tour had he not been able to keep pace with his rivals.
Yet he did more than just keep up, he finished eighth on the stage and put several minutes into two riders whose dreams of a podium finish are just about over: Alejandro Valverde and Damiano Cunego.
"I can't believe it now and I couldn't believe it on the podium. Yesterday was the Tour low and now I'm having my Tour high and it's only about 26 hours apart, it leaves you a bit stunned," Evans said. "It's a bit of an emotional roller coaster to say the least."
Evans certainly did not ride like a man who was stiff and sore from a crash. On the final climb he not only marked his rivals, he attacked them as well. He drove the pace in the final kilometre in order to bring the gap to Fränk Schleck down, giving him the yellow jersey by just one second.
Yet in the early part of the stage, Evans was still suffering from his injuries. "Obviously the crash gave me one of the biggest scares in my life. It was a big shock and a big scare yesterday. Just getting to the finish of the stage yesterday was the first challenge.
"I was pretty sore this morning. I had a lot of bruising and a lot of swelling. I've got a good team that travel with me with my own osteopath who always travels with me and puts me all back into shape. Also the team doctor has patched me up from ankle to neck, a few holes to work on.
"I nearly got dropped on the first category-three climb today and then I just said to my team-mate, 'Guys, stay calm, be cool and hopefully I'll get better.' Thankfully it all came together at the end."
Evans had to deal with a high pace on the Col du Tourmalet, where the CSC-Saxo Bank and Saunier Duval teams drove the pace to see if they could dislodge any favourites. Once Valverde and Cunego were dropped, those teams never let up, but Evans hung on tight because he had not one but three possible GC contenders to watch from the CSC team.
"The main difficulty was accounting for the numbers that CSC and Saunier Duval had. In that situation I have to watch three guys and they all know that; so it's very hard to control."
"I think they might have figured out that I was suffering after the crash in stage nine. From the amount of blood that they would have seen yesterday, they'd be stupid if they didn't know I was in a little bit of pain.
Fortunately, Evans, who was isolated from his team-mates on the final climb, found an ally. "I opted to keep an eye on Menchov, Sastre and Fränk Schleck. I had to choose my guys and play my cards right. Finally Menchov saw the light and we worked together. That's going to work to his advantage later on."
He defended his Silence-Lotto team, which has been criticized not just this year, but last year as well, for not being strong enough to stay with its leader on the high mountains. "We may not be the strongest team but we're trying to be the smartest team. We're using our strengths as intelligently as possible and CSC still has a lot to gain. They're only just out of the lead by one second and they've got the weight of numbers."
"I'm only in the lead by a very small margin but, tactically every second counts. It's a long way to the finish and our goal has always been to have the yellow jersey in Paris but as we saw yesterday, anything can happen in this race."
With reporting from Gregor Brown and John Trevorrow
Piepoli leads Saunier Duval charge on Hautacam
Leonardo Piepoli (Saunier Duval-Scott)
Photo ©: AFP
The Saunier Duval-Scott team scored its third stage win with a brilliant 1-2 punch on the slopes of Hautacam, not with the expected attack from its youngster Riccardo Riccò, but with the experienced duo of Leonardo Piepoli and GC hopeful Juan Jose Cobo. It was the first Tour de France stage win for the 36-year-old Piepoli. "I've been waiting my whole life for this," he said, "I'm in heaven!"
"Thank God, tomorrow is a rest day, because I don't think I'll be able to sleep tonight." The win was unexpected, as Piepoli wasn't even sure he'd race the Tour. "Cycling is a funny sport; I wasn't planning to come to the Tour this year. My crash and drop-out from the Giro were difficult to overcome; I'd been training since November to be in good shape for that race. Sometimes you focus on a race and the results are disappointing, but then you succeed in another without as much preparation."
Finding himself on the way to a stage victory with his long-time team-mate Cobo at his side, Piepoli said he felt nostalgic. "I've been with him, [David] De la Fuente and 'Litu' [Ángel Gómez] since this team was founded."
When it came to deciding who would take the stage win, there was no contest. "Cobo was really thinking more in the overall," said Piepoli. Cobo is now in eighth overall, and the team's highest placed rider just ahead of Riccò. Piepoli is confident in Cobo's climbing abilities, and although he admits there is a long way to go in the Tour, he said they will try again for a stage win and more time for the overall classification when the race hits the Alps.
"In 2006 [Cobo] lost over 20 minutes on the climb to Plateaux de Beille, otherwise he would have finished in the top five overall."
Piepoli has proven himself as a climber in the Giro d'Italia, where he won two stages in 2006 and the overall mountains classification the next year. He ran into trouble after a urine test following the Monte Zoncolan stage in 2007 turned up high levels of the asthma drug salbutamol, but was cleared of doping charges by the Monaco Cycling Federation because he had a medical exemption to use the drug.
His first Tour stage win on Monday was the result of strong riding all around from the Saunier Duval team. Clearly confident it had some of the best climbers in the race, the squad teamed up with CSC-Saxo Bank on the Col du Tourmalet to shatter the peloton.
Once on the slopes of Hautacam, all eyes were on Riccò as the lead group began the 14.4 kilometre ascent which averages a 7.2% grade, but it was CSC-Saxo Bank's Fränk Schleck who put in the attack which would select the cream of this year's Tour. Piepoli was quick to jump across along with Cobo, Gerolsteiner's Bernhard Kohl and Vladimir Efimkin (AG2R La Mondiale), but as the climb wore on, the two Saunier-Duval riders were able to crack Efimkin, then Kohl and finally Schleck to ride away with first and second.
'Juanjo' Cobo was pleased with the team result, which makes up for a bad day he had in the Cholet time trial on stage four, where he came in 3'45 down on Stefan Schumacher. "After the time-trial I said I was feeling great for this Tour, even when the results hadn't been as good as expected. I've been working so hard for this race, and then I had a bad day. But fortunately, this bad day was the time-trial and not a mountain stage.
"We'd agreed with Piepoli and Fränk Schleck to hit the finish line together, because the three of us were interested in this stage, but Schleck couldn't keep the pace and Leo and I did the rest. My initial goal was finishing the Tour in the top ten; given our leap today, I think we can go one up on that, but let's take it one day at a time, right?"
Menchov: "Schleck is in the game"
By Brecht Decaluwé in Argelès-Gazost (Hautacam), France
After ten days of racing in the Tour de France, the top five of the general classification is still within a range of one minute, and Denis Menchov is the rider just inside that margin, 57 seconds behind new overall leader Cadel Evans. After the finish on Hautacam a relaxed Menchov talked to Cyclingnews and said that Fränk Schleck had become a problem now that he was in contention for the yellow jersey.
"It's not only between Evans and me," Menchov said. "Of course Sastre is OK too, but the problem is Schleck. He's in the game as well." Menchov, a Russian who rides for the Dutch Rabobank team, was surprised by the move from the CSC-Saxo Bank team. The Danish team had Cancellara in the breakaway and they started pulling in the peloton right from the bottom of the Col du Tourmalet.
On the climb to Hautacam CSC went on the attack with Carlos Sastre and eventually got Fränk Schleck away. "It's a little bit strange [what CSC did]," Menchov said. "Well, it's not really strange since CSC had to try. In the end it worked out well for them."
Menchov worked together with Cadel Evans to keep the gap on Schleck and the Saunier-Duval duo under control, forming an unusual alliance rather than taking the opportunity to attack Evans. "Finally not," Menchov sighed. "The situation in the race was what it was. The favourites were looking at each other since the breakaway was gone and in the final part of the climb it wasn't hard enough to attack." Menchov didn't think the Australian looked like he was in trouble. "I think Evans was OK."
Surprising Kohl regrets time loss on Super Besse
By Brecht Decaluwé in Argelès-Gazost (Hautacam), France
Bernhard Kohl regrets his stage six time loss
Photo ©: Isabelle Duchesne

There are a few surprising names on the top of the overall classification after the Pyrenean mountains. Alongside American Christian Vande Velde, who is third, German Bernhard Kohl is another name not normally seen contending for the overall in a Grand Tour. Kohl jumped away from the Evans group together with Fränk Schleck and the stage ten winning Saunier-Duval duo.
After being dropped by these three riders, Kohl disappeared from the television coverage, but the Austrian did manage to stay ahead of the group of favourites to finish fourth in the stage just 1'05" from Piepoli and Cobo. After the stage Kohl got stuck on Hautacam and only managed to get back in the team hotel several hours after the stage finish. Kohl, a 26 year-old Austrian from Klagenfuhrt, waited a long time in the doping control truck and missed the helicopter that could get him off the mountain quickly.
Kohl was still delighted about his performance and told Cyclingnews that he expected to attack the race today. "This morning I told the team that I would attack. On the Tourmalet I felt that my legs were super. I looked around and noticed the others weren't going too well," Kohl said.
During the sixth stage to Super Besse, Kohl was held up behind the crash of his team-mate and then yellow jersey Stefan Schumacher. That crash cost him 32 seconds, and Kohl still has not gotten over the disappointment. "Now I'm regretting the time loss that I had in Super Besse. On the other hand I'm happy that we didn't take control over the peloton that day. If we had defended the yellow jersey [of Schumacher] in Super Besse then our performance today wouldn't have been possible," Kohl said.
"Today the team did a perfect job by having Markus Fothen in the early breakaway. He did a perfect job in the descent and the flat section before the climb to Hautacam. I'm absolutely overwhelmed now. I didn't expect to be fourth at this stage of the race.
Although Kohl might seem the type of rider who will drop away during one of the next mountains stages, the Austrian is not planning to let that happen. After a crash during the time trial in the Dauphiné Liberé, he prepared to be in perfect form in the Tour de France. "I was badly injured with deep cuts in my skin, but luckily my bones were OK. As soon as I could, I started riding on the home trainer and a couple of days later I went out to do a reconnaissance of all the mountains stages of the Tour de France, together with a friend who was in the car," Kohl said.
(All rights reserved/Copyright Future Publishing Limited 2008)