TDF News Flash for October 25, 2007
Edited by Bjorn Haake
Time trialists cut short
Le Tour 2008
Photo: © ASO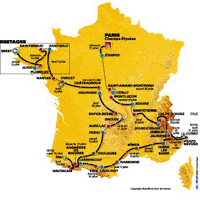 In a change from last year's success story of the London prologue, the 2008 Tour will kick off without its usual short time trial to establish a first distinct general classification. Instead, the riders will head from Brest over 195 kilometres to Plumelec, in Brittany. Time trial specialists will be disappointed to find the first contre-la-montre very short, with only 29 kilometres. The second time trial, on the penultimate day of the race, is 53 kilometres long. No team time trial will be part of the route, but the monument of L'Alpe d'Huez is back in the mix. Climbers will be elated that four mountain top finishes are featuring in the 2008 version. A full preview can be found on Cyclingnews' Tour site.
Le Grand Départ returns to Brest after 34 years. Brittany will see an extended Tour this year, with several hundred kilometres spent in the Northwestern part of the country. After the time trial in Cholet on stage four it is off to the first mountain top in Super Besse, on stage six. After a few more southbound transitional stages the peloton will hit the mountains.
First the Pyrenees have to be tackled on the counter-clockwise route. The time spent in the mountain range between Spain and France has been reduced to two days. On stage nine the climbs that have featured many times, the Col de Peyresourde and the Col d'Aspin, will have to be tackled, while stage 10 promises to be the first real indicator of the final outcome in Paris. The stage will take the riders over the long and difficult Tourmalet, at 2,115 metres, before the day's uphill finish at Lourdes-Hautacam is reached.
This will earn the racers a first rest day, spent in the Pau area.
After that the riders will head out of the hills, east and towards the Mediterranean, via Narbonne to Nîmes. These stages will be giving some breakaways the chance for glory as the GC contenders will be watching each other more than the riders interested in stage wins and the sprinters likely having heaving legs after the first set of climbs.
Then stage 15 will be another mountain top finish, at Pratonevoso. Stage 16 sees some high altitude climbs (Col de la Lombarde 2351 meters and Col de la Bonnette-Restefonds at 2802m), before the race hits the popular L'Alpe d'Huez on stage 17.
Finally time trialest's will have their chance, but the 53 kilometres comes only one day before the final stage into Paris and the traditional lap on the Champs-Élysées. A modest route indeed, as indicated in the earlier Cyclingnews coverage.
The Stages
Stage 1, July 5: Brest-Plumelec, 195km
Stage 2, July 6: Auray-Vannes, 165km
Stage 3, July 7: Saint-Malo-Nantes, 195km
Stage 4, July 8: Cholet-Cholet, ITT, 29km
Stage 5, July 9: Cholet-Châteauroux, 230km
Stage 6, July 10: Aigurande-Super Besse, 195km
Stage 7, July 11: Brioudes-Aurillac, 158km
Stage 8, July 12: Figeac-Toulouse, 174km
Stage 9, July 13: Toulouse-Bagnères-de-Bigorre, 226km
Stage 10, July 14: Pau-Lourdes/Hautacam, 154km
July 15: rest day in Pau
Stage 11, July 16: Lannemezan-Foix, 166km
Stage 12, July 17: Lavelanet-Narbonne, 168km
Stage 13, July 18: Narbonne-Nîmes, 182km
Stage 14, July 19: Nîmes-Digne-les-Bains, 182km
Stage 15, July 20: Digne-les-Bains-Pratonevoso, 216km
July 21: rest day in Cuneo
Stage 16, July 22: Cuneo-Jauziers, 157km
Stage 17, July 23: Embrun-L'Alpe d'Huez, 210km
Stage 18, July 24: Bourg d'Oisans-Saint-Etienne, 197km
Stage 19, July 25: Roanne-Montluçon, 163km
Stage 20, July 26: Cérilly-Saint-Amand-Montrond, ITT, 53km
Stage 21, July 27: Etampes-Paris/Champs-Élysées, 143km
Total Length: 3554 km

The Mountains
Stage 9, July 13: Toulouse-Bagnères-de-Bigorre, 226km
Km 123.5: Col des Ares - 6 km at 4,9%
Km 166.5: Col de Peyresourde - 13.2 km at 7.1%
Km 198: Col d'Aspin, 12.1 km at a 6.6%




Stage 10, July 14: Pau-Lourdes/Hautacam, 154km
Km 105.5: Col du Tourmalet, 17.7 km at 7.5%
Km 154: Lourdes-Hautacam - 14.2 km at 7.2%

Stage 15, July 20: Digne-les-Bains-Pratonevoso, 216km
Km 110.5: Col de Larche / Maddalena - 16.1km at 4%
Km 216: Col de Prato Nevoso, 11.1 km at 7.1%

Stage 16, July 22: Cuneo-Jauziers, 157km
Km 72.5: Col de la Lombarde, 21.2 km at 7%
Km 133.5: Col de la Bonette-Restefonds, 26.7 km at 6.2%

Stage 17, July 23: Embrun-L'Alpe d'Huez, 210km
Km 79: Col du Galibier, 20.9 km at 5.6%
Km 156: Col de la Croix-de-Fer, 29.2 km at 5.2%
Km 210: L'Alpe d'Huez, 13.3 km at 8.6%



Photography
For a thumbnail gallery of these images, click here
Images by AFP Photo
Images by John Pierce/Photosport International
(All rights reserved/Copyright Future Publishing (Overseas) Limited 2007)