Recently on Cyclingnews.com
Trek - Marco Polo team diary
Sea Keong Loh (Discovery Channel Marco Polo)
Photo ©: Shane Goss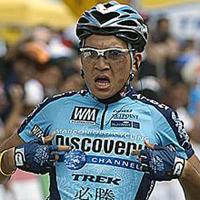 Riders of the China-registered Trek - Marco Polo Cycling Team report in from races around the world. Founded in 2000 and named after the famous traveler, Marco Polo, the team's mission is to provide talented cyclists from non-traditional cycling countries an opportunity to develop into world-class professionals. Formerly the development squad for the Discovery Channel team, Trek Bikes took over the main sponsorship position.
In 2008, Fuyu Li is one of the key riders of the team, and he will prepare to represent the host country at the Olympic road race in Beijing under the guidance of experienced team directors and team-mates like Bart Brentjens (former Olympic and World Champion) and Leon van Bon (winner of two Tour de France stages and Olympics and World's medalist).
Next to the Trek – Marco Polo Cycling Team, Marco Polo Cycling also manages the Bike4All foundation that supports the development of cycling in poor development countries.
Trek Marco Polo Team - www.dcmpteam.com, www.marcopolocyclingteam.com
Read about the history of the team.
Latest entry: Last race of the season - By Loh Sea Keong