Trek - Marco Polo team diary
Sea Keong Loh (Discovery Channel Marco Polo)
Photo ©: Shane Goss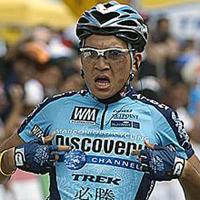 Riders of the China-registered Trek - Marco Polo Cycling Team report in from races around the world. Founded in 2000 and named after the famous traveler, Marco Polo, the team's mission is to provide talented cyclists from non-traditional cycling countries an opportunity to develop into world-class professionals. Formerly the development squad for the Discovery Channel team, Trek Bikes took over the main sponsorship position.
In 2008, Fuyu Li is one of the key riders of the team, and he will prepare to represent the host country at the Olympic road race in Beijing under the guidance of experienced team directors and team-mates like Bart Brentjens (former Olympic and World Champion) and Leon van Bon (winner of two Tour de France stages and Olympics and World's medalist).
Next to the Trek – Marco Polo Cycling Team, Marco Polo Cycling also manages the Bike4All foundation that supports the development of cycling in poor development countries.
Trek Marco Polo Team - www.dcmpteam.com, www.marcopolocyclingteam.com
Read about the history of the team.
Starting all over again
By Remko Kramer
It is not easy to keep a cycling team going these days. The Marco Polo team is managing to keep its special formula on its wheels for years in a row, despite setbacks like the collapse of the Discovery Channel Pro Tour team. What happened in the last months of 2007 to keep one of the most exotic teams of the international peloton going?
2007 Discovery Channel cooperation
The Trek Marco Polo team
Photo ©: Francis Cerny

The 2007 cooperation with the Discovery Channel Pro Cycling Team was good and it seemed like we were set to continue as the development team for the most successful cycling team in the world. But things were turning another direction. It seemed unquestionable that this cycling team, which even won the Tour de France again in 2007, would have a sponsor for 2008. And first it looked like this would happen. However, with the cycling world twisting and turning around its problems, it was Tailwind (owner of the Discovery Channel Pro Cycling Team) that decided that it is not the time to ask big companies for a big investment in cycling, right now. Even a Tour de France start could not be guaranteed for the team that won the event the year before!
Looking for sponsors
So we had a problem to solve: how to continue our Marco Polo Cycling Team. We either had to find a new sponsor or partner, or step back a few years to the basic adventure team we used to be. This would be a pity for our riders that are developing so well.
We had some very interesting correspondences and meetings with (sometimes multinational) companies that looked forward to work together with us. Especially the idea of promoting cycling in China, linked to a team creating sports heroes, seemed to be very interesting.
We traveled a lot to talk to people, we did build great power point presentations, we showed our pictures, our publicity schedules, the wins of the team and the opportunities that lay ahead of us... But towards the end of the year, there was no signature, no budget and we had to make a decision.
Luckily most of the smaller sponsors and suppliers of materials remained loyal to the team, as they were very satisfied with the publicity, new business and contacts the team is bringing them. With Eurosport Asia as a new media sponsor and good connections to CCTV, new publicity was ready to be scored for new sponsors... but still no budget to have a team of riders and staff working and traveling.
Trek!
Trek's Madone is the team's weapon.
Photo ©: Francis Cerny

Trek bicycles has been a great sponsor of our team for years and they decided that our team needed to go on Todd McKean of Trek China, also managed to get Trek Japan / Trek Asia on board and the team was saved! The Trek – Marco Polo Cycling Team is still operating with a very basic budget, but we were so glad that we could guarantee a good program to our existing riders; that we could compose a great program of stage races to Fuyu Li, preparing for the Olympic road race!
And now riders...
So we could work again to get a successful team together for the Asia tour and riders with potential to make it in the highest ranks in the future. With Fuyu Li coming back from the ProTour and our sprinter Sergey Kudentsov who stayed we had a strong base. The Asian talents from China, like Xing Yan Dong and Liu Yilin and Malaysian Loh Sea Keong can keep working at their great development. And with the support from Trek Japan we could also sign two strong Japanese who will also compete on the mountain bike in Japan and international competitions. Then we managed to get one of the best climbers from the 2007 UCI Asia Tour on board, Jai Crawford from Australia.
Leon van Bon
Leon Van Bon
Photo ©: Francis Cerny
Then manager Gudo Kramer went back to a talk he had with Leon van Bon quite a few years ago. Leon told him back then, that he would love to go on adventures around the world after his career at the highest level. Since Rabobank didn't give him a new contract he was free to go for this adventure. And he did. With the job to teach the Asian riders Leon will race all over the world and try to get some nice results himself as well.
Perfect start of 2008!
And the year 2008, the Olympic year, started perfectly for the Trek – Marco Polo Cycling Team. In the very first race, the first stage of the Jelajah Tour of Malaysia it was Fuyu Li who took care of the first victory which also brought him the leader jersey. And we hope that some more victories will follow...
Photography
For a thumbnail gallery of these images, click here
Images by Francis Cerny