Tales from the travellers — the diary of Team Marco Polo
Tour de Korea, May 7-13, 2005
Tour de Korea disappears in the fog
Prologue, 1.4 km.
Stage 1, Seoul-Chun Chon, 167.1km
Stage 2, Chun Chon-Yang Yang, 160km
Stage 3, Yang Yang-Oe Sung Jun Yang Yang, 160km
Stage 4, Yang Yang Criterium, 80km
Stage 5, Yang Yang-Won Ju, 166.km
Stage 6, Won Ju-Ha Nam, 231km (shortened to 131km)
By Michael Carter and Peter Coates
I've gotta go fast on this!
Photo ©: Anton van Grinsven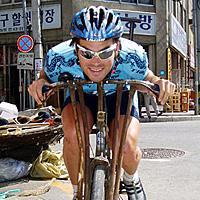 We won this race last year and my form was MUCH better than last year. I spent the first four months of 2004 working with Dr Massimo Testa at the University Of California - Davis in the Sports Performance Lab. I spent my "free" time that Spring on the Sacramento "Great American River Trail" (not sure what is 'great' about it) bike path, which happens to be totally flat and at sea level. Yikes! Hated that! I am used to training in Colorado, uphill to 3,000 metres - what a huge difference.
At any rate, this year was totally different. Started the season with the Tour Of Siam, then direct to the Tour Of Qatar (2.HC) with the likes of his Royal Highness Mr. Tom Boonen, "The Lion King," aka Mario Cipollini, eventual winner Lars Michaelson of CSC, Senor Tafi, Mr 'Fast Freddie' Rodriguez of the good ol' USA, among other SUPER Stars. So the kilometres of good quality racing were (still are - stay tuned!) there.
Korea the country
Korea is, as our awesome Soigneur Peter Coates from the Land of The Great Kiwi states, "a land were policemen ride Harley Davison motor cycles, there is never a fourth floor in a hotel, you sleep on the floor on a "futon" and if you go to a fancy seafood restaurant you eat living sea slugs". (The fun of Asia only caused more arthritis for our beloved 72-year-old team manager, who kept on saying F*** every time he had to sit on the floor to eat his evening meal).
Our main competition this year? We knew it would be Giant. They have Dave McCann who made a MAJOR error last year while in the leader's jersey, and Ghader Mizbahni, who is ALWAYS a threat. Paul Griffin is also a very good rider, so he too could not be overlooked.
Robin Reid
Photo ©: Anton van Grinsven

On the rainy day before the race started, after travelling from the four corners of the world the team members met at the Olympic park hotel in Seoul. The world's first real global cycling team was once again made up of many different nationalities. We had Jamsran Ulzii-Orshikh (Oggi) from Mongolia, Michael Carter from USA, Robin Reid from New Zealand, Rene Van Oord from Holland, Eddy Hollands and Rhys Pollock from Australia. The Manager was Bob Buker, a Dutch-Canadian, the Coach Peter Coates, a Kiwi-Dane and the Mechanic was Anton van Grinsven, a Dutchman.
Some new bikes to start the race
Anton, our mechanic had some work to do! The new team bikes arrived in Korea, so most of the team could change their "normal" Trek bikes for beautiful new bikes in the Marco Polo Cycling Team design, including the Chinese character and dragon! These are the Trek Madone frames, the same as Discovery Channel is racing. If they are good enough for them, they sure are good enough for us! Together with the great Bontrager wheels they make super bicycles - light, stiff and fast! The whole team was looking forward to race these super-machines!
The next day we woke up to a brilliant sunny day. The Tour de Korea 2005 began with a short gut-busting 1.4km prologue at the Seoul Armed Forces Athletic grounds. I was not too concerned about this TT at all, especially given the new and improved stages of this year's tour - in particular, the last stage which was to feature 231 kilometres. To be honest, I never thought we would ever ride that distance - much too long. A prologue with four corners and a little short hill favoured the local riders. The Koreans took the top three places, and our best Marco Polo rider was Eddy Hollands, coming 16th, six seconds behind the stage winnner. I finished a "fab" 64th, but much better than previous attempts at this prologue!
Shrimp noodle soup
The new livery on the Marco Polo Treks
Photo ©: Anton van Grinsven

Stage one and day two the race started in overcast sky outside the Olympic park in Seoul. The air smelt of fish, as there was a shrimp vender selling shrimp noodle soup at the start of the race - that odour's pretty commonplace in Asia.
The stage was going to be a long 167km that passed over two big climbs. First on the attack was Oggi, who with a Japanese rider managed a gap of over three minutes. Oggi took the first mountain points, but by the time the second climb was reached both riders had been caught by the bunch.
With Oggi up front, there was no need to attack or instigate anything at all. So the rest of the Marco Polo squad just followed all the moves. As Oggi and his companion were scooped up, the race started anew. Ghader Mizbahni of Giant attacked super hard up to the second KOM, and we all just let him go. WAY TOO hard for anyone else to follow Ghader. I knew that I could not afford to go after him, so I stayed with Tomayo Kano from Shimano, Dave McCann from Giant and a few others, and waited until the last few hundred metres before going after the remaining KOM points. I did go, but I think it was Mr Watanabe of Shimano who threw in a formidable attack, and beat me with NO problem for the second-place KOM points. Rats. But I did feel quite good, so that was a positive.
We hit the last and final rollers of the stage after the descent, and then it was attack after attack. This year, the stage included an extra 30 kilometres which wrapped around the reservoir of Chun Cheon - these last 30km were flat, but twisty and on narrow roads. GREAT place to attack, actually. Sure enough, they came! Eddy Hollands was DRIVING it up there. Ended up with a nice group of about nine riders. Not one single Giant rider. BUT, Giant did an excellent job of chasing the break down - but just barely. It was with less than one kilometre that the break with Eddy was caught. Rats - but Eddy, Rhys and myself survived the stage to make it into the first group. Oggi suffered the effects of his long breakaway and Rene was hurtin'.
Flat at the wrong moment
Stage two and day three saw more big climbs with the last climb being over 1000 meter high. This turned out to be THE stage that defined the G.C. Eddy followed a move put in by Ahad and then Rhys followed another counter by an Uzbek rider. I was watching our biggest threat, Dave McCann. At around about the 70km mark, Dave made a move to bridge to the break that contained Eddy and Rhys, and just as I was to pursue Dave, I punctured! Rats AGAIN! And we hardly ever flat with our Vredestein Fortezza's... It took what seemed an eternity to get a wheel - thankfully, Oggi was there, but by the time I took Oggi's wheel, it was much too late to try to go after Dave. With Eddy and Rhys up the road, and Dave McCann in pursuit, we had to put all our hopes and dreams for another victory at the Tour De Korea with Eddy and Rhys. Long story short, Dave McCann bridged the gap, and that group built a lead of eight minutes. Race over for the rest of us. Eight kilometers from the finish David McCann from Asia Giant with two Korean riders made a break that stayed away to the finish, David won the stage and the rest of the riders came in 14 seconds latter.
David McCann's stage win, put him in the races lead jersey, just as we did NOT want and Eddie was lying 8th, 18 sec behind and Rhys was in 10th places 20secs behind. The team was still in good spirits and looked forward sleeping on the floor for next three nights.
Stage 3 and day four was a 4 lap circuit races around Yang Yang-Oe Sung Jun Yang Yang. After the last two days this stage was a flat day even though it had a very steep short climb. Other than Robin who covered a 15 rider break from the main bunch, eventually reeled in, it was an uneventful day with no change in GC. Still plenty of racing to go!
It's Reid time
New Zealander Robin Reid on the podium
Photo ©: Anton van Grinsven

Stage 4 was an 80km criterium. Right from the start the pace was on and Marco Polo were covering every move. I knew this stage would not offer anything other than a nice stage win - but would do nothing for GC classification. Robin rode a truly impressive race - and ended up second! He was in a break that I thought was caught at one point (that's what happens when you are "covering the back" as I was!) That break was being caught, and Robin countered - took a very fast Korean with him who got the better of him in the sprint. Nonetheless, a VERY impressive ride by Robin.
Giant did an excellent job today (as they did the day before) at controlling the race. They look awfully good.
Into the fog
Stage 5 we woke up to a very cold and wet Korean morning and all of us with aching backs after four days of sleeping on the floor. It was this day that I felt like I really wanted to dig deep and go for it - a bit of redemption. The stage was 166km and it had one big significant climb in it, which was about 20km long, the last 8km at 10% grade plus, which rose to over 1000 metres. We had 40 kilometres of flat before the big climb so I waited and watched as Oggi, the relentless warrior, fought his way into a break. Oggi lost about 2 litres of blood (according to the people that took care of him after his accident...well, let it be 1 litre...) at a bicycle - car accident in Mongolia just a few weeks ago!
So his form is still to come (stay tuned...)!!
But eventually, it was Rhys who made the early break, only to be reeled in by a very organized Giant team. As soon as the road tipped up and I saw a weak point in the Giant team, I attacked. Ahad, the current KOM leader tried to hang with me, but I dropped him easily. I loved the weather conditions - fog, so thick that you could not see more than 50 metres. I hammered away, built a lead of over one minute by the KOM.
The Commisaire felt like the conditions for the descent would be too treacherous and dangerous, so when I reached the summit, he neutralized the race! The Commisaire waited until all the field arrived at the summit, then we all descended to the bottom, for the sake of safety. Bummer for me because I was READY - ready for one of those epic rides. As it turned out though, the descent was in the sun! The climb was all on the coastal side of Korea and the descent on the inland environs. Very common to see the "environs" or inland areas, warmer and with better weather than the coastal regions of any country.
The main field
Photo ©: Anton van Grinsven

Long story short; the officials started us all at the bottom of the descent (after a very nice rest) with the same time gaps as set from the top of the climb. I decided to just "chill," let the four Giant riders with McCann, Eddy and others catch me. No sense in beating my head against the wall now. I did end up sixth, Eddy moved to third on GC, and I managed to climb into second on the KOM GC. Rhys was still in 10th.
Stage number 6 on paper looked a very difficult stage; it was going to be 230km long with a big climb around the 180km mark. This stage would be the final say in the bike race, but was not to be. Unfortunately for us the stage was shorted due to a big festival at the planned finishing town. The longer the better for us. So it goes. I really do not think that we could uproot Dave McCann from his leader's jersey had the stage remained as originally planned. MG-XPower sure thought they could, but that just goes to show you that some teams do not really "get it."
GC stayed the same, but Marco Polo lost their second place on team GC and ended up third behind Asia Giant and Seoul City. Rhys was 10th overall and if he found five seconds he would have been sixth overall. Michael ended up second in the mountains classification.
Even though we did not win the tour and it was a great ride by Eddie, we were all contented to spend the last evening drinking beer and listening to the string quartet at the final prizes ceremony - we were happy to sit round a table knowing that we were going to sleep in real beds for the last night in Seoul.
We would like to thank our friends from the Korean Cycling Federation for their hospitality and another well organised Tour de Korea!
Final GC
1 David McCann (Giant) 22.05.03
2 Stuart Shaw (MG XPower pb Big Pond) 22.05.19
3 Eddy Hollands (Marco Polo Cycling Team) 22.05.21
4 Ahad Kazemi (Giant) 22.05.27
5 Jang Sun Jae (National Military physical training unit) 22.06.28
6 Kim Jae In (Seoul City) 22.07.44
Photography
For a thumbnail gallery of these images, click here
Images by Anton van Grinsven
More information:
Gudo Kramer
Marco Polo Cycling Team
Semmelinkstraat 69
6512 JS Nijmegen
The Netherlands
Tel/fax +31 24 3606301; email: marcopolo@worldwidecycling.com
For more information on the Marco Polo Cycling Club and its travels, visit: www.marcopolocycling.com