Trek - Marco Polo team diary
Sea Keong Loh (Discovery Channel Marco Polo)
Photo ©: Shane Goss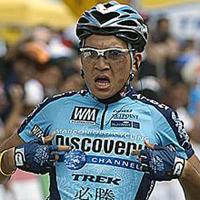 Riders of the China-registered Trek - Marco Polo Cycling Team report in from races around the world. Founded in 2000 and named after the famous traveler, Marco Polo, the team's mission is to provide talented cyclists from non-traditional cycling countries an opportunity to develop into world-class professionals. Formerly the development squad for the Discovery Channel team, Trek Bikes took over the main sponsorship position.
In 2008, Fuyu Li is one of the key riders of the team, and he will prepare to represent the host country at the Olympic road race in Beijing under the guidance of experienced team directors and team-mates like Bart Brentjens (former Olympic and World Champion) and Leon van Bon (winner of two Tour de France stages and Olympics and World's medalist).
Next to the Trek – Marco Polo Cycling Team, Marco Polo Cycling also manages the Bike4All foundation that supports the development of cycling in poor development countries.
Trek Marco Polo Team - www.dcmpteam.com, www.marcopolocyclingteam.com
Read about the history of the team.
Among the Japanese Flandriens
By Remko Kramer
The Trek–Marco Polo Cycling Team
Photo ©: Francis Cerny

"Konichiwa."
We are welcomed by a friendly Japanese lady at the airport of Narita in Tokyo. Our travel to Japan took 16 hours and now we are guided to the bus which takes another three hours. It is only 120km but the Tokyo traffic is pretty heavy.
First it is interesting to watch the different things of this Japanese city, but the city area is endless and after some time we get tired and sleep until Utsunumiya. After arrival in the race hotel we are welcomed by the friendly and perfectly organized staff from the Japan Cup. We travelled all the way for this one-day event, a classic in the Land of the Rising Sun. The Japan Cup is the highest ranked road race in Japan, registered in the "Hors Category" from the UCI Asia Tour.
I am team manager and my girlfriend Francis Cerny is soigneur and photographer for the Trek-Marco Polo Cycling Team, a Continental Team registered in China and sponsored by Trek bicycles China and Japan. At this race we are "just a Continental Team" between the impressive line-up with several Pro Tour teams. We are happy to be invited to this race which has a great tradition. It has existed for 17 years and does have an impressive list of previous winners.
Japanese cycling fans
Our riders are already there, we can see by their autographs in the cycling magazines where we are also asked to sign by the great number of Japanese cycling fans in the hotel lobby. They are excited but friendly and polite like most Japanese people.
We are here with a multinational team, as usual. Our riders are Japan's Ken Onodera, the number two mountain biker from Japan and a strong road rider, 21-year-old Loh Sea Keong from Malaysia who has become a strong rider in the Asia Tour (last month a winner of a stage in the Tour of Thailand!), China's Fuyu Li, who rode last year in the Pro Tour with the Discovery Channel Team, Rhys Pollock, with victories this year in the pro races of Oberhausen (Germany) and Berlare (Belgium) and Jai Crawford. Jai travelled to Japan from China. Just married, Jai lives with his Chinese wife in the province city (only 7 million habitants) of NanJing, near Shanghai.
Pro Tour in Japan
Jai arrived here about 2 weeks ago, he had to extend his Chinese visa by travelling abroad. This can never be a problem racing in the Trek-Marco Polo Cycling Team, so our Australian Chinese guy did have a good preparation towards the Japan Cup.
We have great expectations from our climber in this race. With several podium placings in stages of several stage races, a 3rd in GC at the East Java Tour and 2nd in GC at the Tour of Japan, we expect another great performance from him over here. But there is some competition from the usual suspects in the Asia Tour, like the strong Japanese Continental Teams. But there are also a few ProTour teams this time, Bouygues Telecom, Lampre, Quick Step and Liquigas.
Masa's last race
For one of the Japanese professionals the Japan Cup will be his last race. Masahiko Mifune had a successful career with many victories. He also raced several years as professional in Europe where he also had success, for example a podium placing in the Sluitingskoers Putte-Kapelle. Masa, as friends call him, also raced for the Marco Polo Cycling Team with some great victories, like the Hong Kong Cycle Classic where he beat David Millar and several other top riders.
Roller training at the balcony
Ivan Basso smiling while training on the rollers
Photo ©: Francis Cerny

The Pro Tour teams are here with strong riders like Thomas Voeckler, but the favourites for the victory are all Italians. Last year's Italian champion Giovanni Visconti, former Giro d'Italia winner Damiano Cunego and Ivan Basso (in his initial comeback race) are all in attendance. That Basso takes his comeback seriously is clear when we arrive at our hotel room. At the balcony next door we see him training on the rollers.
Japanese characters
The bike sponsor for his [Ivan Basso's] Liquigas team had some extra attention for this race and painted his bicycle with some Japanese illustrations, like a Samurai warrior and Japanese characters saying "Liquigas", "Ivan Basso" and "Japan Cup 2008". This is the perfect advertising because the bicycle attracts so much attention. Also, our special team-painted Trek Madones are being photographed all the time since they, too, have some Japanese/Chinese characters. These characters, "Hishou", are sometimes being used in Japan as cheering to sportsmen. It means "fight with the strong conviction to win."
On the training day before the race we notice that this is really a big event over here. There are many Japanese amateur and touring riders getting ready for their races and events. Of course, they take the opportunity to join the professionals while they are training for as long as they can follow. In the city we also see many cars with bike racks, cyclists and also pedestrians in their cycling jackets.
Many, many, many spectators and even more photos
The Trek – Marco Polo Cycling Team
Photo ©: Francis Cerny

The next day at the start of the race we see that this is a really big event. Many thousands of spectators are trying to catch a view and take some photos of the professionals getting ready to race. Near the start/finish there is an area with promotion tents from all kinds of cycling related brands. This promotional area is also completely filled with people. Our sponsor, Trek, does have a nice promo stand where they present the pink and yellow bicycles from Contador, but also the Trek-Marco Polo team bicycle and a billboard with our riders presented. When our riders come by to greet the Trek staff they have to give out many autographs again and pose for many many photos.
Japanese Flandriens
Japanese cycling fans
Photo ©: Francis Cerny

On the race course we are surprised by the huge crowds of spectators. A great deal of them dressed amazingly with banners and flags, whistling and shouting Japanese cheers. At the main climb it looks like the Tour de France, but different. Some fans are painted, also the devil is popular here in Japan. Some cycling fans hold banners with their favourite riders painted in "Manga-style". The names of the favourites and Japanese texts are painted on the roads. There is a group of "Japanese Flandriens" with the famous yellow flags with lions, wearing Belgian cycling jerseys and drinking and offering Belgian beers, like Duvel. At some spots the riders have to find their way through the masses like we know from the Alps and Pyrenees.
Pro Tour controls
From the start the race is on and the circuit immediately leads up the long climb. About 10 riders get away with Fuyu Li going with them. Only just before the top the Pro Tour riders decide that these are too many riders and chase them down. Right at the top, three Japanese riders make their move and the Italian Pro Tour riders go wide on the street and slowly downhill.
Rhys Pollock can work himself through this "blocking" and goes after the break. However, at the steep downhill he takes a hairpin too fast and only the good grip of his Vredestein tires prevents him from flying into one of the catching nets. So, he gets reeled in as a result. The race is being controlled by the Pro Tour teams making sure the gap is not getting too big and no one else is going to attack.
With only about 30km to go the attacks start and break the field into pieces. There are five riders at the front with five riders chasing. Jai tries to jump across to the front but just can't catch on and is by himself. He gets absorbed by what is left of the peloton. For Ken and later also Loh the pace is too much and they are dropped into some chasing groups.
On the last lap the three top favourites, Basso, Cunego and Visconti are alone at the front, with Cunego taking the victory. Jai and Rhys still try to get away from the small main group but they get caught. Rhys gets 26th, Jai 32nd and Fuyu 38th.
Japanese food and French wine
For Jai, this is a disappointment. He is on good form, however his positioning was not right at the moment the race exploded. However, the next race is coming soon, the Tour of Hainan in China. We enjoyed some good Japanese food with sushi and seafood and drank a few French wines together with our Japanese support staff. Thanks Rikio and Shinobu! We enjoyed Japan and had fun talking about some great stories and adventures we have had the past several years on all our travels with the Marco Polo Cycling Team.
Sayonara!
Photography
For a thumbnail gallery of these images, click here
Images by Francis Cerny
The Trek–Marco Polo Cycling Team at the Japan Cup. Kneeling from left to right, Ken Onodera (Japan) and Jai Crawford (Australia). Standing from left to right, Rhys Pollock (Australia), Loh Sea Keong (Malaysia), Fuyu Li (China).