Tales from the travellers — the diary of Team Marco Polo
Tougher than ever: The Tour of Qinghai Lake
By Peter Coates, Team Manager, and team captain Nathan Dahlberg
Ready to rumble
Photo ©: Linna Zhang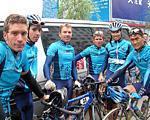 The Tour of Qinghai Lake, in only its second year, is recognisably the second largest and most important race in Asia, and has been one of our team's major objectives for the 2003 season.
The strongest opposition on paper from the 20 teams of six had to be the Italian national professional mixed team, consisting of six division one professionals; the next best were the Giant Asia professional cycling team and then Flanders-iTeamnova, a strong second division Belgium team. Then there are always the locals to worry about as well, MP's own Wong Kam Po riding for the Hong Kong National team this time and highly motivated Chinese rider Wang Gaungzhou, who had the leader's jersey for three days last year.
This year's race was eight days long with four days ridden at an elevation over 3200 meters, including two mountain stages that saw the bike riders climb two huge climbs that were over 30 kilometres long and just under 4000 meters. So once again, it looked like a race for the climbers.
Stage 1 - August 10: Xi Ning circuit, 87 km
The first stage, a 87km circuit race in Xi Ning, was won by Marco Polo rider Wong Kam-Po riding for the Hong Kong China team, beating Dave McKenzie of Flanders-iTeamnova. The 200,000-strong crowd of Chinese spectators went wild after watching one of their 'own' win and both Wong and Dave had to escape the podium by ambulance!!! The best Marco Polo riders where Ulzii-Orshikh Jamsran finishing 7th and Kay Kermer 8th.
Stage 2 - August 11: Xi Ning - Xi Hai Zhen, 191.4 km
Plenty of high-altitude racing...
Photo ©: Linna Zhang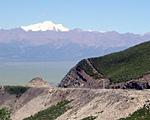 The next day the race started in Xi Ning and raced towards the Tibetan plateau to a town called Xi Hai Zhen at an altitude of 3200 meters. This was a difficult stage that saw the riders climb a very long steady climb that was over 80km long.
A dangerous break developed immediately and Marco Polo with the Spanish team set about controlling the deficit. At the top of the climb, under the attacks of Mike Carter, the bike race split up into several small bunches that regrouped and then split up again on the plateau due to the strong cross winds. This day showed us the strength and depth of the Italian riders, who had played a very low-key race tactically till now - Mattea Carrara finishing alone and Elia Aggiano winning from the following group a few seconds back, which contained Michael Carter in 9th and Ulzii-Orshikh Jamsran 14th, a further one minute and thirty seconds down.
This stage was a very difficult day for the Korean riders with five not finishing and one of those riders collapsed at top of the climb and fell into a coma with his heart stopping. He received medical attention straight away and came out of the coma half an hour later. Racing at these high altitudes can be very dangerous for some riders which the organizing committee had stressed at the very beginning, so they had organized three medical teams and one team specializing in high altitude to make it safe for all riders taking part.
Stage 3 - August 12: Xi Hai Zhen - Niao Dao, 152 km
... and low-altitude racing
Photo ©: Linna Zhang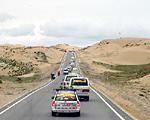 The third stage was raced on the plateau beside Qinghai Lake over a distance of 152 km starting from Xi Hai Zhen to Niao Dao. The morning was cold and wet and the wining break, once again under the impulsion of Mike Carter, went on the first 28 kilometre climb that rose steadily from 600 meters up to 3100 meters high. Marco Polo was definitely the team of the day with four in the break of 18 riders. The stage was one by Guozong Wang from China, with Marco-Polo rider Jamsran Ulzii-Orshikh coming in second. Michael Cater was 15th, Blake Caldwell was 17th and Cory Lange was 18th.
Stage 4 - August 13: Niao Dao - Qinghai Lake, 120 km
Stage 4 on paper looked the easiest day of the bike race. The stage covered only 120km and was relatively flat from Niao Dao to Qinghaihu Hotel and basically all tail-wind. It was the fastest stage with an average speed of 48.456km/h, however for Marco-Polo, it was as disastrous day, with all the team riders missing the split in the cross-wind. The best rider today for Marco-Polo, a team member racing for the Indonesian team, was Anno Pederson who finished 21st. The winner was David McKenzie from team Flanders. This day we saw our best rider Michael Carter loosing one minute and forty seconds on general classification.
Stage 5 - August 14: Qinghai Lake - Xi Ning, 172.5 km
Oggi (Jamsran Ulzii-Orshikh) and Nathan Dahlberg
Photo ©: Linna Zhang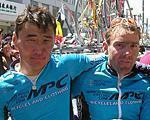 The fifth stage was mostly downhill and covered 172.5km in wet and cold conditions. The bad weather and hard headwind blocked the race, reducing it to a bunch sprint. The day started from Qinghaihu Hotel to Xi Ning. Michael Carter tried to win back some morale for the team after yesterday's performance with an early solo break, winning both mountain and town sprints in a move that would place him later in the top three in both classifications. The stage was one by Carrara Matteo of Italy, and the best Marco Polo riders were Kay Kermer finishing 12th, Blake Caldwell 14th and Jamsran Ulzii-Orshikh 24th.
Stage 6 - August 15: Xi Ning - Men Yuan, 153 km
Amazing views surround Qinghai Lake area
Photo ©: Linna Zhang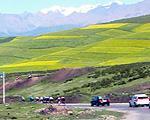 Stage 6 was the first mountain stage of the race between Xi Ning to Men Yuan over 153 kilometres. The race was highly animated before the main climb, but but despite the race being in several groups before the climb, all the real action took place on the 30km giant straight out of the Tour de France.
Marco Polo had Michael Carter once again riding super in the front group of five and just a minute behind in the second group, we had two more riders, Blake Caldwell and Jamsran Ulzii-Orshikh. Blake Caldwell being the youngest member of the team at just 19, performed an incredible ride. He finished 13th, 51 seconds down on the leaders and in the same group as Jamsran Ulzii-Orshikh, who came in 9th. Michael Carter was 4th and the Italians again showed their strength with Denis Lunghi winning and Damiano Cunego coming in second. That night, the town of Men Yuan put on an incredible night's entertainment for both race and local town people, and every foreigner had to sign a million autographs - rider and officials alike!
Stage 7 - August 16: Men Yuan - Hu Zhu, 170 km
Stage 7 started in Men Yuan and finished Hu Zhu 170 kilometres away. The race entered a national park and the scenery was even more stunning and beautiful than the day before; from the views, we could have easily have been in Switzerland. Race leader Wang Gou Zhang was having an incredible tour, being race leader since stage 3. However, the general classification still lay wide open, and just like last year, the whole race was decided on this last mountain stage.
Italian Damiano launched an attack at the base of the day's main climb and was joined by Mizabani, but unfortunately for us, Mike Carter just missed the move which decided the stage and race. Finally with the first warm day, the Marco Polo team showed their true potential with five riders coming in the first two groups. Our best rider was Blake Caldwell coming in 9th, with Michael Carter 14th, Kay Kermer 19th, Jamsran Ulzii-Orshikh 21st and team captain Nathan Dahlberg 26th. Italian Damiano Cunego won the stage.
Stage 8 - August 17: Xi Ning circuit, 96 km
Pull the other one, Nathan!
Photo ©: Linna Zhang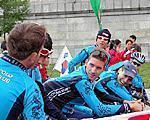 Stage 8, a 98km Circuit race in Xining, saw 81 riders from that original 120 starters start. With three having to stop due to sickness, 78 finished this stage; unfortunately one of those riders that stopped was young Blake Cardwell, who had ridden an incredible race till now and is definitely a big talent for the future.
A small breakaway of ten riders rode away 20 kilometres after the start and were never seen again by the main bunch for the rest of the stage. Our best finisher was Kam Po Wong in 5th, with Ronny Lauke won the stage for the German team. Damiano Cunego of Italy won the race, Ghader Mizbani Iranagh (Giant Asia RT) was second, and Wang Gou Zhang (Chinese National Team) came in third. The best Marco Polo rider was Michael Carter, who came in 8th, 2 minutes and 55 seconds down, and Jamsran Ulzii-Orshikh was 12th, 7 minutes and 5 seconds down.
Italians team won the team classification, with Giant Asia second and Marco Polo third, 15 minutes down. Only two teams finished with all six riders, that being the Italian and Chinese national teams. Ghader Mizbani Iranagh (Giant Asia RT) won the mountains, with Michael Carter third and third again in the sprint classificatione, which was won by Daryl Impey from South Africa.
The second Tour de Qinghai Lake was once again a great success. This year, the racing was harder due to the tough weather conditions and increased race distances. With more town finishes, the number of spectators watching the race had increased two-fold. The Marco Polo team - Mike Carter in particular - rode a good race, but race tactics, which played a bigger role this year, worked in favour of the Italians, who sat back till the very end, watching the other teams fight it out amongst themselves earlier on. The accommodation and food was of high standard and the organisation of similar standard to that of any top European race. The best thing about this race this year was that there were no transfers between stages, as each day's racing started where the previous days finished.
Marco Polo would like to thank the Chinese Cycling Association for inviting us and we look forward in racing this race again next year.
Photos
Images by Linna Zhang
For more information on the Marco Polo Cycling Club and its travels, visit: www.marcopolocycling.com