Tales from the travellers — the diary of Team Marco Polo
China, January 31, 2006
Marco Polo hits the road in China
By Remko Kramer
The Marco Polo lads
Photo ©: Francis Cerny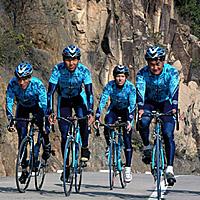 The Marco Polo Cycling Club has existed for five years now, and the team has developed from a mixed group of adventurous club riders into a Division 3 team which is now a UCI Continental team registered in China. The Marco Polo Cycling Team is the first professional cycling team in China, developing the country's best riders into top-level cyclists ready for the 2008 Beijing Olympics.
To prepare well for the 2006 season, we organised a training camp in the south of China. Todd McKean from Trek bicycles China, who has lived in the Guangzhou City area for a few years and knows some good locations for training pointed us in the direction of Conghua, a part of Guangzhou City which has more then 10 million citizens. However, in this part of the country there are great roads with little traffic.
All Marco Polo's Asian riders were present, with Chi Yin Leung (Hong Kong), Jamsran Ulzii-Orshikh (Mongolia) and Chinese riders Fuyu Li and Yu Tong all staying on for 2006. New riders in the team include Malaysian Loh Sea Keong (20 year old from the Marco Polo Cycling School) and Chinese riders Chen Jun Xue Ming Xing and Xing Yan Dong. Me and my girlfriend Francis Cerny took care of the organisation of the training camp, and since I have a university degree in exercise physiology and many years of experience as an active rider, I was able to advise in the field of cycling training. I also planned the training for this camp, and we both joined and guided the training of the riders on the road.
The crew hanging out
Photo ©: Francis Cerny

We left Europe and flew into the new year, missing the local new year during the flight because we just passed a time zone before midnight. We arrived in Hong Kong where we took the ferry to Macau before meeting most of riders who were racing in the South China Sea Tour. On arriving in Guangzhou we checked in at the hotel which was very nice and the food at dinner was excellent - but the breakfast was traditional Chinese, with soup, raw egg and meat, so we had to get some bread and cereals to make sure we had enough energy for training!
The plan for this training camp was to build on the basis for the rest of the season, with long endurance training and work on power, leg speed and sprint speed for the coming races. Chinese coaches and staff joined us and we worked together during the training camp - we learned a lot from them about Chinese sports and training, and they also learned things from us; we hope that this will help Chinese cycling to develop further.
Some of the riders:
Photo ©: Francis Cerny

Among the riders there were some that had prepared well for the coming season and were competing already. Riders such as Chi Yin Leung, Jamsran Ulzii-Orshikh and Fuyu Li, plus Loh Sea Keong and the Chinese riders, Yu Tong and Chen Jun were already in competition at the Tour of South China Sea. They had no decent preparation for the season yet, however, and Xue Ming Xing and Xing Yan Dong who came from Harbin in the north of China had not yet started their season's preparation - we had a very mixed group.
The roads were great for training. Sometimes we trained on a kind of freeway without much traffic and with one extra lane especially for bicycles! We found some nice smaller back roads which had some good rollers and nice small climbs, and later in the week we also went for some intensive endurance workouts on the Nan Kun Shan mountain, which is about 17km of decent climbing, with great views. At dinner and in the evenings we got together and talked about training, cycling and races in Asia as well as Europe - the new riders learned a lot from the more experienced hands in the group, and they bonded really well. There was plenty of fun and lots of laughs with some great stories.
Photography
For a thumbnail gallery of these images, click here
Images by Francis Cerny/Marco Polo Cycling Team
For more information on the Marco Polo Cycling Club and its travels, visit: www.marcopolocycling.com