Trek - Marco Polo team diary
Sea Keong Loh (Discovery Channel Marco Polo)
Photo ©: Shane Goss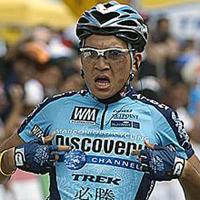 Riders of the China-registered Trek - Marco Polo Cycling Team report in from races around the world. Founded in 2000 and named after the famous traveler, Marco Polo, the team's mission is to provide talented cyclists from non-traditional cycling countries an opportunity to develop into world-class professionals. Formerly the development squad for the Discovery Channel team, Trek Bikes took over the main sponsorship position.
In 2008, Fuyu Li is one of the key riders of the team, and he will prepare to represent the host country at the Olympic road race in Beijing under the guidance of experienced team directors and team-mates like Bart Brentjens (former Olympic and World Champion) and Leon van Bon (winner of two Tour de France stages and Olympics and World's medalist).
Next to the Trek – Marco Polo Cycling Team, Marco Polo Cycling also manages the Bike4All foundation that supports the development of cycling in poor development countries.
Trek Marco Polo Team - www.dcmpteam.com, www.marcopolocyclingteam.com
Read about the history of the team.
Getting close at the Tour de Hokkaido
By Rhys Pollock
Rhys Pollock had a great race and came close to winning the overall
Photo ©: Toshiaki Nakanishi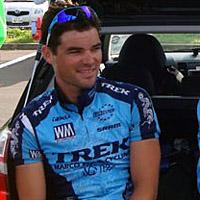 Back in Japan for the third time this year! Not that I'm complaining… I have enjoyed my trips to Japan so far this year. Racing is great and well organised, everybody is nice and I never get sick of Japanese food.
The Tour de Hokkaido had a tough start with the first stage being 215km long and four climbs that looked pretty difficult on paper. It was attack after attack as per normal in Asia, but on the final climb, with about 50km to go, it was all back together, with only two riders still remaining out front.
Over the climb I was in the front group and went with an Italian rider from the Nippo Team on the descent. We quickly got a gap and caught the remaining rider from the breakaway. We were joined by two more riders, and by the time we came off the descent we already had 30 seconds.
We had a good selection of riders together and it went out to 1min45 sec with 15km to go. They started to chase a bit from behind and it came down to 1min 30 but we maintained that to the finish.
It was an uphill sprint and about 200m from the line I cramped just a little and lost all rhythm that I had. I ended up fifth from five! My sprinting is improving for sure!
Moving up in GC
Jai Crawford getting drinks and doing other great team work in Japan
Photo ©: Toshiaki Nakanishi

Over the next few stages we tried to make sure we had someone in the breaks but also try and keep me up there on the GC. In the third stage – a 1.6km(!) TT – I managed to move up to fourth place.
The fourth stage looked the toughest on paper and I was nervous about keeping my high GC place. The race was on from the gun and I had to help Jai chase down a dangerous break in the early stages. A large break went and nobody wanted to chase. We decided that it was better to help chase than to lose my high position. Thankfully Jai worked awesome on the front for me and pretty much brought the break back by himself!
With 10km to go it was all together and in the final uphill sprint to the line I managed to stay in there and finish in seventh place. Still in the hunt!
The next stage was difficult. With no teams wanting to control the race it was constant attacking from the start. I tried to cover as much as I could, and Jai did a great job again chasing breaks back for me. It took about 80km for a break to get away that everyone was happy with. In the end there were three riders that jumped away in the final 10km and I finished safely in the peloton.
Just seconds
The final stage was a 60km crit in Sapporo. It was the last chance for the GC to be decided, as the first five places where separated by only 17 seconds! First and second was separated by only one second, so it was going to be a tough stage!
I kept fighting all the way to the line going for all the Hot spot sprints. It was not easy as first and second were really fighting with their teams involved also. I only managed to gain back one second but I gave it my best and was happy with that.
So after the disappointment of Thailand it was great to have a fairly successful trip to Japan. Fourth place on GC was a good result as we only finished with two riders! Japan is a nice place, too; great food and hotels, and we had a great cast of staff members that made it easy for us. Happy riding!
Rhys…
About Pollock and the Tour de Hokkaido
Fuyu Li was also a great team helper in the Tour de Hokkaido
Photo ©: Toshiaki Nakanishi

Australian Rhys Pollock is one of the riders that brings a lot of experience into the team and helps the younger Asian riders. Pollock is having a great season with great performances all year. Winning two pro races in Europe, impressive performances in Asia and especially fantastic riding in Tour of Qinghai Lake and Tour de Georgia.
Pollock teamed up for Tour de Hokkaido with Fuyu Li – the number one Chinese rider – Jai Crawford, often the designated GC rider for Trek- Marco Polo and two Japanese riders: Ken Onodera and Yu Takenouchi.
The team had a complete Japanese staff, with first class massages given by Tomoko Fujita, the Trek Madones with SRAM Red Groups were spoiled by mechanic Toshiaki Nakanishi and the directions were given by team manager Masaru Takagi.
The Tour de Hokkaido was initially held in 1987 as the first stage race in Japan. This year's edition was the 22nd one; the 12th international Tour de Hokkaido on the UCI calendar.
Photography
For a thumbnail gallery of these images, click here
Images by Toshiaki Nakanishi