Trek - Marco Polo team diary
Sea Keong Loh (Discovery Channel Marco Polo)
Photo ©: Shane Goss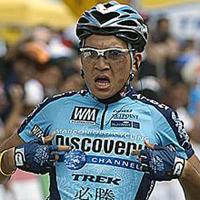 Riders of the China-registered Trek - Marco Polo Cycling Team report in from races around the world. Founded in 2000 and named after the famous traveler, Marco Polo, the team's mission is to provide talented cyclists from non-traditional cycling countries an opportunity to develop into world-class professionals. Formerly the development squad for the Discovery Channel team, Trek Bikes took over the main sponsorship position.
In 2008, Fuyu Li is one of the key riders of the team, and he will prepare to represent the host country at the Olympic road race in Beijing under the guidance of experienced team directors and team-mates like Bart Brentjens (former Olympic and World Champion) and Leon van Bon (winner of two Tour de France stages and Olympics and World's medalist).
Next to the Trek – Marco Polo Cycling Team, Marco Polo Cycling also manages the Bike4All foundation that supports the development of cycling in poor development countries.
Trek Marco Polo Team - www.dcmpteam.com, www.marcopolocyclingteam.com
Read about the history of the team.
Crawford's Langkawi travels
By Jai Crawford
Jai Crawford (Trek–Marco Polo Cycling Team)
Photo ©: Steve Thomas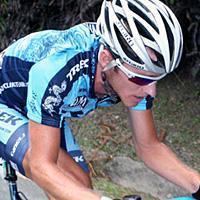 Le Tour de Langkawi, sounds like a tropical holiday, but people that follow cycling a bit more know this is one of the bigger races outside the traditional cycling world. It is tropical, with beautiful white beaches and palm trees as background, but with several of the better professional cycling teams in the world taking part, there is not much chance to enjoy the beauty of Malaysia for the riders. Here follows the report from last years number five on the mega-climb to Genting Highlands as well as number five in the overall classification, .
Australia - China - Malaysia
The Tour of Langkawi for 2008 was to be the first race with my new team for the year, the Trek - Marco Polo Cycling Team. Most of the guys on the team had already raced a few weeks before in the Tour of Malaysia, where they took the first stage and the yellow jersey for a few days. I chose to race my national championships back in Australia before setting up base for the year in Nanjing, China, with my special little lady. Having endured a week of indoor training in China due to the huge dump of snow they had, I packed my bags once again for Malaysia.
No Genting Highlands
The Trek–Marco Polo Cycling Team leading the peloton
Photo ©: Steve Thomas

Tour de Langkawi is probably the biggest race on the Asian calendar, so naturally it is important to most Asian teams. I rode well there last year, finishing fifth on GC and helping my previous team to an unprecedented teams GC win by an Asian registered squad. I had high expectations for 2008 but unfortunately, the famous Genting Highlands mountain was left out of the parcours this year and any other hill along with it. Without any reasonable climbs in the race, I had to turn my focus to helping our Russian sprinter, Sergey Kudentsov. The team would attempt to place guys in breaks and see what comes of that.
Stage one was not a good one for the team, a large break went very early in the race and with most of the bigger teams represented it was allowed to take a ridiculous amount of time on the peloton. It was perhaps a good way to learn a lesson for the team though; be aware of what's happening in the race. Stage two looked like it would end in a bunch sprint, but a small group managed to get away in the finale and the bunch sprinters would have to wait for another stage.
Xing Yan Dong gets third
On stage three, the team took its best result of the tour with Chinese rider Xing Yan Dong taking third place on the stage from an all-Asian break away. It was a great result for himself and for Chinese cycling. No doubt, the bigger teams were stinging a little from their mistakes of stage three and they made sure the next two stages finished in bunch kicks. Sergey took a nice seventh place on stage four, but was lacking support in the final kilometres and couldn't produce his standard super sprint.
Loh Sea Keong
Chinese Fuyu Li (Trek–Marco Polo Cycling Team) went solo
Photo ©: Steve Thomas

Trek-Marco Polo has one Malaysian amongst its ranks, Loh Sea Keong, a real team player. It was Loh's chance to shine on stage six when he made it into a break of 16 high quality riders that went to the finish with over four minutes on the chasing peloton. It was a particularly impressive performance as the period before the break went was quite difficult.
Fuyu Li and I both had attacks on stage eight, which finished with a small climb but they were to no avail. We tried our best on the final stage in KL to keep Sergey in with a shot for the sprint, but again he just lacked a guy to lead him in the final kilometre.
2009... mountains!
I am a climber so my opinion is biased, but the 2007 addition of Tour de Langkawi was a far more interesting race than 2008. I don't believe you can have a nine-day stage race without any significant mountain stage and that opinion is supported by every other quality stage race in the world. I hope that Tour de Langkawi 2009 can include the mountains that make the race famous. It was a mediocre race for the team, Xing Yan Dong had a fantastic result but he was alone. We will turn our focus to the Giro del Capo in South Africa, Tour de Georgia and other races and hope for a little more luck and better form.
Photography
For a thumbnail gallery of these images, click here
Images by Steve Thomas