MTB news & racing round-up for November 6, 2006
Edited by Steve Medcroft
Paez holds lead to the end of La Ruta
Leonardo Paez
Photo ©: Rob Jones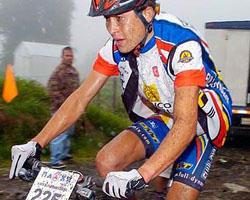 Costa Rican pride was salvaged on the final day of La Ruta de los Conquistadors, when Andrei Amador (BCR-Pizza Hut) broke away in the final kilometres to win the third and final stage while Hector Leonardo Paez (Full Dynamix) cruised in fourth, secure in his lead of nearly 30 minutes, to take the overall title. Marga Fedyna (bungalowboys.com) took her third consecutive stage to dominate the women's competition.
The third stage, at 122 kilometres, is the longest, but in some ways the easiest - since it generally slopes downhill to the finish at the Caribbean beach resort of Playa Bonita. However, the riders still climb 1720 m (5650 feet), with 17% pavement, 12% mud and 51% gravel. The kicker is the 25 kilometres of train track - with the rail bed still in place. This is 21% of the total distance. Last year, riders caught a break, when one of the trestle bridges over a river was out of service and the race had to detour around on a long section of road but that bridge is now fixed. These bridges are high, over rivers containing Caiman alligators and have big gaps of 30-60 cm between each trestle as the riders walk across with bikes over their shoulders.
The Costa Ricans pooled their efforts, with a ferocious attack by former winner Paolo Montoya (Super Pro-Banco Cuscatlan) in the opening kilometre of the stage. This stage began with the riders heading back up the five kilometre descent they finished on yesterday. By the first two kilometres there was already a front group away, containing Montoya, Amador, Federico Ramirez (BCR-Pizza Hut), Deiver Esquivel (IBP) and Paez - four Costa Ricans and the lone Colombian leader. Thomas Frischknecht (Swisspower) and Marizo Deho (Olympia) were chasing at 30 seconds, but didn't catch on until near the top of the first section of climbing.
Read the complete Stage 3 race report here. Click here for full La Ruta coverage.
Belgian Christophe Stevens wins Crocodile Trophy at third attempt
By John Flynn
Christophe Stevens
Photo ©: John Flynn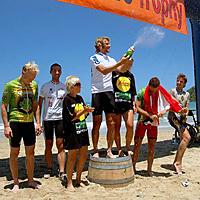 At the end of 1,400 kilometres and thirteen stages, across hundreds of thousands of corrugations, from the vastness of the Australian Outback to the magnificent rainforest of the Daintree, the strongest rider in the Crocodile Trophy of 2006 crossed the finish line as the ultimate victor. His name - Christophe Stevens of Belgium.
And what a way to end a cycling career!
Stevens, who will officially put his bike in the garage for good after today, crossed the finish line on the beach in beautiful Cow Bay, where wife Anita, the bride he met at his first Crocodile Trophy two years ago, was waiting.
The Belgian finished more than a half an hour (33.08) in front of his nearest rival Attila Marton of Hungary, with Stefan Rucker of Austria (1.05.58 in arrears) - one of the most improved riders in this event, third in the General Classification.
When the final standings are etched into Crocodile Trophy history it will go down as a victory well deserved. Stevens proved himself the best cyclist in the race - one which demands skills across all areas of cycling, riding on tarmac roads, dirt roads, mountain tracks, across corrugations, sand, rocks, mud, steep ascents and gnarly descents.
"It's nice to finish on a beautiful location like this and it's so nice to win the Croc Trophy," Stevens said at race end. "That's it for me, no more competition for me, if I ride my bike now, it's to the bakery - if it's not raining and if the car's not there - just to bike for fun."
For those who witnessed Stevens' first assault on the Crocodile Trophy two years ago, it was an inspiring turnaround. He came to the race in 2004 as an accomplished road racer, but the Australian Outback almost destroyed him. Bravely, the Belgian returned in 2005 - riding strong, but without luck. His return this year might have come with a lesser preparation, but the knowledge he had gained over two previous Crocodile Trophy experiences clearly shone through.
Cyclingnews was on hand for ever brutal mile of the 2006 Crocodile Trophy. Check out our full race reports, results and photos here:
Bishop La Ruta injury update
Jeremiah Bishop finishes
Photo ©: Rob Jones
Early Saturday, American racer Jeremiah Bishop (Volkswagen-Trek) was transferred to CIMA Hospital in San Jose, Costa Rica after he crashed 5 kilometres from the finish of Stage 2 at the La Ruta de Los Conquistadores.
At the time, Bishop was second in the overall standings to Hector Leonardo Paez (Full Dynamix) but leading the stage and appeared to press his advantage on a technical downhill in order to gain time on his rival. The Trek dealer in Costa Rica, Ignacio Pasos, said that Bishop was descending at high speed on the last downhill and lost control of his bike. Bishop still managed to finish the stage in second place.
Bishop was treated in a local medical centre before being transported to the CIMA Hospital in San Jose, where he continues to recover from the accident. In an update, Bishop was reported in stable condition after undergoing surgery to treat two fractures on his nose and jaw that he suffered in the accident.
Buchanan wins Aus MTB Series round one
Bryn Atkinson finishing second
Photo ©: Evan Jeffery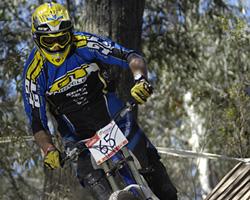 By Sharon Payne
The Men's final run down the State Mine Track at Lithgow was cancelled in an unprecedented decision by officials at the Australian National Mountain Biking Series opening round. The decision saw elite men and under 19 riders unable to complete their final run today. Record numbers of riders, delays in accessing a section of the track to assist injured rider and concern over safety as light began to fade led to the organiser's decision.
"The decision was based on the injured rider's safety and the number of competitors yet to go down the track," said Chief Commisaire Grant Medlock. "It's the first time I've had to make that type of decision. In the 20 years of mountain biking it's the hardest decision I've had to make."
Tony Scott, the CEO of Mountain Biking Australia added, "There is a technical rule that allows the winners to be recorded from their qualification times."
World bronze medallist, Nathan Rennie (Gold Coast), qualified in tenth place and had no chance to improve his position or breaking his course record of 2.58.0 due to the cancellation. Brad Kelly (Sydney) qualified the fastest in the seeding run, posting a time of 3.05.59, and was the eventual winner. Bryn Atkinson (Victoria) was second fastest and second overall while Adam Smithson (Newcastle) and Dave West (Adelaide) qualified third and fourth respectively. The 2005 World Junior Champion, Amiel Cavalier (Wollongong) qualified fifth fastest.
Read the entire race report from round two of the Australian MTB National Series here.
Vaude Highland Fling set for November 12th
Entries for the Vaude Highland Fling MTB Marathon on 12 November have now closed with 1,100 riders descending on the Southern Highlands of New South Wales to take on their own challenge through forest, farmland and flinging country.
Around two thirds of the field will take on the Full Fling of 104km with the balance doing the Half Fling and a few teams getting it together in a Flinging Threesome. 40 Elite men and 10 Elite Women will battle it out for the cash, the titles and the glory with the winning time expected to be around 4 hours. A mere 6 individuals will take on the 100Mile(160km) Fling due to the extremely tight required finishing times of no more than 8 hours.
Now in only its second year, The Vaude Highland Fling starts and finishes in the village of Bundanoon on Sunday November 12 with the leg warming 5km Bundanoon Dash taking place on the Saturday evening. Bundanoon is 2 hours south of Sydney.
USA Cycling announces new national mountain bike calendar
USA Cycling introduced for 2007 a new mountain bike calendar that is designed to recognize and support top-level regional, national and international events through a season-long calendar similar to the National Racing Calendar model currently utilized in road cycling. This series is not to be confused with the "National Mountain Bike Series" (NMBS), which has been owned and operated by Team Big Bear and Blue Wolf Production for the past three years.
The new Mountain Bike National Calendar is an attempt to increase interest in US mountain bike racing and will include events that have not participated in the traditional "NORBA National Series" model. Events will be grouped into categories: endurance, gravity and ultra-endurance. Endurance will consist of cross country, short track cross country, time trials and stage races. Gravity is defined as downhill, dual slalom, 4-cross and super downhill. Ultra-endurance will include marathon, ultra-marathon and 12- and 24-hour races.
Later today, USA Cycling will release pro purse requirements and bidding documents for the three categories. The documents are expected to explain the requirements and process for solidifying a spot on the calendar, prize money requirements, event guidelines, rights and responsibilities, and application procedures.
Steve Johnson, USA Cycling chief executive officer, called the calendar an attempt to "build a true national event ladder to support and sustain the continued development of American mountain bike racing."
See also: our 2006 coverage of the sport of mountain biking.
Red Bull Road Rage cancelled
Mountain biker Myles Rockwell
Photo ©: Red Bull

Due to fire safety prevention precautions, organizers of the 2006 Red Bull Road Rage have cancelled their event. After close evaluation of the current fire danger conditions by the Malibu, California fire chief, the decision was made yesterday to call off the 2nd edition of the downhill challenge.
Il Falco Bergamasco, Paolo Savoldelli of Discovery Channel, had planned on attending the event to showcase his descending skills as Cyclingnews reported on October 22. Savoldelli was to face the 2005 winner and former world downhill mountain bike champion Myles Rockwell.
"While disappointed, everyone at Red Bull is in full support of whatever action is necessary for the safety of the local community. Red Bull would like to thank all of the athletes, media and bike industry for their support of the event," said organizers in a released statement.
Fast and flowy; Orbea Alma 29er on test
The Orbea Alma 29er
Photo ©: James Huang

Orbea's Alma 29er is a big-wheeled offshoot of the company's race-ready Alma carbon fiber hardtail, currently piloted by the Luna professional team. With all of the hype surrounding its introduction, James Huang finds out if the Alma 29er lives up to its high expectations:
Orbea made a big splash earlier this year with the announcement that it would be making a 29er version of its high-zoot Alma carbon fiber hardtail. Sure, there were lots of lightweight XC-specific 29" hardtails already available (including Orbea's own aluminum version), but the Alma 29er was to be, and still is, the first one crafted from carbon fiber.
If its aluminum 29er was the proverbial toe in the water, this new model is, by comparison, a veritable cannonball. Unlike aluminum which can easily be cut, mitered, and welded in whichever way necessary, the Alma 29er's true monocoque construction requires a major commitment involving expensive molds and associated tooling. Two-niner advocates are undoubtedly thrilled with the Alma 29er's 1300g final production weight (for a medium frame), but will Orbea's gamble pay off in what is still a relatively nascent segment of the mountain bike market?
Read the entire Orbea Alma 29er review here.
TransRockies 2007 registration opens
The TransRockies Challenge opened registration for it's sixth edition recently. In 2007, the event will be held from August 12-18 and the field is being capped at 275 2-person teams. Those 275 places will be allotted on a first-come, first-served basis and entries can either be submitted electronically through the promoter's website (www.transrockies.com) or by faxing in the entry form; also available online.
The teams will be competing in six categories based upon age and gender, and can sign up for three event packages based upon the level of service provided by the organizers. The promoter expect the TransRockies Challenge to reach full capacity quickly once again, so if the TransRockies is on your to-do list for 2007, be sure to reserve your spot early.
New Canadian multi-day MTB race
Throwing it's hat into the multi-day mountain-bike stage race ring (alongside races like TransRockies, Trans Alps, La Ruta, Crocodile Trophy and Cape Epic) SEVEN - a new MTB stage race - is scheduled to begin July 1st, 2007 amid Canada Day celebrations in Victoria, British Columbia.
150 two-person teams will race from the southern tip of Vancouver Island, to the Sunshine Coast, to the mountainous Whistler Valley. SEVEN founder, Dean Payne, has extensive experience in the Adventure Race industry, having started the successful Sea2Summit race series and run it for more than 11 years. "B.C. is the premier place on the planet to mountain bike," Payne says. "Everyone behind SEVEN wants it to be a challenging race that excites the senses. Simply put, our goal is to provide the best stage race experience in the world."
Race registration opens on January 1, 2007 and will be restricted to just 150 teams of 2 competitors.
Otway Odyssey offers $40,000 purse
The inaugural Otway Odyssey Mountain Bike Marathon will be held on February 3rd, 2007 and will lead competitors from the ocean shores of Apollo Bay (South-West Victoria, Australia) to the township of Forrest and return, totalling a distance of 100km in the Otways National Park.
Riders will pass through some of the region's best kept secrets by riding along the bush tracks and trails hidden deep within the rainforest; passing giant tree ferns, towering mountain ash, picturesque lakes and spectacular views over the coast and surrounding ranges. The mid way point of the ride will be the Forrest football ground where a massive festival will be under way to welcome cyclists.
The Otway Odyssey may be completed as an individual riding the whole 100km, as a team of 2 riding half each or as a shorter 50km ride from Forrest back to Apollo Bay for those newer to the sport. With $40,000 in cash prizes spread across a range of divisions.
Gohl and Milatz re-sign with Multivan-Merida
Germany's top mountain bike racers Nina Göhl and Moritz Milatz will continue to race in the colours of the Multivan Merida Biking Team for 2007. They both signed a two-year contract; completing the team's line-up heading for 2008 Beijing Olympics.
Despite being absorbed by her studies of medicine, Nina Göhl managed to win her first World Cup race in 2006, to become the German marathon champion, and to further climb up the world ranking; occupying eighth position by the end of the season. Moritz Milatz secured himself Germany's national champion jersey in the Olympic cross country discipline, thus solidifying his position as Germany's strongest male mountain bike racer.
Gunn-Rita Dahle Flesjaa, José Hermida and Ralph Näf had already extended their contacts to the year 2008.
Bart Brentjens signs with Dolphin Bike Team
Bart Brentjens has signed with the Dutch trade team Dolphin in a deal that extends beyond his expected participation in 2008 Beijing Olympics.
Brentjens will be accompanied on the team by several top talented riders from The Netherlands and Belgium. Current vice-champion, Rudi van Houts and Jelmer Pietersma are also contracted with Dolphin.
The Dolphin Bike Team will be divided in three divisions in 2007: An international Cross-Country team, an international extreme sports team representing downhill and four-cross disciplines, and a satellite development team called 'BEJAN-Dolphin'.
IMBA announces trail-building grants
Ten $500 USA Cycling/IMBA Trail Tune-Up Grants are now available to mountain biking groups seeking to jump-start trail improvement projects.
Projects that create or improve trails used for mountain bike racing will receive the highest consideration, but funding can also be used to improve trails for race training and recreational riding. Applicants must be current members of the International Mountain Bike Association (IMBA) as well as USA Cycling member clubs or race promoters.
Trail Tune-up Grants are completely funded by USA Cycling members through an optional land access checkbox on USA Cycling license applications and renewal forms. The program is administered through a partnership between USA Cycling and the IMBA.
The application deadline is November 15, 2006. Grant winners will be announced in late November.
Cutting new trail in Minnesota
Minnesota's largest mountain bike advocacy organization, the Minnesota Off-Road Cyclists (MORC) has partnered with bicycle parts and accessories distributor, Quality Bicycle Products, and Three Rivers Park District, to help create 10-miles of new singletrack mountain bike trails for Minnesota riders.
The existing trail system at Murphy-Hanrehan Park Reserve, in Scott County, MN, had recently come under review due to issues of erosion and conflicts with protected bird nesting areas. MORC approached the land managers of Murphy-Hanrehan Park Reserve, Three Rivers Park District, and proposed a new trail system in the undeveloped areas of the park that would provide a sustainable solution to the area's unique environmental factors. After years of discussions, MORC and Three Rivers Park District reached an agreement in 2004.
"We are pleased to be able to take the negative of an impending trail closure and turn it into a positive with new, sustainable trails being created," said MORC President Scott Thayer. "The agreement allowed MORC to start from scratch to design the sustainable trails where the best features already exist in the 2,400-acre park," Thayer continued, "This as an opportunity for MORC to use our experience and knowledge gained from previous projects to create a masterpiece for Twin Cities mountain bikers."
Included in the agreement was a substantial upfront financial commitment from both Three Rivers Park District and MORC. In order to offset the cost of its commitment, MORC reached out to a long time supporter: Quality Bicycle Products (QBP). Owner and President of QBP, Steve Flagg saw this as a signature opportunity to support mountain biking in Minnesota. Flagg developed an in-house fundraiser where every $1 donated by his employees was matched with a $5 donation from the company. At the end of the 2005 summer-long fundraiser, Flagg and his employees had successfully raised $20,000 for MORC and the Murphy-Hanrehan Park Reserve project.
Construction of the trail began in late July of 2006 and is scheduled to be completed and open in 2007.
Ray's Indoor MTB Park opens November 3rd
While some people dread the gloom of the winter months, people in the know look forward to Ray's Indoor Mountain Bike Park. Located in Cleveland, Ohio, Ray's MTB has become a premium destination during the fall and winter months.
The 82,000 square foot facility has grown and several new features have been added. There's even a new Cross Country loop that finds riders pedaling up above the rafters. Ray's Grand Opening for this season is November 3rd – 5th. The park remains open until April 1. Check out www.raysmtb.com for up to the minute details.
The short version of the 2006 24 Hours of Moab; the Nat Ross diary
Nat Ross
Photo ©: Xavier Fane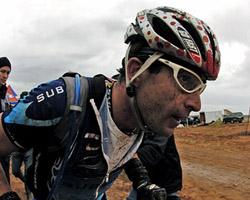 That's right. Mother Nature moved in quick to drastically shorten the 24 Hours of Moab for soloists by two thirds. My winning finishing time was eight hours and eighteen minutes. Although soloists wanted to race the full 24, a freak storm prevented any nighttime laps, which in turn had soloists voting not to restart in the morning. Follow my play-by-play for the last race in the 24 Hour National Point Series.
I drove my Subaru Outback to Moab on Wednesday evening without my crew. My plan was to clear my head and prepare for the big day with out too many stresses or distractions. My crew manager, Mike Reed, had been riding in Moab twice in the past month and had told me just how wet it had been. Mike informed me to watch the weather closely and bring lots of rain gear and warm riding clothes.
The plan was to pre-ride two laps on the course Thursday in the morning. I was riding new prototype Bontrager tubeless 29-in tires. I had raced the proto tubeless rims all summer, but had not raced the tires and tubeless rim strips yet. I hammered out my first lap in one hour and fifteen minutes. This was five minutes slower than I wanted to be so I opted not to ride another lap on my second Gary Fisher (Race Day) SuperCaliber 29. The tires felt bombproof and I wanted to conserve my energy for Saturday and Sundays efforts.
My amazing support staff arrived later that evening. My crew returned from last year and consisted of: Myron Billy as my mechanic, Mike Reed, my sister Niki, and her friends Stephanie and Andie. They kick ass. We laughed our selves silly as the vibe between us is all about having a good time. Everybody brought his or her bikes to ride prior to the race, but the weather was too crappy.
My bikes were dialed and I showed up on Saturday morning earlier than planned - which was great as I had a scheduled interview. It also never hurts to have extra prep time when it's raining. Keeping everything dry is extremely difficult even in the tents. Another difficult task was to maintain my motivation. These races are miserable enough in dry conditions. Typically, I wish for bad weather, but I knew I was in for some bone-chilling laps.
Read the entire Nat Ross diary here.
(All rights reserved/Copyright Knapp Communications Pty Limited 2006)