MTB index page for all MTB content
Crocodile Trophy - NE
Australia, October 17-29, 2006
Main Page Results Overall standings Previous Race Next Race
Race 6 - October 22: Koombooloomba - Irvinebank, 125 km
Borup buries disappointment with strong stage victory – and a gift from Rucker
Christophe Stevens sitting
Photo ©: John Flynn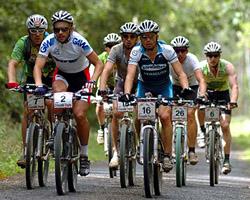 By John Michael Flynn at Irvinebank
A beautiful act of sportsmanship from Austrian Stefan Rucker brought closure to yesterday's soul-destroying Crocodile Trophy experience for Dane Michael Borup, when he was gifted the stage victory in today's 98 kilometre journey from Koombooloomba to Irvinebank in far North-Queensland.
Borup launched an attack two-kilometres into the stage, as the lead bunch rolled through the World Heritage Listed rainforest of Ravenshoe, and took his anger out on the pedals for most of the next hour - tapping out a frantic beat. "Today I just wanted to prove that yesterday was all wrong, today I drove with the legs and not the head," Borup said. "We attacked already, after one or two kilometers I went straight ahead and I had Rucker on my wheel. I know he's been going really strong for the last couple of stages so I knew he'd be a good guy to be with and after that we worked really perfectly together."
Rucker gifts the victory to Borup
Photo ©: John Flynn

For Borup, there was no better way too put behind the disaster of yesterday than to get on with the business of racing. It's now history that the Dane and Austrian Heinz Zorweg took a wrong turn while sharing the lead during stage five of the Crocodile Trophy - a mistake which effectively ended both riders' chances of a General Classification win.
Still, it's a race of contrasts. While Zorweg chose to officially withdraw from the race and take a holiday, riding at the rear of the peloton, Borup blasted to a stage win. "I came here to try to do something and I think today I did and what comes from now is going to be a bonus," Borup said. "I won't think much of what happened yesterday, what's done is done and I'm going to race on."
Today's act of fellowship from Rucker could only have added to Borup's positive outlook. The Austrian looked the stronger of the two breakaway riders heading toward the finish, but after winning two stages himself, offered up the victory to his Sunday riding companion.
"It was a nice day, I'm quite happy for Michael that he won and that he continued the race - he didn't stop and he really deserved the win today," Rucker said. "He helped me a lot during the stage, we had different goals, I wanted the most aggressive rider, I already have two stage wins, he has none."
No change in battle for General Classification
Darren O'Grady is fed
Photo ©: John Flynn

The big question now at the Crocodile Trophy is - when will the Felt-Shimano Dream Team attack Christophe Stevens? The answer to that question should provide the answer to an equally compelling question - does the Felt-Shimano Dream Team have the class to win the Crocodile Trophy?
On paper, today's predominately road stage linking the rainforest of the Atherton Tableland with the outback, looked like a perfect opportunity for the Green Machine to send riders up the road.
Stevens, the GC leader, was effectively isolated in a small pack containing all three Dream Team riders, David Wood, Valentin Zeller and Darren O'Grady, but almost surprisingly, the Dream Team chose to hold onto its cards, ignoring one of cycling's oldest proverbs: three against one – you lose.
Rolling across the Atherton Tableland
Photo ©: John Flynn

"Today was basically a road stage and he's (Stevens) a professional road rider, we weren't going to lose him today," Dream Team Directeur Sportif Christie Anderson said. "He's going very well up to this point, we don't think he's got the fundamental foundation in his legs, he hasn't trained for this race.
"He will eventually blow, we just need to wait for the moment when he's looking a little bit weak and we'll work him over if we can"
'If' appears to be the operative word for the Dream Team, which has Austrian Valentin Zeller in third outright, Australians David Wood fifth and Darren O'Grady 11th. All three riders were classed as 'smokies' at best heading into the 2006 Croc Trophy, with Zeller, if anything, hiding in the bunch.
"Valentin (3rd on GC) would be our best on the overall classification, we've got Darren who we're ready to launch any time, we've picked a couple of stages with his name on them for a stage win," Anderson said. "We're going to keep ticking away at the team's competition - we're going to have it by several hours going into the Daintree stage."
Will bird read to fly into Cooktown
The Dutch Tamden still powering
Photo ©: John Flynn

Tomorrow will be birthday time for two of the Crocodile Trophy's favourite riders - Japan's Toru Watanabe (39) and Australian Will Bird (29). Bird enjoys the unique distinction of being the first Crocodile Trophy campaigner to hail from the historic port of Cooktown – one of the Croc Trophy's traditional destinations.
With the race now almost at the half way point, Bird rolled into Outback Irvinebank today sporting his ever present smile, and comfortable in the knowledge, he'll more than likely make it back home for the Trophy's penultimate stage, where he'll be met by a parochial crowd at the top of 'Grassy Hill'.
"When we pass through Cooktown hopefully my mates will be waiting to see me as well as mum and dad," Will said. "It'll be a happy day for me and tomorrow will be another happy day, I'll turn 29 tomorrow and Toru will turn 39 tomorrow - so we'll have a happy day and enjoy our birthday together."
FELT - Shimano Dream Team diary

Photography
For a thumbnail gallery of these images, click here
Images by John Flynn/Cyclingnews.com
Results
Stage 6 - Outright
1 Michael Borup (DEN) RT-Adidas-Roadbike Shop                                         2.55.45
2 Stefan Rucker (AUT) Elk Haus					     
3 David Wood (AUS) Dream Team                                                           12.42
4 Christoph Stevens (BEL) Belgian Bike Power                                            
5 Attila Marton (HUN) Meditech Sport Club - CIB Leasing                                 12.47
6 Ingmar Brichenfrid (AUT) Lietz-Sport Team                                             12.52
7 Valentin Zeller (AUT) Dream Team                                                     
8 Darren O'Grady (AUS) Dream Team                                                       16.54
9 Niek Lingier (BEL) Lingier-Versluys MTB-TEAM                                          19.44
10 Struan Lamont (AUS) Team Scott Racing                                                23.21
11 Frederik Dewilde (BEL) Lingier-Versluys MTB-TEAM                                     24.28
12 Luc Gielen (BEL) Team MI Croc for Sofhea                                             25.16
13 Erik Goeleven (BEL) Team MI Croc for Sofhea                                     
14 Manuel Treven (AUT) Lietz-Sport Team                                                 30.22
15 Joel Geny (BEL) P. Léger Artisan Chocolatier                                         39.02
16 Christophe Heinix (BEL) Passage Fitness First Oudaan                                 39.16
17 Guy Lemmens (BEL) Team MI Croc for Sofhea                                            51.18
18 Dominique Angerer (AUT)                                                              51.51
19 Ole Egeblad (DEN) Team Descente - CSC                                                53.05
20 Ralf Peter Schnorr (SUI) Fitmanager.de                                           
21 Fred/Francesco Gras/Wessels (NED) Dutch Crocodile Tandem Team                        59.13
22 William Bird (AUS)                                                                 1.02.10
23 Charles Blanc (FRA)                                                                1.02.32
24 Erik Baeteman (BEL) Lingier-Versluys MTB-TEAM                                      1.05.17
25 Cal Burgart (USA) San Diego Cyclo-Vets                                             1.12.14
26 Günter Rafeiner (AUT) Mountainbiker.AT                                             1.13.17
27 Christophe Desimpelaere (BEL) Team Descente - CSC                                  1.15.59
28 Harald Reisinger (AUT) Lietz-Sport Team                                            1.17.03
29 Marco Bücken (SUI) Tri Team Glarnerland                                            1.20.45
30 Hansi Friedl (BRD)                                                                 1.29.16
31 Ronny Potter (BEL) SOWAT                                                          
32 Patrick Libert (BEL) SOWAT                                                        
33 Shane Laird (CAN) NSD                                                              1.29.37
34 Roger Freixenet (ESP) Yorky's                                                      1.33.19
35 Melanie Grant (AUS)                                                                1.39.16
36 Fulvio Villano (ITA)                                                               
37 Salvador Ribotipons (ESP) Matxacuca - Xaloc                                        1.50.22
38 Rik Vincke (BEL) Lingier-Versluys MTB-TEAM 2                                       1.53.47
39 Toru Watanabe (JPA) Green Life Tohoku                                              1.55.01
40 Heinz  Zörweg (AUT) Team Zörweg                                                    

Stage 6 - Women
1 Dominique Angerer (AUT)                                                             3.47.36
2 Melanie Grant (AUS)                                                                   47.25

Most Aggressive Rider
Michael Borup (DEN)


Outright General Classification
1 Stevens Christoph (BEL) Belgian Bike Power                                         20.24.34
2 Marton Attila (HUN) Meditech Sport Club - CIB Leasing                                 24.01
3 Zeller Valentin (AUT) Dream Team                                                      28.53
4 Brichenfrid Ingmar (AUT) Lietz-Sport Team                                             39.17
5 Wood David (AUS) Dream Team                                                           41.39
6 Treven Manuel (AUT) Lietz-Sport Team                                                1.01.29
7 Borup Michael (DEN) RT-Adidas-Roadbike Shop                                         1.06.10
8 Lingier Niek (BEL) Lingier-Versluys MTB-TEAM                                        1.13.50
9 Rucker Stefan (AUT) Elk Haus                                                        1.16.59
10 Lamont Struan (AUS) Team Scott Racing                                              1.18.46
11 O'Grady Darren (AUS) Dream Team                                                    1.52.12
12 Dewilde Frederik (BEL) Lingier-Versluys MTB-TEAM                                   2.01.57
13 Heinix Christophe (BEL) Passage Fitness First Oudaan                               2.06.03
14 Goeleven Erik (BEL) Team MI Croc for Sofhea                                        2.16.21
15 Geny Joel (BEL) P. Léger Artisan Chocolatier                                       2.43.05
16 Gielen Luc (BEL) Team MI Croc for Sofhea                                           2.56.20
17 Schnorr Ralf Peter (SUI) Fitmanager.de                                             3.46.01
18 Lemmens Guy (BEL) Team MI Croc for Sofhea                                          4.05.34
19 Egeblad Ole (DEN) Team Descente - CSC                                              4.47.02
20 Angerer Dominique (AUT)                                                            5.04.49
21 Bücken Marco (SUI) Tri Team Glarnerland                                            5.12.53
22 Friedl Hansi (BRD)                                                                 5.25.41
23 Reisinger Harald (AUT) Lietz-Sport Team                                            5.49.22
24 Blanc Charles (FRA)                                                                5.58.22
25 Baeteman Erik (BEL) Lingier-Versluys MTB-TEAM 2                                    6.12.40
26 Burgart Cal (USA) San Diego Cyclo-Vets                                             6.19.09
27 Bird William (AUS)                                                                 6.49.13
28 Gras/Wessels Fred/Francesco (NED) Dutch Crocodile Tandem Team                      6.54.53
29 Rafeiner Günter (AUT) Mountainbiker.AT                                             7.06.14
30 Desimpelaere Christophe (BEL) Team Descente - CSC                                  7.15.51
31 Freixenet Roger (ESP) Yorky's                                                      7.36.55
32 Laird Shane (CAN) NSD                                                              8.17.37
33 Villano Fulvio (ITA)                                                               8.35.11
34 Libert Patrick (BEL) SOWAT                                                         8.41.26
35 Potter Ronny (BEL) SOWAT                                                           9.07.37
36 Grant Melanie (AUS)                                                               10.03.20
37 Ribotipons Salvador (ESP) Matxacuca - Xaloc                                       10.13.21
38 Watanabe Toru (JPA) Green Life Tohoku                                             10.53.21
39 Vincke Rik (BEL) Lingier-Versluys MTB-TEAM                                        11.54.41
40 Zörweg Heinz  (AUT) Team Zörweg

Womens' General Classification
1 Angerer Dominique (AUT)                                                            26.32.57
2 Grant Melanie (AUD)                                                                 4.07.22