Recently on Cyclingnews.com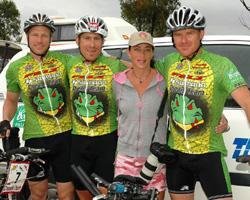 Photo ©: Dream Team
The FELT - Shimano Dream Team diary 2006
What do an Australian MTB Champion, an environmental engineer and an Austrian World Champion endurance cyclist have in common? They all ride for the FELT - Shimano Dream Team. Oh, and they are crazy for tackling the world's toughest MTB endurance race - Australia's Crocodile Trophy.
As Darren O'Grady, David Wood & Valentine Zeller battle through the bush from the Northern Territory into Far-North-Queensland, team manager Christi Valentine-Anderson will keep us up-to-date on the boys' progress.
FELT - Shimano Dream Team Diaries, October 22, 2006
Better than expected
By Christi Valentine-Anderson
Darren O'Grady buries himself
Photo ©: John Flynn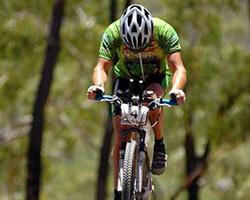 Stage Six: Koombooloomba - Irvinebank, 125 km
The Dream Team loved this stage. In his best Crocodile Trophy to date Dave Wood, riding like a man possessed, pipped race leader Christophe Stevens on the line after a three hundred metre sprint. Valentin Zellor is also handling the kilometres, the terrain and even the technical sections as though it were second nature.
Zellor keeps making comments that he would like the course to be longer. His other Dream Team team-mates do not share his conviction. He is, of course, an endurance specialist and was 2004 World Champion endurance racer.
Once again, the evening was fraught with anxiety as to the up-coming stage seven, along with its challenging terrain and distance, rapidly approached. On a good note, the weather has been absolutely perfect, not wet but not hot either. The Dream Team is looking forward to trying to move up the general classification with the individuals in front of them.