MTB index page for all MTB content
Crocodile Trophy - NE
Australia, October 17-29, 2006
Main Page Results Overall standings Previous Race Next Race
Race 5 - October 21: Blencoe Falls - Koombooloomba, 75 km

Belgian Christophe Stevens wins dramatic fifth stage
Zorweg and Borup fall from contention after disappearing into the scrub
Christophe Stevens looks set
Photo ©: John Flynn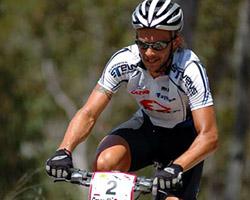 By John Michael Flynn at Koombooloomba Dam
Ironic, perhaps, or just a bizarre coincidence…whatever the case, when it comes to the Crocodile Trophy, luck is a fortune! This time last year, Belgian Christophe Stevens held the Crocodile Trophy race lead 'on course' during the epic mountain stage from Blencoe Falls to Koombooloomba Dam, before watching his General Classifications dream evaporate after suffering a flat tyre.
Today, a year later, on the same stage, Stevens was the fortunate beneficiary of someone else's bad luck and now sits 23 minutes and 51 seconds clear of his nearest rival on GC - well on the road to winning his first Crocodile Trophy. "Well today it was a stage where you could win or lose the crocodile trophy," Stevens said. "Last year I lost it here and from what it seems now I might have won it here, some crazy things happened today."
Crazy is an understatement – how the drama unfolded
Today's 85 kilometre mountain stage began with a gentle ten kilometre rollout from Gohsen Station, in the outback of far North-Queensland. The main protagonists waited until the entry to the 'Powerline Track', a sixty kilometre section of pure cross-country mountain biking featuring more than two thousand metres of climbing, before launching their assault on what was always scheduled to be one of the Trophy's race defining days. It turned out to be that, plus a whole lot more…
As expected GC leader Heinz Zorweg, who won the same stage last year, attacked early, with Denmark's Michael Borup and Belgian Christophe Stevens trying to stay on the pace.
Zorweg - wet and
Photo ©: John Flynn

"I went from the 20k with Heinz and Michael, once we got on the really hard course, Michael went really hard," Christophe Stevens recalled of the first hour of racing. "I knew from last year that it would have been really hard for him to keep up that pace the whole day."
Behind the leading trio, a handful of contenders for stage honours, including Austrians Ingmar Brichenfrid and Manuel Treven, Hungarian Attila Marton and Australia's Dave Wood jockeyed for position on the steep climbs and daring descents.
At the first river crossing Zorweg and Borup appeared to have settled into a rhythm and had established a lead of more than thirty seconds over the Belgian, but Stevens was also settling into a rhythm of his own, building up, he claimed, for an assault in the final twenty kilometres of the stage. As it turned out, the shock weapon in Stevens' arsenal wasn't required.
Fifty kilometres into the stage, Zorweg and Borup took an apparent wrong turn, following the race camera vehicle into a gully that was anything but dry. A deep river crossing and several muddy tracks - they later realised their error. "One significant mark was not at the place when we went by, it was very steep down, turn left and the riders didn't see the mark, so we took the wrong way," a terribly disappointed Heinz Zorweg said post stage.
Michael Borup currently
Photo ©: John Flynn

The mistake cost Zorweg and Borup dearly. The early leaders finished one-hour 14 minutes down for the stage, evaporating Zorweg's race lead and his hopes of winning the Crocodile Trophy at his second attempt. "I felt I was in a very good position and could have even raised the speed if I didn't take this detour, but I wanted to stay with the Danish man," Zorweg said. "Stevens was not the problem."
The race organisation at first decided to nullify the stage results, but after uproar in the Crocodile Trophy camp - a 'tribal council' of sorts, as the race judiciary decided, met by candlelight in the outdoors. The final verdict, at least for tonight, to make the original results stand, in line with UCI protocol.
"It's always a very uncomfortable situation, because when you try to keep everyone happy with a decision, it is not possible," Race Director Gerhard Schoenbacher said. "So we keep to the UCI rules. We made it clear last night before the race start that this is a very delicate stage with about 150 turnoffs, we told people to watch out, we cannot put signs in every direction, everyone has a road book. I don't want to find any excuses, we did something wrong, that's a fact. It hurts but that's a fact."
The ultimate decision leaves Christophe Stevens in the lead of the Crocodile Trophy by a comfortable margin, a result he has worked for years to achieve, though not coming in the most ideal of circumstances. "It turned out to be an easy win for me, it's a bit shit to win like this," Stevens said. "I think it says in the rules of cycling that you have to know the course. It's sad for Michael and Heinz but it's good for me."
Best ever result for Woodsie – Austria's Brichenfrid third
Still, it took a lot more than good fortune to make the podium of today's Crocodile Trophy stage, and there were mountains of cheers as the hometown boy Dave Wood emerged from the rainforest to cross the finish line in second place. Liking everything else today, there was a story to that too…
Local knowledge helped
Photo ©: John Flynn

Just a few months ago, Wood (by day an engineer with the local power line commission) spent a marathon twenty four hours clearing the track to Koombooloomba following a category five cyclone, which almost destroyed the town of Innisfail and felled much of the forest. Michael Borup and Heinz Zorweg may wish they were working the chainsaws with him, for it was Wood's knowledge of the track which reaped dividends.
"Yeah I'm stoked, as you would be, didn't expect it, had good legs, a massage last night, just stoked," the North Queenslander from the Felt-Shimano Dream Team said. "I guess I had that knowledge of knowing what it was going to be like, had a lot of walking ahead of us and a lot of downhills and I knew that plenty of the Euros would die in the hills."
"They were certainly strong at the start but I thought over the course of the day it would take its toll and it did," concluded Wood.
Tonight the Crocodile Trophy caravan is camped at beautiful Koombooloomba Dam, surrounded by tropical rainforest. Who knows what tomorrow will bring at the race heads across the Atherton Tableland, then back into the outback at Irvinebank.
FELT - Shimano Dream Team diary

Photography
For a thumbnail gallery of these images, click here
Images by John Flynn/Cyclingnews.com
Results
Stage 5 - Outright
1 Christoph Stevens (Bel) Belgian Bike Power                        4.28.51
2 David Wood (Aus) Dream Team                                         10.44
4 Ingmar Brichenfrid (Aut) Lietz-Sport Team                           12.12
3 Manuel Treven (Aut) Lietz-Sport Team                              
5 Attila Marton (Hun) Meditech Sport Club                             13.58
6 Valentin Zeller (Aut) Dream Team                                    17.05
7 Struan Lamont (Aus) Team Scott Racing                               27.09
8 Niek Lingier (Bel) Lingier-Versluys MTB-TEAM                        31.16
9 Frederik Dewilde (Bel) Lingier-Versluys MTB-TEAM                    46.09
10 Erik Goeleven (Bel) Team MI Croc for Sofhea                      
11 Joel Geny (Bel) Léger Artisan Chocolatier                          52.31
12 Christophe Heinix (Bel) Passage Fitness First                      56.54
13 Darren O'Grady (Aus) Dream Team                                    59.21
16 Heinz  Zörweg (Aut) Team Zörweg                                  1.14.02
15 Stefan Rucker (Aut) Elk Haus                                     
17 Ralf Peter Schnorr (Sui) Fitmanager.de                           
14 Michael Borup (Den) RT-Adidas-Roadbike Shop                      1.14.04
19 Ole Egeblad (Den) Team Descente - CSC                            1.24.36
18 Guy Lemmens (Bel) Team MI Croc for Sofhea                        
20 Luc Gielen (Bel) Team MI Croc for Sofhea                         
21 Marco Bücken (Sui) Tri Team Glarnerland                          1.41.40
22 Hansi Friedl (Brd)                                               
23 Dominique Angerer (Aut)                                          1.42.38
25 Erik Baeteman (Bel) Lingier-Versluys MTB-TEAM                    1.45.04
24 Harald Reisinger (Aut) Lietz-Sport Team                          
26 Charles Blanc (Fra)                                              
27 Roger Freixenet (Esp) Yorky's                                    1.49.28
28 Cal Burgart (Usa) San Diego Cyclo-Vets                           2.02.20
29 William Bird (Aus)                                               2.09.45
30 Shane Laird (Can) NSD                                            2.18.37
31 Fred/Francesco Gras/Wessels (Ned)                                2.17.35
32 Fulvio Villano (Ita)                                             2.21.55
33 Günter Rafeiner (Aut) Mountainbiker.AT                           2.33.55
34 Patrick Libert (Bel) SOWAT                                       2.36.04
35 Melanie Grant (Aus)                                              2.36.15
36 Salvador Ribotipons (Esp) Matxacuca - Xaloc                      2.38.41
37 Rik Vincke (Bel) Lingier-Versluys MTB-TEAM 2                     2.40.37
38 Christophe Desimpelaere (Bel) Team Descente                      2.43.37
39 Toru Watanabe (Jpa) Green Life Tohoku                            3.05.18
40 Ronny Potter (Bel) SOWAT                                         3.05.54

Womens' Elite
1 Dominique Angerer (Aut)                                           6.11.29
2 Melanie Grant (Aus)                                                 53.37
					          
Most aggresive rider			          
Melanie Grant (Aus)

Outright General Classification
1 Christoph Stevens (Bel) Belgian Bike Power                       17.16.12
2 Attila Marton (Hun) Meditech Sport Club - CIB Leasing               23.51
3 Valentin Zeller (Aut) Dream Team                                    28.37
4 Ingmar Brichenfrid (Aut) Lietz-Sport Team                           39.02
5 David Wood (Aus) Dream Team                                         41.34
6 Manuel Treven (Aut) Lietz-Sport Team                                43.44
7 Heinz  Zörweg (Aut) Team Zörweg                                   1.05.20
8 Niek Lingier (Bel) Lingier-Versluys MTB-TEAM                      1.06.43
9 Struan Lamont (Aus) Team Scott Racing                             1.08.02
10 Michael Borup (Den) RT-Adidas-Roadbike Shop                      1.19.02
11 Stefan Rucker (Aut) Elk Haus                                     1.29.46
12 Christophe Heinix (Bel) Passage Fitness First Oudaan             1.39.24
13 Darren O'Grady (Aus) Dream Team                                  1.47.55
14 Frederik Dewilde (Bel) Lingier-Versluys MTB-TEAM                 1.50.06
15 Erik Goeleven (Bel) Team MI Croc for Sofhea                      2.03.42
16 Joel Geny (Bel) P. Léger Artisan Chocolatier                     2.16.40
17 Luc Gielen (Bel) Team MI Croc for Sofhea                         2.43.41
18 Ralf Peter Schnorr (Sui) Fitmanager.de                           3.05.33
19 Guy Lemmens (Bel) Team MI Croc for Sofhea                        3.26.53
20 Marco Bücken (Sui) Tri Team Glarnerland                          4.04.45
21 Ole Egeblad (Den) Team Descente - CSC                            4.06.34
22 Hansi Friedl (Brd)                                               4.17.33
23 Dominique Angerer (Aut)                                          4.25.35
24 Harald Reisinger (Aut) Lietz-Sport Team                          4.44.56
25 Charles Blanc (Fra)                                              5.08.27
26 Cal Burgart (Usa) San Diego Cyclo-Vets                           5.19.32
27 Erik Baeteman (Bel) Lingier-Versluys MTB-TEAM 2                  5.20.00
28 William Bird (Aus)                                               5.59.40
29 Günter Rafeiner (Aut) Mountainbiker.AT                           6.05.34
30 Fred/Francesco Gras/Wessels (Ned) Dutch Crocodile                6.08.17
31 Christophe Desimpelaere (Bel) Team Descente - CSC                6.12.29
32 Roger Freixenet (Esp) Yorky's                                    6.16.13
33 Shane Laird (Can) NSD                                            7.00.37
34 Fulvio Villano (Ita)                                             7.08.32
35 Patrick Libert (Bel) SOWAT                                       7.24.46
36 Ronny Potter (Bel) SOWAT                                         7.50.58
37 Salvador Ribotipons (Esp) Matxacuca - Xaloc                      8.35.36
38 Melanie Grant (Aus)                                              8.36.41
39 Toru Watanabe (Jpa) Green Life Tohoku                            9.10.57
40 Rik Vincke (Bel) Lingier-Versluys MTB-TEAM                      10.13.31

Womens' General Classification
1 Dominique Angerer (Aut)                                          22.45.21
2 Melanie Grant (Aud)                                               3.19.57