MTB index page for all MTB content
Crocodile Trophy - NE
Australia, October 17-29, 2006
Main Page Results Overall standings Previous Race Next Race
Race 4 - October 20: Lake Lucy - Blencoe Falls, 124 km
Stefan Rucker cooling down
Photo ©: John Flynn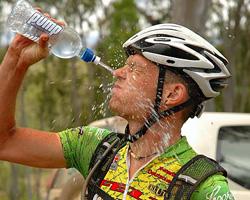 Second stage win for Austria's Rucker ahead of tomorrow's crucial stage
By John Michael Flynn
The result might have been predictable but the execution was nonetheless impressive as Austrian Stefan Rucker completed his second stage win for the 2006 Crocodile Trophy and all but wrapped up the 'Most Aggressive Rider' award, following three days of constant attacks. Rated by most of his fellow competitors as the strongest rider in the race, the question remains as to what might have been had the Elk Haus cyclist not taken a wrong turn near Hidden Valley two days ago, and cost himself any chance at the general classification victory.
Once again today Rucker went up the road early on the one hundred and ten kilometre stage between Lamond's Lagoon and Goshen Station, a section consisting of mostly undulating country and reasonable dirt roads, without any difficult technical riding. With Rucker no threat to the GC leaders and a rest requires ahead of tomorrow's crucial mountain stage, it was no surprise to see a tactical decision from the main race contenders not to chase down the powerful Austrian, who appears a vastly improved rider on his 2005 Crocodile Trophy performance.
The main bunch going at a steady pace today
Photo ©: John Flynn

"The plan was not to win the stage, the plan was just to score another point for the most aggressive rider classification," Rucker said post race. "I really suffered in the first hour and gave one hundred per cent because I had five minutes then I started to slow down a little bit and find my rhythm."
Today presented a perfect opportunity for Rucker to produce his second stage win but tomorrow will be a different story. The Austrian road racer, who isn't known for his technical mountain bike skills, still has nightmares about the steep, rocky, mountain stage between Blencoe Falls and Koombooloomba - where his losses were measured in hours rather than minutes in 2005.
"Tomorrow take your walking shoes with you. It's a really tough stage tomorrow, a lot of walking and really steep climbs as I remember," Rucker said. "Last year it was just 80kms but from memory it was the longest or the second longest stage of Crocodile Trophy. I think that says a lot about the stage tomorrow."
Michael Borup of Denmark
Photo ©: John Flynn

With the GC contenders, including Heinz Zorweg and Christophe Stevens, taking it relatively easy during today's stage, the final mix in the lead pack at the finish had some different faces - including Australia's Darren O'Grady and Belgium's former downhill champion Diek Lingier. Dane Michael Borup crossed the finish line in second place, out-sprinting the bunch after launching an attack on the final climb.
"It was kind of an easy stage and near the end I had a minor crash, then there was very bumpy and I could take advantage of having full suspension," Borup said. "I can feel I've been riding 350 kilometres in three days, but I'm just as tired or as fresh as any other rider [so] I look forward for tomorrow, I think it's going to be exciting."
What the Croc Trophy
Photo ©: John Flynn

Former Belgian downhill champion Niek Lingier is also looking forward to tomorrow's technical climbs and descents. His third placing in today's stage, something of a bonus. "I give everything in the last five kilometres - it's my second podium, more than I expected," Lingier said. "Yeah sure, tomorrow's my kind of riding, I'm glad it wasn't going too fast today."
The O'Grady name also featured in the sprint finish of today's stage, but it was Darren, not brother Stuart, driving it home for the Felt-Shimano Dream Team. Tipped by his team-mates as a smokey in tomorrow's stage, the lesser known of the O'Grady's believes his form is on the improve.
"That was awesome, a really solid ride, turned out 3 hours 30 for 110k it's pretty solid hey," O'Grady said. And a podium place tomorrow? "Yeah hopefully, technical riding is what I love doing, some of these guys are really solid riders so it's really lifting my form," he said.
The main bunch going at a steady pace today
Photo ©: John Flynn

Stage Five - Where the race could be won or lost
Cruising across the finish line today, Belgian Christophe Stevens might just be keeping something in reserve for tomorrow's mountainous stage. Last year, the technically gifted road rider was leading the race on-course during the dramatic Blencoe Falls to Koombooloomba stage when a flat tyre put an end to his Crocodile Trophy ambitions. Stevens has the advantage of knowing the course, and admits his form might just be heading in the right direction.
Felt Shimano Dream Team cyclist
Photo ©: John Flynn

"Just like last year, this was a bit easy tempo, Stefan went from the start, I wonder how many days he can do that?" Stevens said. "I feel better each day and I'm pretty confident for the rest of the Croc Trophy."
"You can win it or you can lose it tomorrow.. we'll see," added Stevens. "I know the course for tomorrow, you can only do one thing and that's go your own tempo and if your tempo is fast enough you can win and if it's not then …"
For tonight, the Crocodile Trophy has set up camp at Goshen Station - a location made famous by Mark Burnett's -"Survivor Australian Outback".
This time around it's a different kind of reality show, no immunity challenges, no tribal councils, no cheesy host - just day upon day of suffering, where the natural process of attrition decides who stays and who goes.
FELT - Shimano Dream Team diary
Photography
For a thumbnail gallery of these images, click here
Images by John Flynn/Cyclingnews.com
Results
Outright

1 Stefan Rucker (Aut) Elk Haus                                      3.21.10
2 Michael Borup (Den) RT-Adidas-Roadbike Shop                          9.23
3 Niek Lingier (Bel) Lingier-Versluys MTB-TEAM		        
4 Valentin Zeller (Aut) Dream Team			        
5 Darren O'Grady (Aus) Dream Team			        
6 Heinz  Zörweg (Aut) Team Zörweg			        
7 Attila Marton (Hun) Meditech Sport Club - CIB Leasing	        
8 Christoph Stevens (Bel) Belgian Bike Power		        
9 David Wood (Aus) Dream Team                                         10.05
10 Ingmar Brichenfrid (Aut) Lietz-Sport Team
11 Manuel Treven (Aut) Lietz-Sport Team                               10.21
12 Frederik Dewilde (Bel) Lingier-Versluys MTB-TEAM                   14.13
13 Christophe Heinix (Bel) Passage Fitness First Oudaan               19.33
14 Struan Lamont (Aus) Team Scott Racing
15 Joel Geny (Bel) P. Léger Artisan Chocolatier                       20.15
16 Guy Lemmens (Bel) Team MI Croc for Sofhea                          21.24
17 Erik Goeleven (Bel) Team MI Croc for Sofhea
18 Luc Gielen (Bel) Team MI Croc for Sofhea
19 Fred/Francesco Gras/Wessels (Ned) Dutch Crocodile Tandem Team      34.18
20 Ralf Peter Schnorr (Sui) Fitmanager.de                             38.39
21 Ole Egeblad (Den) Team Descente - CSC                              44.52
22 Günter Rafeiner (Aut) Mountainbiker.AT                             44.70
23 William Bird (Aus)                                                 45.54
24 Dominique Angerer (Aut)                                            46.71
25 Harald Reisinger (Aut) Lietz-Sport Team                            46.71
26 Christophe Desimpelaere (Bel) Team Descente - CSC                  47.03
27 Marco Bücken (Sui) Tri Team Glarnerland                            51.81
28 Hansi Friedl (Brd)                                                 51.81
29 Cal Burgart (USA) San Diego Cyclo-Vets                             56.50
30 Shane Laird (Can) NSD                                              57.66
31 Erik Baeteman (Bel) Lingier-Versluys MTB-TEAM                    1.05.50
32 Charles Blanc (Fra)                                              1.05.73
33 Roger Freixenet (Esp) Yorky's                                    1.17.82
34 Ronny Potter (Bel) SOWAT                                         1.19.95
35 Patrick Libert (Bel) SOWAT
36 Melanie Grant (Aus)                                              1.22.72
37 Fulvio Villano (Ita)
38 Rik Vincke (Bel) Lingier-Versluys MTB-TEAM 2                     1.26.78
39 Salvador Ribotipons (ESP) Matxacuca - Xaloc                      1.34.97
40 Toru Watanabe (Jpa) Green Life Tohoku                            1.50.45

Women

1 Dominique Angerer (Aut)                                           4.08.21
2 Melanie Grant (Aus)                                                 36.01

General Classification - Outright

1 Heinz  Zörweg (Aut) Team Zörweg                                  12.38.39
2 Christoph Stevens (Bel) Belgian Bike Power                        0.08.57
3 Michael Borup (Den) RT-Adidas-Roadbike Shop                       0.13.40
4 Attila Marton (Hun) Meditech Sport Club - CIB Leasing             0.18.35
5 Valentin Zeller (Aut) Dream Team                                  0.20.14
6 Stefan Rucker (Aut) Elk Haus                                      0.24.26
7 Ingmar Brichenfrid (Aut) Lietz-Sport Team                         0.35.38
8 David Wood (Aus) Dream Team                                       0.39.42
9 Manuel Treven (Aut) Lietz-Sport Team                              0.40.14
10 Niek Lingier (Bel) Lingier-Versluys MTB-TEAM                     0.44.09
11 Struan Lamont (Aus) Team Scott Racing                            0.49.35
12 Christophe Heinix (Bel) Passage Fitness First Oudaan             0.51.12
13 Darren O'Grady (Aus) Dream Team                                  0.57.16
14 Frederik Dewilde (Bel) Lingier-Versluys MTB-TEAM                 1.12.39
15 Erik Goeleven (Bel) Team MI Croc for Sofhea                      1.26.15
16 Luc Gielen (Bel) Team MI Croc for Sofhea                         1.27.40
17 Joel Geny (Bel) P. Léger Artisan Chocolatier                     1.32.51
18 Ralf Peter Schnorr (Sui) Fitmanager.de                           2.00.13
19 Guy Lemmens (Bel) Team MI Croc for Sofhea                        2.10.59
20 Marco Bücken (Sui) Tri Team Glarnerland                          2.31.47
21 Hansi Friedl (Brd)                                               2.44.35
22 Ole Egeblad (Den) Team Descente - CSC                            2.50.40
23 Dominique Angerer (Aut)                                          2.51.39
24 Harald Reisinger (Aut) Lietz-Sport Team                          3.08.34
25 Cal Burgart (USA) San Diego Cyclo-Vets                           3.25.54
26 Charles Blanc (Fra)                                              3.32.05
27 Christophe Desimpelaere (Bel) Team Descente - CSC                3.37.34
28 Günter Rafeiner (Aut) Mountainbiker.AT                           3.40.21
29 Erik Baeteman (Bel) Lingier-Versluys MTB-TEAM 2                  3.43.38
30 Fred/Francesco Gras/Wessels (Ned) Dutch Crocodile Tandem Team    3.58.22
31 William Bird (Aus)                                               3.58.37
32 Roger Freixenet (Esp) Yorky's                                    4.35.27
33 Shane Laird (Can) NSD                                            4.51.44
34 Ronny Potter (Bel) SOWAT                                         4.53.46
35 Fulvio Villano (Ita)                                             4.55.19
36 Patrick Libert (Bel) SOWAT                                       4.57.24
37 Salvador Ribotipons (Esp) Matxacuca - Xaloc                      6.05.37
38 Melanie Grant (Aus)                                              6.09.08
39 Toru Watanabe (Jpa) Green Life Tohoku                            6.14.21
40 Rik Vincke (Bel) Lingier-Versluys MTB-TEAM                       7.41.36

General Classification - Women

1  Dominique Angerer (Aut)                                          6.30.27
2  Melanie Grant (Aud)                                              2.26.20