MTB index page for all MTB content
Crocodile Trophy - NE
Australia, October 17-29, 2006
Main Page Results Overall standings Previous Race Next Race
Race 3 - October 19: Hidden Valley - Lake Lucy, 170 km
Rucker strikes back as Crocodile Trophy reaches the "fair dinkum" outback
By John Michael Flynn at Lamond's Lagoon, Outback Queensland
Aggressive Rucker launches in long solo attack
David Wood
Photo ©: Regina Stranger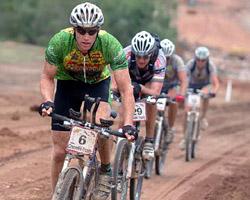 Putting the disappointment of yesterday's 'wrong turn' well and truly behind him, Austrian Stefan Rucker (Elk Haus) struck back the best way possible today with an emphatic victory in stage three of the 2006 Crocodile Trophy.
The longest stage for this year's event, the 156km journey from Hidden Valley to Lamond's Lagoon, took the mob (Australian Outback term for peloton) into the savannah land's of the interior on a course consisting mostly of dirt roads.
Fortunately for riders, weather conditions on the epic stage were forgiving by North Queensland standards, with respite from the normally unbearable heat of Australia's remote Outback. The cooler weather was certainly to the liking of Austria's Stefan Rucker, the same rider who this time last year swore he would "never ever…ever" return to the Crocodile Trophy again.
Rucker might well have repeated that promise after yesterday taking a wrong turn on his way to what looked like a certain stage victory, but instead decided to use the drama of yesterday as motivation for another solo effort. "70 km to go, I thought, 'Ok now or never, let's try,' but then it was really hard to stay in front because Heinz was still chasing me," Rucker said. The maximum gap was about three minutes.
"I'm happy that I did it," said Rucker who is now well on the road to winning the Crocodile Trophy's inaugural Felt "Most Aggressive Rider" prize after dominating the race for two consecutive stages
"Maybe I'm going to try tomorrow something again," Rucker said. "I want to go for the most aggressive rider competition and maybe another stage win."
Zorweg Maintains Race Lead
Heinz Zorweg
Photo ©: Regina Stranger

Another Austrian, Heinz Zorweg still seems like the man most likely in the General Classification. After today's stage, Zorweg leads the race by almost nine minutes from Belgian Christophe Stevens, with Denmark's Michael Borup, who finished an impressive second in today's stage fourteen minutes off the lead.
"It was relatively flat today, hopefully tomorrow will be a bit of a rest day," Borup said. "Maybe I will be able to do something Saturday or Sunday."
While tomorrow is a shorter dirt road stage, several riders have already penciled in Saturday's stage on the "Powerline Track" from Blencoe Falls to Koombooloomba, one for the mountain biking purists, as an opportunity to attack.
Tough Day on The Tandem
Stage three of the Crocodile Trophy proved to be an especially tough day for the riders from the Dutch Tandem Project, who suffered seven flat tires on the marathon journey.
"For the first thirty km we had a bit of bad luck," Dutch tandem cyclist Francesco Wessels said. "First we had a flat on the front, then we had two flats at one time, so we had to change tactics and change tires."
Magic Of The Outback
Dominique Angerer
Photo ©: Regina Stranger

Tonight the Crocodile Trophy caravan will stay camped at beautiful Lamond's Lagoon, where the riders have set up tents and taken in a sumptuous meal before bunking down for the night.
Australian Dominique Angerer was the fastest woman of the day.
Three stages down .. ten more to go. Tomorrow racers face a 124km stage from Lake Lucy to Blencoe Falls.
FELT - Shimano Dream Team diary
Photography
For a thumbnail gallery of these images, click here
Images by Regina Stanger/Crocodile Trophy
Images by John Flynn
Results
Ouright

1 Stefan Rucker (Aut) Elk Haus                                      5.13.06
2 Michael Borup (Den) RT-Adidas-Roadbike Shop                          3.07
3 Valentin Zeller (Aus) Dream Team                                     3.13
4 Heinz Zörweg (Aut) Team Zörweg                                           
5 Christoph Stevens (Bel) Belgian Bike Power                           3.16
6 Manuel Treven (Aut) Lietz-Sport Team                                14.13
7 Ingmar Brichenfrid (Aut) Lietz-Sport Team                           16.18
8 Attila Marton (Hun) Meditech Sport Club - CIB Leasing               17.00
9 David Wood (Aus) Dream Team                                         25.11
10 Christophe Heinix (Bel) Passage Fitness First Oudaan                    
11 Struan Lamont (Aus) Team Scott Racing                                   
12 Darren O'Grady (Aus) Dream Team                                         
13 Niek Lingier (Bel) Lingier-Versluys MTB-TEAM                            
14 Frederik Dewilde (Bel) Lingier-Versluys MTB-TEAM                   37.18
15 Joel Geny (Bel) P. Léger Artisan Chocolatier                       37.26
16 Luc Gielen (Bel) Team MI Croc for Sofhea                           37.34
17 Erik Goeleven (Bel) Team MI Croc for Sofhea                        39.23
18 Ralf Peter Schnorr (Swi) Fitmanager.de                             57.07
19 William Bird (Aus)                                               1.09.19
20 Guy Lemmens (Bel) Team MI Croc for Sofhea                        1.17.21
21 Marco Bücken (Swi) Tri Team Glarnerland                                 
22 Dominique Angerer (Aut)                                                 
23 Hansi Friedl (Ger)                                                      
24 Charles Blanc (Fra)                                              1.21.53
25 Ole Egeblad (Den) Team Descente - CSC                            1.27.40
26 Harald Reisinger (Aut) Lietz-Sport Team                          1.29.07
27 Christophe Desimpelaere (Bel) Team Descente - CSC                1.35.13
28 Cal Burgart (USA) San Diego Cyclo-Vets                           1.37.41
29 Erik Baeteman (Bel) Lingier-Versluys MTB-TEAM                    1.42.39
30 Günter Rafeiner (Aut) Mountainbiker.AT                           1.44.55
31 Roger Freixenet (Spa) Yorky's                                    1.48.40
32 Fulvio Villano (Ita)                                             1.58.44
33 Patrick Libert (Bel) SOWAT                                       2.18.38
34 Ronny Potter (Bel) SOWAT                                         2.20.01
35 Shane Laird (Can) NSD                                            2.20.48
36 Salvador Ribotipons (Spa) Matxacuca - Xaloc                      2.24.06
37 Melanie Grant (Aus)                                              2.35.04
38 Toru Watanabe (Jpn) Green Life Tohoku                            2.41.46
39 Fred/Francesco Gras/Wessels (Ned) Dutch Crocodile Tandem Team    2.41.52
DNF Rik Vincke (Bel) Lingier-Versluys MTB-TEAM 2                           

Women

1 Dominique Angerer (Aut)     6.30.27
2 Melanie Grant (Aus)         1.17.43


General Classification - Outright
1 Heinz Zörweg (Aut) Team Zörweg                                    9.07.50
2 Christoph Stevens (Bel) Belgian Bike Power                           8.57
3 Michael Borup (Den) RT-Adidas-Roadbike Shop                         14.06
4 Attila Marton (Hun) Meditech Sport Club - CIB Leasing               18.35
5 Valentin Zeller (Aus) Dream Team                                    20.14
6 Stefan Rucker (Aut) Elk Haus                                        34.20
7 Ingmar Brichenfrid (Aut) Lietz-Sport Team                           35.12
8 David Wood (Aus) Dream Team                                         39.16
9 Manuel Treven (Aut) Lietz-Sport Team                                39.32
10 Struan Lamont (Aus) Team Scott Racing                              39.41
11 Christophe Heinix (Bel) Passage Fitness First Oudaan               41.18
12 Niek Lingier (Bel) Lingier-Versluys MTB-TEAM                       44.14
13 Darren O'Grady (Aus) Dream Team                                    57.16
14 Frederik Dewilde (Bel) Lingier-Versluys MTB-TEAM                 1.08.05
15 Erik Goeleven (Bel) Team MI Croc for Sofhea                      1.14.30
16 Luc Gielen (Bel) Team MI Croc for Sofhea                         1.15.55
17 Joel Geny (Bel) P. Léger Artisan Chocolatier                     1.22.15
18 Ralf Peter Schnorr (Swi) Fitmanager.de                           1.31.13
19 Marco Bücken (Swi) Tri Team Glarnerland                          1.49.05
20 Guy Lemmens (Bel) Team MI Croc for Sofhea                        1.59.14
21 Hansi Friedl (Ger)                                               2.01.53
22 Dominique Angerer (Aut)                                          2.14.07
23 Ole Egeblad (Den) Team Descente - CSC                            2.15.27
24 Harald Reisinger (Aut) Lietz-Sport Team                          2.31.02
25 Charles Blanc (Fra)                                              2.35.31
26 Cal Burgart (USA) San Diego Cyclo-Vets                           2.38.43
27 Erik Baeteman (Bel) Lingier-Versluys MTB-TEAM 2                  2.47.27
28 Christophe Desimpelaere (Bel) Team Descente - CSC                2.59.30
29 Günter Rafeiner (Aut) Mountainbiker.AT                           3.04.50
30 William Bird (Aus)                                               3.22.22
31 Roger Freixenet (Spa) Yorky's                                    3.26.44
32 Fred/Francesco Gras/Wessels (Ned) Dutch Crocodile Tandem Team    3.33.43
33 Fulvio Villano (Ita)                                             3.41.46
34 Ronny Potter (Bel) SOWAT                                         3.42.50
35 Patrick Libert (Bel) SOWAT                                       3.46.28
36 Shane Laird (Can) NSD                                            4.03.17
37 Toru Watanabe (Jpn) Green Life Tohoku                            4.33.15
38 Salvador Ribotipons (Spa) Matxacuca - Xaloc                      4.39.39
39 Melanie Grant (Aus)                                              4.55.35
40 Rik Vincke (Bel) Lingier-Versluys MTB-TEAM

General Classification - Women
1 Dominique Angerer (Aut)                                          11.21.57
2 Melanie Grant (Aus)                                               2.41.28