MTB index page for all MTB content
Crocodile Trophy - NE
Australia, October 17-29, 2006
Main Page Results Overall standings Previous Race Next Race
Race 9 - October 25: Chillagoe - Mt. Mulgrave, 136 km
Dutch tandem team wins stage nine outright
By John Michael Flynn at Mt. Mulgrave, Far North Queensland
Christophe Heinix and Darren Ogrady
Photo ©: John Flynn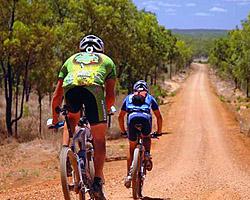 After nine days of physical suffering, dozens of flat tyres, buckled wheels and broken forks, the Dutch Tandem Project team of Fred Gras and Francesco Wessels finally managed to put it all together on the dusty roads of the Australian Outback - recording one of the Crocodile Trophy's most popular stage victories on the road to Mount Mulgrave Station.
It was a stage custom made for the tandem, an open flat road of 120 kilometres between Chilllagoe and Mount Mulgrave, the wind very much at their backs, with only mild corrugations - compared to some this event has endured over the years. Maybe be it was also the new 'crocodile skin' paint job on their forks which made the difference today - or the fact Wessels the stoker and Gras the driver were riding like men possessed - in a race they had long prepared for and dreamed about competing in.
There were certainly plenty of rousing cheers as the Dutch pair crossed the causeway on the crocodile inhabited Mitchell River, punching the air as they crossed the finish line. "We worked hard today for this - it was good, It's a dream to win a stage," Wessels said as he cooled off with his team-mate Gras in the Mitchell River. "The tandem stayed in one piece, that helped a bit, we were very lucky today and we worked hard. We all went smooth, paid a lot of attention the last few days. [There was] not as much altitude, we didn't have to climb as much [today]."
Felt-Shimano Dream Team's O'Grady the fastest individual
Stage nine began with a pre-race decision by the General Clasification contenders to sit-up and not chase down the moves. It was a call which suited overall race leader Christophe Stevens, who was mindful of what lies ahead on tomorrow's punishing stage into the Quinkan country of Laura. "We kind of agreed from just before the start that the guys from GC wouldn't bother about what happened today," Stevens said. "We just kept the tempo down and what happened today is good for the Croc Trophy I think, the tandem winning the stage."
The decision opened the way for several of the Croc Trophy's shadow contenders to show their wares, and it was Darren O'Grady of the Felt-Shimano Dream Team who went up the road early, with Ole Egeblad of Denmark trying desperately to hang on. When Egeblad eventually drifted, Belgians Christophe Heinix and Luc Gielen managed to bridge across.
"I saw the tandem go away and nobody reacted, I thought today's the day," Heinix said. "I left with Luke Gielen and after about fifty kilometres we found Darren and I think just after the third depot we lost Luke."
Heinix hung with O'grady until the finish where the Australian recorded his own piece of Crocodile Trophy history - his first individual stage, an achievement even his famous brother Stuart couldn't rival. "Oh my god, that's phenomenal," O'Grady said "I was driving nearly four hours on the limit. I had a good rest yesterday and its all come together. I'm just so proud, so happy, really good achievement for me to find this kind of form in a really hard race, it really makes me proud."
Heating Up at the Croc Trophy
A road train competes with riders
Photo ©: John Flynn

Conditions during today's 120 kilometre stage were more like what we have come to expect from the Crocodile Trophy - stinking hot - and it should become more so as the race heads towards the mythical Quinkan Country of Laura - where ancient Aboriginal rock art lines the surrounding hills.
For the first time at this year's Trophy, riders were collapsing at the finish line with heat exhaustion - thankfully the cool waters of the Mitchell River were close by to bring body temperatures closer to normal. Tomorrow could be a similar story, only worse, with 142 kilometres of largely corrugated road between Mount Mulgrave and Laura.
"Tomorrow's a long day, the road to Laura is so bad," explained race-leader Stevens. "I don't know, maybe it changed this year. There are three hard days coming now, but I'm very confident and looking forward to it."
"I hope the guys keep up their good spirit and we have a party tonight, a lot of fun things happens here at Mount Mulgrave," concluded Stevens.
Photography
For a thumbnail gallery of these images, click here
Images by John Flynn/Cyclingnews.com
Results
Stage 9 - Outright

1 Fred/Francesco Gras/Wessels (NED) Dutch Crocodile Tandem Team    3.43.06
2 Darren O'Grady (AUS) Dream Team                                     4.24
3 Christophe Heinix (BEL) Passage Fitness First Oudaan                4.25
4 Luc Gielen (BEL) Team MI Croc for Sofhea                            7.01
5 Attila Marton (HUN) Meditech Sport Club - CIB Leasing              12.25
6 Ole Egeblad (DEN) Team Descente - CSC                                   
7 Valentin Zeller (AUT) Dream Team                                        
8 Manuel Treven (AUT) Lietz-Sport Team                                    
9 Frederik Dewilde (BEL) Lingier-Versluys MTB-TEAM                        
10 Christoph Stevens (BEL) Belgian Bike Power                             
11 Struan Lamont (AUS) Team Scott Racing                                  
12 Ingmar Brichenfrid (AUT) Lietz-Sport Team                              
13 Michael Borup (DEN) RT-Adidas-Roadbike Shop                            
14 David Wood (AUS) Dream Team                                            
15 Stefan Rucker (AUT) Elk Haus                                           
16 Erik Goeleven (BEL) Team MI Croc for Sofhea                       12.33
17 Joel Geny (BEL) P. Léger Artisan Chocolatier                      19.24
18 Ralf Peter Schnorr (SUI) Fitmanager.de                            26.41
19 Erik Baeteman (BEL) Lingier-Versluys MTB-TEAM                     27.21
20 Guy Lemmens (BEL) Team MI Croc for Sofhea                         27.57
21 Cal Burgart (USA) San Diego Cyclo-Vets                            41.38
22 Christophe Desimpelaere (BEL) Team Descente - CSC                 47.20
23 Harald Reisinger (AUT) Lietz-Sport Team                           49.43
24 Shane Laird (CAN) NSD                                             51.47
25 Günter Rafeiner (AUT) Mountainbiker.AT                            55.18
26 Patrick Libert (BEL) SOWAT                                        57.08
27 Ronny Potter (BEL) SOWAT                                               
28 Niek Lingier (BEL) Lingier-Versluys MTB-TEAM                           
29 Charles Blanc (FRA)                                             1.00.45
30 Marco Bücken (SUI) Tri Team Glarnerland                         1.04.14
31 Hansi Friedl (BRD)                                                     
32 Dominique Angerer (AUT)                                                
33 William Bird (AUS)                                              1.10.19
34 Roger Freixenet (ESP) Yorky's                                          
35 Fulvio Villano (ITA)                                            1.18.06
36 Melanie Grant (AUS)                                                    
37 Salvador Ribotipons (ESP) Matxacuca - Xaloc                            
38 Rik Vincke (BEL) Lingier-Versluys MTB-TEAM 2                    1.25.50
39 Toru Watanabe (JPA) Green Life Tohoku                           1.31.25
40 Heinz Zörweg (AUT) Team Zörweg                                         

Stage 9 - Women

1 Dominique Angerer (AUT)     4.47.20
2 Melanie Grant (AUS)           13.52
Stage 9 - Most Aggressive rider

Fred/Francesco Gras/Wessels (NED) Dutch Crocodile Tandem Team

General Classification - Outright

1 Christoph Stevens (BEL) Belgian Bike Power                        30.35.00
2 Attila Marton (HUN) Meditech Sport Club                              25.44
3 Valentin Zeller (AUT) Dream Team                                     44.27
4 Ingmar Brichenfrid (AUT) Lietz-Sport Team                            51.33
5 David Wood (AUS) Dream Team                                        1.18.48
6 Manuel Treven (AUT) Lietz-Sport Team                               1.20.37
7 Stefan Rucker (AUT) Elk Haus                                       1.20.59
8 Michael Borup (DEN) RT-Adidas-Roadbike Shop                        1.31.24
9 Struan Lamont (AUS) Team Scott Racing                              1.54.01
10 Darren O'Grady (AUS) Dream Team                                   2.19.48
11 Frederik Dewilde (BEL) Lingier-Versluys MTB-TEAM                  3.05.19
12 Erik Goeleven (BEL) Team MI Croc for Sofhea                       3.11.24
13 Christophe Heinix (BEL) Passage Fitness First Oudaan              3.25.23
14 Joel Geny (BEL) P. Léger Artisan Chocolatier                      3.44.57
15 Luc Gielen (BEL) Team MI Croc for Sofhea                          4.03.07
16 Ralf Peter Schnorr (SUI) Fitmanager.de                            5.06.16
17 Niek Lingier (BEL) Lingier-Versluys MTB-TEAM                      5.34.05
18 Guy Lemmens (BEL) Team MI Croc for Sofhea                         6.21.29
19 Ole Egeblad (DEN) Team Descente - CSC                             6.33.24
20 Dominique Angerer (AUT)                                           7.45.07
21 Marco Bücken (SUI) Tri Team Glarnerland                           8.08.05
22 Hansi Friedl (BRD)                                                8.22.21
23 Harald Reisinger (AUT) Lietz-Sport Team                           8.37.11
24 Charles Blanc (FRA)                                               8.41.22
25 Cal Burgart (USA) San Diego Cyclo-Vets                            8.51.20
26 Erik Baeteman (BEL) Lingier-Versluys MTB-TEAM 2                   9.39.34
27 Günter Rafeiner (AUT) Mountainbiker.AT                            9.45.18
28 William Bird (AUS)                                               10.23.33
29 Christophe Desimpelaere (BEL) Team Descente - CSC                10.29.58
30 Fred/Francesco Gras/Wessels (NED) Dutch Crocodile Tandem Team    10.43.28
31 Roger Freixenet (ESP) Yorky's                                    11.00.23
32 Shane Laird (CAN) NSD                                            11.38.44
33 Patrick Libert (BEL) SOWAT                                       12.19.35
34 Ronny Potter (BEL) SOWAT                                         12.45.39
35 Fulvio Villano (ITA)                                             13.11.55
36 Melanie Grant (AUS)                                              13.55.45
37 Salvador Ribotipons (ESP) Matxacuca - Xaloc                      14.50.20
38 Toru Watanabe (JPA) Green Life Tohoku                            15.05.47
39 Rik Vincke (BEL) Lingier-Versluys MTB-TEAM                       16.20.07
40 Heinz Zörweg (AUT)                                                       
 
General Classification - Women

1 Dominique Angerer (AUT)                                           38.20.07
2 Melanie Grant (AUD)                                                6.10.38