MTB index page for all MTB content
Crocodile Trophy - NE
Australia, October 17-29, 2006
Main Page Results Overall standings Previous Race Next Race
Race 8 - October 24: Chillagoe (time trial), 30 km
Borup Blasts to time trial victory in Chillagoe
Michael Borup blasts out of the blocks
Photo ©: John Flynn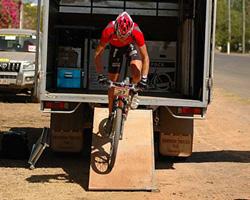 By John Michael Flynn at Chillagoe, Far North Queensland
Danish mountain biker Michael Borup today blasted to a second Crocodile Trophy stage victory with a dominant performance in the short thirty kilometre time trial at Chillagoe, in Outback Far North Queensland. Staged on a mostly corrugated dirt road through the picturesque Chillagoe Caves countryside, with a strong headwind on the outward journey and a tailwind coming home, Borup tapped out a fast tempo - stopping the clock at 50.43, with an average speed of 35.49 kilometres per hour. It was a fair effort considering the condition of the remote outback road - and given this is meant to be the Crocodile Trophy's "official" rest day.
Dominique Angerer and Christophe Heinix with Michael Borup
Photo ©: John Flynn

"An active rest day I think," Borup said while coughing up dust post-stage. "I thought everybody was worn out today and yesterday I had the last sixty kilometres to relax (after getting a puncture), so I thought 'why not give it a go?'. I think I was going pretty good all the way out in the headwind and I had a bit of trouble midway, in the tailwind, on the way home but I think I was going good. I had tunnel vision for the last two kilometres."
Overall race leader Christophe Stevens chose not to go full gas today and history is likely to prove that a wise decision, even if it means his lead has been slightly eaten away. By stage end, Steven' lead in the General Classification stood at 25.44, with Hungary's Attila Marton making up a small margin of time on the road today.
"Yeah half-half today, the wind was going out was very hard, coming back was alright, I could make some tempo," Stevens said. "I don't know, probably lost two or three minutes on Attila, but that's alright. I did it last year and I won tomorrow's stage but we'll see how it goes tomorrow. I feel I'm getting better every day, getting power in my legs."
A long lonely road as Manuel Treven
Photo ©: John Flynn

Third home today was Austria's Ingmar Brichenfrid, one of the most consistent riders of the Crocodile Trophy, who has been high in the race standings throughout along with Manuel Treven - his Lietz-Sport team-mate. Treven struck trouble on the road today, suffering a flat tyre. "Yeah it's very nice but it's too much road racing for me, I want more mountain bike stages, like two days before, but there are not many montains here," Britchenfrid observed. "It's a very nice race and the weather is good."
Struan Lamont was the best placed of the Australians today in fifth, with the Felt-Shimano Dream Team's Darren O'Grady seventh.
Struan Lamont borrowed a helmet
Photo ©: John Flynn

Valentin Zeller, the Felt-Shimano Dream's team's highest placed rider in the overall category, was unable to make up time today and question marks hang over how he will handle the dusty, corrugated sections between Chillagoe and Mount Mulgrave to Laura as well as the bum-busting journey from Laura to Cooktown.
"Yeah I'm not a good time trialist, so just thought to go and save energy. It was a horrible stage for me," Valentin said. "I don't know there are four tough stages ahead, so I can keep my place in general, but I don't know that I can handle the corrugations - we will see."
One team having a tough time handling the corrugations is the Dutch Tandem project, but the combination of Fred Gras and Francesco Wessels was on fire today - as you would expect the tandem to be in a time trial - finishing high in the standings. "The track to the turning point was pretty heavy," Fred Gras said.
Michael Borup takes in the Chillagoe scenery
Photo ©: John Flynn

Today's track was nowhere near as heavy as yesterday for the flying Dutchmen - the road into Chillagoe took a heavy toll on the tandem. "We broke a fork, we broke the wheel, the rim and the bearings in the wheel," explained Gras. "We had to walk about twelve kilometres before our accompanying car came, but still we had a lot of fun."
The Croc Trophy protagonists of 2006 will spend this afternoon cooling off at an Outback waterhole, before advancing to a 'watering hole' of a different kind in the main street of Chillagoe later in the day, as the sun sets. For the racers, there are good reasons to stay sober.
Tomorrow the Trophy heads out on a 120 kilometre journey to Mount Mulgrave Station, one of the most welcoming of destinations for the race caravan, where riders will have to cross the crocodile inhabited Mitchell River…if they dare.
Photography
For a thumbnail gallery of these images, click here
Images by John Flynn/Cyclingnews.com
Results
Stage 8 - Outright
1 Michael Borup (DEN) RT-Adidas-Roadbike Shop                      50.43
2 Attila Marton (HUN) Meditech Sport Club - CIB Leasing             1.10
3 Ingmar Brichenfrid (AUT) Lietz-Sport Team                         1.36
4 Christoph Stevens (BEL) Belgian Bike Power                        2.57
5 Struan Lamont (AUS) Team Scott Racing                             3.23
6 Luc Gielen (BEL) Team MI Croc for Sofhea                          3.24
7 Darren O'Grady (AUS) Dream Team                                   3.55
8 Ole Egeblad (DEN) Team Descente - CSC                             4.46
9 Valentin Zeller (AUT) Dream Team                                  4.49
10 Christophe Heinix (BEL) Passage Fitness First Oudaan             4.55
11 David Wood (AUS) Dream Team                                      5.17
12 Fred/Francesco Gras/Wessels (NED) Dutch Crocodile Tandem Team    5.18
13 Joel Geny (BEL) P. Léger Artisan Chocolatier                     6.12
14 Erik Goeleven (BEL) Team MI Croc for Sofhea                      6.14
15 Frederik Dewilde (BEL) Lingier-Versluys MTB-TEAM                 6.18
16 Guy Lemmens (BEL) Team MI Croc for Sofhea                        6.24
17 Günter Rafeiner (AUT) Mountainbiker.AT                           6.58
18 Stefan Rucker (AUT) Elk Haus                                     7.02
19 Ralf Peter Schnorr (SUI) Fitmanager.de                           7.54
20 Manuel Treven (AUT) Lietz-Sport Team                             8.23
21 Marco Bücken (SUI) Tri Team Glarnerland                          9.24
22 Cal Burgart (USA) San Diego Cyclo-Vets                           9.35
23 Hansi Friedl (BRD)                                              10.52
24 William Bird (AUS)                                              10.58
25 Charles Blanc (FRA)                                             11.01
26 Shane Laird (CAN) NSD                                           11.14
27 Roger Freixenet (ESP) Yorky's                                   11.43
28 Dominique Angerer (AUT)                                         12.05
29 Harald Reisinger (AUT) Lietz-Sport Team                         12.37
30 Erik Baeteman (BEL) Lingier-Versluys MTB-TEAM                   14.56
31 Ronny Potter (BEL) SOWAT                                        12.53
32 Patrick Libert (BEL) SOWAT                                      15.03
33 Fulvio Villano (ITA)                                            17.47
34 Salvador Ribotipons (ESP) Matxacuca - Xaloc                     18.02
35 Christophe Desimpelaere (BEL) Team Descente - CSC               19.40
36 Melanie Grant (AUS)                                             21.16
37 Toru Watanabe (JPA) Green Life Tohoku                           21.35
38 Rik Vincke (BEL) Lingier-Versluys MTB-TEAM 2                    22.51
39 Niek Lingier (BEL) Lingier-Versluys MTB-TEAM                    36.27
40 Heinz Zörweg (AUT) Team Zörweg                                       
 
Stage 8 - Women
1 Dominique Angerer (AUT)                                        1.02.48
2 Melanie Grant (AUS)                                            1.11.59

Overall - Outright
1 Christoph Stevens (BEL) Belgian Bike Power                        26.39.29
2 Attila Marton (HUN) Meditech Sport Club - CIB Leasing                25.44
3 Valentin Zeller (AUT) Dream Team                                     44.27
4 Ingmar Brichenfrid (AUT) Lietz-Sport Team                            51.33
5 David Wood (AUS) Dream Team                                        1.18.48
6 Manuel Treven (AUT) Lietz-Sport Team                               1.20.37
7 Stefan Rucker (AUT) Elk Haus                                       1.20.59
8 Michael Borup (DEN) RT-Adidas-Roadbike Shop                        1.31.24
9 Struan Lamont (AUS) Team Scott Racing                              1.54.01
10 Darren O'Grady (AUS) Dream Team                                   2.27.59
11 Frederik Dewilde (BEL) Lingier-Versluys MTB-TEAM                  3.05.19
12 Erik Goeleven (BEL) Team MI Croc for Sofhea                       3.11.16
13 Christophe Heinix (BEL) Passage Fitness First Oudaan              3.33.28
14 Joel Geny (BEL) P. Léger Artisan Chocolatier                      3.37.58
15 Luc Gielen (BEL) Team MI Croc for Sofhea                          4.08.31
16 Niek Lingier (BEL) Lingier-Versluys MTB-TEAM                      4.49.22
17 Ralf Peter Schnorr (SUI) Fitmanager.de                            4.52.00
18 Guy Lemmens (BEL) Team MI Croc for Sofhea                         6.05.57
19 Ole Egeblad (DEN) Team Descente - CSC                             6.33.24
20 Dominique Angerer (AUT)                                           6.53.18
21 Marco Bücken (SUI) Tri Team Glarnerland                           7.16.16
22 Hansi Friedl (BRD)                                                7.30.32
23 Charles Blanc (FRA)                                               7.53.02
24 Harald Reisinger (AUT) Lietz-Sport Team                           7.59.53
25 Cal Burgart (USA) San Diego Cyclo-Vets                            8.22.07
26 Günter Rafeiner (AUT) Mountainbiker.AT                            9.02.25
27 Erik Baeteman (BEL) Lingier-Versluys MTB-TEAM 2                   9.24.38
28 William Bird (AUS)                                                9.25.39
29 Christophe Desimpelaere (BEL) Team Descente - CSC                 9.55.03
30 Roger Freixenet (ESP) Yorky's                                    10.02.29
31 Fred/Francesco Gras/Wessels (NED) Dutch Crocodile Tandem Team    10.56.08
32 Shane Laird (CAN) NSD                                            10.59.22
33 Patrick Libert (BEL) SOWAT                                       11.34.52
34 Ronny Potter (BEL) SOWAT                                         12.00.56
35 Fulvio Villano (ITA)                                             12.06.14
36 Melanie Grant (AUS)                                              12.50.04
37 Salvador Ribotipons (ESP) Matxacuca - Xaloc                      13.44.39
38 Toru Watanabe (JPA) Green Life Tohoku                            13.46.47
39 Rik Vincke (BEL) Lingier-Versluys MTB-TEAM                       15.06.42
40 Heinz Zörweg (AUT) Team Zörweg                                           
 
Overall - Women
1 Dominique Angerer (AUT)                                           33.32.47
2 Melanie Grant (AUD)                                                5.56.46