1st Red Bull Road Rage - NE
Malibu, California, USA, November 5, 2005
Myles Rockwell lights it up at Red Bull Road Rage
Mountain biker dusts road cyclist as the fastest descender
Mountain biker Myles Rockwell
Photo ©: Red Bull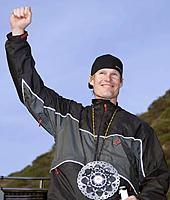 The ground shook in Malibu today as many of the nation's best road cyclists and mountain bikers plunged down the legendary Tuna Canyon to determine once and for all the fastest descender at the inaugural Red Bull Road Rage, co-sponsored by Giant Bicycle and Avid Brakes. Mountain biker Myles Rockwell cleaned up, taking home first place in both the Time Trial and Pack Races. At 58 mph, the fastest speed of the day was awarded to David McCook as part of the Avid Brakes speed trap.
"It's nice to shut everybody up. Everyone thought it was going to be McCook or Lopes, but it's nice to be the underdog. I didn't really prepare in any special way. I did a couple of spin classes and that's it," exclaimed Myles after completing his winning time trial run in just 4 minutes and 24.7 seconds, earning the coveted crown as the fastest downhill descender. Not far behind was road cyclist David McCook.
How it unfolded
Mountain biker Brian Lopes
Photo ©: Red Bull
Riders took on the 2.5 mile course boasting a 2,000 foot elevation drop with 49 curves including cliff-hanging berms and 120 degree turns around rock faces at speeds up to nearly 60 mph through the historic Tuna Canyon in Malibu, Calif.
Time Trials pitted individuals against the clock as they raced for the title of fastest descender. For the Pack Races, the top 16 finishers from the time trials raced boardercross-style in four-man heats.
Current OLN commentator and 2005 Tour de France host Bob Roll emceed the event and was blown away. "They're doing something totally different here. This took courage, balance and power - a lot of things that you don't normally associate road racing with. I think there is a definite niche for this as long as we can find roads like this throughout the country."
The original prize purse was doubled to $10,000 thanks to Avid Brakes.
Photography
For a thumbnail gallery of these images, click here
Images by Red Bull
Results

Time trial
 
1 $ 3,000  Myles Rockwell           4:24.7
2 $ 2,000  David McCook             4:25.9
3 $ 1,000  Brian Lopes              4:28.6
 
Pack race
 
1 $ 3,000  Myles Rockwell)          4:24.68
 
Avid speed trap
 
1 $ 1,000  David McCook                  58 mph (93 km/h)