MTB index page for all MTB content
14th La Ruta de los Conquistadores - NE
Costa Rica, November 3-5, 2006
2005 results Schedule Preview Countdown Start List Past winners
Schedule
Race 1 - November 3: Garabito, Puntarenas (Pacific Coast) to Santa Ana, San Jose (Central Valley), 97 km
Race 2 - November 4: San Jose to Turrialba, 66.7 km
Race 3 - November 5: Turrialba to Moin Port, Limón, 120 km
Preview: Paez to challenge rivals on revised course
Hector Leonardo Paez Leon and Jeremiah Bishop
Photo ©: Rob Jones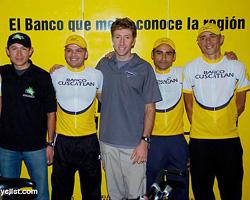 By Rob Jones
It is less than three days until the 14th edition of the La Ruta de los Conquistadores begins on the Pacific coast of Costa Rica. Today, the organisers held a press conference in San Jose, the capital of Costa Rica, with some of the top contenders - Jeremiah Bishop (Trek-VW), Adam Craig (Giant) and Hector Paez (Full Dynamix). Defending champion Thomas Frischknecht (Swisspower) had travel troubles, and could not be at the press conference.
This year, the race is expected to be much tougher - despite last year being the wettest on record for the race. The reason? According to Bishop, who finished fifth last year: "The level of competition is increasing every year - that's the biggest challenge. Plus, the first stage sounds harder, and there is more stuff on foot as well."
The race begins at sunrise (5:15 am local) on Friday, November 3, with a stage that is expected to thrash the field. The stats caught the attention of every rider present at the press conference:
Length - 97. km
Total Climbing - 4420m / 14,501 feet
Paved - 8.3 km (8.5%)
Mud - 47.3 km (48.5%)
Gravel - 41.9 km (43%)
Last year, Frischknecht won the stage in just under six hours (5:53:20), but local riders who have ridden the revised course say that it is much harder. "The final climb is very steep and gravel, not like last year when it was paved," explained Paolo Montoya. "Also there are two long walking sections (through the Carrara Preserve) .... I think even the best riders will be one hour, or one hour and 30 minutes longer."
Day two offers some respite at 66.7 kilometres (shorter than last year, with the first paved section through San Jose city traffic moved out of town). The riders will climb a 'mere' 2654m (8787 feet), with 30% paved, 11% mud and 59% gravel roads. The stage ends with a long, gnarly descent into a coffee plantation where Frischknecht lost his lead last year after suffering multiple punctures.
Riders, sponsors and race organisers
Photo ©: Rob Jones

The third stage, at 120 kilometres, is the longest but in some ways the easiest, as it generally slopes downhill to the finish at the Caribbean beach town of Limon. However, the riders still climb 1720 m (5650 feet), over a 17% pavement, 12% mud and 51% gravel surface. The kicker is the 25 kilometres of train track - with the railbed still in place - which is 21% of the total distance. Last year, riders caught a break, when one of the trestle bridges over a river was out of service and the race had to detour around on a long section of road. That bridge is now fixed. By the way, these bridges are high, over rivers containing Caiman alligators, and have big gaps of 30-45 cm between each trestle as you walk across with your bike over your shoulder.
Bishop is the only rider of the three at the press conference who has done the race before, and said: "This race is one of the biggest adventures of my season, and I'm glad to be back. I'm looking forward to improving from last year, and having some fun. This year I brought a hardtail - a Trek 9.9 - because there is such a tremendous amount of climbing. Of course, this year I brought mud tires!"
Adam Craig says he is riding, "to finally check out the legend that is La Ruta. I'm looking forward to some good racing, and having the chance to ride coast to coast, but it should be interesting starting at five-o'clock in the morning... The X factor will be the weather; we will have to see who's best equipped to handle what nature brings."
Media Director Luis Rueda Fonseca
Photo ©: Rob Jones

The most interesting newcomer to the race is Hector Leonardo Paez Leon. This 24-year-old Colombian has taken the mountain biking world by storm this season. He won the overall Marathon World Cup title, finished second at the Marathon Worlds, fifth at the Cross-country Worlds and won the Pan Am Championships title two weeks ago - riding away from a field containing both Bishop and Craig.
Paez has a fairytale story - he lives at 2600m in the mountains, 150 kilometres outside of Bogata. In the morning he studied at school, and in the afternoon helped his father in the fields, farming. At the age of 18 he saved up enough money to buy his first bike and began racing. He finished fourth in his first race - a stage race for Juniors, and won his second race - a local mountain bike race that he has now won five consecutive times.
According to his coach, he has never raced an offroad stage race before, so he will spend the start of the first stage staying with the leaders, if possible, and then attack on the climb. His coach also claims: "He trains at between 2600m and 3500m, and does his recovery rides on the hills - he says it feels easier to him. I first saw him in a local race, and the engine was there to climb so easy, but his descending was very bad. I saw a big margin to improve."
We spoke to Paez for a few minutes (with his coach interpreting):
CN - Which do you prefer - road or mountain bike?
Paez - I like both right now, but in the future I would like to go to the road, maybe to race in Europe.
CN - While you had some good results last year, this year was a big improvement.
Paez - Yes, I was not really expecting to do so well yet, but I saw last year that I was getting closer to the top riders, which gave me much more confidence.
CN - Why did you choose bike racing?
Paez - I have always liked the bike, I liked to watch the racers, but couldn't afford a bike at first.
CN - What do you see as your strengths and weaknesses?
Paez - My weakest part is still the technical riding, but I am getting better now. My strength is climbing, the tougher the better.
CN - Who do you see as the toughest competition?
Paez - Frischknecht, and the Italian rider Marizo Deho (Olimpia) are the biggest ones, I think. But I have raced against them and I have prepared well - I come here to win.
Costa Rica countdown - a chat with Thomas Frischknecht
Ride Guide interviews Adam Craig
Photo ©: Rob Jones

The race has moved down to the Pacific coast, to the town of Jaco, where the riders will begin their three-day trek across Costa Rica to the Caribbean coast in a few hours time (0515 hours local start). The weather has been hot and humid, with the obligatory evening rain underway at this time. Unlike last year, however, Costa Rica has not been hammered this year by the big hurricanes that swept through the region in 2005, so the mud, while still a huge factor, will probably not be as much of a concern on the first day.
Defending champion Thomas Frischknecht is back - this year with a dual suspension bike. Last year he lost his lead on the second day in the brutal 10 kilometre descent to the finish after suffering multiple flats. "It isn't a help on the first stage, but for the second and third days it will be an advantage for the descents and especially on the railbed," explained Frischknecht.
Adam Craig & Andreas
Photo ©: Rob Jones

Why not two bikes? A hardtail for the climbing on day one and a dually for the other days? "I thought about it, but two bikes is not fair."
Frischknecht also said he wasn't concerned about the presence of Hector Paez (Full Dynamix) - the Colombian who has been extremely strong in Marathons this year - or Costa Rican Fred Ramirez - the only three-time winner of La Ruta, who has returned after a two year absence to regain the title.
"I don't care too much who is here; it's the same for everyone. In La Ruta you have to go in without too many plans, and take things as they come. I don't look on who is hear as the competition, the difficulty here is battling the course," added the reigning winner. "This year I have a bit of an advantage of some of the others (top competitors), because I know what to expect and they haven't done it. The strong guys have to learn about La Ruta, like I did last year, so I think my chance to defend the title is as good as it was to win last year.
Frederic Ramirez (three time Ruta winner),
Photo ©: Rob Jones

So who does he see as the big threats? "Paez, (Jeremiah) Bishop, and I think the Italian Marizo Deho (Olimpia), who won Roc D'Azur and in Mexico last week."
Last year, Frischknecht came across the line after the first stage looking shattered, and calling it "the hardest one day race I have ever done," but that hasn't played on his mind to much: "Over the months after La Ruta I forgot how hard it was ...that's the only explanation why I came back! I have good memories from last year, but I have to say that I am a little bit scared ... maybe that is part of the reason I am here - because of the personal challenge."
Photography
For a thumbnail gallery of these images, click here
Images by Rob Jones/www.canadiancyclist.com
Start list
Coming!
Past winners

2005 Thomas Frischknecht (Swi)
2004 Paolo Cesar Montoya (CRc)
2003 Marvin Campos (CRc)