75th World Championships - CM
Varese, Italy, September 23-28, 2008
Main Page Results Race Details Live report Previous Race Next Race
Race 2 - September 24: Women's time trial, 25.15km
Neben knocks out favourites for gold
Soeder and Arndt take second and third
By Bjorn Haake, with additonal reporting from Hedwig Kröner and Gregor Brown in Varese
Amber Neben (USA)
Photo ©: AFP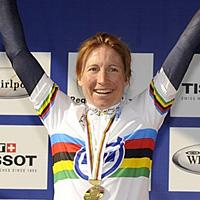 After finishing one place out of the medals in last year's World Championships, American Amber Neben surprised the pre-race favourites by setting a time which none of the 13 riders who came after her could beat. One by one they came and went, but after Olympic gold medalist and fellow American Kristin Armstrong came through the line as last rider, Neben's 33:51.35 held fast as the winning time. Austria's Christiane Soeder came closest, just seven seconds slower, and Germany's Judith Arndt completed the podium in third, 21 seconds down on Neben.
Armstrong ended the day in fifth, one place behind a strong Tatiana Antoshina of Russia and one place ahead of Switzerland's Karin Thürig.
Neben worked her way from 5th in the 2005 World Championships time trial up to fourth in last year's event, once again just outside the medals. But her dream finally came true in Varese, and the surprise left Neben speechless. "I don't have any words - I am so excited, so happy. I can't speak right now, I don't know what to say. It's a dream come true."
Neben had an early start time and knew what she had to do in order to have any chance of receiving any kind of medal. "There were 13 riders behind me, so I knew that the only chance to win a medal was to have the best time when I finished. So I did, which was the first positive step."
After that, it was a long agonizing wait, without even having much information about the race. "Then, I was sitting in the hot chair... there was no TV there and I didn't have a good feeling to what was happening in the race and what the time splits were at the other points in the race."
Neben looked a bit tense on the hot chair, not much of a smile despite having posted the best time. After the race she explained why. "I knew who still was to come so you're not going to get too excited until those riders come through. I was praying, waiting, hoping..."
Amber Neben (USA)
Photo ©: AFP

It was almost a better feeling when she was still out on the parcours, for which she had a lot of praise. "The course was very beautiful, and very challenging. You had to stay on the gas the whole time, keeping the power on, keeping it steady. It was really heavy, so it was hard all the way round. I just tried to stay focused the best that I could, and it has turned out well."
Neben explained what made the difference for her compared to previous World Championships. "With my coach, we worked on my base fitness after the Olympics at home, and then did a 10-day race block here in Europe. My coach designed a really structured build-up for me, and I have to give him a lot of credit. He did a good job getting me ready. Everything has to be perfect - your preparation, your head, your body. It all comes together. It's a fantastic feeling right now."
Soeder gets past Olympic disappointment
Christiane Soeder (Austria)
Photo ©: AFP

Soeder was visibly excited about her silver medal, especially in light of her Olympic performance, where she came in seventh. "I'm very happy; I had a really good day today because in Beijing it wasn't that good. The course was hard as the beginning was uphill, six kilometres. I tried to not put in a 100 percent of my efforts, so in the finale I had enough energy left to go really fast."
Today's ride felt like compensation for the recent Olympic experience for the Austrian. "This does make up for the lost chance in Beijing. Sometimes you have a good day, sometimes a bad day. Every time trial is a bit different. Today was good for me because in the beginning it was uphill, and in the end I had enough power on the flat. But you never know..."
Soeder was able to move one spot up from her Stuttgart bronze medal in last year's Worlds. Her performance left her more happy over silver than disappointed of only narrowly missing out on gold.
Arndt crowns good season with bronze medal
Judith Arndt (Germany)
Photo ©: AFP

Judith Arndt of Germany had a good 2008 season that brought her several wins and dominated the World Cup this year. Now she was able to also add a bronze medal to her nice season memories. "I'm very happy with my third place, as it is at the end of a very long and hard season with a lot of up and downs. I'm surprised, too, because my preparation wasn't really perfect for the time trial, more for the road race on Saturday. The last two days, I was lying in bed and hoping that I would recover until today. Finally, it went well; it was a beautiful course and I'm very happy."
She was especially proud to have made the step on the podium in light of her competitors. "These days, it's more difficult to win a medal in the time trials, because it's more specific. It requires specific training, which wasn't really necessary some years ago. So this medal means more to me than the other three."
But despite the hard work over several months, Arndt is not quite at the end of her season yet. She is still hungry for the ultimate win – in the road race on Saturday. "My form is good, and I look forward to the road race. The other girls on the German national team got first and second in the Tour of Tuscany last week, so that's promising."
Armstrong, Pooley can't repeat Olympic run
Olympic champion Kristin Armstrong was hoping for more than just fifth place. She was so disappointed, she left the scene right away. Her teammate Christine Thorburn, who finished 12th, explained her compatriot's result. "Kristin has been a little bit racked by being Olympic Champion and people are putting a lot of pressure on her and demands on her time. It is not that surprising, after the Olympics it is hard for an Olympic Champion. Cancellara did not even bother coming."
Beijing silver medalist Emma Pooley had also expected a little bit more than eighth place, almost a minute off the pace. "I was hoping for a medal - I'm a bit disappointed with my result. Nothing really went wrong, but I just didn't go fast enough. The course was okay, but I didn't quite have it. Maybe the others just had a really good day, I don't know."
The course was very difficult, with the climb coming at first. It was easy to overdo it and that is what may have happened to Pooley. "Maybe I died off a bit in the second half. I found it easy putting in the effort on the uphill, because you can see what you're doing and it's an obvious effort. But the last bit was rolling downhill gently, with a bit of a headwind. You can't really get into a rhythm until the last ten kilometres. But I couldn't make up anything there, either."
Antoshina made one of the biggest leaps forward. Last year she finished 37th and this year she was fourth, less than two seconds away from a bronze medal at a World Championships. The 26-year-old only turned professional last year, so she undoubtedly will still be talked about in the future.
Photography
For a thumbnail gallery of these images, click here
Images by Roberto Bettini/www.bettiniphoto.net
Images by AFP Photo
Images by CJ Farquharson/WomensCycling.net
Images by Riccardo Scanferla
Images by Sirotti/www.sirotti.it
Images by Davide Tricarico/LadiesCycling.net
Results
1 Amber Neben (United States Of America)           33.51.35 (44.571 km/h)
2 Christiane Soeder (Austria)                       0.07.56
3 Judith Arndt (Germany)                            0.21.77
4 Tatiana Antoshina (Russian Federation)            0.23.39
5 Kristin Armstrong (United States Of America)      0.25.27
6 Karin Thürig (Switzerland)                        0.29.99
7 Susanne Ljungskog (Sweden)                        0.57.38
8 Emma Pooley (Great Britain)                       0.57.52
9 Charlotte Becker (Germany)                        1.03.32
10 Linda Villumsen (Denmark)                        1.05.43
11 Anne Samplonius (Canada)                         1.07.91
12 Christine Thorburn (United States Of America)    1.17.16
13 Jeannie Longo-Ciprelli (France)                  1.20.03
14 Emma Johansson (Sweden)                          1.26.31
15 Diana Ziliute (Lithuania)                        1.35.83
16 Vicki Whitelaw (Australia)                       1.36.23
17 Julie Beveridge (Canada)                         1.53.56
18 Martina Ruzickova (Czech Republic)               2.02.24
19 Sharon Laws (Great Britain)                      2.03.06
20 Ellen Van Dijk (Netherlands)                     2.11.46
21 Regina Bruins (Netherlands)                      2.14.52
22 Pascale Schnider (Switzerland)                   2.15.64
23 Bridie O'Donnell (Australia)                     2.16.73
24 Alexis Rhodes (Australia)                        2.21.11
25 Kirsten Wild (Netherlands)                       2.26.84
26 Edwige Pitel (France)                            2.37.03
27 Grete Treier (Estonia)                           2.40.05
28 Jarmila Machacova (Czech Republic)               2.46.30
29 An Van Rie (Belgium)                             2.50.22
30 Marta Vilajosana Andreu (Spain)                  2.52.06
31 Trine Schmidt (Denmark)                          2.59.46
32 Eneritz Iturriaga Echevarria Mazaga (Spain)      3.04.02
33 Alexandra Burchenkova (Russian Federation)       3.15.01
34 Daiva Tuslaite (Lithuania)                       3.20.07
35 Mayuko Hagiwara (Japan)                          3.31.31
36 Anna Zugno (Italy)                               3.41.23
37 Elena Berlato (Italy)                            3.55.35
38 Bogumila Matusiak (Poland)                       4.22.49
39 Olivia Dillon (Ireland)                          4.25.06
40 Hanna Talkanitsa (Belarus)                       5.09.88
41 Kathryn Bertine (Saint Kitts and Nevis)          5.20.61
42 Heather Wilson (Ireland)                         5.22.56
43 Polona Batagelj (Slovenia)                       8.37.31