75th World Championships - CM
Varese, Italy, September 23-28, 2008
Main Page Results Race Details Live report Previous Race Next Race
Race 5 - September 27: Women's road race - 8 laps, 138.80km
Olympic champion conquers the Worlds
Cooke adds rainbow to gold; Vos and Arndt complete podium
By Ben Atkins, Hedwig Kröner and Gregor Brown in Varese, Italy
Nicole Cooke is now Olympic and World Champion
Photo ©: Roberto Bettini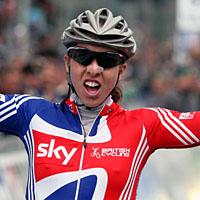 Nicole Cooke of Great Britain won the women's World Championship road race in a three-up sprint with 2006 champion Marianne Vos of the Netherlands and 2004 champion Judith Arndt of Germany. She adds the rainbow jersey to the Olympic gold medal she won in Beijing last month, and becomes the first Briton to win a senior road rainbow jersey since Mandy Jones took the 1982 title in Goodwood, England. The three were part of a break royale that formed on the final of eight laps that also included Emma Johansson of Swede and Trixi Worrack of Germany.
The five riders escaped under the impetus of an attack from Vos on the steep climb of via Montello with just over 15km to the finish, and were originally six until a puncture for Susanne Ljungskog ended her chances. There were several attacks in the closing stages particularly from Vos – when she looked to have made a race-winning move on the final Ronchi climb – and Johansson – when a late attack looked to have taken the others unawares, but in the end it came down to a sprint and the Welshwoman proved to be the fastest.
"I am very, very happy," said Cooke after the race. "I am very happy following Beijing. When we started I was relaxed because I had met my objective with the Olympics. We had a nice team plan, it was not complicated, it was simple – just to try to do our best. I saved all I had for the finish line and it worked.
"It is great to win and share the podium with great competitors," she added, paying tribute to Arndt and Vos.
"I have a lot of respect for all the riders here," said Cooke in response to a question about Vos in particular. "They are both [Arndt and Vos] former world champions. It was really tactics against riders, but knowing my limit and saving my best for the end of the race. I know that would be the best I could do."
Twice in the final lap Vos attacked, possibly casting herin the final sprint. Cooke seemed to deny that this was a mistake by the Dutchwoman though. "I think that she had shown she can win in climbs or win races in sprints," she said. "I was not surprised because the hills are a good place to attack. You can't take anything for granted... . I had to ride my own race. I had to react to her attacks the best I could."
"In the sprint – Marianne started it – I saw the orange jersey come back and just knew all I could do was get into the slipstream and keep going all the way to the line. I did not know what would happen but I just tried my best in the sprint."
Lap 2 and already the break has formed
Photo ©: CJ Farquharson

At one point in the final lap, an attack from Worrack and Vos looked like it might have succeeded, but it was pulled back with less than 2km to go thanks to co-operation rest of the breakaway group. "I was working with Johansson on the downhill," revealed Cooke, "and we went quite hard."
In the past six weeks, Cooke has taken Olympic gold and now the rainbow jersey of World champion, something that even she is having trouble coming to terms with. "It was a dream come true in Beijing," she said, "and today as well. I don't think I've realised it yet, after the race it was very busy and there was a lot going on. I think I need some time to let it sink in."
"I felt good in the last lap," said silver medallist Vos. "I tried to give my best, [but] I could not get away. When it was the last I tried to get into the sprint. I saw Nicole was in my wheel, and I could not do anything better. She had a good sprint."
"What was my biggest mistake?" she said. "Maybe when I attacked because everyone then knew I was good. But I felt good and I had to do the work. I think the others in the group are normally fast on the line. I gave it all I had and I don't think I made a mistake."
Vos rode a very aggressive race, but just as she reached the line she seemed to hesitate in her sprint. "It was not the plan," she said. "I sprinted as much as I could [but] I had cramps right at the line. I saw Nicole coming, she had an extra acceleration and I did not – she was the fastest on the line."
Nikki Egyed (Aus) raced very strongly
Photo ©: CJ Farquharson
Third place Arndt couldn't quite match the sprint of the other two, but adds a second bronze medal to the one she took in Wednesday's time trial. "I am happy actually," she said. "It was a great race and I enjoyed it."
On top of her personal achievement, Arndt praised the work of her compatriots. "The German team was always on top of things. We had three riders in the early break. We had two riders in the move of five and we got third, it does not look good maybe, but we attacked and attacked, It did not work out, I think we can be proud but we did every thing we could. I like the race we did, it was positive and it was fun."
"I think we won 32 medals at worlds and European championships. I think that the coach made the right decisions and chose the right riders."
A late attack from Johansson almost worked, but she was caught within sight of the line and finished in fourth. She acknowledged that this solo break might have been the only way for her to take victory against faster finishers. "More or less," she told Cyclingnews. "I knew both Marianne and Nicole Cooke have an awesome sprint, and I was feeling really tired as well. There was a lot going on with all the attacks from Judith and Trixi. My chance was to try to attack and when everything stopped I tried. They first let me go, but with 500 metres I was totally blocked."
Johansson recognised that her attack was similar in characteristics to that of Colombian Fabio Duarte who took the under-23 men's title in such a fashion. "It was a little bit like that," she said. "I tried..."
"I did not try exactly the same or I would have waited longer to make my move. I tried to make the move and see if it lasted until then, but it did not this time. It is better to try and to lose than never try at all."
Local Italian favourite Noemi Cantele just missed the winning move, but chased for almost half of the final lap to try to catch them. Ultimately it was too much for the Varesina and she drifted back into the peloton to finish 37th, 1:39 behind Cooke. "I didn't have the legs," she told Cycingnews afterwards. "I was just not strong enough today. When the break occurred, I was not in a good position."
Sharon Laws (GBr) on the climb. She later crashed on the descent
Photo ©: CJ Farquharson

Before the final selection of favourites formed, an attack from Australian Nikki Egyed saw her break clear on the penultimate lap. "We did not want to leave it until Vos' and Cooke's attacks," she told Cyclingnews at the finish. "Looking at how I rode today I questioned if it might not have been better to wait to go with them myself [in the finale], but it is easy to say that now. If I had stayed away we would have been having a different conversion now."
As the race closed in, Egyed saw that a solo break might be the best way of making the final selection after the climb was over. "I figured I had more of a chance of getting over the steep climb my self and recovering on the descent," she explained. "Unfortunately Vos was attacking right at the same moment.
"Those girls are really classy riders so you can't afford to already be third when they come by," she added.
By far the most active member of the original 12-woman breakaway was Kristin Armstrong of the United States. Despite being a contender for the race victory, she felt that this was the best tactic to employ against the other teams. "We knew that of the team Amber [Neben] and I were the strongest going into the day with this sort of course," she explained to Cyclingnews. "I wanted to catch the teams off guard. I knew the leaders would be sitting back and I am a leader so I wanted to give it a go. It came down to a bigger bunch than we wanted, but I was able to let her [Neben] relax in the bunch with Arndt and Vos and Cooke."
Oenone Wood of Australia rode her last race at this level today, and while on a personal level it may not have gone as the 2005 bronze medallist would have liked, she was happy with her team-mate Egyd's performance. "For me personally I probably lacked a little bit of race fitness," she said, "as I didn't have the opportunity to race since the Olympics. But for our team - Nikki Egyed put herself in a fantastic position today.
"She went with the move on the second lap," she said, "and that was the break that stayed away. And then her attack was really good, knowing that she can be pretty bad up the hill but she really tried to win. It didn't work out today but I think for next year, she can take confidence from that knowing that she can be competitive with the top level of women's cycling."
How it unfolded
The fugitives on the hill of Ronchi:
Photo ©: Davide Tricarico

138 riders set out from the Mapei Cycling Stadium at the Varese Hippodrome under overcast skies and chilly temperatures but no sign of rain.
Midway through the first of eight laps a breakaway of 13 riders escaped, consisting of Kristin Armstrong (USA) Luise Keller; Charlotte Becker, Angela Brodtka (all Germany); Diana Ziliute and Jolanta Polikeviciute (both Lithuania); Grace Verbeke (Belgium); Maryline Salvetat (France); Lizzie Armitstead (Great Britain); Nikki Egyed (Australia); Monia Baccaille (Italy); Anna Sanchis Chafer (Spain) and Laura Lorenza Morfin Macouzet (Mexico). Part way through the second lap though Brodtka was dropped, leaving 12 up front.
Having missed the move, the Dutch team of Marianne Vos sent successive riders to the front and so the gap never exceeded two minutes. Pressure from the Dutch, the Canadians and Emma Pooley of Great Britain brought the group back to within striking distance and several of the race favourites joined.
The scenic course in Varese
Photo ©: Sirotti

As the groups were forming on the penultimate lap, Egyed attacked and managed to build a solo lead. She took the bell alone, but on the first climb of the final lap an attack from Vos poulled a new group of six riders clear.
In front now were Vos, Nicole Cooke (Great Britain), Judith Arndt and Trixi Worrack (both Germany), and Emma Johansson and Susanne Ljungskog (both Sweden). Noemi Cantele of Italy just missed the move but was chasing alone behind them.
Ljungskog punctured almost as soon as the break had formed and a slow change effectively ended her race. The five others continued together.
On the final climb of the Ronchi a hard attack from Vos saw her escape the others and looked to have won the race, but persistence from the other four reeled her in just as she rode over the top.
In the final few kilometres a series of attacks failed to get away with Worrack doing the lions share of the work for teammate Arndt, until with less than two to go, Johansson escaped on her own.
The Swede passed under the last kilometre banner alone but was reeled back in – again by Worrack – and drifted back.
Vos was the first to launch her sprint but Cooke quickly got her wheel and came round in the final metres to take the victory. Arndt was unable to match the sprint of the other two and finished third to take the bronze medal, with Johansson and Worrack following.
Ziliute led the peloton home 1:47 back, with Cantele and Ljungskog having been caught in the closing stages.
Photography
For a thumbnail gallery of these images, click here
Images by Roberto Bettini/www.bettiniphoto.net
Images by Riccardo Scanferla
Images by CJ Farquharson/WomensCycling.net
Images by Davide Tricarico/ladiescycling.net
Images by Sirotti/www.sirotti.it
Images by AFP Photo
Results

1 Nicole Cooke (Great Britain)                  3.42.11 (37.482km/h)
2 Marianne Vos (Netherlands)                           
3 Judith Arndt (Germany)                               
4 Emma Johansson (Sweden)                          0.05
5 Trixi Worrack (Germany)                          0.11
6 Diana Ziliute (Lithuania)                        1.47
7 Marta Vilajosana Andreu (Spain)                      
8 Joanne Kiesanowski (New Zealand)                     
9 Alex Wrubleski (Canada)                              
10 Julia Martisova (Russian Federation)                
11 Claudia Häusler (Germany)                           
12 Chantal Beltman (Netherlands)                       
13 Linda Villumsen (Denmark)                           
14 Giorgia Bronzini (Italy)                            
15 Nikki Egyed (Australia)                             
16 Grace Verbeke (Belgium)                             
17 Jeannie Longo-Ciprelli (France)                     
18 Edita Pucinskaite (Lithuania)                       
19 Christiane Soeder (Austria)                         
20 Maryline Salvetat (France)                          
21 Kaytee Boyd (New Zealand)                           
22 Amber Neben (United States Of America)              
23 Malgorzta Jasinska (Poland)                         
24 Siobhan Dervan (Ireland)                            
25 Laura Lorenza Morfin Macouzet (Mexico)              
26 Monia Baccaille (Italy)                             
27 Rasa Polikeviciute (Lithuania)                      
28 Sharon Laws (Great Britain)                         
29 Tatiana Guderzo (Italy)                             
30 Mirjam Melchers-Van Poppel (Netherlands)            
31 Susanne Ljungskog (Sweden)                          
32 Modesta Vzesniauskaite (Lithuania)              1.56
33 Natalia Boyarskaya (Russian Federation)             
34 Jolanta Polikeviciute (Lithuania)                   
35 Emma Pooley (Great Britain)                         
36 Anna Sanchis Chafer (Spain)                         
37 Noemi Cantele (Italy)                           1.59
38 Zinaida Stahurskaya (Belarus)                   4.54
39 Kristin Armstrong (United States Of America)    4.56
40 Alexandra Burchenkova (Russian Federation)      5.24
41 Elizabeth Armitstead (Great Britain)                
42 Rosane Kirch (Brazil)                           6.08
43 Grete Treier (Estonia)                          6.11
44 Maja Adamsen (Denmark)                              
45 Oxana Kozonchuk (Russian Federation)                
46 Clemilda Fernandes Silva (Brazil)                   
47 Karine Gautard (France)                             
48 Erinne Willock (Canada)                             
49 Lieselot Decroix (Belgium)                          
50 Sereina Trachsel (Switzerland)                      
51 Martina Ruzickova (Czech Republic)                  
52 Iturriagaechevarria (Spain)                         
53 Vicki Whitelaw (Australia)                          
54 Edwige Pitel (France)                               
55 Paulina Brzezna (Poland)                            
56 Marissa Van Der Merwe (South Africa)                
57 Monika Grzebinoga (Poland)                          
58 Liesbet De Vocht (Belgium)                          
59 Daniela Pintarelli (Austria)                        
60 Julie Beveridge (Canada)                            
61 Jessica Allen (Great Britain)                       
62 Suzanne De Goede (Netherlands)                      
63 Oenone Wood (Australia)                             
64 Carla Ryan (Australia)                              
65 Tatiana Antoshina (Russian Federation)              
66 Patricia Schwager (Switzerland)                     
67 Kori Kelley Seehafer (United States Of America)     
68 Monika Schachl (Austria)                        6.16
69 Rosara Joseph (New Zealand)                         
70 Fabiana Luperini (Italy)                            
71 Charlotte Becker (Germany)                          
72 Luise Keller (Germany)                              
73 Oksana Kashchyshyna (Ukraine)                   9.22
74 Verónica Leal Balderas (Mexico)                     
75 Sylwia Kapusta (Poland)                        12.14
76 Anriette Schoeman (South Africa)               13.17
77 Sigrid Corneo (Slovenia)                            
78 Felicia Greer (Canada)                              
79 Jennifer Hohl (Switzerland)                         
80 Elodie Touffet (France)                             
81 Rasa Leleivyte (Lithuania)                          
82 Miho Oki (Japan)                               17.50
83 Yevgeniya Vysotska (Ukraine)                   20.20
84 Laure Werner (Belgium)                         22.02
85 Mirjam Hauser-Senn (Switzerland)                    
86 Julie Krasniak (France)                        27.51
87 Chrissie Viljoen (South Africa)                28.39
88 Lynette Burger (South Africa)                       
89 Magdalena Zamolska (Poland)                         
90 Inga Cilvinaite (Lithuania)                         
91 Alona Andruk (Ukraine)                              
DNF Karin Thürig (Switzerland)                         
DNF Anne Samplonius (Canada)                           
DNF Irene Van Den Broek (Netherlands)                  
DNF Christine Thorburn (United States Of America)      
DNF Angela Brodtka (Germany)                           
DNF Rochelle Gilmore (Australia)                       
DNF Anita Valen De Vries (Norway)                      
DNF Hanna Taukanitsa (Belarus)                         
DNF Yuka Yamashima (Japan)                             
DNF Maria Briceno Jimenez (Venezuela)                  
DNF Eva Lechner (Italy)                                
DNF Brooke Miller (United States Of America)           
DNF Emma Rickards (Australia)                          
DNF Katheryn Curi Mattis (United States Of America)    
DNF Andrea Thürig (Switzerland)                        
DNF Iosune Murillo Elkano (Spain)                      
DNF Regina Bruins (Netherlands)                        
DNF Jarmila Machacova (Czech Republic)                 
DNF Yulia Blindyuk (Russian Federation)                
DNF Louise Moriarty (Ireland)                          
DNF Leticia Gil Parra (Spain)                          
DNF Olivia Dillon (Ireland)                            
DNF Garcia Buittrago D. (Venezuela)                    
DNF Kathryn Bertine SKN                                
DNF Monica Holler (Sweden)                             
DNF Christine Majerus (Luxembourg)                     
DNF Karin Aune (Sweden)                                
DNF Anna Harkowska (Poland)                            
DNF Robyn De Groot (South Africa)                      
DNF Cherise Taylor (South Africa)                      
DNF Uenia Fernandes Da Souza (Brazil)                  
DNF Emilia Fahlin (Sweden)                             
DNF Nathalie Bates (Australia)                         
DNF Yolandi Du Toit (South Africa)                     
DNF Janildes Fernandes Silva (Brazil)                  
DNF Pascual Torrecilla G. (Spain)                      
DNF Marie Lindberg (Sweden)                            
DNF Heather Wilson (Ireland)                           
DNF Alena Sits Ko (Belarus)                            
DNF Polona Batagelj (Slovenia)                         
DNF Nathalie Lamborelle (Luxembourg)                   
DNF Laura Lepasalu (Estonia)                           
DNF Katarina Uhlarikova (Slovakia)                     
DNF Adriana Lovera Varela (Venezuela)                  
DNF Mariya Slokotovich (Kazakhstan)                    
DSQ Mayuko Hagiwara (Japan)                            
DNS Grassi Herrera G. (Mexico)