75th World Championships - CM
Varese, Italy, September 23-28, 2008
Main Page Results Race Details Live report Previous Race Next Race
Race 3 - September 25: Men's time trial, 43.70km
Grabsch grabs title
By Susan Westemeyer, with additional reporting by Gregor Brown and Hedwig Kröner in Varese
The men's time trial podium:
Photo ©: AFP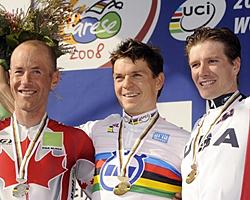 Bert Grabsch of Germany took the world time trial title, covering the 43.7-kilometre course in a time of 52:01.60, which put him 42 seconds ahead of Canada's Svein Tuft. Third was David Zabriskie of the USA, 10 seconds adrift. Top favourite Levi Leipheimer (USA) had to settle for fourth place and a time of 53:07.02.
Grabsch, who rides for Team Columbia, said immediately after the race that he was "overjoyed. I can't believe I am world champion!" The 33 year-old added that today was his wife Susanne's birthday and this was "a nice present for her".
It was Germany's first mens' time trial gold since Jan Ullrich won in 2001. The quiet Grabsch, who is more used to being in the background than the foreground, had said before the race that he wouldn't make a prediction on how he would finish, because this year he did better when he didn't make predictions. His superstition held true, as he couldn't have raced any better today.
"It was a perfect day for me. The course was perfect and the weather was perfect," he said, "I am world champion, I am totally happy."
The race was influenced by a rider who wasn't there, 2006 and 2007 World Champion Fabian Cancellara. "Normally he is a big favourite. Normally there are six to 10 who can win, but today it was open to all riders, Grabsch said. " In the last (few) years, when Cancellara started he was a heavy favourite."
The soft-spoken German turned pro in 1997 with Agaro-Adler Brandenburg. He rode for Team Cologne from 1999 to 2000, before joining Phonak from 2001 to 2006. He joined T-Mobile Team, now Team Columbia, in 2006. His older brother, Ralf, who rides for Team Milram, called his brother's title "sensational".
Grabsch is German time trial champion as well, a title he first won in 2007. That same year he took what was his biggest win to date, the first Vuelta a España time trial. This season, in addition to the national time trial title, he won time trials in the Österreich Rundfahrt and the Sachsen Rundfahrt, going on win the overall title in the latter race.
Tuft
Svein Tuft (Canada)
Photo ©: Riccardo Scanferla

For second-placed Tuft, the time trial was far and away the biggest success of his career. The five-time Canadian champion said, "It went really well. I knew this morning I was on a good day. I gave it all I had."
He might have been able to finish even higher, if it hadn't been for a mechanical. " About six kilometres out, I had a front flat and had to change a bike. It gave me enough of a scare to finish the finale as hard as I could. "
Overall, though, the 31 year-old was happy with his peformance. "To be up here with these guys is great. Beijing was a big confidence builder. I did the Tour of Missouri, and I had a good ride there. It was a good motivator and I came here confident."
Tuft's silver was Canada's fourth Worlds medal. Steve Bauer won bronze in the road race in Barcelona in 1984, while Anne Samplonius took silver in the 1994 time trial in Agrigento, Italy. Clara Hughes also finished second, in 1995 at the Worlds in Colombia. Tuft now has to look for a team for next year, as his Symmetrics Cycling Team is stopping at the end of this season. He is said to be in negotiations with Garmin-Chipotle.
"Z"
David Zabriskie (USA)
Photo ©: Riccardo Scanferla

For the clean-shaven Zabriskie, it was a narrow win over fellow American and top favourite Leipheimer. "The course suited me better for me than Beijing. It did not have the big climb," the 29 year-old Garmin-Chipotle rider said. The U.S. champion spent the summer recuperating from a fractured vertebrae sustained in a crash at the Giro d'Italia in May, and only made his return to racing in August.
The lack of racing affected his Olympic Games, but Zabriskie, who raced the Tour of Missouri earlier this month said that the racing helped his fitness. "I was expecting to do well, and third is good."
The others
Leipheimer had gone into the race as an overwhelming favourite in Cancellara's absence, and no one was more surprised than he at his performance. "I felt strong. After the Vuelta, I have had good condition. I was getting the time checks and I was really surprised," he said.
"I came straight here and took it easy for two days," said the 34 year-old, who rides for Team Astana. "I did a couple of intervals yesterday to make sure I was open. Looking back, between the three days of the Vuelta and here, it is just not enough to get that freshness."
Gustav Erik Larsson, who finished second in the Olympic road race, was fifth in today's time trial. The 28 year-old praised the winner, saying, "Grabsch is good, very fast. I said, even before the start that he would win." Looking at his own performance, he said, "It was too flat in comparison to Beijing, and it suited those with aerodynamics. I am so tall and I have more body in the wind."
Gustav Erik Larsson, the Swedish Olympic medalist
Photo ©: Riccardo Scanferla

"I wanted to go faster. I think that I was able to push it faster, but I went well enough," the Swede said. He rode this year for CSC-Saxo Bank but will change to Caisse d'Epargne in 2009.
Germany's other rider was Tony Martin, a first-year pro who finished seventh, 1.16.26 down. The 23 year-old was a dark horse for a medal, and did well, sitting in the leader's "hot seat" for a while. "I realized quite quickly that I wasn't as fresh as during the Tour of Germany," where he won the time trial.
"I noticed the year was long. It was all the more positive for me to hold the best time for such a long time. That's how I motivated myself during the race. But I knew that it wasn't going to be the top performance I had hoped to have. I'm happy with my placing, especially since Bert got the medal."
"It didn't have to do anything with my accident yesterday," the Team Columbia youngster continued, "as I was completely unhurt. The mechanics did a fine job putting up the bike, so it didn't have any consequence at all on my performance." He had been hit by a car the day before in a traffic circle, totalling his bike. Martin rode Thursday on the reserve bike of U23 rider Patrick Gretsch, who won the silver medal.
A disappointed David Millar (Great Britain) was down in ninth place, and he didn't know what had gone wrong. "It started off good, but then I didn't have it in the second half. It was just average...average me, which is very disappointing, because I was expecting lot more. Not a good day at the office..."
The men's time trial podium
Photo ©: AFP

"I can't explain it," said the frustrated 31 year-old. I thought I'd done everything right. I've done lot of work these last five weeks. I don't know...it's just disappointing, but, then again, five weeks ago I thought it was mission impossible, so to even get to this point was something. Honestly, though I expected a lot more."
Even further down was Australia's three-time World time trial champion Michael Rogers, who finished over a minute and a half behind his Team Columbia teammate. He had hoped to compete for the victory or at least for a medal, but his final 12th placing put him far off his expectations.
"Obviously, this wasn't my best time trial. It just didn't come together for me, and I'm a a bit disappointed.
"In the middle section of the race, I seemed to fade a little bit," said Rogers. "My first split wasn't too bad, and I think I just lost it in the second part. The last ten kilometres weren't the best, but they weren't bad either.
"That's life, now you just have to learn the lesson from it. Now, there's still Sunday to go. I'm a bit sad, but I have to move on."
Photography
For a thumbnail gallery of these images, click here
Images by Hedwig Kröner/Cyclingnews.com
Images by Riccardo Scanferla
Images by AFP Photo
Images by Roberto Bettini/www.bettiniphoto.net
Images by Sirotti/www.sirotti.it
Results
1 Bert Grabsch (Germany)                        52.01.60 (50.407 km/h)
2 Svein Tuft (Canada)                           0.42.79
3 David Zabriskie (United States Of America)    0.52.27
4 Levi Leipheimer (United States Of America)    1.05.42
5 Gustav Larsson (Sweden)                       1.05.84
6 Stijn Devolder (Belgium)                      1.15.41
7 Tony Martin (Germany)                         1.16.26
8 Janez Brajkovic (Slovenia)                    1.25.16
9 David Millar (Great Britain)                  1.25.26
10 Sylvain Chavanel (France)                    1.25.82
11 Vladimir Gusev (Russian Federation)          1.27.13
12 Michael Rogers (Australia)                   1.33.32
13 Marco Pinotti (Italy)                        1.34.12
14 Manuel Quinziato (Italy)                     1.36.79
15 Serhiy Honchar (Ukraine)                     1.38.00
16 José Ivan Gutierrez Palacios (Spain)         1.54.63
17 Matej Jurco (Slovakia)                       1.58.00
18 Vasili Kiryienka (Belarus)                   2.11.71
19 Lars Ytting Bak (Denmark)                    2.23.43
20 Fredrik Ericsson (Sweden)                    2.27.78
21 Edvald Boasson Hagen (Norway)                2.28.42
22 Stef Clement (Netherlands)                   2.30.87
23 Eugen Wacker (Kyrgyzstan)                    2.34.03
24 Michael Blaudzun (Denmark)                   2.40.49
25 Stephen Cummings (Great Britain)             2.54.97
26 Mikhail Ignatiev (Russian Federation)        2.55.46
27 Andrei Kunitski (Belarus)                    3.08.62
28 Lukasz Bodnar (Poland)                       3.11.57
29 Rein Taaramae (Estonia)                      3.20.25
30 Rubens Bertogliati (Switzerland)             3.20.99
31 Tanel Kangert (Estonia)                      3.29.61
32 Ruben Plaza Molina (Spain)                   3.29.82
33 Leif Hoste (Belgium)                         3.30.65
34 Adam Hansen (Australia)                      3.49.54
35 Gregor Gazvoda (Slovenia)                    3.57.91
36 Maciej Bodnar (Poland)                       4.01.12
37 Ignatas Konovalovas (Lithuania)              4.01.21
38 Frantisek Rabon (Czech Republic)             4.01.37
39 Cardenas Ravalo (Colombia)                   4.11.56
40 Sergiy Matveiev (Ukraine)                    4.19.18
41 Thomas Frei (Switzerland)                    4.24.45
42 Jerome Coppel (France)                       4.25.60
43 Ruslan Ivanov (Republic of Moldova)          4.28.15
44 Muradjan Khalmuratov (Uzbekistan)            4.32.01
45 Roman Kireyev (Kazakhstan)                   4.32.12
46 Raivis Belohvosciks (Latvia)                 4.34.83
47 Andrey Zeits (Kazakhstan)                    4.56.48
48 Henry Mendez Raabe (Costa Rica)              4.59.98
49 Benoît Joachim (Luxembourg)                  5.07.29
50 Robert Nagy (Slovakia)                       5.38.21
51 Dan Craven (Namibia)                         5.39.36
52 Matti Helminen (Finland)                     5.40.76
53 Vladimir Tuychiev (Uzbekistan)               5.46.38
54 Zoltan Madaras (Hungary)                     6.32.44
55 Esad Hasanovic (Serbia)                      7.17.14
56 Gabriel Sorin Pop (Romania)                  8.24.54
57 George-Daniel Anghelache (Romania)           8.43.14
DNS Juan Mauricio Soler Hernandez (Colombia)