Latest Cycling News, March 13, 2009
Edited by Gregor Brown
Petacchi keeps watch on Cavendish
Petacchi keeps eye on his Milano-Sanremo rivals, like Cavendish
Photo ©: Sirotti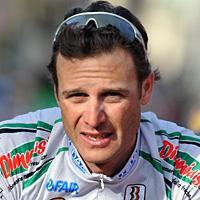 In the lead up to Milano-Sanremo, Alessandro Petacchi is paying close attention to sprint rival Mark Cavendish, as the two race in Italy's Tirreno-Adriatico stage race this week - eight days before the Italian tries to repeat his 2005 Milano-Sanremo title.
"He is very strong, but also very young," the Italian told La Gazzetta dello Sport after he won stage two in Marina di Carrara. "I don't know if he will improve enough on the climbs in time for Sanremo but he is a pure sprinter and on the climbs he tires easier than the others."
Petacchi won the duel of the Italian sprinters with Daniele Bennati finishing second on stage two. Cavendish, on the other hand, was unable to contest the sprint after being dropped 20 kilometres from the finish.
Milano-Sanremo is 298 kilometres long and marked with the climbs of Le Mŕnie (94 kilometres to go), Cipressa (22.1km) and Poggio (6.2). Often strong sprinters win the Monument, like Petacchi in 2005 and Filippo Pozzato in 2006, but some times attackers have their way, like Fabian Cancellara last year.
But Petacchi may have to worry about more than just Cavendish, after Bennati's second-place finish. "Bennati is going well and getting better year after year. When the road tilts upwards he handles it a lot better and is still fast in the finale. However, the Sanremo sprint is after 300 kilometres, and it is a completely different to a stage here. The one who wins is fresher, not the fastest."
Petacchi also noted Tom Boonen (Quick Step) and Pozzato (Katusha) as candidates for this year's Milano-Sanremo.
Armstrong previews another time trial
Armstrong previews 2009 Tour de France time trial
Photo ©: John Pierce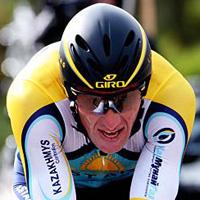 After riding the Giro d'Italia's long individual time trial earlier in the week, Lance Armstrong turned his attention to the Tour de France's opening time trial yesterday in Monaco. The seven-time Tour winner plans to race the three-week race this year, July 4 to 26, as part of his comeback to cycling.
The time trial will be a challenging start to the Tour, with part of the route taking the riders up the coastal hills and into the hills of Monaco. There are several steep climbs, which included gradients of 10 percent.
Armstrong may preview the Giro time trial again next week, as well as some of the mountain stages of the Italian Grand Tour.
Next Saturday, March 21, he will line up for his first race in Europe since the 2005 Tour de France, Milano-Sanremo.
Jacques Anquetil, a five-time Tour winner, was the last rider to win a stage in Monaco. He won stage nine of the 1964 race, Briançon to Monaco.
Roche wants to try again
By Shane Stokes
Ireland's Nicolas Roche tries again in Paris-Nice
Photo ©: Stephen McMahon

Having been part of the breakaway group clear for most of Paris-Nice's stage four, out of which Christian Vande Velde soloed to victory, Nicolas Roche told Cyclingnews that he will try again.
The 24-year-old Irish professional came to the French stage race, March 8 to 15, aiming for a strong ride overall. However he was on the wrong side of a split in the bunch on stage three and lost ten minutes. A stage win then became the goal for the AG2R La Mondiale rider, and it is something he continues to aim for.
"I was fairly pleased with my day in the break, but am a bit disappointed with my race overall thus far," he said on Thursday. "First of all, I didn't do a good time trial, and then I missed the good echelon because I had a mechanical problem.
"I then thought I would give it a try yesterday [Wednesday]. It was a good group with some world-class riders; we had a good fight with the bunch. Overall my form is not as good as I wanted, but I have three more days to try and do something in this race."
Roche was the only rider in Wednesday's break to try to chase down Vande Velde after the American jumped clear.
Coming up on
Cyclingnews will cover the 60th edition of the Dauphiné Libéré live as of stage 4 on Wednesday, June 10, at approximately 15:00 local Europe time (CEST)/ 23:00 Australian time (CDT)/ 9:00 (USA East).

WAP-enabled mobile devices: http://live.cyclingnews.com/wap/
"I was pretty pleased with how things went on the stage, but I left it three seconds too late behind Vande Velde. Once he got going there was little chance of catching him.
"A little chase group then caught me at the bottom of that last climb. I was able to hold for a while but then they started attacking each other. I had given everything in the hard chase behind Vande Velde and had barely anything left."
Following that long-distance effort, he decided to take things as easy as possible on Thursday in order to regain strength prior to Friday's crucial mountaintop finish. There was no soft-pedalling, though; Roche said that the stage ended up being tough for everyone, making it likely that there will be a lot of tired legs for the race to La Montagne de Lure.
Today may be the best day for a breakaway to succeed. The parcours suggest that if a group gets a good buffer on the lumpy run-up to the final climb, it could potentially hold off the overall contenders who may be more concerned about watching each other prior to an all-out assault on that last mountain.
Medical examinations for Gilbert
Philippe Gilbert abandons of Paris-Nice
Photo ©: ISPA

Silence-Lotto's captain Philippe Gilbert dropped out of yesterday's fifth stage of Paris-Nice, adding to his team's poor start to the year. His abandonment is the latest blow that has seen the Belgian outfit have their worst start in 12 years, with zero wins.
Going into the stage, the 26-year-old Belgian was in 65th place, 5:55 behind leader Sylvain Chavanel (Quick Step).
The team said that Gilbert would undergo medical examinations to see what is wrong with him. According to Belgian television VRT, team manager Henrik Redant said that the team did not know what the problem was. "Perhaps there is something wrong, but we must look into it," he said.
Gilbert was targeting Milano-Sanremo on March 21, a race in which he last year finished third.
"There is still more than a week to go," Redant said. "With our doctors and masseurs we must try to get him ready for next week."
Team doctor Jan Mathieu said that lactate seems to be gathering in his legs, and that massage is not helping get rid of it. "Philippe is not sick and has not been extremely tired. And his condition is OK," he told Het Laatste Nieuws.
Gilbert, meanwhile, was not terribly concerned. "I am not really worried. Why should I be? There are more races to come." (SW)
Greipel on the road again
By Susan Westemeyer
André Greipel on his way back after an crash in Tour Down Under
Photo ©: Mark Gunter

André Greipel of Columbia-Highroad is back on the bike after nearly two months of recovering from a crash in the Tour Down Under. The German sprinter injured his shoulder in the accident.
"It's great that I can ride outside again," he told Cyclingnews. after passing the last month training on his stationary bike. Greipel has returned to training and rides up to four hours a day. He started strength training for his shoulder earlier this week.
The 26-year-old crashed and dislocated his shoulder, tearing a tendon and chipping a bone. He had surgery at the end of January.
"I have daily therapy for two to three hours and I think I can start racing again at the beginning of May."
Paris-Roubaix wildcards announced
Riders tackle the cobble sectors in the 2008 Paris-Roubaix
Photo ©: AFP

The Amaury Sport Organisation (ASO) announced yesterday the wildcards for the 107th edition of Paris-Roubaix, April 12. Cervélo TestTeam, Agritubel, Skil-Shimano, Landbouwkrediet-Colnago, BMC Racing, Topsport Vlaanderen, Vacansoleil and Amica Chips-Knauf have received the precious spots for the prestigious one-day Classic in France. They will join 17 ProTour level teams.
"It shows the level of confidence that the race organisations have in our future," said BMC's Directeur Sportif John Lelangue. "It is an incredible race and every one of our riders will be proud to participate."
BMC's Danilo Wyss finished on the podium in the Under 23 version of the race, noted for its cobbled roads.
"We are counting on young riders like Wyss, Martin Kohler, Thomas Frei and Brent Bookwalter. I was also very pleased to see how well Ian McKissick handled the cobbles in the most recent races in Flanders. We will also have more experienced riders like Alex Moos, Jeff Louder and Tony Cruz to round out a very strong group."
The expectations for the newly formed Cervélo team are certainly high; its riders have had an amazing start to the season. Roger Hammond, who finished 23rd in last year's Paris-Roubaix, already won a stage at the Tour of Qatar. Heinrich Haussler has also proved to be on good form with a stage win in Paris-Nice.
The invitation of Agritubel and Amica Chips came as a surprise because they have no real specialists for the cobbles in their ranks. Skil Shimano, Landbouwkrediet-Colnago, Topsport Vlaanderen and Vacansoleil train regularly on the difficult roads and will be strong on the cobbles. (BH)
Le Monde newspaper hit with fine over Puerto allegations
By Shane Stokes
Real Madrid said on Thursday that French newspaper Le Monde was fined €300,000 for its story linking the football club to Eufemiano Fuentes, the doctor at the centre of the Operación Puerto doping investigation.
The newspaper printed the article by Stéphane Mandard in December 2006, and said then that it had several documents linking Fuentes Real Madrid, FC Barcelona, FC Valencia and Real Betis. They were reportedly handwritten documents by Fuentes which showed doping schedules for players, using substances such as steroids, IGF-1 (insulin growth factor), Erythropoietin (EPO) and also blood transfusions.
Fuentes refused to confirm the story, telling Le Monde he had received death threats. However, he had earlier stated that he had also worked with those from the world of football, basketball, athletics and tennis.
"My professional oath forbids me from revealing their names. There have been only selective leaks. I am indignant about that," he said, referring to the fact that only cyclists had been fingered while other sports appear to have been protected.
According to the Madrid court ruling, it said that Mandard did not have proof to corroborate his claims about Real Madrid. A Barcelona court said in January 2008 that Le Monde and Mandard must pay damages to the Catalan club.
In May 2007, FIFA president Sepp Blatter requested details of the Operación Puerto files. "It is of highest interest for the sport and for football," he said at the time, although since then little has been heard about his findings.
Cyclingnews' recent coverage of 'Operación Puerto'
May 18, 2009 - Valverde to start Catalunya
May 15, 2009 - Valverde not welcome in Denmark
May 14, 2009 - Spanish federation wants proof in Valverde case
May 13, 2009 - Spanish Olympic Committee defends Valverde
May 12, 2009 - Valverde responds to sanction
May 11, 2009 - Italian tribunal delivers Valverde two-year suspension
May 8, 2009 - Valverde case: Italian Olympic Committee defends Torri
May 7, 2009 - Valverde to take legal action against CONI prosecutor
May 5, 2009 - WADA and Spanish federation join CONI and UCI on Valverde
May 1, 2009 - International Cycling Union joins in on Valverde's hearing in Italy

Cyclingnews' complete coverage of Operación Puerto
Tour of Missouri welcomes Armstrong's Astana team
Tour of Missouri welcomes team Astana's Alberto Contador, Lance Armstrong and Andreas Klöden
Photo ©: Luca Bettini

Tour of Missouri organisers announced yesterday that the team of Lance Armstrong, Astana, will race in their 2009 race, September 7 to 13.
"This is a big development for the Tour of Missouri," said Chris Aronhalt, the managing partner of event organiser Medalist Sports. "To have the participation of Astana is yet another huge step for this race."
The race held in Missouri, USA, is in its third year as a stage race. After the Tour of California, it is one of the USA's top multi-day events.
It will be Astana's first participation in the race. Its team manager, Johan Bruyneel, fielded his Discovery Channel in 2007 and won with American George Hincapie.
Earlier this month, the organisers announced the invitations of United States-based teams Garmin-Slipstream and Columbia-Highroad, Italy's Liquigas and the Switzerland's Cervélo TestTeam. Hincapie now races for Columbia and Garmin has 2008 winner Christian Vande Velde in its ranks.
The race will cover seven stages, around 970 kilometres. There will be two circuit races – one in St. Louis and one in Kansas City – one individual time trial (Sedalia), and four point-to-point road races – Ste. Genevieve to Cape Girardeau, Farmington to Rolla, St. James to Jefferson City and Chillicothe to St. Joseph.
Cyclingnews' Podcasts enhance news
Cyclingnews now has the week's news rounded up in Podcast format to supplement our daily news editions and race coverage. You can tune in and quickly listen to what happened in the last week of news.
Win a signed Garmin-Slipstream jersey
The Garmin jersey
Photo ©: Cyclingnews.com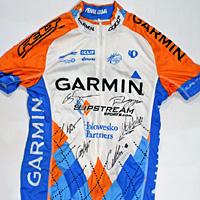 Enter Cyclingnews' contest to win a unique piece of cycling memorabilia – a Garmin-Slipstream jersey signed by all six team members from the squad's 2009 Tour of Langkawi line-up. To be in with a chance of winning all you have to do is pick today's top three finishers from stage six of Paris-Nice in the correct order.
To enter the competition you need to register on the Cyclingnews Forum – it only takes a couple of minutes – and then post your top three prediction here. Entries will close when the first rider hits the 20-kilometre to go banner. Easy!
The jersey has been signed by the following riders:
- Lucas Euser (USA), 2008 Tour de Georgia stage winner (TTT), 2008 Univest Grand Prix winner
- Timothy Duggan (USA), 2008 Tour de Georgia stage winner (TTT), 2008 Volta a Valencia, 2nd mountains classification overall
- Christian Meier (Can), 2008 Canadian road champion, 2007 Tour of El Salvador, 2nd overall
- Cameron Meyer (Aus), 2008 World U23 Time Trial Championship bronze medalist, 2008 Tour of Japan winner
- Chris Sutton (Aus), 2008 Delta Tour [Tour Zeeland] winner, 2008 Giro d'Italia stage winner (TTT)
- Ricardo Van Der Velde (Ned), 2009 Tour of Qatar stage winner (TTT), 2008 Tour de l'Avenir stage winner
Good luck!
(Additional editorial assistance provided by Susan Westemeyer and Bjorn Haake.)
(All rights reserved/Copyright Future Publishing (Overseas) Limited 2009)