Latest Cycling News, May 8, 2009
Edited by Gregor Brown
Basso: Astana is dangerous
By Gregor Brown
Ivan Basso eyes Astana duo, Armstrong and Leipheimer
Photo ©: JF Quénet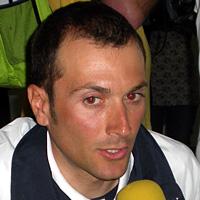 Ivan Basso is the number one favourite of the 2009 Giro d'Italia but he has to overcome Johan Bruyneel's Astana machine prior to capturing his second overall title in Rome on May 31. Liquigas' Italian told Cyclingnews on the eve of the race that Lance Armstrong and Levi Leipheimer, backed by team manager Bruyneel, are a 'dangerous' combination.
"Who is captain is not my problem: I know Armstrong very well and Levi is a great cyclist. Also, don't forget, behind them is a great director who has something like 15 Grand Tour [12 - ed.] wins. He knows very well how to manage the situation," said Basso.
Armstrong and Leipheimer just finished the Tour of the Gila stage race in New Mexico on Sunday. The American duo dominated the race, with Armstrong taking second overall and his teammate winning the overall and two stages.
"I did not follow it directly on the internet, but I knew what happed because what Lance does everyone in the world knows via Twitter, et cetera."
Armstrong must have followed Basso on the internet as well because he told journalists in Rome his rival is the favourite. Basso backs up his status with a recent overall win in the Giro del Trentino, April 22 to 25, his first win in nearly three years. (He served a two-year suspension for links to Operación Puerto's Eufemiano Fuentes.)
Coming up on
Cyclingnews will cover the 60th edition of the Dauphiné Libéré live as of stage 4 on Wednesday, June 10, at approximately 15:00 local Europe time (CEST)/ 23:00 Australian time (CDT)/ 9:00 (USA East).

WAP-enabled mobile devices: http://live.cyclingnews.com/wap/
Basso and Armstrong both met with the press on Thursday in Venice, where the Giro d'Italia will begin with a 20.5-kilometre team time trial on Saturday. Basso previewed the course last month.
Quinziato: Basso's horsepower for the Giro
By Jean-François Quénet in Venice, Italy
Basso's horsepower: Manuel Quinziato
Photo ©: JF Quénet

Manuel Quinziato has bucked tradition by foresaking his national tour in favour of the Tour de France for much of his career. The Liquigas rider has not participated in the Giro d'Italia since 2003, but the centennial edition has brought him back to his home tour.
Following a convincing Classics campaign where he made the top ten in both Gent-Wevelgem and Paris-Roubaix (twice ninth), he is still highly competitive. "I've realised at the Tour de Romandie that I could offer a lot," Quinziato said.
Having proved his strong time trial ability at the individual time trial Chrono des Nations last year, Quinziato is expected to help in the opening team time trial in Venice on Saturday. Quinziato also thinks he will spend a lot of time at the head of the peloton with Ivan Basso being the hot favourite for the race's overall.
"I'll have an important role there and also during the flat stages. I feel relaxed. I'm ready to do a good job."
The 30-year-old turned professional in 2001 following his win in the European Championships time trial, but he only rode the Giro d'Italia once. "It was in 2003 with Lampre. I supported Francesco Casagrande for the overall classification and Jan Svorada for the sprints.
"This year is going to be a wonderful Giro. On Wednesday during the stage to Alpe di Siusi, I'll pass near my house in Bolzano."
Armstrong amazed by first visit to Venice
Lance Armstrong, 2nd l, in Venice for the start of the Giro d'Italia
Photo ©: Roberto Bettini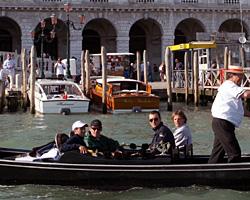 Lance Armstrong visited Venice for the first time yesterday afternoon at the Giro d'Italia team presentation. The seven-time Tour de France winner arrived by gondola to Piazza San Marco, the centre of the city that discourages wheeled transportation.
"The view of the piazzas from the water was wonderful... I am happy I know how to swim," he told La Gazzetta dello Sport.
Venice's lido boasts enough roadways to host the start of the centennial Giro d'Italia tomorrow, a 20.5 kilometre team time trial. Sunday, the race leaves the city of water for Trieste as part of its three-week journey to Rome.
"I was in Florence one time, many years ago, with Kristin and Luke [ex-wife and son - ed.]. Another time in Rome, but never in Venice. It is one of the world's masterpieces."
Armstrong will stay with his Astana team in Lido di Jesolo, just a few kilometres away from Venice via boat. Today, he joined his eight teammates for a training ride to prepare for tomorrow's stage.
Blockhaus' roads prohibit Giro's arrival
By Gregor Brown
Stage 17 to Blockhaus to be shortened?
Photo ©: Roberto Bettini
Giro d'Italia's mythical stage to Blockhaus in Abruzzo, Italy is at risk of being shortened due to the roadway's limited passage in the final four kilometres. While the tenth stage from Cuneo to Pinerolo was altered due to the possibility of roads becoming impassable due to snow, the Blockhaus stage may be shortened because the road is too narrow for the television trucks to pass.
"From the Pomilio refuge [1892m, -2km] and onwards, there has always been problems with passage," said a representative from Hotel Mamma Rosa, which lies on the route 5.8 kilometres from the planned finish line. "The last significant snow we had was at the end of March. Ten centimetres fell last week, but it passed in two to three hours."
The shortened stage would alter this year's Cima Coppi, the race's highest pass. Already changed from the now removed Col d' Izoard, which would have topped off at 2360m, a shortened Blockhaus climb (2064m) would move the Cima Coppi to stage 10's Colle del Sestriere (2035m).
The Blockhaus stage 17 promises to be one of the most explosive stages. At just 79 kilometres in length, it was slated to end on a punishing 22.5 kilometre ascent which climbs 1540 metres in altitude. The final kilometres to the top, which include a section of 11 percent grades, could be sacrificed due to narrow roads.
The climb is notable for being the place where cycling legend Eddy Merckx launched his stage racing career. Forty-two years ago when Merckx won his first career mountain top finish at Blockhaus, it was 220 kilometres long. It was the first time organisers used the climb.
Blockhaus featured three more times after 1967. In 1968, Franco Bitossi won the 198-kilometre stage; in 1972, José Manuel Fuente topped a 48-kilometre half-stage in the morning; and in 1984, Moreno Argentin won a 194-kilometre run from Numana.
Cameron Wurf joins Fuji-Servetto
By Jean-François Quénet in Venice, Italy
Cameron Wurf joins Fuji-Servetto
Photo ©: Shane Goss
Australia's Cameron Wurf is a new addition to ProTour's Fuji-Servetto, team manager Alvaro Crespi acknowledged in Venice where the Giro d'Italia is due to start on Saturday.
The former rider of Austrian team Volksbank – now Vorarlberg – had no contract despite being in talks with Silence-Lotto. He had a great ride at the Tour de Langkawi with the Australian national team, helping Jay Crawford to second overall behind José Serpa. He led his teammate most of the way up to Genting Highlands stage and still made a top 15.
"His trainer Aldo Sassi has convinced us that he's got fabulous capacities," Crespi said.
Wurf, 25, is a former rower who defended the colours of Australia at the 2004 Olympic Games in Athens, after which he switched successfully to cycling. He's a pure time trialist and represented his country at the 2007 Cycling World Championships in Stuttgart, Germany.
"I was getting frustrated by not having a ride for this year," Wurf commented. "I was going to ride as an amateur in France to seduce a French team when the good news came from Italy. I'm very happy to be able to race again."
He's now in Italy and he might start his career as a ProTour rider at the Volta a Catalunya this month.
Giro broadcasted in USA by Universal Sports
Lance Armstrong's battle against the best in the world of cycling for the Giro d'Italia's maglia rosa will be shown in the United States, announced broadcaster Universal Sports.
Two American teams – Columbia-Highroad and Garmin-Slipstream – and 10 Americans will race in the 2009 Giro d'Italia. Garmin won the opening team time trial last year and put its rider Christian Vande Velde, from Chicago, in the leader's maglia rosa.
Vande Velde is back this year with another top American favourite, Armstrong's Astana teammate Levi Leipheimer.
American fans had expressed concern that they would miss Armstrong's Giro d'Italia debut when the Versus channel, which broadcasts the majority of cycling events in the USA, chose not to carry the Giro this year.
Universal Sports will carry every stage live, but has yet to announce the exact times of each stage. Italy's Rai will have up to 12 hours of Giro d'Italia coverage daily (includes live feed, pre- and post-coverage and sideshows).
Universal Sports is a joint venture between NBC and InterMedia Partners. Its cable channel reaches more than 45 million homes across the US. (SW)
Giro ready for centenary eruption
By Greg Johnson
When the Giro d'Italia commences this weekend more force will be unleashed than that with which Mount Vesuvius buried Pompeii and Herculaneim in 79 AD, such is the strength of this year's field. Tour de France winners Lance Armstrong and Carlos Sastre plus Giro d'Italia champions Damiano Cunego, Danilo Di Luca and Ivan Basso are just some of the names taking part in what will be a fitting tribute to Italy's Grand Tour in its centenary year.
A field containing such depth of talent and ability makes predictions of who will factor in the final classifications difficult, to say the least. But that's a problem we, as spectators, seldom experience and cherish when it does occur.
So here we go, Cyclingnews' names 10 riders who we expect to display Herculean efforts as they leave no stone unturned in their attempt to tame what will be a historic event.
Read the full feature.
Valverde case: Italian Olympic Committee defends Torri
Alejandro Valverde
Photo ©: Franklin Tello

The Italian Olympic Committee (CONI) declared its support of anti-doping prosecutor Ettore Torri in their case against Spanish cyclist Alejandro Valverde, who has alleged links to 2006 doping investigation Operación Puerto. Valverde claimed Wednesday, five days before he meets the Italian anti-doping tribunal, that Torri "disobeyed Spanish legal authorities" and "falsified documents".
"The activities of the investigation have been conducted with absolute regularity," the Italian Olympic Committee said in a press note yesterday.
Valverde will meet Torri – along with representatives from the World Anti-Doping Agency (WADA), the International Cycling Union (UCI) and the Spanish Cycling Federation (RFEC) – at an Italian anti-doping tribunal hearing Monday in Rome. Torri recommended a two-year suspension for Valverde following an investigation that linked his blood samples collected at the 2008 Tour de France to those from the 2006 Operación Puerto doping investigation in Spain.
The Tribunal's ruling could alter Valverde's summer plans; he is due to race the Tour de France, but the route passes through Italy. Valverde is currently taking a break after his first phase of the season, which included three wins.
Boonen and Devolder miss Tour of Belgium
The Tour of Belgium will have to do without the biggest name riders from Quick Step, as the team has said that Tom Boonen and Stijn Devolder will skip their home stage race. The race, May 27 to 31, will feature other big names, including Belgian Champion Jürgen Roelandts.
Devolder won the race in 2008, and Boonen won the last stage.
Team manager Patrick Lefevere told the Gazet van Antwerpen that his team was concentrating on the Tour de France. Boonen chose a different series of races this year to prepare for the Tour de France, and Devolder wanted to ride fewer races leading up to it.
"That is our decision and we will not change it," said Lefevere.
However, the race welcomes Roelandts and his Silence-Lotto teammates Greg Van Avermaet and Leif Hoste. Johan Van Summeren and Staf Scheirlinckx, among others, will support them.
Filippo Simeoni and his Ceramiche Flaminia teammates will also be at the start. Simeoni recently returned his Italian national champion's jersey to the Italian federation in protest at his team not being invited to the Giro d'Italia. (SW)
Cyclingnews weekly podcast: Episode 10
The Giro d'Italia is nigh!
If you're not in Venice for the start of the Giro d'Italia on Saturday, then the Cyclingnews weekly podcast episode 10 should force you to reconsider.
Anyone who is anyone will be there so we've got the lowdown on favourites, dark horses and even non-starters. Is there a feud between Roman Kreuziger and Ivan Basso? And if there isn't, could we make one up? That's the sort of stuff that didn't make it into our podcast, which should give you an idea of what did.
We also delve into the roller coaster ride that Astana is having at the moment. From Tour of the Gila domination to possible collapse. Where did it all go wrong?
You can subscribe to the podcasts via iTunes (or just go to iTunes and search for 'cyclingnews') or via this XML feed: http://video.cyclingnews.com/podcasts/cn_podcast.xml
You can also download the podcasts directly by clicking on these links:
(Additional editorial assistance from Susan Westemeyer)
Previous News Next News
(All rights reserved/Copyright Future Publishing (Overseas) Limited 2009)