First Edition Cycling News, May 6, 2009
Edited by Greg Johnson and Les Clarke
Clock ticking for Astana team?
Financial woes put Kazakh team's future under threat on eve of Giro start
By Shane Stokes
Is the rising sun about to set on Astana?
Photo ©: Roberto Bettini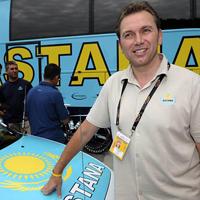 The Astana cycling team may be getting its Giro d'Italia campaign underway, but its future in the sport appears to be under question. According to the website Sports.kz, the team is under real threat of financial collapse and has a week to sort things out before the International Cycling Union (UCI) withdraws the professional licence.
In April it was reported that riders had endured a period of time without payment of salaries, but that the Kazakh cycling federation would cover the overdue amount while it was waiting for the team backers to pay up. However the financial problems have lingered and it is now understood that the team must receive $2 million in the days ahead in order to replenish the UCI bank guarantee. That guarantee has been depleted, presumably to pay overdue salaries.
According to Sports.kz, many of the backers have either been vague about fulfilling their commitments, or have refused outright to do so. "Only the Kaz Munai Gas company has completely fulfilled its obligations to the team, and for that we would like to thank it," the website quoted Kazakh cycling federation executive director Alexander Antyshev as saying.
"The companies KEGOC, Eurasian Bank and Kazakhmys haven't stated their positions clearly, but Kaztsink and Kazakhstan Temir Zholy have made it clear that they are not going to repay the debt owed to Astana. We are considering an option of raising funds from [state holding and investment company] FNB Samruk-Kazyna."
On May third, the newspaper's website quoted Kazakhstan's cycling federation vice president Nikolai Proskurin as saying that even if the team takes part in the Giro as planned, it is likely to be the final Grand Tour in the history of the Astana project. The only way to save the current incarnation of the squad appears to be for one or more Kazakh backers to move in and commit to supporting it. Alternatively Johan Bruyneel, the team's manager, will have to find funds to enable the team to continue and take over the ProTour licence from the Kazakh cycling federation.
"A week ago, even the reserve account of the Astana team, which the UCI law states must contain an untouched sum of two million dollars, was emptied," Proskurin stated. "These funds are a guarantee of participation for any professional team in the ProTour racing series. In order to prevent the seizure of the license of the Astana team, we have to replace this amount within a month [of it being emptied]. That means that we still have about three weeks."
He said that the cycling federation president [and country's defence minister] Daniyal Akhmetov was negotiating at the highest governmental level to try to save the team. However he admitted that he was pessimistic. "Personally I am almost sure that it won't be possible to rescue the team," he said.
"Even if the team will be at the start of Giro d'Italia under its own name, in the future Astana will still be disbanded," he added. "Because the debt will only snowball, and there's nowhere to get the money."
According to Tuesday's edition of the paper, the UCI has sent notice that it will withdraw the professional licence from the team if the matter is not quickly resolved. It also said that the leadership of the Kazakhstan cycling federation has sent a letter to the country's Prime Minster Karim Masimov, stating that the federation would no longer participate in the project if the government did not take measures to preserve it.
Cyclingnews contacted the UCI earlier this week in order to ascertain if the situation was as serious as it appeared. ProTour manager Alain Rumpf did not comment in detail, but implied that there were ongoing discussions taking place.
"We are following this situation closely and hope for a quick and satisfactory resolution," he said. "We will make an announcement if necessary and in due time. We want to ensure that the situation can be solved in the best possible manner."
Which way forward?
Cyclingnews contacted the Astana team on Tuesday afternoon in order to get its reaction to the Sports.kz story, but was told by its spokesman that no comment would be made at this time. Attempts to reach Johan Bruyneel were unsuccessful.
The team was originally set up in mid-2006 when the nation's star rider Alexandre Vinokourov was left without a backer prior to the Tour de France. Previous team sponsor Liberty Seguros withdrew in the wake of Operación Puerto, putting Vinokourov's participation in the Tour in doubt.
The then Kazakh Prime Minister Danial Akhmetov swiftly negotiated a deal whereby several large Kazakh companies would back a new-look squad, which would be titled simply Astana, the name of the country's capital city.
Millar ready to return for Giro
By Daniel Benson
British Time Trial Champion David Millar (Garmin-Chipotle) posted a strong
Photo ©: AFP

Britain's David Millar goes into Sunday's Giro d'Italia opening team time trial in fine spirits after training with his Garmin-Slipstream team-mates in Northern Spain. The 32-year-old Scot formed part of last year's team-winning ride in the opening event, and despite breaking his collarbone at Paris-Nice in March, believes that both he and the team are ready to battle it out at the Giro once again.
"We've had our final training camp in Girona last week and on Saturday we did some short efforts, followed by a race simulation on Sunday," said Millar. "On a personal level, my shoulder has recovered really well. I had almost a month completely off the bike but it's coming along nicely."
However Millar has mixed feelings when it comes to the Giro. The rider was heavily critical of the race organisers last year and lambasted both the long transfers and race profile. "I swore I'd never go back to the Giro," said Millar. "But when we took a step back and had a look at the situation and my condition after the collar break, we decided that it made sense to ride.
"I'm coming in with very low expectations and anything will be better than last year," he added. "It's not how I planned my season but that's the way the cookie crumbles."
Unlike last year, when Garmin went into both the team trial and Giro as underdogs, Millar believes that any added pressure will be balanced out by the team's experience and thorough approach. "Oddly enough it was more stressful for us last year as it was our first Grand Tour," said Millar. "Okay, there were some expectations, but we'd never done a team time trial together. So this year we're going into it with a lot more experience and confidence. So it balances out the expectation."
Backing the clean-up
While preparing for the Giro, Millar also gave his opinions on the delay with the International Cycling Union's (UCI) biological passport programme. For over a year cycling's governing body has been building rider profiles but as yet the programme remains under wraps.
"Like everyone else, we're expecting it but I can understand that, due to the legality, it's taking a long time," he said. "But we're all being tested and profiles are being built up."
Asked if the UCI should be given more time, Millar agreed: "I'd rather that than they rush into it which is what they've done in the past with all guns blazing. At least with the time it's taken it's going to be good. The media seem to know more than the riders do. We know so little."
Millar, who confessed to taking blood booster EPO earlier in his career but has since campaigned for a clean sport, also stressed that riders were doing their share to clean up the sport. "It's difficult for us as riders as the sport is in transition but we've got to believe in the UCI," he said. "We do the testing and just hope that it makes a difference."
Millar was disappointed by last week's announcement that two cyclists had tested positive for CERA at the Olympics. "Rebellin was one of my favourite riders and I wanted to believe in him as well," said Millar. "But again we're catching people and that's the most important thing."
Katusha aims for Giro stage win
Swift Brit gets his chances
By Gregor Brown
Filippo Pozzato is aiming to claim a stage win
Photo ©: Roberto Bettini

Russian ProTour team Katusha is aiming for a stage victory at this year's Giro d'Italia as the team prepares for its debut at Italy's Grand Tour. Katusha Directeur Sportif Serge Parsani expects the team's early season success to continue through the three-week stage race.
"If you think there are 22 teams and 21 stages, it is hard to get at least one stage," Parsani told Cyclingnews. "But we hope to do what we have been doing from February up until now; we hope to come away with a stage win."
The Katusha squad, which is contesting its first Grand Tour this month, is based on the former Tinkoff Credit Systems team of Oleg Tinkov. Tinkoff won two stages in the Giro last year with Pavel Brutt and Vasil Kiryienka.
Katusha has claimed 12 victories this season, with the last coming from Serguei Ivanov at the Amstel Gold Race. The Russian isn't in Katusha's nine-man Giro team, but the squad will bring Paris-Roubaix runner up Filippo Pozzato, Nikita Eskov, Mikhail Ignatiev, Sergey Klimov, 2005 stage winner Luca Mazzanti, Evgeni Petrov, Christian Pfannberger, Brit Ben Swift and Brutt.
"We will back Pozzato, he is fast," said Parsani. "Then there are others, like Ignatiev and Brutt who can enter into escapes."
Pozzato's room-mate Swift may also get a chance to shine, despite starting his season early in February. Swift finished second at both Nokere Koerse and on País Vasco's stage five.
"Swift is someone who I did not initially think would be doing the Giro, because he has had a big season and is still only 21 years old," said Parsani. "He showed really well at País Vasco and we put him in the [Giro] team. It would be great to see something from him, who knows, he is fast and if he plays his cards right he could win."
The Giro d'Italia kicks off with a team time trial in Venice this Saturday. The larger mountain stages arrive as early as the fourth and fifth day. Challenging medium sized mountain stages in the final week will decide the race's overall winner, before the race finishes in Rome with an individual time trial.
German TV will broadcast Tour
German cycling fans will get to see this year's Tour de France after all, with the two public broadcasters – ARD and ZDF – announcing they will broadcast this year's event. There won't be much coverage – one hour every afternoon – but that is more than fans had started to expect.
ARD said in January that it did not intend to provide comprehensive live coverage. The two broadcasters, which broadcast the Tour on alternate days, were required by a contract with Tour organiser Amaury Sport Organisation (ASO) to provide coverage through 2011.
"We only said that we wanted to stop with the comprehensive live coverage," ARD spokesman Harald Dietz told the SID news agency. "We have shortened the coverage to one-fourth [of what was previously provided.]"
German broadcasters said that they would/ not broadcast the 2009 Tour After the positive doping tests of Stefan Schumacher and Bernhard Kohl, who rode for the German team Gerolsteiner.
The two broadcasters had previously stopped their coverage of the 2007 Tour when Patrik Sinkewitz's positive doping test was announced, but returned to cover the 2008 edition. (SW)
Tour of Britain launched
The route for this year's Tour of Britain was unveiled yesterday at The London Transport Museum in Covent Garden. The race's sixth edition will start in Yorkshire on September 12 and finish in central London on September 19, taking in eight stages that include two in the South West – Devon and Somerset – a first for organisers.
A field of 96 of the world's top riders will contest this year's event; with the likes of the Mark Cavendish, Tom Boonen and Nick Nuyens having ridden the UK's biggest race organisers have ensured that the route will fully test the capacity of these top professionals over the seven days of competition.
A daily highlights package on ITV4 will bring the race to home viewers, while thousands are expected to line the roadside on each of the eight stages.
The 2009 event will visit a total of 14 venues, some of which have been frequented often in the race's parcours, such as London and Dumfries and Galloway, while others like York and Bideford will be new to The Tour of Britain.
Tour of Britain route:
Stage 1 - 12 September: Scunthorpe - York
Stage 2 - 13 September: Darlington - Newscastle Gateshead
Stage 3 - 14 September: Scottish Borders - Dumfries & Galloway
Stage 4 - 15 September: North West - Blackpool
Stage 5 - 16 September: Stoke-on-Trent
Stage 6 - 17 September: Frome - Bideford
Stage 7 - 18 September: Hatherleigh - Yeovil
Stage 8 - 19 September: London
Volta a Catalunya ready for action
By Antonio J. Salmerón
While the Giro d'Italia is the focus for the cycling world in the next three weeks, the 89th Volta Ciclista a Catalunya gets underway on May 18 as vital preparation for Tour de France hopefuls.
Kicking off with a 3.6km individual time trial that takes riders along the seafront of Lloret de Mar, there are two Cat 1 climbs – Els Angels and Sant Pere de Rodes – on the second stage to Girona y llegará before the third stage offers up the Alto de Coubet, Alto de Jou and the Collada Subirana.
Often used as a litmus test of form as the Tour de France's big names emerge from the Spring, the queen stage of this year's Volta is a 175km journey that includes the Pobla de Lillet and the Estación Invernal, the Cat 2 Alt de la Massana, the Col de Port and Alto de la Comella. The fourth stage will culminate in a summit finish on the Col de la Botella.
Once the climbing is done, three stages throw in something for the sprinters, with the race heading through Barcelona and the Catalunya racing circuit, home to MotoGP and Formula 1 events.
A field of 18 Pro Tour teams and three Professional Continental will contest this year's edition, including the likes of Astana, Caisse d'Epargne, Euskaltel-Euskadi, Fuji-Servetto, Garmin-Slipstream, and Quick Step, plus Cervélo and local boys Cajasur Andalucía and Contentpolis AMPO.
Volta Ciclista a Catalunya route:
May 18: Stage 1 - Lloret de Mar - Lloret de Mar,3.600km (ITT)
May 19: Stage 2 - Girona - Roses, 163.1km
May 20: Stage 3 - Roses - La Pobla de l'Illet, 182.9km
May 21: Stage 4 - La Pobla de l'Illet - Vallnord Sector Pal (Andorra), 175.7km
May 22: Stage 5 - La Seu d'Urgell - Torredembarra, 201.3km
May 23: Stage 6 - Torredembarra - Barcelona, 150.5km
May 24: Stage 7 - Centre d'Alt Rendiment, Sant Cugat - Circuit de Catalunya, Montmeló, 110.8km
Mt. Hood gets power to survive
The Mt. Hood Cycling Classic has been locked in for this year, with organisers announcing a new title sponsor that will ensure the event's survival. Utility provider Pacific Power has signed on as the June 3-7 event's title sponsor.
The announcement comes after several prominent American races have collapsed or come close to collapse as the North American sponsorship market dries up due to the Global Financial Crisis (GFC). The Tour of Georgia is one of the biggest casualties in the economic downturn, while Philadelphia's races were brought back from the brink by a last-minute sponsorship deal.
Bobridge gets Garmin chance
Australia's Jack Bobridge has signed with Garmin-Slipstream, with the 19 year old set to ride as a stagiaire with the United States of America ProTour team later this year. Bobridge will join compatriot Cameron Meyer at the squad, where he will be mentored by former professional Matthew White.
"I chose Team Garmin-Slipstream because I believe in its mission of helping young riders reach their full potential," said Bobridge. "I know that I will continue to grow as a part of this team – on the track and on the road."
Bobridge impressed the professional field with his attacking style at January's Tour Down Under ProTour race. While competing with the UniSA/Australian National Team at the year's first ProTour event, Bobridge received continual praise from returning professional Lance Armstrong.
"Jack is a phenomenal talent -- possibly the most talented rider of his generation," said Garmin-Slipstream's Jonathan Vaughters. "He excels on the road and on the track and makes an outstanding addition to our roster. We are thrilled that he decided to join Team Garmin-Slipstream."
Bobridge claimed two silver medals at the Track World Championships in March for individual pursuit and team pursuit and is also the Oceania and Australian Individual Pursuit Champion. Last weekend Bobridge won the Under 23 Eschborn-Frankfurt City Loop in Germany.
"It's an exciting partnership because we are working with the best talent coming out of Australia," said White. "And we are able to give these riders the tools they need to excel on the road and on the track."
(All rights reserved/Copyright Future Publishing (Overseas) Limited 2009)