Latest Cycling News, April 21, 2009
Edited by Bjorn Haake
First blood passport violators to be named soon
Doping – No thanks
Photo ©: Bjorn Haake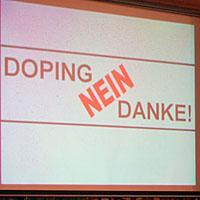 The International Cycling Union UCI will announce the first violators of its blood passport programme prior to the Giro d'Italia, which begins on May 9.
Riders were suspected of suspicious blood values as early as a year ago, but so far no action has been taken.
Coming up on
Cyclingnews will cover the 60th edition of the Dauphiné Libéré live as of stage 4 on Wednesday, June 10, at approximately 15:00 local Europe time (CEST)/ 23:00 Australian time (CDT)/ 9:00 (USA East).

WAP-enabled mobile devices: http://live.cyclingnews.com/wap/
The proceedings need to be bullet-proof to avoid a setback. "With the first case we need to be absolutely sure," UCI spokesman Enrico Carpani told The Guardian. "We need to be sure we can defend ourselves in a court, so it has to be safe, reliable. The [anti-doping] experts are working on it, but also the legal department. But before the Giro I expect the first [doping] cases to be confirmed."
The announcement could stir up cycling once again ahead of the first Grand Tour of the year, as top riders are rumoured to be among the suspects.
Gesink out of Flèche with knee problems
Robert Gesink (Rabobank) won't be starting the Flèche
Photo ©: Gregor Brown

A knee injury has forced Rabobank's Robert Gesink out of the upcoming Flèche Wallonne. The Dutch rider, who finished third in the Amstel Gold Race on Sunday, complained of knee pains after that race.
He has been diagnosed with tendon problems in the right knee, and must stay off his bike for two days, the team announced. He may ride again on Thursday if the pain is gone, according to team doctor Dion van Bommel.
It is still unclear whether Gesink will be able to ride in Sunday's Liège-Bastogne-Liège. "I certainly don't want to take any risks," he said.
Rabobank will send Mauricio Ardila, Stef Clement, Oscar Freire, Juan Manuel Garate, Koos Moerenhout, Grischa Niermann, Bram Tankink and Pieter Weening to the Flèche Wallonne.(SW)
Malacarne eyes debut at Giro d'Italia
By Jean-François Quénet in Alanya, Turkey
David Malacarne wants to start the Giro
Photo ©: Roberto Bettini

Davide Malacarne, former junior cyclo-cross world champion, will make his debut at the Giro d'Italia, at the tender age of 21. The Quick Step rider was the runner-up in the Presidential Tour of Turkey.
He finished the Turkish Tour with a big scare as he was close to overall winner Daryl Impey when Impey crashed dramatically with 800 metres to go in the final stage. "I actually saw all four crashes in the last two kilometres," the Italian said. "As I'm not a sprinter, for me, winning the race with a top three finish in the bunch was impossible, so I wasn't trying to sprint. I only positioned myself to avoid splits and time gaps. But there were some crazy riders who aren't sprinters and they still tried to sprint. I'm still amazed that I avoided all these crashes."
Malacarne also avoided any risk in getting the bonus seconds that could have made up for his one-second deficit.
"I'm a bit disappointed about being second", he said. "It's a pity because I lost a couple of seconds in a split on the first day in Istanbul. That's where I've lost the Tour. Analysing all the stages, I've identified the ways I could have compensated this missing miserable second. I've made some small mistakes."
Now he hopes to "do something at the Tour of Romandie and the Giro d'Italia." Malacarne might well be the youngest man in the Giro's centennial edition. He'll get a lot of support at the start in his home region of Venice.
A Swift start to his career
By Susan Westemeyer
Ben Swift (Team Katusha) had a very good season so far
Photo ©: Susanne Goetze

Ben Swift is as astonished as anyone else at the good results he has had so far this season. Only 21 years old and in his first pro year, with ProTour Team Katusha, he already has a series of top ten finishes.
The British youngster finished second in Nokere Koerse, and fifth in the first stage of the Critérium International. He really shone in the Vuelta al País Vasco, with three top four stage finishes. His best there was second place in the fifth stage, when he led the peloton across the finish line 19 seconds behind winner Marco Pinotti.
While he was hoping for good results, "it was definitely surprising to get them so soon," he told Cyclingnews. "I had a really good winter, the best winter I have ever had, and also the team training camps. I finished last year still quite fresh, which meant that I could train well over the winter."
Swift sees himself as an allrounder, who can do well in the Classics and win stages. "My weakness is in the time trial. I don't like doing them and I'm not really that good at them."
His next race is the Flèche Wallonne on Wednesday, and but he won't ride Liège-Bastogne-Liège. His further race schedule is still up in the air. "I have spoken to the team about maybe doing a Grand Tour, and they seem pretty keen on the idea, so we will see what happens."
Good and bad for Vorarlberg in Turkey
Sebastian Siedler won the final stage in the Presidential Tour
Photo ©: JF Quenet
Team Vorarlberg-Corratec was happy to win the final stage of the Tour of Turkey on Sunday, but paid for it with the loss of Wim van Huffel, who may have broken his elbow.
"This injury was a high price to pay for Sebastian Siedler's stage win, a success which we bitterly needed," said team manager Thomas Kofler. Siedler, who joined the Austrian Continental team this season, won the crash-marred sprint of the Tour's closing stage.
"My first win in the new jersey makes me especially happy for the team," Siedler said, "not only because it was my first win this season, but also because we haven't given up after a lot of bad luck and crashes."
Van Huffel was in an escape group when he hit a dog and crashed. In trying to get back to the field, he spent too much time in the auto convoy and was disqualified from the race for hanging onto the team car.(SW)
Liquigas reconned TTT course
The Italian Liquigas team previewed the Giro d'Italia's stage 1 team time trial in Venice yesterday. Eight of the nine potential Giro riders inspected the parcours, with Alessandro Vanotti the only absent rider due to sickness.
The opening stage is an out-and-back course along the Lido, 20.5 kilometres in length. "We did the parcours three times, thanks to the police who closed the course off," Ivan Basso told Cyclingnews.
Basso will check out stages four and five, the first hard mountain stages, as well.
The team has not announced its final roster yet for the three-week race from May 9 to 31.
Photography
For a thumbnail gallery of these images, click here
Images by Nika Ford
Philly race threatened
This scene may not be visible this year
Photo ©: Jon Devich

On the eve of its 25th anniversary edition, the Philadelphia International Championship is in jeopardy of cancellation due to a USD 500,000 budget shortage.
The Philadelphia Inquirer reported that the race organisers has raised only $1.2 million of the $1.7 million it needs to hold the 1.HC-rated UCI event. Despite title sponsor TD Bank's contribution, the race still faces the shortfall due to the City of Philadelphia's own budget crisis. The newspaper reported that the city, which used to provide police and other services for free, has decided to charge the race organisers for the city's services this year.
Jerry Casale, who co-founded the race, didn't blame Philadelphia. "The city has been a great partner for 24 years. Everybody is facing an economic crisis," he said to the Inquirer.
Past winners include Americans Lance Armstrong, George Hincapie and Eric Heiden. Last year Danish rider Matti Breschel (Saxo Bank) prevailed on the Philadelphia course, which takes in the famous Manayunk Wall, with a gradient of up to 17 percent.
"This is an event that adds so much to the quality of life and vibrancy [of] the city," said Loree Jones, former city managing director, who now is executive director of the Manayunk Development Corp. "It would be a terrible loss."
City Councilman Curtis Jones knows the importance of the race. "We understand there is a recession, but we don't want to lose this. I'm going to try to rally some people with deep, deep pockets and see what we can do."
According to race organisers, the event more than pays for itself by bringing between $15 million to 20 million in revenue to the city.
BMC sweeps Tour of the Battenkill
By Kirsten Robbins
Scott Nydam (BMC) won the Battenkill race
Photo ©: Marco Quezada

Chad Beyer and Scott Nydam won rounds one and two of the Tour of the Battenkill respectively. The two-day event was held in Cambridge, New York, last weekend. According to BMC's directeur Gavin Chilcott their wins are symbolic of the squad's newly evolved focus on Classics-style racing.
"The style of racing with high resistance and narrow roads, long single loop courses, as opposed to circuit style, suits us very well," Chilcott told Cyclingnews. "We are becoming interested in one-day races. We invented ourselves as a stage race team but as we have evolved we find we like one-day classic-style racing as well. We are not trying to be a criterium team in the US but we are not solely focused on stage races anymore."
Chilcott noted several reasons why one-day races are becoming popular in the USA and hopes to see the development of more American Classics in the future. "Given that there are so few [Classics] in the States, we try to support the ones coming up to help develop them in to something bigger each year," said Chilcott regarding races like the Tour of the Battenkill.
"One-day racing is accessible for American fans and the strategy involved in the racing has a very clear format. It's easy to understand. It's the same reason why Paris-Roubaix or the Tour of Flanders are so popular. There are discreet, understandable battles that make it exciting and gripping for fans."
The BMC squad is back to stage racing at the Tour of the Gila set to start on April 29.
Ex-pros offering unique cycling events
By Bjorn Haake
At the opening of the Club Mont Ventoux
Photo ©: Guido Eickelbeck

Former professional riders Guido Eickelbeck (Team Telekom) and Torsten Wilhelms (Team Bianchi) have joined forces to offer unique cycling events, especially targeted to high-level executives and managers. The company, Life Style Cycling, is based in Mallorca, but several other events are offered world-wide. The week-long courses allow busy people to network and team-bond while also working out.
Eickelbeck is taking on the luxury sport of golfing. "Cycling is much better for networking than golf: You ride double-file and talk, you sit together afterwards and network," said Eickelbeck to Cyclingnews. He knows what he owes the top clientele and brings out the best, from high-end bicycles to luxury hotels.
The German recruits top cyclists, such as former Tour de France green-jersey winner Olaf Ludwig, who will be at Velothon Berlin in June in Germany. Current racers such as Danilo Hondo also lend a hand. "Hondo will come to Mallorca when his schedule permits it, for example during the Giro d'Italia," Eickelbeck said. Hondo very narrowly missed a stage win in the Presidential Tour of Turkey a few days ago.
Eickelbeck is not strictly business oriented and fully aware of the problems German cycling is facing with the cancellation of many races. "Cycling teams are often backed by benefactors, so for me it is important to make connections to influential people and get them into cycling in a roundabout way."
Once the clientele is hooked on riding up Mount Ventoux or Alpe d'Huez, Eickelbeck hopes to have their companies back cycling. "I want bigger races to take place again in Germany, therefore I want the managers to support cycling."
The knowledge level varies widely. "Some of our customers have not ridden a bike in 20 years, you have to get them used to it slowly." But there are not many crashes and most of them happen before the actual rides, when the clients try out the bikes, or when they get cocky.
"One person had so much fun during our Giro d'Italia event that five kilometres before the finish he bunny-hopped a speed bump, tilted his handlebar and crashed," Eickelbeck recalled.
Apprenticeship at Telekom and T-Mobile
After his professional career, Eickelbeck made a move that prepared him well for his current endeavour. "For ten years I was the VIP chief adviser for Telekom and later for T-Mobile."
He is proud of the fact that he brought many managers to the sport of cycling. "A few days ago I trained with Lothar Harings, who was Chief Human Resources Officer at T-Mobile." The many connections he created during his second career have allowed Eickelbeck to start his own company.
Eickelbeck had a good amateur career, winning races such as Liège-Bastogne-Liège or Paris-Roubaix. That netted him a professional contract with new German Team Stuttgart in 1989. "I can remember when I signed my contract - it was on 8/8/1988," Eickelbeck said. Team Stuttgart later became Team Telekom, the most successful German team in the 1990's.
Eickelbeck was hampered by some crashes and "I moved to South Africa, which certainly was no mistake." The circumstances cut his career short, which he ended in 1993.
Wilhelms was a teammate of Jan Ullrich at German teams Coast and Bianchi. His more than 20 professional wins include stages at the Volta ao Algarve, the Niedersachsenrundfahrt and the Tour of Qatar. He serves currently as an intermediate person between Team Milram and its bike supplier, Focus.
You can find more information about the offered events on the Life Style Cycling website.
Photography
For a thumbnail gallery of these images, click here
Images by Guido Eickelbeck/Life Style Cycling
What's hot on the forum
Crashes have been the main point of people's conversations this week, whether that be the crash involving Theo Bos' and Daryl Impey or the crash of Tyler Hamilton's professional career. Some of you however have been thinking a little outside the square, listing your favourite rider quotes of all time.
Here's a sample of the forum happenings:
US Pro cycling: where is it at?
U.S. domestic pro cycling does not really appear to be any better off than it was twenty years ago. There are more ways to get to Europe, but it does not seem that the country can sustain a longish stage race for more than a few years. That the Giro and Vuelta cannot be profitably broadcast says a lot about the sports viability. On that last point, maybe bull riding is just more profitable than cycling. That is disturbing in itself. - BroDeal
The US pro racing scene has been better. The interest of sponsorship of quality racing has taken a dip. It seems the consistency is not something that builds on itself but comes in 4 or 5 year cycles. I believe the dollars it takes to take a good race with lots of potential to the next level is a huge step. Look at the Tour of Utah and Tour of Georgia for example.

Utah and Georgia have healthy and growing bicycle racing communities -so the interest and support is there in those states and in the US but the advertising dollars to support such efforts is very difficult to secure. I will say that I have seen a huge upsurge in the amateur racing since Lance hit the scene. There are many, many great long term amateur races that are still thriving. -Bicyclestreet
Should Theo Bos be suspended for this?
Well if you look carefully the barriers are not even in a straight line they bulge out and in along that path, so if they got too close to the barriers on a bulge out they'd get hosed as soon as it bulges back in.

Still, I'm sure there will be a new rule on putting your hand on another rider none the less. Its a very weird finale, three crashes, way too many. - ElChingon
I was looking at this and couldn't decide, so I slowed it down, zoomed in...and for me no question. Guy should be banned for life and face criminal charges.

Then again I hate to think that he did intentionally do it.. who knows.. my gut says he's a nutter and should be banned. - Dimspace
Previous News Next News
(All rights reserved/Copyright Future Publishing (Overseas) Limited 2009)