45th Presidential Cycling Tour - 2.1
Turkey, April 12-19, 2009
Main Page Results Overall standings Previous Stage
Stage 8 - April 19: Antalya - Alanya , 166km
New champion Daryl Impey crashes badly but survives dramatic finale
By Jean-François Quénet in Alanya, Turkey
Patrick Calcagni helped Darryl Impey reach the finish line.
Photo ©: Presidential Cycling Tour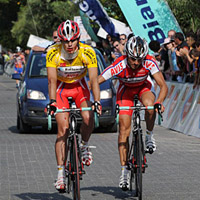 Daryl Impey won the 45th Presidential Tour of Turkey but he didn't enjoy the post-race celebrations due to injuries suffered in a crash with 800 metres to go of the final stage. Impey remained on the ground for 20 minutes before getting back on his bike to cross the finish line. He was taken to the hospital in Alanya where the doctors reported a fracture of the third disc of his lumbar vertebra, a micro-fracture of his neck, facial trauma, a few broken teeth and a deep cut in his lips.
His remaining four teammates Paolo Longo Borghini, Diego Caccia, Giampaolo Cheula and Patrick Calcagni and his directeur sportif Alberto Volpi went on stage to receive on Impey's behalf the yellow and green jerseys.
"It's very difficult to celebrate a win in these circumstances," said Caccia.
"It was a nasty sprint," Longo Borghini explained. "There wasn't any respect for anybody. Some riders tried to pass where there was no space for it."
The spectacular crash overshadowed the bunch sprint win of Sebastian Siedler of Vorarlberg-Corractec. "I'm very happy with this win but also with not having crashed," the German explained. "I even sprinted a little bit in the wind to avoid taking any risks. I had chosen to stay on the wheel of [stage 3 winner] André Schulze and that was a good decision."
With 800 metres to go, former track sprinter Theo Bos (Rabobank Continental) put his right hand on Impey's shoulder and caused the crash. The panel of UCI commissaires watched the TV replay several times but chose not to take action against Bos for his involvement in the accident as it was unclear whether or not he did it aggressively.
Earlier in the race, the commissaires disqualified Wim van Huffel for hanging on to a car following a crash in the breakaway group caused by a dog crossing the road.
Despite the dramatic circumstances, the 45th Tour of Turkey has seen the birth of a champion. There will be more to be seen from Impey at other races when he'll have recovered from this spectacular and painful crash. It's also the first top three result for Malacarne who is another champion in the making.
How it unfolded
After 12 kilometres, 15 riders broke clear: Delio Fernandez (Xacobeo Galicia), Volodymyr Zagorodny (Lampre), Thomas Vedel Kvist (Quick Step), Gianluca Mirenda (ISD), Matthias Russ (Milram), Wolfgang Murer (Elk Haus), Wim Van Huffel (Vorarlberg-Corractec), Frantisek Kloucek (PSK Whirlpool), Oleg Chzuzhda, Francisco Pacheco Torres and Sergio Dominguez (Contentpolis-Ampo), Alessandro Donati (Acqua e Sapone), Zakkari Dempster (CC Bourgas), Massimo Demarin (Loborika) and Roger Beuchat (Neotel).
They reached a maximum lead of 2:32 with 40 kilometres to go. When the teams of the sprinters started speeding up at the front of the peloton 27 kilometres before the end the gap was quickly reduced. The 14 riders in the lead - after Van Huffel crashed because of a dog and was kicked out of the race for hanging on to a car - were caught with five kilometres to go.
Four crashes occurred in the last two kilometres, one of them caused by Theo Bos which affected race leader Daryl Impey.
Sebastian Siedler of Vorarlberg-Corractec won the sprint ahead of Michael Van Staeyen (Rabobank) and André Schulze (PSK Whirlpool). Impey was declared the winner of the 45th Presidential Tour of Turkey.
Photography
For a thumbnail gallery of these images, click here
Images by Presidential Cycling Tour
Images by Jean-Francois Quenet
Results
1 Sebastian Siedler (Ger) Vorarlberg - Corratec               3.24.54  (48.609 km/h)
2 Michael Van Staeyen (Bel) Rabobank Continental                     
3 André Schulze (Ger) PSK Whirlpool - Author                         
4 Robert Förster (Ger) Team Milram                                   
5 Tino Thomel (Ger) German National Team                             
6 Nolan Hoffmann (RSA) Team Stegcomputer - Neotel                    
7 Jonas Ljungblad (Swe) Silence-Lotto                                
8 Erki Putsep (Est) Cycling Club Bourgas                             
9 Mirac Kal (Tur) Turkish National Team                              
10 Marco Frapporti (Ita) CSF Group - Navigare                        
11 Giuseppe Palumbo (Ita) Acqua & Sapone - Caffe Mokambo             
12 Davide Malacarne (Ita) Quick Step                                 
13 Danilo Hondo (Ger) PSK Whirlpool - Author                         
14 Mauro Finetto (Ita) CSF Group - Navigare                          
15 Markus Fothen (Ger) Team Milram                                   
16 Artur Gajek (Ger) Team Milram                                     
17 Oscar Garcia Casarrubios Pintor (Spa) Contentpolis-Ampo           
18 Ugur Marmara (Tur) Turkish National Team                          
19 Marcello Pavarin (Ita) CSF Group - Navigare                       
20 Alan Marangoni (Ita) CSF Group - Navigare                         
21 Hrvoje Miholjevic (Cro) Loborika                                  
22 Gustavo César Veloso (Spa) Xacobeo Galicia                        
23 Oleg Chuzhda (Ukr) Contentpolis-Ampo                              
24 Emanuel Kiserlovski (Cro) Loborika                                
25 Christophe Brandt (Bel) Silence-Lotto                             
26 Volodymyr Zagorodny (Ukr) Lampre - N.G.C                          
27 Luca Barla (Ita) Team Milram                                      
28 Javier Benitez Pomares (Spa) Contentpolis-Ampo                    
29 Diego Milan Jimenez (Spa) Acqua & Sapone - Caffe Mokambo          
30 Frantisek Kloucek Jr. (Cze) PSK Whirlpool - Author                
31 Zakkari Dempster (Aus) Cycling Club Bourgas                       
32 Daniel Musiol (Ger) Vorarlberg - Corratec                         
33 Gonzalo Rabunal Rios (Spa) Xacobeo Galicia                        
34 David Garcia Dapena (Spa) Xacobeo Galicia                         
35 Martijn Keizer (Ned) Rabobank Continental                         
36 Marco Velo (Ita) Quick Step                                       
37 Kevin Hulsman (Bel) Quick Step                                    
38 Hubert Schwab (Swi) Quick Step                                    
39 Alessandro Fantini (Ita) Acqua & Sapone - Caffe Mokambo           
40 Ruggero Marzoli (Ita) Acqua & Sapone - Caffe Mokambo              
41 Francesco Tomei (Ita) Lampre - N.G.C                              
42 Andréa Grendene (Ita) Lampre - N.G.C                              
43 Dominique Cornu (Bel) Quick Step                                  
44 Janusch Laule (Ger) Team Stegcomputer - Neotel                    
45 Paul Voss (Ger) Team Milram                                       
46 Mauro Facci (Ita) Quick Step                                      
47 Paolo Longo Borghini (Ita) Barloworld                             
48 Rafael Serrano Fernandez (Spa) Contentpolis-Ampo                  
49 Davide Ricci Bitti (Ita) ISD                                      
50 Ruben Reig Conejero (Spa) Contentpolis-Ampo                       
51 Pieter Jacobs (Bel) Silence-Lotto                                 
52 James Lewis Perry (RSA) Team Stegcomputer - Neotel                
53 Tiziano Dall'Antonia (Ita) CSF Group - Navigare                   
54 Vladimir Isaychev (Rus) Xacobeo Galicia                           
55 Héctor Espasandín Rama (Spa) Xacobeo Galicia                      
56 Jan Valach (Svk) Elk Haus                                         
57 Pedro Fernandez Hermina (Spa) Xacobeo Galicia                     
58 Olivier Kaisen (Bel) Silence-Lotto                                
59 Alessandro Proni (Ita) ISD                                        
60 Delio Fernandez Cruz (Spa) Xacobeo Galicia                        
61 Alessandro Donati (Ita) Acqua & Sapone - Caffe Mokambo            
62 Pavel Zitta (Cze) PSK Whirlpool - Author                          
63 Stanislav Kozubek (Cze) PSK Whirlpool - Author                    
64 Frantisek Padour (Cze) PSK Whirlpool - Author                     
65 Vojtech Dlouhy (Cze) PSK Whirlpool - Author                       
66 Ángel Gómez Gómez (Spa) Fuji-Servetto                             
67 Joeri Adams (Bel) Rabobank Continental                            
68 Adrian Palomares Villaplana (Spa) Contentpolis-Ampo               
69 Héctor González Baeza (Spa) Fuji-Servetto                         
70 Filippo Savini (Ita) CSF Group - Navigare                         
71 Francesco Di Paolo (Ita) Acqua & Sapone - Caffe Mokambo           
72 Christian Kux (Ger) Team Milram                               2.42
73 Josef Benetseder (Aut) Vorarlberg - Corratec                      
74 Francisco José Pacheco Torres (Spa) Contentpolis-Ampo         2.44
75 Christoph Sokoll (Aut) Vorarlberg - Corratec                      
76 Daniel Schorn (Aut) Elk Haus                                      
77 Stefan Rucker (Aut) Elk Haus                                      
78 Roger Beuchat (Swi) Team Stegcomputer - Neotel                    
79 Gianluca Mirenda (Ita) ISD                                        
80 Cristian Benenati (Ita) ISD                                       
81 Matthias Russ (Ger) Team Milram                               3.19
82 Theo Reinhart (Ger) German National Team                          
83 Theo Bos (Ned) Rabobank Continental                               
84 Erik Mohs (Ger) German National Team                              
85 Serhat Sert (Tur) Turkish National Team                           
86 Clemens Fankhauser (Aut) Elk Haus                                 
87 Wolfgang Murer (Aut) Elk Haus                                 4.17
88 Martin Prazdnovsky (Svk) Cycling Club Bourgas                     
89 Gorik Gardeyn (Bel) Silence-Lotto                                 
90 Thomas Vedel Kvist (Den) Quick Step                               
91 Matthias Friedemann (Ger) PSK Whirlpool - Author                  
92 Massimo Demarin (Cro) Loborika                                    
93 Tomislav Danculovic (Cro) Loborika                                
94 Radoslav Rogina (Cro) Loborika                                4.54
95 Sergio Dominguez Munoz (Spa) Contentpolis-Ampo                    
96 Alberto Fernandez De La Puebla (Spa) Fuji-Servetto                
97 Hilton Clarke (Aus) Fuji-Servetto                                 
98 Diego Caccia (Ita) Barloworld                                     
99 Gian-Paolo Cheula (Ita) Barloworld                                
100 Thomas Juhas (Ger) German National Team                          
101 Bart Dockx (Bel) Silence-Lotto                                   
102 Thomas Rabou (Ned) Rabobank Continental                          
103 Michael Riedle (Ger) German National Team                        
104 Andreas Dietziker (Swi) Vorarlberg - Corratec                    
105 Daryl Impey (RSA) Barloworld                                     
106 Patrick Calcagni (Swi) Barloworld                                
107 Pascal Hungerbühler (Swi) Vorarlberg - Corratec              8.20
108 Vid Ogris (Slo) Loborika                                         
DNF Carlos Castaño Panadero (Spa) Xacobeo Galicia                    
DNF Harald Morscher (Aut) Vorarlberg - Corratec                      
DNF Wim Van Huffel (Bel) Vorarlberg - Corratec                       
DNF Eyup Karagobek (Tur) Turkish National Team                       
 
Points
 
Manavgat - km 78.1
1 Alessandro Donati (Ita) Acqua & Sapone - Caffe Mokambo            5 pts
2 Wolfgang Murer (Aut) Elk Haus                                     3
3 Gianluca Mirenda (Ita) ISD                                        1
 
Finish - km 166
1 Sebastian Siedler (Ger) Vorarlberg - Corratec                    15 pts
2 Michael Van Staeyen (Bel) Rabobank Continental                   14
3 André Schulze (Ger) PSK Whirlpool - Author                       13
4 Robert Förster (Ger) Team Milram                                 12
5 Tino Thomel (Ger) German National Team                           11
6 Nolan Hoffmann (RSA) Team Stegcomputer - Neotel                  10
7 Jonas Ljungblad (Swe) Silence-Lotto                               9
8 Erki Putsep (Est) Cycling Club Bourgas                            8
9 Mirac Kal (Tur) Turkish National Team                             7
10 Marco Frapporti (Ita) CSF Group - Navigare                       6
11 Giuseppe Palumbo (Ita) Acqua & Sapone - Caffe Mokambo            5
12 Davide Malacarne (Ita) Quick Step                                4
13 Danilo Hondo (Ger) PSK Whirlpool - Author                        3
14 Mauro Finetto (Ita) CSF Group - Navigare                         2
15 Markus Fothen (Ger) Team Milram                                  1
 
Sprints
 
Aspendos - km 48.2
1 Oleg Chuzhda (Ukr) Contentpolis-Ampo                              5 pts
2 Massimo Demarin (Cro) Loborika                                    3
3 Frantisek Kloucek Jr. (Cze) PSK Whirlpool - Author                1
 
Teams
 
1 Team Milram                                                10.14.42
2 CSF Group - Navigare                                               
3 PSK Whirlpool - Author                                             
4 Contentpolis-Ampo                                                  
5 Acqua Sapone - Caffe Mokambo                                       
6 Silence - Lotto                                                    
7 Quick Step                                                         
8 Xacobeo Galicia                                                    
9 Team Neotel                                                        
10 Rabobank Continental                                              
11 Team Vorarlberg - Corratec                                        
12 Lampre-N.G.C.                                                     
13 Turkish National Team                                             
14 Cycling Club Bourgas                                              
15 Loborika                                                          
16 ISD                                                               
17 German National Team                                              
18 Elk Haus                                                          
19 Fuji-Servetto                                                     
20 Barloworld                                                        
 
Final general classification
 
1 Daryl Impey (RSA) Barloworld                               29.19.32
2 Davide Malacarne (Ita) Quick Step                              0.01
3 David Garcia Dapena (Spa) Xacobeo Galicia                      0.03
4 Gustavo César Veloso (Spa) Xacobeo Galicia                     0.10
5 Diego Milan Jimenez (Spa) Acqua & Sapone - Caffe Mokambo       1.42
6 Mauro Finetto (Ita) CSF Group - Navigare                           
7 Ruggero Marzoli (Ita) Acqua & Sapone - Caffe Mokambo           1.45
8 Marco Frapporti (Ita) CSF Group - Navigare                     1.54
9 Martijn Keizer (Ned) Rabobank Continental                      4.02
10 Pieter Jacobs (Bel) Silence-Lotto                             4.20
11 Marco Velo (Ita) Quick Step                                   6.26
12 Paolo Longo Borghini (Ita) Barloworld                         6.27
13 Danilo Hondo (Ger) PSK Whirlpool - Author                     7.50
14 Hrvoje Miholjevic (Cro) Loborika                             17.16
15 Alessandro Donati (Ita) Acqua & Sapone - Caffe Mokambo       21.13
16 Paul Voss (Ger) Team Milram                                  22.54
17 Alan Marangoni (Ita) CSF Group - Navigare                    23.03
18 Markus Fothen (Ger) Team Milram                              27.46
19 Luca Barla (Ita) Team Milram                                 29.37
20 Gian-Paolo Cheula (Ita) Barloworld                           30.44
21 Christophe Brandt (Bel) Silence-Lotto                        33.07
22 Radoslav Rogina (Cro) Loborika                               34.10
23 Ángel Gómez Gómez (Spa) Fuji-Servetto                        37.32
24 Matthias Russ (Ger) Team Milram                              40.23
25 Dominique Cornu (Bel) Quick Step                             41.02
26 Diego Caccia (Ita) Barloworld                                42.50
27 Jonas Ljungblad (Swe) Silence-Lotto                          44.26
28 Tomislav Danculovic (Cro) Loborika                           45.34
29 Olivier Kaisen (Bel) Silence-Lotto                           45.57
30 Javier Benitez Pomares (Spa) Contentpolis-Ampo               48.19
31 Robert Förster (Ger) Team Milram                             49.14
32 Filippo Savini (Ita) CSF Group - Navigare                    49.28
33 Bart Dockx (Bel) Silence-Lotto                               50.33
34 Hubert Schwab (Swi) Quick Step                               50.48
35 Andreas Dietziker (Swi) Vorarlberg - Corratec                51.42
36 Davide Ricci Bitti (Ita) ISD                                 51.59
37 Gonzalo Rabunal Rios (Spa) Xacobeo Galicia                   52.52
38 Volodymyr Zagorodny (Ukr) Lampre - N.G.C                     54.00
39 Kevin Hulsman (Bel) Quick Step                               54.55
40 Roger Beuchat (Swi) Team Stegcomputer - Neotel               55.56
41 Giuseppe Palumbo (Ita) Acqua & Sapone - Caffe Mokambo        56.36
42 Frantisek Kloucek Jr. (Cze) PSK Whirlpool - Author           57.12
43 Alessandro Proni (Ita) ISD                                 1.02.24
44 Joeri Adams (Bel) Rabobank Continental                     1.03.02
45 Pascal Hungerbühler (Swi) Vorarlberg - Corratec            1.03.38
46 Tiziano Dall'Antonia (Ita) CSF Group - Navigare            1.05.22
47 Héctor González Baeza (Spa) Fuji-Servetto                  1.06.07
48 Sebastian Siedler (Ger) Vorarlberg - Corratec              1.07.47
49 Jan Valach (Svk) Elk Haus                                  1.08.19
50 Stefan Rucker (Aut) Elk Haus                               1.08.35
51 Alberto Fernandez De La Puebla (Spa) Fuji-Servetto         1.08.56
52 Oleg Chuzhda (Ukr) Contentpolis-Ampo                       1.10.58
53 Theo Bos (Ned) Rabobank Continental                        1.11.24
54 Erki Putsep (Est) Cycling Club Bourgas                     1.11.32
55 Zakkari Dempster (Aus) Cycling Club Bourgas                1.12.13
56 Marcello Pavarin (Ita) CSF Group - Navigare                1.12.23
57 Gorik Gardeyn (Bel) Silence-Lotto                          1.13.22
58 Daniel Schorn (Aut) Elk Haus                               1.14.12
59 Delio Fernandez Cruz (Spa) Xacobeo Galicia                 1.14.16
60 Tino Thomel (Ger) German National Team                     1.14.35
61 Mauro Facci (Ita) Quick Step                               1.14.36
62 Nolan Hoffmann (RSA) Team Stegcomputer - Neotel            1.14.43
63 Gianluca Mirenda (Ita) ISD                                 1.14.48
64 Frantisek Padour (Cze) PSK Whirlpool - Author              1.15.09
65 Hilton Clarke (Aus) Fuji-Servetto                          1.15.19
66 Pavel Zitta (Cze) PSK Whirlpool - Author                   1.16.16
67 Christian Kux (Ger) Team Milram                            1.16.21
68 Thomas Vedel Kvist (Den) Quick Step                        1.16.41
69 Ugur Marmara (Tur) Turkish National Team                          
70 Clemens Fankhauser (Aut) Elk Haus                          1.16.54
71 Vid Ogris (Slo) Loborika                                   1.18.35
72 Alessandro Fantini (Ita) Acqua & Sapone - Caffe Mokambo    1.19.26
73 Oscar Garcia Casarrubios Pintor (Spa) Contentpolis-Ampo    1.19.33
74 Cristian Benenati (Ita) ISD                                1.19.35
75 Thomas Rabou (Ned) Rabobank Continental                    1.19.57
76 Emanuel Kiserlovski (Cro) Loborika                         1.20.24
77 Stanislav Kozubek (Cze) PSK Whirlpool - Author             1.22.22
78 Artur Gajek (Ger) Team Milram                              1.23.45
79 Massimo Demarin (Cro) Loborika                             1.31.05
80 Daniel Musiol (Ger) Vorarlberg - Corratec                  1.33.23
81 Patrick Calcagni (Swi) Barloworld                          1.34.08
82 Christoph Sokoll (Aut) Vorarlberg - Corratec               1.35.26
83 Pedro Fernandez Hermina (Spa) Xacobeo Galicia                     
84 Francesco Di Paolo (Ita) Acqua & Sapone - Caffe Mokambo    1.35.37
85 Rafael Serrano Fernandez (Spa) Contentpolis-Ampo           1.36.13
86 Mirac Kal (Tur) Turkish National Team                      1.36.59
87 Serhat Sert (Tur) Turkish National Team                    1.37.06
88 Vladimir Isaychev (Rus) Xacobeo Galicia                    1.37.17
89 Sergio Dominguez Munoz (Spa) Contentpolis-Ampo             1.37.21
90 Andréa Grendene (Ita) Lampre - N.G.C                       1.38.24
91 Matthias Friedemann (Ger) PSK Whirlpool - Author                  
92 Martin Prazdnovsky (Svk) Cycling Club Bourgas                     
93 Michael Van Staeyen (Bel) Rabobank Continental             1.39.51
94 Francesco Tomei (Ita) Lampre - N.G.C                       1.41.49
95 Josef Benetseder (Aut) Vorarlberg - Corratec               1.43.10
96 Adrian Palomares Villaplana (Spa) Contentpolis-Ampo        1.43.42
97 Héctor Espasandín Rama (Spa) Xacobeo Galicia               1.45.45
98 Wolfgang Murer (Aut) Elk Haus                              1.47.19
99 Ruben Reig Conejero (Spa) Contentpolis-Ampo                1.47.21
100 Francisco José Pacheco Torres (Spa) Contentpolis-Ampo     1.47.50
101 Erik Mohs (Ger) German National Team                      1.48.22
102 Thomas Juhas (Ger) German National Team                   1.48.45
103 Theo Reinhart (Ger) German National Team                  1.49.54
104 André Schulze (Ger) PSK Whirlpool - Author                1.50.56
105 Vojtech Dlouhy (Cze) PSK Whirlpool - Author               1.51.06
106 Michael Riedle (Ger) German National Team                 1.52.06
107 Janusch Laule (Ger) Team Stegcomputer - Neotel            1.53.39
108 James Lewis Perry (RSA) Team Stegcomputer - Neotel        1.57.38
 
Points classification
 
1 Daryl Impey (RSA) Barloworld                                     62 pts
2 Diego Milan Jimenez (Spa) Acqua & Sapone - Caffe Mokambo         58
3 Mauro Finetto (Ita) CSF Group - Navigare                         44
4 Robert Förster (Ger) Team Milram                                 44
5 André Schulze (Ger) PSK Whirlpool - Author                       42
6 Alessandro Donati (Ita) Acqua & Sapone - Caffe Mokambo           39
7 Davide Malacarne (Ita) Quick Step                                37
8 Marco Frapporti (Ita) CSF Group - Navigare                       35
9 Pieter Jacobs (Bel) Silence-Lotto                                32
10 David Garcia Dapena (Spa) Xacobeo Galicia                       31
11 Sebastian Siedler (Ger) Vorarlberg - Corratec                   28
12 Giuseppe Palumbo (Ita) Acqua & Sapone - Caffe Mokambo           28
13 Ruggero Marzoli (Ita) Acqua & Sapone - Caffe Mokambo            27
14 Michael Van Staeyen (Bel) Rabobank Continental                  26
15 Alessandro Fantini (Ita) Acqua & Sapone - Caffe Mokambo         24
16 Jonas Ljungblad (Swe) Silence-Lotto                             21
17 Radoslav Rogina (Cro) Loborika                                  20
18 Olivier Kaisen (Bel) Silence-Lotto                              19
19 Danilo Hondo (Ger) PSK Whirlpool - Author                       19
20 Paul Voss (Ger) Team Milram                                     17
21 Stefan Rucker (Aut) Elk Haus                                    16
22 Diego Caccia (Ita) Barloworld                                   15
23 Oleg Chuzhda (Ukr) Contentpolis-Ampo                            14
24 Gustavo César Veloso (Spa) Xacobeo Galicia                      14
25 Daniel Schorn (Aut) Elk Haus                                    14
26 Nolan Hoffmann (RSA) Team Stegcomputer - Neotel                 13
27 Hrvoje Miholjevic (Cro) Loborika                                12
28 Markus Fothen (Ger) Team Milram                                 12
29 Filippo Savini (Ita) CSF Group - Navigare                       12
30 Andreas Dietziker (Swi) Vorarlberg - Corratec                   11
31 Tino Thomel (Ger) German National Team                          11
32 Clemens Fankhauser (Aut) Elk Haus                               11
33 Kevin Hulsman (Bel) Quick Step                                  10
34 Stanislav Kozubek (Cze) PSK Whirlpool - Author                  10
35 Frantisek Kloucek Jr. (Cze) PSK Whirlpool - Author               9
36 Zakkari Dempster (Aus) Cycling Club Bourgas                      9
37 Artur Gajek (Ger) Team Milram                                    9
38 Erki Putsep (Est) Cycling Club Bourgas                           8
39 Christophe Brandt (Bel) Silence-Lotto                            7
40 Javier Benitez Pomares (Spa) Contentpolis-Ampo                   7
41 Thomas Vedel Kvist (Den) Quick Step                              7
42 Daniel Musiol (Ger) Vorarlberg - Corratec                        7
43 Mirac Kal (Tur) Turkish National Team                            7
44 Jan Valach (Svk) Elk Haus                                        6
45 Thomas Rabou (Ned) Rabobank Continental                          6
46 Gian-Paolo Cheula (Ita) Barloworld                               5
47 Roger Beuchat (Swi) Team Stegcomputer - Neotel                   4
48 Theo Bos (Ned) Rabobank Continental                              4
49 Ángel Gómez Gómez (Spa) Fuji-Servetto                            3
50 Gonzalo Rabunal Rios (Spa) Xacobeo Galicia                       3
51 Oscar Garcia Casarrubios Pintor (Spa) Contentpolis-Ampo          3
52 Sergio Dominguez Munoz (Spa) Contentpolis-Ampo                   3
53 Wolfgang Murer (Aut) Elk Haus                                    3
54 Luca Barla (Ita) Team Milram                                     2
55 Volodymyr Zagorodny (Ukr) Lampre - N.G.C                         2
56 Pascal Hungerbühler (Swi) Vorarlberg - Corratec                  2
57 Martijn Keizer (Ned) Rabobank Continental                        1
58 Marco Velo (Ita) Quick Step                                      1
59 Tomislav Danculovic (Cro) Loborika                               1
60 Davide Ricci Bitti (Ita) ISD                                     1
61 Gianluca Mirenda (Ita) ISD                                       1
62 Vladimir Isaychev (Rus) Xacobeo Galicia                          1
63 Francisco José Pacheco Torres (Spa) Contentpolis-Ampo            1
 
Sprints classification
 
1 Alessandro Fantini (Ita) Acqua & Sapone - Caffe Mokambo          11 pts
2 Diego Caccia (Ita) Barloworld                                     6
3 Filippo Savini (Ita) CSF Group - Navigare                         5
4 Oleg Chuzhda (Ukr) Contentpolis-Ampo                              5
5 Gustavo César Veloso (Spa) Xacobeo Galicia                        3
6 Davide Ricci Bitti (Ita) ISD                                      3
7 Oscar Garcia Casarrubios Pintor (Spa) Contentpolis-Ampo           3
8 Artur Gajek (Ger) Team Milram                                     3
9 Massimo Demarin (Cro) Loborika                                    3
10 Frantisek Kloucek Jr. (Cze) PSK Whirlpool - Author               1
11 Stefan Rucker (Aut) Elk Haus                                     1
12 Vladimir Isaychev (Rus) Xacobeo Galicia                          1
 
Mountains classification
 
1 Gonzalo Rabunal Rios (Spa) Xacobeo Galicia                       22 pts
2 Marco Frapporti (Ita) CSF Group - Navigare                       18
3 Gustavo César Veloso (Spa) Xacobeo Galicia                       12
4 Gian-Paolo Cheula (Ita) Barloworld                               12
5 Vladimir Isaychev (Rus) Xacobeo Galicia                           5
6 Filippo Savini (Ita) CSF Group - Navigare                         5
7 Tiziano Dall'Antonia (Ita) CSF Group - Navigare                   3
8 Héctor González Baeza (Spa) Fuji-Servetto                         3
9 Alessandro Fantini (Ita) Acqua & Sapone - Caffe Mokambo           3
10 Michael Van Staeyen (Bel) Rabobank Continental                   3
11 David Garcia Dapena (Spa) Xacobeo Galicia                        2
12 Olivier Kaisen (Bel) Silence-Lotto                               2
13 Oscar Garcia Casarrubios Pintor (Spa) Contentpolis-Ampo          2
14 Diego Milan Jimenez (Spa) Acqua & Sapone - Caffe Mokambo         1
15 Alan Marangoni (Ita) CSF Group - Navigare                        1
16 Marcello Pavarin (Ita) CSF Group - Navigare                      1
17 Mauro Facci (Ita) Quick Step                                     1
 
Teams classification
 
1 Barloworld                                                 87.55.34
2 CSF Group - Navigare                                           5.38
3 Quick Step                                                    10.16
4 Team Milram                                                   10.49
5 Acqua Sapone - Caffe Mokambo                                  18.54
6 Xacobeo Galicia                                               33.49
7 Silence - Lotto                                               38.41
8 Loborika                                                    1.11.50
9 Rabobank Continental                                        1.23.23
10 Lampre-N.G.C.                                              1.38.59
11 PSK Whirlpool - Author                                     1.42.44
12 Fuji-Servetto                                              1.43.33
13 Team Vorarlberg - Corratec                                 2.17.11
14 Elk Haus                                                   2.19.36
15 Cycling Club Bourgas                                       2.59.11
16 Team Neotel                                                2.59.19
17 ISD                                                        3.09.06
18 Contentpolis Ampo                                          3.10.18
19 Turkish National Team                                      4.11.34
20 German National Team                                       4.45.09