First Edition Cycling News, May 7, 2009
Edited by Peter Hymas
Pfannberger confirms and denies doping charge
Christian Pfannberger denied the doping allegation against him.
Photo ©: Brecht Decaluwé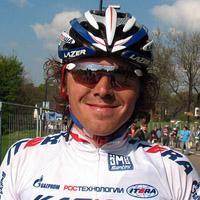 Christian Pfannberger confirmed that he was told he had given a positive doping control, but denied that he had taken any forbidden substances. The Austrian national champion was suspended by Team Katusha Wednesday after the team was informed of the positive test.
In a statement released Wednesday evening, Pfannberger said that the UCI notified him that afternoon of the positive test, which was taken in a training control on March 19. He said that the substance was not named.
"Since I definitely did not take anything forbidden I will use every legal method I can to prove this," he said.
The news of Pfannberger's doping violation came as a surprise to Serge Parsani, a Team Katusha directeur sportif for the Giro d'Italia.
"I have not heard anything from him," Parsani told Cyclingnews. "He had not said anything to us [about the matter]. The UCI news was the first I had heard. Certainly it is not something positive [to start the Giro this way], but unfortunately we have no control over it.
"We will continue to do the Giro without Pfannberger. He will have to resolve this problem himself."
Discuss Christian Pfannberger's doping violation in the Forum.
Pinotti concentrated on Cavendish's cause
By Gregor Brown
Marco Pinotti and Mark Cavendish at the Tour de Romandie.
Photo ©: Edward A Madden

Marco Pinotti heads to the Giro d'Italia, starting Saturday in Venice, to help Columbia-Highroad win the team time trial and collect stage wins for its sprinter Mark Cavendish.
"The first goal is the team time trial, we have a good chance at coming away with a win. It will be a hard battle with Garmin, but we won't give them an easy ride," Pinotti told Cyclingnews. "Cavendish had a good chance at taking the maglia rosa if we win or come close because there are the following sprint stages."
The last stage of the 2008 Giro d'Italia ended with Pinotti on top as winner of the time trial in Milan. It was his second success in the stage race after a four-day spell in the leader's maglia rosa in 2007.
"I will have my freedom in some of the stages, the stage to Bergamo pulls at my heart strings. It will be interesting to see how it develops, I think it can lend itself to an escape. For sure, the first stages are for Cavendish and the second half of the Giro will be open to the rest of the team."
Tricolore
The centennial Giro d'Italia features three time trials: the opening team event, the 60.6-kilometre Cinque Terre stage 12 and the final day in Rome. Pinotti, the current national time trial champion, will race those stages in the red, white and green colours of the national jersey.
The Giro d'Italia will be without the road champion, Filippo Simeoni, who handed over his jersey this week after his Ceramica Flaminia team was not invited to race.
"I understand his gesture, but the tricolore does not give you the right to participate. There is always going to be someone who is unhappy about not being selected.
"[Race director Angelo] Zomegnan showed that it is up to him who races on his roads and no one has a guarantee of racing. Flaminia does not race, but there are also four ProTour teams that do not race."
Flaminia lodged an official complaint with the International Cycling Union (UCI) last week, but the race organiser's decision seems to be final.
Pinotti is a three-time national time trial champion and represented his country last year at the World Championships in Varese, Italy. The national championships are held every year at the end of June or early July.
Armstrong comments on Astana's financial situation
Lance Armstrong (Astana)
Photo ©: Sirotti

While seven-time Tour de France champion Lance Armstrong readies himself for the first Giro d'Italia of his career, he spoke of a possible solution to the financial woes facing his Astana team.
"I don't have any concrete answers, but I suspect we can find some funding that would get us from June to the end of the year," Armstrong told the Associated Press. "It could be a combination of people that have a shared interest in Livestrong and want to see Livestrong promoted around the world and believe in what we're doing."
"Maybe the situation gets resolved, and the guys start getting their dough," continued Armstrong. "Otherwise, I think the license ought to be transferred to [team director] Johan [Bruyneel], and we try and start a team in the middle of the season."
Armstrong expressed his frustration with the Kazakh backers of Astana.
"I don't know them, I don't have a personal relationship with them, but I get frustrated," said Armstrong. "These Kazakhs, they don't return phone calls and there's not a lot of clarity about what is going to happen."
The International Cycling Union (UCI) has sent notice that it will withdraw the professional licence from the team if the matter is not quickly resolved.
"I'm only going to say we're aware of the situation and we are in contact with the team and [the Kazakhstan] federation," UCI president Pat McQuaid told the Associated Press. "We're going to wait to see how this develops."
Valverde to take legal action against CONI prosecutor
Alejandro Valverde (Caisse d'Epargne)
Photo ©: ISPA

Spanish champion Alejandro Valverde announced today that he intends to take legal action in Spanish courts against Ettore Torri, the Italian Olympic Committee (CONI) anti-doping prosecutor. Valverde accuses Torri of disobeying Spanish legal authorities and falsification of documents.
"Mr. Torri is acting, in a stubborn and repetitive way, with an absolute contempt of the Spanish legal authorities, refusing to obey the decision of the Court of Madrid, which prevents CONI from using the evidence of penal procedure against sportsmen," said Valverde in a statement.
In April, CONI requested a two-year sanction of Caisse d'Epargne's Valverde for an alleged violation of article 2.2 of the World Anti-Doping Agency (WADA) Code. It's based on testing done to ascertain whether blood found in the clinic of Dr Eufemiano Fuentes, which contains traces of EPO, matches that taken from the Spanish rider during the second rest day of last year's Tour de France.
CONI has set May 11 as the date for its anti-doping hearing involving Valverde. If the accusations against Valverde are upheld, the Spaniard could face a worldwide ban.
Sanremo a gauge for Giro sprints?
By Les Clarke
Will Cavendish find success in Italy again during the Giro?
Photo ©: Sirotti

While the usual hype surrounds the battle for overall honours at this year's Giro d'Italia, the results of the Milano-Sanremo classic may hold some clues as to who will win the sprint competition in the first Grand Tour of 2009.
Three of the top five in La Classicisima will be fighting it out for finish line honours at this year's Giro, the protagonists in an intriguing sideshow for the maroon jersey of best sprinter.
The absence of Robbie McEwen, Oscar Freire and Daniele Bennati opens up the possibilities for those looking to make their mark in the sprints, although the usual easy pickings of the opening week are much slimmer this year as the race enters the Dolomites in stage four.
Whoever comes out of these days the freshest should have the best chance of success when the road flattens later in the event. Let's take a brief look at who those riders could be.
Mark Cavendish (Columbia-Highroad)
Milano - Sanremo: First
Giro participation number: Two
With a newly found ability to get over challenging climbs, Cavendish must certainly start as favourite to take the crown of best sprinter. He has yet to prove that he can back up daily in the mountains over a three-week period, which may hinder his chances. Maybe we'll see him 'do a Robbie McEwen' and grab a couple of stage wins before exiting stage left to prepare for the Tour de France.
Allan Davis (Quick Step)
Milano - Sanremo: Fourth
Giro participation number: One
Making his Giro d'Italia debut, Allan Davis will undoubtedly shake the boat for the likes of Cavendish and Petacchi. His punchy style and proven ability to get over climbs will help him in the overall points classification, regardless of whether he gets a stage win. With a solid team behind him, the Australian's a good bet to make it to Rome in the maroon jersey.
Alessandro Petacchi (LPR Brakes-Farnese Vini)
Milano - Sanremo: Fifth
Giro participation number: Eight
One of the 'old guard', the 35-year-old from La Spezia has proven himself in the Giro's sprint classification in the past. He took an incredible nine stages and the maroon jersey in the 2004 edition, the Giro that stands above all others on his palmares. That's not to mention the five stages he picked up in both the 2003 and 2007 editions, all of which proves his pedigree in his national Grand Tour.
There are also several other big names who raced Sanremo and will be taking to the Giro start in Venice on May 9. New Zealander Julian Dean, Italy's Manuele Mori and South African Robert Hunter are perennial contenders, while Milram's Robert Förster should get himself in the mix and has a Giro stage win under his belt to prove it. American Tyler Farrar has recovered from his injuries suffered in Milano-Sanremo and confirmed his form by nearly winning the final stage of the recently concluded Tour de Romandie.
Team Milram and Acqua & Sapone-Caffè Mokambo name Giro rosters
Thomas Rohregger (Milram) will make his Giro debut
Photo ©: Emmanuel Isnard

Team Milram and Acqua & Sapone-Caffè Mokambo named their nine-men squads to compete in the centennial Giro d'Italia. The three-week stage race starts with a team time trial Saturday in Venice.
Team Milram: The German team will be led by Robert Förster and Markus Fothen, each seeking stage wins, and the climber Thomas Rohregger, the 2008 Tour of Austria winner and the squad's general classification hopeful. The remainder of the roster includes Germans Thomas Fothen, Martin Müller, Matthias Ruß, Ronny Scholz and Björn Schröder and Italian Luca Barla.
"I have made a lot of plans for the Giro and hope for a good placing in the overall ranking," said Rohregger, who will be making his debut at the Giro d'Italia. "I am totally healthy and felt strong at the Tour de Romandie. In addition, I will be especially motivated for the stages which go through my Tyrolian homeland. The Giro is my first Grand Tour and is certainly a highlight for every rider."
Acqua & Sapone-Caffè Mokambo: Stefano Garzelli, the 2000 Giro d'Italia champion, will lead the team with the support of Dario Andriotto, Massimo Codol, Alessandro Donati, Francesco Failli, Ruggero Marzoli, Andrea Masciarelli, Francesco Masciarelli and Giuseppe Palumbo.
"We have a very united team," said Bruno Cenghialta, directeur sportif. "We completed our choices after the last two races in Tuscany and we believe heavily in this squad. Garzelli is in shape and has a competitive team to support him. Francesco Masciarelli, making his Giro d'Italia debut, is very motivated . Since it is his first Giro experience there will not be any particular pressure placed on him."
Kelly Benefit Strategies partners with World Bicycle Relief
The Kelly Benefit Strategies professional cycling team announced that it has made a commitment to support World Bicycle Relief in its mission to provide bicycles to those in need. World Bicycle Relief supports healthcare, education and economic development programs in underdeveloped regions, creating better access to independence and livelihood through the power of bicycles.
The partnership will see KBS athletes promoting awareness of the organization's work throughout the 2009 race season and then traveling to Africa after the season ends to witness first-hand the power of bicycle relief.
"We're an international program from the races we attend to the causes we care about," says Jonas Carney, performance manager. "Ask any of the athletes on our team what a bicycle has meant to them and their lives and you'll get some pretty powerful answers. But that's nothing compared to what something as simple as a bike can do to improve the health care, education and economic growth in developing nations. It is remarkable to see what a big difference a bike can make."
(Additional editorial assistance from Susan Westemeyer)
(All rights reserved/Copyright Future Publishing (Overseas) Limited 2009)