Latest Cycling News, May 7, 2009
Edited by Hedwig Kröner
Astana ready to play
Johan Bruyneel hopes for a Giro victory - by Leipheimer
Photo ©: Sirotti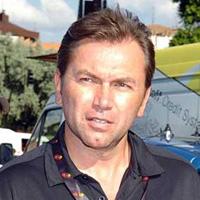 Astana manager Johan Bruyneel has confirmed what many observers have already supposed: At the upcoming Giro d'Italia, the Kazakh team will be racing for an overall victory for Levi Leipheimer. "Levi certainly appears to be the strongest rider in our team," said Bruyneel two days before the Italian Grand Tour start in Venice.
On Wednesday, Armstrong ruled himself out of winning the race. "[Ivan] Basso, [Danilo] Di Luca, [Stefano] Garzelli, [Denis] Menchov, [Carlos] Sastre and my teammate Leipheimer are ahead. The collarbone fracture slowed me down," he said.
Bruyneel was quick to point out that Astana would face stiff competition, especially from the Italian teams. "The strongest on our team doesn't mean an automatic win," he said. "There are a lot of other teams and riders who have made the Giro their number one goal. Look at Liquigas - I think Ivan [Basso] and some of his teammates have rode some stages two to three times. I read that they did the team time trial a few times. There's no doubt that it's going to be a hard and competitive race. We'll see how the race unfolds and when there are good opportunities, we'll play!"
Contador on track for Tour de France
Alberto Contador is back in training after a short break
Photo ©: Roberto Bettini

With Armstrong set back by his collarbone fracture the seven-time Tour winner's goal this summer is clearer than ever: another overall victory at the Tour de France. But Astana will have the luxury of at least two serious contenders for the Grand Tour in July, with 2007 winner Alberto Contador also aiming for the greatest honours on the Champs-Elysées. The Spaniard is back in training after a successful first part of the season.
Contador has been getting some rest since his triumph in the Vuelta al País Vasco in mid-April, but took up serious training again this week. "Since that win I've only done six days of very quiet training, and the in last seven days I've haven't touched the bike," said Contador.
"I'm coming back refreshed but I notice that my form has dipped, although this was precisely what I looked for, because I'd done a significant amount of work. Now I'm going to increase training bit-by-bit."
Contador will head for the mountains next week to train with his teammates and reconnaissance the Tour de France mountain stages. "I'm going to go scout out the Pyrenees stages because I like to memorize them. I like to see the terrain I'll be passing through in the key moments of the race," said Contador, who will also take a look at the Alpine mountain stages "later on".
The Spaniard will alternate periods of training at home with training camps until he returns to the peloton in the Dauphiné Libéré on June 7. As for the upcoming Italian Grand Tour, the 2008 Giro d'Italia winner thought that his teammate Leipheimer would be a good bet for the overall win.
"Clearly there are many favourites and lots of complicated days where you could lose a great deal of time, but if I had to choose two riders it would be Ivan Basso and Levi Leipheimer," said Contador. "There's also Armstrong, Sastre, Cunego, Di Luca and many more who'll be in the fight, but if I had to bet, it would be on Basso and Leipheimer," he said.
Sastre ready to fight
Carlos Sastre hopes to add a Giro podium finish to his palmarès
Photo ©: John Pierce

Carlos Sastre, 2008 Tour de France winner, will be taking to the start of the Giro d'Italia and aiming for another Grand Tour victory. The Cervélo Test Team leader is ready to assume his role as a team leader, as a spot on the Giro podium is still lacking on his long list of achievements.
"The Giro podium is the only one that I still lack from the three Grand Tours," said Sastre, who is the rider with the most top ten placings in stage races in the peloton at the moment. "Every time I raced it I had to work for other riders, and this year I can finally compete for myself."
Sastre will focus on the Giro before turning his attention to the defence of his Tour de France title in July. "When I have an objective coming up, I only think about this one. The Giro d'Italia is my first important objective of this season, and I will race in it to fight for everything I can."
The 2009 route appeals to the Spaniard. "In the first week we have two stages in the Dolomites, and although they aren't excessively hard, it's important not to lose any time there because you might pay for that later on. So you need to be at the start in really good shape. Maybe not at a 100 per cent, but close to that. "
Astana: No name change envisaged for now
By Shane Stokes
As indicated earlier, Lance Armstrong is considering the possibility that the Astana team may have to find alternative backing in order to complete the season. "It could be a combination of people that have a shared interest in Livestrong and want to see Livestrong promoted around the world and believe in what we're doing," he had told the Associated Press.
The team needs to secure $2 million in order to replenish the escrow account needed for its ProTour licence, following the non-payment of sponsorship money by several of its backers. It could otherwise lose the licence, as indicated by UCI President Pat McQuaid.
However, according to team spokesman Philippe Maertens, it is unlikely that such a change will occur in the short term. "For the moment, there is nothing new about the financial situation. We are waiting to hear from Kazakhstan. But I don't see why there would be a name change; the only problem is that there is a delay in payment. That cannot mean that the [current] team does not exist any more.
"Of course, if they don't pay, then that is something else. But for the moment they haven't indicated that to us."
Maertens said that as things stand, it is premature to talk about the necessity to form a new team. "I don't think that we have the right to change the name of the team [now]," he said. "After all, the ProTour licence is the property of the Kazahks, not of us." He added that he didn't expect any immediate news on the issue.
With the Giro d'Italia starting on Saturday, the Astana riders did some team time trialing drills around Venice this morning. "Everyone arrived yesterday evening," Maertens said. "The riders were training today, and then this afternoon it is the team presentation. Everything is fine."
Greipel to defend Dunkirk lead
Overall leader André Greipel hopes to retain his jersey
Photo ©: AFP
After two days of racing, Columbia-Highroad's Andre Greipel is leading in the Quatre Jours de Dunkerque stage race in France, his first event back after a four-month injury hiatus. Greipel dislocated his right shoulder in a crash during stage three of the Tour Down Under in January and had to put up with a lengthy period out of action. The German rider is aiming to defend the leader's jersey against the sprinters in the 2.HC race in Northern France.
Columbia-Highroad's sports director Brian Holm said the team will do everything possible to hold the lead on Thursday's 228-kilometre stage from Bleriot Plage to Betuhune. "If we can keep it for another day, that would be great. Friday's time trial stage could be more of a challenge," said Holm.
On Thursday, the squad could face pace-making duties on the flat roads in order to defend Greipel's lead. "There's every chance on Thursday that there will be a break full of Frenchmen early on, so we'll see who's in it, and then work ourselves into the ground if necessary," said Holm. "We'll try to keep our bases covered and make sure we react to whatever circumstances we have to face in the race."
Jalabert to become national coach
Laurent Jalabert
Photo ©: Bjorn Haake

Former professional cyclist Laurent Jalabert is to become the new French national coach for road racing, according to newspaper L'Equipe. The 40-year-old has been offered the job by the president of the French cycling federation FFC, David Lappartient, on Wednesday. While he has not yet accepted the offer officially, it is widely understood that he will sign a contract soon.
"What the FFC wants to entrust me with is very interesting," Jalabert said. "It's a beautiful challenge. I simply need to get organised."
First, the former all-rounder needs the agreement of his current employer, France Televisions. Jalabert has been the cycling consultant of the French public TV broadcaster since 2003, notably following the Tour de France on a motorbike to comment live from the race. "I will talk to the directors of France Televisions to find out if it would be compatible," he added.
If so, "Jaja" would fill in the space left vacant by Frédéric Moncassin after the 2008 Beijing Olympics. He is expected to make an official announcement in 10 days time.
Tour of Austria saved
The Tour of Austria was able to secure a host for its first stage and has secured it's safety this year. The race has had sponsorship problems in light of the doping cases involving Austrian cycling over the last few months.
The event will be a true tour of the country this year, running from the opening in the Vorarlberg region in the west to the Neusiedlersee on the eastern border with Hungary. "It was always my dream to ride completely across Austria," race director Ursula Riha said.
This year's Tour will open on July 5, with the first stage having its start and finish in Dornbirn and the second stage being the queen stage from Landeck to the Kitzbüheler Horn. The complete route will be presented on May 28 in Vienna. (SW)
Teams Type 1 and OUCH head to Joe Martin
The 32nd edition of the four-day, four-stage National Racing Calendar (NRC) race Joe Martin begins Thursday in Fayetteville, Arkansas, and teams Type 1 and OUCH have high expectations for the event.
Team Type 1, who is also sending a women's professional squad to the event, looking to defend its lead in two categories of the Women's Prestige Cycling Series, will be led in the men's race by Darren Lill and Shawn Milne. Lill just won the overall Vuelta de Bisbee 10 days ago and finished runner-up on the team classification at the USA CRITS Speed Week series recently.
"I have big expectations for Shawn (Milne)," said Team Type 1 men's sports director Vassili Davidenko. "Without question, he'll be a stage contender and I think we can win the team general classification, too. I think Fabio Calabria's form is growing too, and soon he'll be able to show it."
Joining Calabria, Lill and Milne on the men's roster are Moises Aldape, Chris Jones, Valeriy Kobzarenko, Ian MacGregor and Matt Wilson.
Team OUCH Presented by Maxxis will send a four-man crit squad to Arkansas to meet up with half the roster that just finished the Tour of the Gila in New Mexico. Karl Menzies, Andrew Pinfold, John Murphy and Bobby Lea produced consistent results during seven races of the Southeast criteriums last week.
"By the end of the week, those four guys were working really well together," team directeur sportif Mike Tamayo said. "Those boys are riding really well."
Of course, OUCH also brings returning champion Rory Sutherland, who comes off a solid Tour of the Gila performance that included a third place on the race's second stage. He is joined by stage race specialists Floyd Landis, Pat McCarty and team captain Tim Johnson.
Cam Evans, who was initially planned to participate in the Joe Martin stage race, was hurt in a crash on the final stage of tour of the Gila and thus replaced by Lea. Evans sustained facial lacerations and is currently back home in Vancouver recovering from his injuries.
A 2.5-mile (4.0 km) uphill time trial out of Devil's Den State Park in Fayetteville , Arkansas, opens Joe Martin on Thursday. Road races Friday have the men travelling 110 miles (177 km) and the women 64 miles (102 km). A second road race takes place Saturday - 92 miles (148 km) for men and 69 miles (111 km) for women - followed by 90-minute and hour-long criteriums, respectively, on Sunday.
Find a full preview and provisional start list of the race here.
Previous News Next News
(All rights reserved/Copyright Future Publishing (Overseas) Limited 2009)