Latest Cycling News, May 13, 2009
Edited by Greg Johnson and Laura Weislo
Stapleton: Lövkvist a future champion
By Jean-François Quénet in San Martino di Castrozza, Italy
Thomas Lövkvist (Team Columbia - Highroad) leads
Photo ©: Roberto Bettini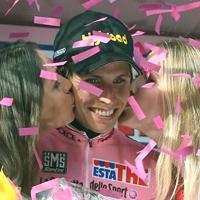 Thomas Lövkvist's overall Giro d'Italia lead is another representation that cycling's next generation has arrived, according to Columbia-Highroad owner Bob Stapleton. Lövkvist wears the maglia rosa heading into today's 125 kilometre stage to Alpe di Siusi.
"Tommy is kind of a future champion," said Stapleton. "He's exactly the type of guy cycling will be built around. He's extremely intelligent and focused. He's got a fantastic character. He doesn't tolerate weaknesses.
"He's one of the hardest at training, our main problem with him is even to slow him down," he added. "It's actually much better to hold a rider back than have to push him."
Stapleton acquired Lövkvist from Française des Jeux at the end of 2007. The Swede began his career with the French squad back in 2004, but this season has proven to be a watershed year for the rider.
"He was looking for something new and we were looking for a talent like him," said Stapleton. "I appreciated that Marc Madiot released him, because he was still under contract."
A clause in Lövkvist's contract with the French team gave him the option to leave the squad, on the condition another team offered him more money and Française des Jeux not be willing to match the offer.
"We didn't want to retain him against his will," said Madiot, even though he hoped to make Lövkvist the captain of Française des Jeux for the Tour de France. "I'm happy for him that he gets this pink jersey now. I've watched it on TV."
Coming up on
Cyclingnews will cover the 60th edition of the Dauphiné Libéré live as of stage 4 on Wednesday, June 10, at approximately 15:00 local Europe time (CEST)/ 23:00 Australian time (CDT)/ 9:00 (USA East).

WAP-enabled mobile devices: http://live.cyclingnews.com/wap/

Française des Jeux isn't taking part in this year's Giro due to a roster reduced to 24 riders.
Stapleton said he has a lot of respect for Madiot's views on cycling. Both teams are known for standing firm against doping.
"I wouldn't have joined a team with a bad reputation about drugs," said Lövkvist, who has also adopted a firm stance against the sport's doping problems. This alignment in views, in addition to Lövkvist's ability, is why Stapleton says Lövkvist is a person "cycling will be built around".
"Coming to our team gave him a new momentum," said Stapleton. "He'll continue to progress."
Rogers pleased for Giro-leading teammate
Cunego upsets rivals
By Jean-François Quénet in San Martino di Castrozza, Italy
Team Columbia - Highroad teammates
Photo ©: Roberto Bettini

While Lance Armstrong was under no illusions whether a maglia rosa would be waiting for him in San Martino di Castrozza he was certain who would be in the mix in stage four. "I'm not ready," he said but predicted that, "It will be either be Michael Rogers, Damiano Cunego or Danilo Di Luca."
He was almost right: had it not been for an incident involving Rogers and Cunego, Thomas Lövkvist would have been second behind his Australian Columbia-Highroad team-mate.
Rogers made no secret of his irritation with Cunego in the finale, however. He lost time over the closing metres of the stage when he was caught behind Cunego, who had unclipped whilst going for the win.
"Cunego should be careful," Rogers told Cyclingnews of the Italian's dangerous move that caused the incident. "I went straight into his back and I lost 15 metres. I'm a bit disappointed to lose a couple of seconds this way but that's cycling."
Rogers remained calm and maintained perspective on the incident. "I'm happy that the jersey goes to Thomas Lövkvist. It might be a good thing that I don't have it for now," he said. "It's a good day for the team anyway; we've raced in the front with no problem when it was hard but it's gonna be even harder tomorrow."
Giro stage 4 reactions
Jens Voigt (Team Saxo Bank) fought valiantly
Photo ©: Roberto Bettini

Jens Voigt (Saxo Bank):
"I failed, but I'm happy with my performance. I realized early on that it would be hard to win when I knew Di Luca's team was working for him. I realized that Danilo wanted the stage win but I thought that I should try." (AFP)
Chris Horner (Astana):
"Just before the last climb there was another crash next to me. I narrowly avoided going down and had to ride on the sidewalk for a short time to avoid the carnage. Luckily, for once, there was no one on the sidewalk at that moment! It seems that, just maybe, I have paid my dues to the crash gods, at least for now. ... The close calls are stealing some energy, but they don't seem to want any skin." (blog.oregonlive.com/horner)
Robbie Hunter (Barloworld):
"Interesting day, from almost stopping 'cause his wrist was sore to being caught 20 meters to go! Soler is a class natural climber!" (Twitter)
Bradley Wiggins (Garmin-Slipstream):
"I continued to see a progression in my climbing by staying with the leaders until 1k to go to the summit finish. Seemed a little strange as it was less than a month ago I was battling across the pavé with the likes of Boonen, Pozzato, Hushovd and company — whereas today it felt like and episode of 'Lord of the Rings' on a mission to the mountain of Sodor (sic)! (www.slipstreamsports.com)
Lars Michaelsen (Saxo Bank director):
"For Jens to take this mountain stage was obviously against all odds, but the elderly gentleman is set for any kind of task. He is always being positive and although he is aware that the best climbers in the world are chasing him he is still able to joke around until the moment he is caught. We don't have any riders for the overall standings which means we have several free cards to play, and we'll take advantage of that throughout the rest of the race." (www.team-saxobank.com)
Carlos Sastre (Cervélo TestTeam):
"The fourth stage of this year's Giro was a really hard and fast stage, bringing about the race's first natural selection. The race followed a steady pace, more in the style of the Tour de France than the Giro d'Italia. The passes weren't too steep and there weren't any excessively hard grades, meaning that a constant speed was maintained. In fact, the last pass in the last 13 kilometres (I think), was ridden at an average speed of 26 km/h...
"I didn't feel at my best today, but I didn't feel bad either. I was up there with the best riders throughout without any difficulties. Now we have to keep looking forward and focus on tomorrow's stage - I think the last climb should be harder and more decisive than today's."
Boonen case sent to UCI disciplinary commission
Belgian Tom Boonen will face a possible suspension by the International Cycling Union's disciplinary commission for using cocaine, the UCI announced. Boonen tested positive for the substance in an out-of-competition control by the Flemish authorities taken two weeks after his victory in Paris-Roubaix.
"The behaviour of Tom Boonen, even though it does not constitute a violation of the anti-doping rules, can be considered unacceptable and liable to harm the image, reputation or interests of cycling or the UCI," a statement from the sport's governing body read. "This infringement is punishable by a suspension of 1-6 months."
Spanish Olympic Committee defends Valverde
By Antonio J Salmeron
Alejandro Valverde (Caisse d'Epargne)
Photo ©: ISPA

Newly-elected Spanish Olympic Committee (COE) President Alejandro Blanco has denied any involvement in the suspension imposed upon Alejandro Valverde and insists the rider is innocent.
Blanco made the comments at an event organised by news agency Europapress, The Sports Breakfast, saying the two-year sanction is very damaging. "While [there is] no evidence to the contrary, we must always defend the athlete," he said.
"I am a very hard on the issue of doping, but it must be proved that the athlete has doped, and Alejandro was not involved in Operaciòn Puerto," added Blanco. "To me, Valverde is clean, and is an athlete like any other; I admire him for his achievements and how he has lived the sport."
Blanco stressed that the matter is "complicated" and that the COE has "little room to manoeuvre". "I don't understand how the Olympic committee of another country [can rule] on specific subjects such as this when we are engaged in a process like the one we have here in Spain," he said. "We've already spoken to the Italian Olympic Committee (CONI) in the relationship we have as great friends, and it's a complicated matter."
Blanco indicated that the COE does not know what may happen with Valverde's participation in this year's Tour de France, given that a stage runs through Italy.
"Our ability is to talk to other Olympic committees when there is a problem and try to prove that nothing has happened and how we can arrange things differently," said Blanco. "The problem is that this subject has become judicial and since it has left the realm of sports justice, we cannot do anything."
McEwen back in Picardie
Robbie McEwen (Team Katusha)
Photo ©: Tom De Meyer
Team Katusha's sprinter Robbie McEwen will return to competition at the Tour de Picardie which begins Friday in Chaumont-en-VexinRoisel. McEwen missed his chance to battle in the sprints at the Giro d'Italia due to a nagging injury sustained in a crash at the Scheldeprijs last month. The Australian found out after he had cancelled his trip to Italy that the problems stemmed from an infection in his wounds.
After a round of antibiotics, McEwen is reportedly feeling much better. He will be joined in France by fellow speedsters Gert Steegmans and Danilo Napolitano, and supported by Maxime Vatomme and Kenny Dehaes. Hungarian Laszlo Bodrogi will also make his comeback to racing with Katusha in Picardie.
Rohregger on a roll
Thomas Rohregger (Milram)
Photo ©: Emmanuel Isnard

Thomas Rohregger is one of the surprises of this year's Giro, having finished in the top 20 in all five stages so far. No surprise, perhaps, that the Milram climber did so well in yesterday's mountain stage, but he also finished high in the two previous sprint stages.
The Austrian has a secret weapon, which may explain his success – his mother's home-baked bread. The Milram rider swears by the bread for breakfast, so his mother back home in Austria stays busy baking and sending him fresh loaves every few days.
The bread seems to be working, as the Austrian is currently 15th overall in the Giro, and looking to improve even more as the race moves into the mountains. "Tommy" was able to stay with the leading group in Tuesday's finale, finishing 28th, 13 seconds down.
The 26-year-old is new to the German team this year, coming over from the Austrian Professional Continental Team Elk Haus. He started his season at the Tour Down Under and most recently finished 28th overall in the Tour de Romandie. The biggest success in his career so far is his overall victory in the 2008 Tour of Austria.
Rohregger is particularly looking forward to Wednesday's and Thursday's stages. Today's fifth stage "will be difficult, with some extremely steep portions, but a lot of my friends and acquaintances will make the trip to the South Tyrol," he noted on the team's website, team-milram.com. "I rode this stage last Wednesday. I like to think that I know every meter of this long climb."
And he is naturally looking forward to tomorrow's stage, not because of the 248 km to be ridden, but because it goes into his homeland. Rohregger can expect a lot of fan support as the stage goes into the finale in Mayrhofen, and leaves the next morning from Innsbruck, before heading back into Italy. (SW)
Smithfield adds women's race
The popular Smithfield Nocturne will now attract some of the UK's top female cyclists, thanks to the inclusion of a new women's race at the event on 6th June.
The event, which won a Visit London Sports Tourism Award in 2007, already catered for top male Tour de France riders and Olympians, as well as UK Elites. The addition of the women's race ensures that the Smithfield Nocturne is appealing to ride for all types of racing cyclist.
The Women's Criterium starts at 19:40 and is open to Senior and Junior E/1/2/3 category riders and the entry fee is a discounted amount of £20. Entries will close on Monday 25th May.
For full details of the Nocturne Series and to enter the races please go to www.smithfieldnocturne.com
Colorado protects cyclists' rights
Cyclists across the USA have experienced the wrath of impatient motorists. Being "buzzed" by drivers who purposely pass sometimes within inches of riders and having trash thrown at them make up many cyclists' post-ride tales. One state is taking action to help protect bicyclists from dangerous actions of drivers: Colorado. Governor Bill Ritter signed a bill protecting cyclists' rights to the road into law on Monday. The rule becomes effective August 5.
The new law requires drivers to give cyclists at least three feet of clearance when passing. Violators risk a $110 fine. Throwing an object at a rider could constitute a class 2 misdemeanor, which could net a more substantial $250-$1100 fine and a possible jail sentence of 3-12 months.
Republican Senator Greg Brophy and Democratic Representative Mike Merrifield, both cycling enthusiasts, supported the measure.
Additional editorial assistance by Susan Westemeyer.
(All rights reserved/Copyright Future Publishing (Overseas) Limited 2009)