Latest Cycling News, May 14, 2009
Edited by Hedwig Kröner
Horner delivers Leipheimer to Giro
By Gregor Brown in Siusi, Italy
Astana teammates Levi Leipheimer and Chris Horner mastered the final climb with the rest of the favourites
Photo ©: Roberto Bettini

Chris Horner delivered Astana teammate Levi Leipheimer to the top of Alpe di Siusi with a select lead group in the Giro d' Italia Wednesday. Horner considers compatriot Leipheimer to be well positioned for the time trial next Tuesday, where he could strike for the stage win and make up the 43 seconds that separate him from the leader's maglia rosa.
"I wanted to pick the pace up because those other guys were going for the sprint, and we don't have that acceleration. The idea was to keep it so fast that when they accelerated Levi could follow," Horner told Cyclingnews.
The Giro d'Italia, which ends after three weeks in Rome, closed its fifth day of racing with a 24.9-kilometre climb up Alpe di Siusi. Horner stuck by Leipheimer's side when teammate Lance Armstrong slipped off the pace in the last kilometres, with Armstrong protected by José Luis Rubiera, Janez Brajkovic and Daniel Navarro.
Horner protected Leipheimer from the accelerations of Liquigas' Ivan Basso and the final attacks from Carlos Sastre (Cervélo TestTeam), Danilo Di Luca (LPR Brakes-Farnese Vini) and eventual stage winner Denis Menchov (Rabobank).
Coming up on
Cyclingnews will cover the 60th edition of the Dauphiné Libéré live as of stage 4 on Wednesday, June 10, at approximately 15:00 local Europe time (CEST)/ 23:00 Australian time (CDT)/ 9:00 (USA East).

WAP-enabled mobile devices: http://live.cyclingnews.com/wap/

"Basso definitely has good form and he was putting in hard accelerations. Fortunately, he couldn't keep it up, so we'd do 500 watts and then slow it back down. He did it six or seven times, but could not sustain it."

According to Horner, Armstrong should be able to sustain the pace later in the race and in July's Tour de France. "He looks fantastic and he's coming into good form considering his future objectives. He has to stay steady, smooth and not kill himself. He has to keep an eye out for the Tour."

The Giro d'Italia continues Thursday with a 248-kilometre ride into Austria. The overall classification should stay the same with the last climb coming at 44 kilometres remaining.

Discuss the Giro d'Italia action in our forum.
Lampre below expectations
Damiano Cunego got dropped from the group of favourites on the final climb
Photo ©: Sirotti
Wednesday's second Dolomites mountain stage of this year's Giro proved to be a hard one; not only for the event's star rider Lance Armstrong - who lost nearly three minutes - but also for Italian team Lampre and its leaders, Damiano Cunego and Marzio Bruseghin.
'Il piccolo principe' Cunego, who had started this Giro hoping for the overall victory, finished on top of the Alpe di Siusi in 32nd position, losing 2.39 minutes. "I paid for the race's fast pace on the last climb," said the 2004 Giro victor. "After trying to follow in the early kilometres of the climb, and with 5.500 metres remaining I realized I was at my limit and therefore chose to ride at my own steady pace. Unfortunately, they rode at a high speed which is why I lost significant time."
After five stages Cunego sits in 21nd position on general classification, 3.29 minutes down on the race leader Danilo Di Luca. "I know that things seem complicated in view of the general classification, but I accept the situation and will give everything in the next few stages."
Bruseghin also fell back on the final ascent. "The stage was too short for a rider with my characteristics. I need a few more kilometres as well as another climb to get me going. I'm sorry that Damiano was in difficulty, too."
Bruseghin, who is rated as Cunego's super domestique in this Giro, is now 19th on general classification, 3.16 minutes back.
Spanish federation wants proof in Valverde case
The Spanish cycling federation (RFEC) wants the Italian Olympic Committee (CONI) to send the documents linking Alejandro Valverde to Operación Puerto back to Spain, saying that the case ultimately needs to be treated under Spanish law and by Spanish institutions.
RFEC president Carlos Castaño said that he respected CONI's two-year ban of the rider on Italian territory, but that disciplinary action should be taken in Spain and not in Italy.
"We have to be respectful of [CONI's] decision, but we need to claim the evidence from the UCI, which is the instance that should decide whether or not there is proof against [Valverde]. They should send this proof to the RFEC for its disciplinary commission before making a verdict," Castaño said.
The federation president has requested an urgent meeting with the UCI "to apply a sanction to an athlete who depends on our jurisdiction and competence." (With Antonio J. Salmerón)
All star cast for Tour de l'Aude silver anniversary
The Ljungskog victory salute.
Photo ©: CJ Farquharson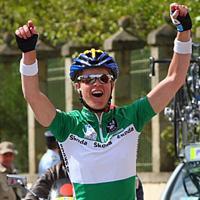 One of the oldest women's stage races in Europe celebrates its 25th anniversary this week. The Tour de l'Aude may be one year younger than its counterpart, the Grande Boucle Féminine Internationale, but while the latter has shrunk over the years due to problems with sponsorship, the Tour de l'Aude has expanded in length and stature.
The race was begun in 1985 by Jean Thomas, who took his expertise at promoting men's races and laid a solid foundation for what would become one of the top women's tours. It grew over the years from a four-day race to the current ten-day length, and the stages now take place across the département.
Situated between the Mediterranean sea and the Pyrenees, the region is well suited for a variety of stages and regularly attracts the top talent of the international women's peloton.
Swede Susanne Ljungskog won the past two editions, and returns with her Flexpoint team to defend her title. Amber Neben, winner of the previous two years, was Ljungskog's teammate, but is now on Equipe Nürnberger Versicherung. This could well set up an exciting head-to-head battle between Neben, the current time trial world champion and the two-time world road champion, Ljungskog.
Read the full preview.
No Tour de France for Boonen, but maybe national champs?
Boonen is currently suspended by his Quick Step team - but could come back to racing in national colours
Photo ©: Roberto Bettini

Belgian sprinter Tom Boonen, currently suspended by his Quick Step team because of cocaine abuse, will miss Tour de France this year, even if his rehabilitation plan bears fruit before July.
Tour de France boss Christian Prudhomme excluded any possibility that the rider will be at the start line in Monaco in seven weeks time. "Of course, it is impossible that [Boonen] should be at the start of the Tour," Prudhomme told L'Equipe this week. "For Boonen - and this has been said by his team, too - the most important thing right now is to receive treatment and put his personal future before his sports career."
Prudhomme has notified Quick Step team manager Patrick Lefevere of his decision, which excludes the former green jersey winner from the French Grand Tour the second year in a row.
Meanwhile, the Belgian cycling federation has expressed support for Boonen, ruling out any more disciplinary action against the Belgian star rider. Moreover, the federation does not see any reason to prevent Boonen from riding the Belgian championships in June or the Worlds in Mendrisio, Switzerland, later this year.
"The Belgian federation could have called Boonen to justify himself, but we are satisfied with the measures taken by his Quick Step team," federation director Tom Van Damme told Belgian press. "We won't exclude him from the national championships, either. Tom was never found positive during competition, so there is no reason why we should prevent him from racing the Belgian championships."
Boonen could thus make a comeback to racing wearing the national jersey of Belgium, even if his trade team still has him suspended. "At the moment, I don't see why he shouldn't start at the Worlds, either," continued Van Damme. "But we have to wait for the UCI's stance on this. It's still early, the Worlds are in September. We still have enough time to decide on this."
Freiburg report details cycling's dark side
Blood doping boosts available oxygen
Photo ©: AFP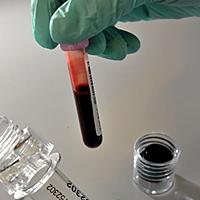 The findings of an independent commission have broken new ground on systemic doping on one of the sport's most successful teams. It has been revealed that two doctors from the Freiburg University Clinic ran an organised doping programme for the enormously successful German Telekom/T-mobile squad from 1995 to 2006. Cyclingnews' Susan Westemeyer reports.
A 63-page report issued by the commission this week lays out in detail the role played by Dr. Andreas Schmid and Dr. Lothar Heinrich in doping practices over the course of 10 years, which riders were involved, plus the doping products and methods used.
The issue returned to prominence last fall, when Patrik Sinkewitz said that he - and possibly others - had driven to Freiburg for illegal blood transfusions during the 2006 Tour de France, only days after team captain Jan Ullrich had been suspended for his connection to Operación Puerto.
The report found that doping within the team essentially began when the team was formed and continued relatively unabated through to 2006.
The Beginning
According to the report, doping at Team Telekom began in 1992 when the team hired soigneur Jef d'Hont, "known for his magic drink", a combination of drugs mixed in cola. Schmid, who began working for the team in 1988, manipulated the ingredients of this 'elixir' in conjunction with d'Hont.
Continue to the full News feature.
Kopp's B-sample also positive for cocaine
David Kopp's B-sample has also come back positive for cocaine. The German continues to insist that he did not use the illegal drug.
Kopp, 30, tested positive after a criterium race last September, but it was only announced the end of April. At the time he said he would not have the B-sample tested, but later changed his mind. "It's not that I doubted the lab, but sometimes the samples can be wrong," he said in an interview with radsport-news.com.
The former Gerolsteiner rider attended the opening of the B-sample and asked if there was any way of telling from the sample how the product could have come into his body, but the lab's staff said that this was not possible.
Kopp, who retired at the end of last season and is currently unemployed, said he faces a suspension from the German cycling federation, but hopes it will be a short one, even if he is no longer riding. Kopp's last team was Belgian outfit Cycle Collstrop. (SW)
Harkowska: On the way to pro after terrible accident
By Bjorn Haake
Harkowska put the accident behind her
Photo ©: Anna Harkowska

Triathlete Anna Harkowska of Poland wants to become a professional cyclist, which in itself is nothing unusual. But the 29-year-old had a terrible accident eight years ago, which makes her eligible for the Paralympics. But Harkowska dreams of doing both, the Paralympics and the Olympic Games in 2012.
Just when she decided to switch from triathlon to cycling eight years ago, she was struck by a car. It happened after a workout in 2001, when she was waiting at a bus stop in Stettin, Poland. "Through the impact my left foot was completely torn off. I was in a tremendous amount of pain," Harkowska said. A quick-witted person put the foot in ice and the doctors were able to suture the foot back on.
She became a regular in hospitals and to date had eight operations. Harkowska's ankle is made of carbon and her cnemis of titanium, but that doesn't prevent her from pushing 300 watts. Oliver Elsenbach of komsport even thinks he can get her to 380 watts with specific training.
She finished third in the Polish road championships in 2007 and fourth in the time trial last year. Harkowska currently rides for the Velo-Club Avanti Berlin, but hopes to join a professional team soon to bring her career to a higher level.
Former professional Guido Eickelbeck of Life Style Cycling was impressed when Harkowska joined him on rides on the island of Mallorca. "She is always in a good mood and always rides off the front. I want to do my share so that next year she can start in a professional team and I also want to look for sponsors," he said.
Harkowska raced internationally in 2008, in races like the Tour International Ardèche in 2008. In the final stage she finished in the top 20, in a group including Joanne Kiesanowski, Kori Seehafer and Carla Ryan.
As she is still in search of a team, she currently gets individual support by several companies, including SRM, Kuota and Lightwheels. Her dream are the Olympics in London in 2012, but also the Paralympics. "I would like to do all cycling disciplines," she said.
Win a signed special edition Columbia jersey
Enter Cyclingnews' contest to win a unique piece of cycling memorabilia - a special edition Columbia jersey designed for the Giro d'Italia, signed by all nine team members from the squad's 2009 Giro d'Italia line-up. To be in with a chance of winning all you have to do is pick today's top three finishers from stage six of the Giro in the correct order.
To enter the competition you need to register on the Cyclingnews Forum - it only takes a couple of minutes - and then post your top three prediction here. Entries will close when the first rider hits the 20-kilometre to go banner. Easy!
The jersey has been signed by the following riders:
Michael Barry (Can)
Edvald Boasson Hagen (Nor)
Mark Cavendish (GBr)
Thomas Lövkvist (Swe)
Marco Pinotti (Ita)
Morris Possoni (Ita)
Mark Renshaw (Aus)
Michael Rogers (Aus)
Kanstantsin Siutsou (Blr)

Good luck!
(All rights reserved/Copyright Future Publishing (Overseas) Limited 2009)