Latest Cycling News, March 26, 2009
Edited by Hedwig Kröner
Brabantse Pijl: Quick Step the team to beat
By Bjorn Haake
Allan Davis is the main favourite
Photo ©: Mark Gunter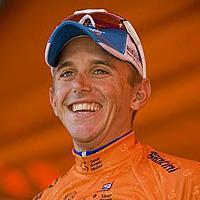 The 49th edition of the Brabantse Pijl ("arrow of Brabant") will be run in Belgium on Sunday, March 29, 2009 over 193.3 kilometres. With 15 little climbs and an uphill finish it is not a race made for pure sprinters.
However, the event can suit a strong rider who knows how to handle a sprint, like Oscar Freire proved from 2005 to 2007, when he won this race three times in a row. The Spaniard won't be at the start this year, handing the role of favourite to Quick Step's Allan Davis.
Coming up on
Cyclingnews will cover the 60th edition of the Dauphiné Libéré live as of stage 4 on Wednesday, June 10, at approximately 15:00 local Europe time (CEST)/ 23:00 Australian time (CDT)/ 9:00 (USA East).

WAP-enabled mobile devices: http://live.cyclingnews.com/wap/
Davis can handle an uphill sprint well and his fourth place in Milano-Sanremo showed that he is in great form. Considering the Brabantse Pijl is a good hundred kilometres shorter than the Italian Classic, the Australian should have fairly fresh legs to make the cut in the last laps.
Quick Step also showed in Dwars door Vlaanderen that the team is going strong, placing four riders in the initial break of eleven and then three riders in the decisive five-man move. It is no accident that both Davis and Quick Step lead the world rankings in their respective categories. Last year's winner Sylvain Chavanel, also a member of Patrick Lefevere's team this season, will however not defend his title.
Gerald Ciolek (r) has to sit out but Milram still has Fabian Wegmann
Photo ©: Roberto Bettini

Quick Step's Belgian rival team Silence-Lotto is still looking for a win in 2009. The squad decided to line up with Thomas Dekker and Philippe Gilbert as leaders, two riders who are also able to get away in the tricky finale and decide the race in a small group sprint or in a solo attack.
Both teams will have to have a watchful eye on Milram's Fabian Wegmann, but not on Gerald Ciolek, who is sick and won't be able to race. Wegmann is a puncheur who can get away on the little, steep climbs.
Read the full preview also featuring an outline of the race route.
Haussler looking forward to Ronde
Heinrich Haussler (Cervélo TestTeam) is one of the revelations this spring
Photo ©: Tim Van Wichelen

Heinrich Haussler of the Cervélo TestTeam was one of the strongest riders in Wednesday's Dwars door Vlaanderen, but finished only fourth, done in by three Quick Step Belgians and their countryman Niko Eeckhout of the An Post-Sean Kelly Team. However, the young Australian-German wasn't upset, having had three wins already this season. "It wasn't terrible. This was just a test for the Ronde van Vlaanderen," he said.
Haussler was part of a five-man attack group which formed with 30 km to go – the lone German together with Quick Step's Tom Boonen, Stijn Devolder and eventual winner Kevin van Impe, along with Eeckhout. The 24-year-old tried several attacks, but the Belgians tracked him down ruthlessly.
"What else could I do?" Haussler asked on Sportwereld.be. "The three Quick Step riders were too much for me. This was a good test for the Ronde van Vlaanderen. I really believe that I can win that Classic."
Ironically, the German rider had tried to become a teammate of his three Quick Step rivals at the end of last year. Quick Step manager Patrick Lefevere disclosed after the race that Haussler had been offered to him for this season. "But I turned him down," the Belgian said. "At that time he was still a sprinter. I didn't need that, with Boonen and Weylandt on the team."
Lefevere noted however, that Haussler had developed drastically this season. "He is no longer the same rider," he said.
The Cervélo rider's strong performance came only days after his dramatic second place in Milano-Sanremo, where he was beaten by in a photo-finish by Columbia-Highroad's Mark Cavendish.
Haussler, who has citizenship in both countries, moved from Australia to German at the age of 15 to pursue a cycling career. He turned pro with Team Gerolsteiner in 2005, where his biggest win was a stage in the 2005 Vuelta a España. This season, he is racing with the new Professional Continental Cervélo TestTeam after Gerolsteiner folded last fall.
The finish of this race was awesome – can it hold up to the others mentioned in our forum thread "Great finishes"? (SW)
American takes U23 GP Waregem
Espoir rider Cole House is the first American to have won the GP Waregem, one of the more prestigious Belgian races for the espoirs category. House, a member of the U23 BMC Racing Team and racing under the auspices of the United States National Developmental Team, won the event by out-sprinting the reduced group of rivals who succeeded in making it to the finish line together.
Supported by his teammate Austin Carroll until the very final circuits, House was on his own in the end. "I certainly didn't have many friends in that lead group!" House joked. "I just tried not to do more work than I had to, and watched out for the teams that had three or four guys still in the front group."
With only four USA Development Team members racing the event in cold and wet conditions, the squad had to have to use its wits as much as its legs to keep competitive. "The racing level was so high at this event, and some teams like the U23 Quick Step had ten to 12 riders to work with," USA National Developmental Team Coach Noel Dejonckheere said. "With so few teammates racing today, our guys had to be alert and know how to profit from the work of the bigger teams."
"With around 20 km to go, a group of five guys managed to break away, and at that point I figured the race was probably over," added House. "But luckily on the final lap just after the cobbled section everything came together again."
With just eight kilometres remaining and two small climbs to negotiate, the lead group was reduced to just 13 riders. "I wasn't certain how Cole was going to handle the last several kilometres since the weather was so cold by that time that I knew the race was going to get very hard for him," Dejonckheere explained. "But Cole played it cool in the end and was able to take the race with a fantastic sprint."
"When we got to the corner one kilometre from the finish, that's when I thought 'shoot, I can actually win this!'" House said. "People were still attacking, but I just put my head down with about 300 metres to go; I thought I was going to get caught but when I looked back between my legs, I had won by three or four bike lengths!" Of the 220 participants at the start of the race, only 38 riders remained at the finish.
House the next American Classics contender?
"This is really a huge result for our team since it shows what level of rider we have in development," BMC Directeur Sportif John Lelangue said. "House's victory is a big satisfaction and it confirms all the confidence we had in him and his abilities."
Dejonckheere agreed with this assessment. "Being only 20 years old, Cole still has a lot to learn of course, but if he keeps developing as he should, I have no doubt that he has the talent to win Paris-Roubaix and the Tour of Flanders in six or seven years." Moreover, the rider finished well in similarly difficult Belgian races in the past, most notably placing seventh in the 2008 U23 version of the Tour of Flanders.
Tyler Farrar, now racing for Team Garmin-Slipstream, previously was the best placed American at the GP Waregem, having finished second four years ago. "Looking at what Tyler is doing now, it's a pretty good indicator for Cole's potential," Dejonckheere said.
Recent racing has also pointed to the promising development of several of BMC's youngest racers. "I am very happy with the way Ian McKissick has been fighting to improve on the cobbles, even though it might not be his particular area of specialisation," Lelangue added. "And what we have seen from Chad Beyer and Brent Bookwalter all year is also very encouraging; these three riders along with Cole House will definitely do some very good things not only in the next years, but in the next weeks."
See the full results of the race.
French team sprint back on top
The French track sprint team of Grégory Baugé, Kevin Sireau and Mickaël Bourgain defended their title as World Champions in Polish Pruszkow yesterday. Notably competing against the UK squad – which snatched the Olympic honours from the French in Beijing last year – the trio dominated the riders from the United Kingdom for the fourth time in a row at a World Championship.
"We didn't want to let this title go easily!" said Baugé. "I wasn't the only one thinking like this – the others, too, were motivated."
Sireau felt the same. "I felt more emotions than last year," he said. "It reminded me of the Games, of the confrontations with the British throughout last year. It was essential to win."
In the qualifying round, the team scored the fastest time with the help of Michaël d'Almeida, who was replaced by Mickaël Bourgain for the finale. "The roles were reversed this time," explained Bourgain, who had been replaced twice last year at the Worlds and the Olympics. "I was the reserve rider and wondered if I wasn't going to go back to the hotel... I can imagine how Michael felt. On the podium, there can be only three. But you shouldn't forget that it was him who qualified the team for the finale. We raced with four riders!"
This World Championship title is the ninth gold medal for the French team sprint since 1997. The British team of Matt Crampton, Jason Kenny and Jamie Staff was however without Chris Hoy. If you think this worked for the French, discuss it in our track forum.
Milram riders in crash
By Susan Westemeyer
A crash in the last few hundred metres of Wednesday's Dwars door Vlaanderen brought down a number of riders, including Peter Wrolich and Marcus Eichler of Team Milram.
Wrolich was the most seriously injured, coming out of it with a swollen shoulder. He is going to hospital today for further examinations, a team spokesman said.
Eichler was luckier. "The crash was directly in front of me. I couldn't avoid it and raced into the group at 60 km/h, without a chance to get around," he told Cyclingnews. "Fortunately, I wasn't injured, and just have a few scrapes, so that I can start Saturday in the E3 Prijs. A major injury before the April Classics would be devastating."
Kelly Benefit Strategies for Redlands
Jonas Carney's 2009 Kelly Benefit Strategies squad has announced its line-up for the Redlands Classic this weekend. The "A-list" roster includes former Redlands overall winner Andrew Bajadali, KOM jersey winner and new addition Jake Erker as well as 2007 rainmaker Alex Candelario, pivotal in Bajadali's win two years ago. "We're beginning our season well-rested but ready," said Carney. "There are a lot of teams out there with a ton of racing in their legs already but we're just getting started. The Redlands roster is one of the strongest we've ever fielded, Bajadali and Candelario know this race inside out and all the rest of our guys are ready to go."
The Redlands roster also includes new additions Ryan Anderson and Neil Shirley. Anderson, who moved to the team from Symmetrics, took first in the Kelowna Stage Race Criterium and third in both the Elktown Classic Road Race and the Yaletown Grand Prix last season. Shirley came to KBS from Jittery Joe's and took the most aggressive rider jersey for stage six and second overall KOM in the Tour de Georgia last season. They join KBS all rounder's Reid Mumford, Jake Keough and Dan Bowman.
"Redlands has some very challenging courses and some steep competition – it's a great way to start our season," added Carney. "We'll be working hard to ensure our riders gel as a team for what is shaping up to be a busy season – with two internationals in Uruguay and Thailand next month."
New US track team announced
The Black Dog Sports Professional Cycling Team unveiled its new UCI Track Trade Team in Los Gatos, California, earlier this week. The squad, consisting of Kacey Manderfield, Ryan Luttrell and Ryan Sabga, is scheduled to compete in a variety of track events across the country as part of its build up to the US National Track Championships in October and the subsequent World Cup races.
Kacey Manderfield, also a member of the Lip Smackers women's cycling team on the road, will focus on the points and scratch race. Ryan Luttrell and Ryan Sabga will pair up for the madison and compete in the points and scratch races as well as the pursuit. The pair started competing in the madison together last season, when Sabga returned to the sport after a five-year hiatus after suffering a shattered pelvis.
The pair is excited to build upon their successful 2008 season, which saw them win several contests including the Colorado championship. "We are all very excited to have this opportunity," said Luttrell, a former member of the Spike Shooter/Cody Racing Professional Team and the TIAA-CREF/5280 squads. "Racing at this level is always fun and with the team and organization that's been assembled, we look forward to having a very successful season." All three riders come to the team with prior World Cup experience.
In addition to their full road schedules, the riders will compete in several national track events, including the San Jose and Portland legs of the American Velodrome Challenge and Trexlertown's Madison Cup, as they prepare for the national championships and World Cup events.
Kopp positive for cocaine
Former Gerolsteiner and Cycle Collstrop rider David Kopp tested positive for cocaine last September in Belgium, the Bund Deutscher Radfahrer (BDR, German cycling federation) announced Thursday. Kopp declined to have the B-sample opened.
According to the BDR, Kopp tested positive on September 11 at a Belgian national race. The Belgian federation cannot sanction riders who do not have a Belgian license, and only one month ago sent the case to the UCI and the World Anti-Doping Agency. The UCI said that it would send the BDR the documents of the case by this weekend, according to the BDR's website.
Kopp, 30, turned pro with Team Telekom in 2001. He rode for Team Lamonta in 2004 and Wiesenhof in 2005, before joining Gerolsteiner in 2006 and 2007. Last year he was with the Belgian Continental Team Cycle Collstrop. Kopp did not have a contract for this season.
The use of cocaine during competition is illegal under sporting regulations, but not out of competition. Quick Step's Tom Boonen tested positive for cocaine last spring, but since it was an out-of-competition test, he was not officially sanctioned.
For a change, no rumour, with Kopp's positive surfacing several months after the race. The discussion keeps going on. (SW)
Work for the world's leading cycling website
Cyclingnews, the world's leading cycling website, is recruiting writers based in the UK.
Applicants are required to have a keen interest and thorough knowledge of competitive cycling, as well as editorial or writing experience with excellent English skills. Writers should be competent in producing and subbing reports, news, results and features from the world of cycling, so fluency in a second language is also an advantage, as is experience in journalism, attention to detail and flexibility in hours.
Applicants may also be required to attend major cycling events. Training in online production techniques can be provided.
Please send your CV with a covering letter and examples of your work, via e-mail to daniel.benson@futurenet.com with "Cyclingnews online writer -" in the subject line. Applications close this Friday, March 27.
(All rights reserved/Copyright Future Publishing (Overseas) Limited 2009)