Cyclingnews 2006 Reader Poll Results
Best product
SRAM's DoubleTap shifter internals are remarkably elegant in design
Photo ©: James Huang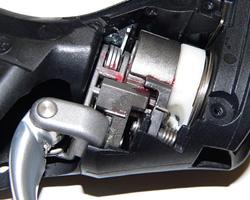 After only a single season on the market, SRAM's pioneering DoubleTap road shifter has managed to capture the Best Product award in our 2006 Cyclingnews Reader Poll, and in convincing fashion with nearly a full third of the total count. The victory should, perhaps, come as no surprise, though, given that the new shifter garnered a close second last year before it was even introduced.
Whether it was due to the mechanism's intuitive operation, or simply by virtue of the fact that there is now a third viable option on the road, SRAM has clearly made a successful debut on the road amid daunting expectations, and we're eager to see how things continue to develop in the future.
Campagnolo netted a solid second place with its long-anticipated successor to its proven square-taper crankset design. In some ways, Campy may have been wise in waiting so long to develop its own external-bearing integrated design as it had the luxury of knowing what has worked well to date, and what hasn't. So far, the new Ultra Torque system appears to work well, runs impressively smoothly, and still manages to remain largely true to the Campy aesthetic.
Cervélo's newly crowned big brother of last year's winner rounds out the top three, which combined hoarded more than half of your votes. The new SLC-SL shaves a whopping 200g off of the already impressive Soloist Carbon, yet retains all of its aerodynamic advantages and even manages to be stiffer both at the bottom bracket and in torsion. Were the changes necessary? No, but then again, it's never about need, now is it?
Results

                                                        Votes     %ge
1 SRAM DoubleTap road shifters                           3385    32.3
2 Campagnolo Ultra-Torque crankset                       1423    13.6
3 Cervelo SLC-SL road frame                              1091    10.4
4 Specialized S-Works Roubaix SL road frame               537     5.1
5 Look 595 road frame                                     450     4.3
6 Colnago Extreme Power road frame                        395     3.8
7 Shimano M970 XTR group                                  384     3.7
8 Cannondale SystemSix road frame                         382     3.6
9 Hutchinson Road Tubeless tires                          355     3.4
10 FSA MegaExo Ceramic bottom bracket                     354     3.4
11 Photochromic eyewear                                   352     3.4
12 Velocomp iBike Pro power meter                         289     2.8
13 FSA K-Force Lite compact road crankset                 281     2.7
14 Scott Addict road frame                                194     1.8
15 Rotor Q-Rings                                          180     1.7
16 Avid Juicy Ultimate disc brakes                        153     1.5
17 Giant Anthem Advanced mountain bike                    129     1.2
18 Scott Spark mountain bike frame                         62     0.6
19 Reynolds Topo C carbon fiber mountain bike wheels       56     0.5
20 Felt Virtue mountain bike                               39     0.4


                                              Total:    10492