Cyclingnews 2006 Reader Poll Results
Best Male MTB Racer
Julien Absalon
Photo ©: Mikkeli Godfree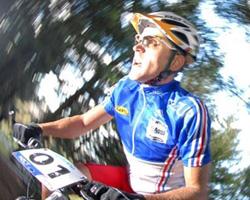 Cross country racers dominated the race for male mountain biker of the year. Although in a different order, the top five in the UCI world cup also filled the top five spots in the Cyclingnews' poll.
French rider Julian Absalon regained his number one spot from 2004 after dropping to second in 2005. He won his third consecutive world cross country title in 2006 in Rotorua, New Zealand. Add to that three world cup victories in Madrid, Spa Francorchamps, and Fort Williams and an overall world cup title, and Absalon was the man to beat on the international cross country circuit.
Coming in a close second in our poll is the ever-popular Bart Brentjens. The Dutch rider won the world cup opener in Curacao and rode consistently enough throughout the season to earn a fourth place overall in the UCI world cross country cup. He also crossed over for a seventh-place finish at the world marathon championships.
A bit further back, Christoph Sauser (France) and Florian Vogel (Swizterland) took a close third and fourth in our poll. In 2006, if Absalon was not winning, Sauser typically was. Sauser scored two world cup victories and a second at the world championships and in the overall world cup. Vogel steadily improved throughout 2006, with several top ten finishes in the world cup and a fifth place overall.
Jose Antonio Hermida Ramos of Spain rounded out fifth place in the poll. He was regularly seen at the front of the field and earned a third place overall in the world cup.
Results

                               Votes     %ge
1 Julian Absalon                2879    30.9
2 Bart Brentjens                2614    28.0
3 Christoph Sauser              1387    14.9
4 Florian Vogel                 1055    11.3
5 Jose Antonio Hermida Ramos     691     7.4
6 Fredrik Kessiakoff             459     4.9
7 Roel Paulissen                 241     2.6


                     Total:     9326