Cyclingnews 2006 Reader Poll Results
Best Moment of 2006
On the final podium
Photo ©: Sirotti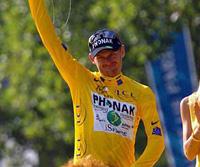 Even an emotion-charged victory by Paolo Bettini in memory of his late brother at the Giro di Lombardia wasn't enough to claim top honours in the Best Moment category of the 2006 Cyclingnews Reader Poll awards. Instead a massive 38 per-cent of you voted in favour of an issue that rocked the sport's foundations, and continues to dominate cycling-related headlines around the world.
That issue, of course, is Floyd Landis' breathtaking comeback to claim victory on Stage 17 of the Tour de France after an equally spectacular collapse which lost the American the Yellow Jersey on the previous day's stage. The amazing comeback from Landis was destined to be a history writer - but little did we know at the time just how much of an impact would it have.
Cyclingnews scribes reported on an epic comeback, describing it as a ride that "defied logic". That glorious comeback on Thursday, July 20, would lose its luster less than a week after Landis crossed the stage's finish line, as journalists in Europe put the news that the UCI had received one positive A Sample from the Tour together with that of Landis' failure to show at lucrative appearances throughout Europe.
On Thursday, July 27, Phonak, the team which had won the world's most famous race, with America's new cycling hero less than one week beforehand, confirmed what reporters across the world had feared - the positive sample was indeed that of its star rider, Floyd Landis.
While even UCI president Pat McQuaid called for Landis to be treated as innocent until the finding of his B sample were known, the timing couldn't have been worse for a sport already dogged by the doping allegations of the Spanish authority's Operación Puerto investigation.
In the months that follow, Lanids' B sample returned positive, both the Velta a Espana and the TdF have lost sponsorship deals, Phonak has ceased operations, Landis' father-in-law has committed suicide, the Châtenay-Malabry lab, which tested both samples, has admitted to discrepancies in the coding of samples and the Landis case has since been handed over to the United States Anti-Doping Association. What hasn't happened is a rider officially appointed as the victor in 2006's great race.
For now, Landis will have to settle with taking top honours in our Best Moment of 2006 reader poll.
Meanwhile, Bettini's Giro di Lombardia victory claimed second place with 18.4% of the vote, while Cancellara rounds out the top three with his solo Paris-Roubaix victory.
Results

                                                                       Votes     %ge
1 Landis' magnificent TdF Stage 17 victory & resulting controversy      4183    38.0
2 Paolo Bettini claims Giro di Lombardia in brother's memory            2024    18.4
3 Fabian Cancellara's solo Paris-Roubaix win                            1564    14.2
4 Ivan Basso's dominance in the Giro d'Italia                            654     5.9
5 George Hincapie breaking his bike in Paris-Roubaix                     525     4.8
6 TdF organisers removing major stars from the race                      486     4.4
7 Paris-Roubaix train incident                                           442     4.0
8 Erik Zabel's Vuelta a España Stage 4 win                               429     3.9
9 Alejandro Valverde's Liège-Bastogne-Liège win                          347     3.2
10 Phonack dropping Floyd Landis                                         142     1.3
11 Fabian Cancellara winning the World Championship TT                   114     1.0
12 Alejandro Valverde winning the Fleche Wallone                          96     0.9
   
                                                             Total:    11006