Cyclingnews 2005 Reader Poll Results
Biggest. Poll. Ever.
By John "data cruncher" Stevenson
Wow. With over 7,500 submissions, the 2005 Cyclingnews Reader Poll was our biggest ever, smashing previous records almost fivefold. Over the next few days we'll reveal the winners: the riders, products and races that you think were the best in their classes this year. We'll start, as always, with the riders in the discipline that helps keep us entertained over the winter, the mud and blood boys and girls of cyclocross, and reveal other winners over the next week or so, culminating with Rider of the Year on January 1.
HED Jet 50 wheels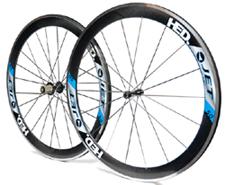 As ever, we think some of the winners are exactly what you'd expect - and a few are surprises.
A big thank you to wheel manufacturer HED who generously donated a pair of the new Jet 50 wheels as an incentive to enter. You can read a bit more about them here. We can announce that the winner of these wheels was Richard Elgin. Congratulations Richard!
Male Cyclo-crosser
Female Cyclo-crosser
Male Mountain Biker
Female Mountain Biker
Product
Team Bike
Photo
Most Improved Rider
Stage Race
One Day Race
Male Track Rider
Female Track Rider
Male Road Rider
Female Road Rider
Best Moment
Legend of Cycling
Rider of the Year