Track World Cup Round 2 - CDM
Dunc Gray Velodrome, Sydney, Australia, May 10 - 12, 2002
Team Pursuit
Australia crashes out of team pursuit
by Karen Forman
Fine formation to gold
Photo: © CN/Tom Balks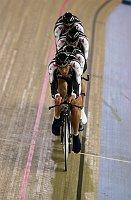 AUSTRALIA'S hopes for a gold medal in the mens team pursuit at tonight's 2002 UCI Track World Cup round in Sydney were dashed when two of its riders crashed the team out of contention with just a few laps to go.
The Australians - Peter Dawson, Stephen Wooldridge, Rod McGee and Mark Renshaw were leading the New Zealand team of Hayden Roulston, Greg Henderson, Matthew Randall and Lee Vertogen by 1.8 seconds, and had just 1250 metres to cover to win the event.
But then, with a sound that sickened the home country crowd, Wooldridge clipped Dawson's wheel and both fell heavily in the back straight. As first aid officers rushed to assist, Wooldridge got to his feet, but a devastated Dawson remained on the ground. Apparently the fall was the result of a chain-reaction after Wooldridge had swapped off after his turn on the front, leaving McGee to take the lead. Renshaw, who was in second position, bumped McGee's rear wheel and in turn Dawson, who was following very closely, and ran into the back of Renshaw and went down, taking Wooldridge with him.
The crash meant the gold went to New Zealand, which had qualified fastest this morning with a 4.13.962. However, at the 2km split time the Australians had posted 2.06.420, the best 2km split time for a pursuit team at the Sydney round of the World Cup.
It was a scene reminiscent in opening rounds of last year's World Championship, where Australians Luke Roberts, Renshaw and Wooldridge crashed (see picture), leaving only team mate Graeme Brown still riding. And of course, there was the Ukranian team crash in the 1994 Worlds in Perth, which paved the way for the Italians to ride around the devastation and cross the line to take gold.
The aftermath
Photo: © CN/Tom Balks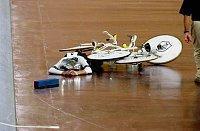 Tonight the Australians got off to a very fast start, led out by Renshaw, and they had a 1.6 second lead one and a half minutes into the event. Both teams were flying and the Australians appeared to be swapping turns off the front more smoothly than the Kiwis.
But then Dawson and Wooldrige were on the track, paving the way for New Zealand to continue across the line to take the gold medal. Australia took the silver and the Greek team comprising Ioannis Tsakouridis, Vassilios Gianniosis, Elpidoforos Potouridis and Kostas Rodopoulos the bronze medal (after qualifying fourth with 4.23.961)
The ride-off for bronze saw an upset by the emerging Greek track squad, who overran the Polish team with only one lap to go. The Polish team held a comfortable lead of nearly two seconds at half-distance, when Przemyslaw Tokarski dropped off the back, leaving the Polish team with only three riders.
The Greek squad of Ioannis Tsakouridis, Vasilos Gianniosis, Elpidoforos Potouridis and Kostas Rodopoulos reduced their deficit to only 0.2 seconds with two laps to go, and then with one lap to go it was only 0.036. They continued their roll and eventually finished 0.169 seconds ahead of the Polish trio.
After the presentation, Dawson said tonight's crash was "unfortunate", particularly as the team was on the 4.06 schedule they had set for the event. "I feel sorry for my team mates," he said. "But you can't help bad luck. Were were going for a sensational time. We were down by half a second in qualifying this morning, but we didn't think New Zealand had much more in them, so we were going to really give it everything tonight."
He said although he and Renshaw had both been tired after winning gold medals on Friday night, they had managed to freshen up ok for the final. "I don't really know what happened myself," he said. "I was following pretty close; I shouldn't have been that close. I mean we have been riding the team pursuit for 10 months . . ."
He said he had been feeling great. "I was feeling awesome," he said. "Everyone was. I mean, Rod hasn't ridden team pursuit for six years, yet there we were on 4.06 pace, which isn't bad for someone who hasn't ridden for six years."
"I still can't get over it," he said. :But my teammates were all very understanding. We'll get over it." He didn't think his injury was too serious . . . "probably just a corked thigh, I think," he said.
Photos
Photography by Tom Balks
Results
Men
Qualify round - Saturday, May 11th, morning session
Time splits             1km         2km         3km          Time
                               
1 New Zealand           1.08.339    2.10.280    3.11.405     4.13.962                              
(Hayden Roulston, Greg Henderson, Matthew Randall, Lee Vertongen)
 
2 Australia             1.06.029    2.08.581    3.11.531     4.14.474
(Peter Dawson, Stephen Wooldridge, Rod McGee, Mark Renshaw)
 
3 Poland                1.08.969    2.12.391    3.16.210     4.20.242
(Robert Karsnicki, Pawel Zugaj, Marcin Mientki, Przemyslaw Tokarski)
 
4 Greece                1.09.044    2.13.223    3.18.357     4.23.961
(Ioannis Tsakouridis, Vasilos Gianniosis, Elpidoforos Potouridis, 
Kostas Rodopoulos)
 
5 Netherlands           1.10.750    2.16.692    3.23.030     4.29.080
(Martin Benjamin, Robert Slippens, Danny Stam, Lennart Van Drimmmelen)
 
6 Colombia              1.13.278    2.22.406    3.30.780     4.39.195
(Leonardo Duque, Victor herrera, Jose Serpa)

Final round - Saturday, May 11th, evening session
Final 3 - 4
 
Greece                                                       4.20.213
(Ioannis Tsakouridis, Vasilos Gianniosis, Elpidoforos Potouridis, 
Kostas Rodopoulos)
 
Poland                                                       4.20.382
(Robert Karsnicki, Pawel Zugaj, Marcin Mientki, Przemyslaw Tokarski)

Bronze Medal to Greece

Final 1 - 2
 
New Zealand           
(Hayden Roulston, Greg Henderson, Matthew Randall, Lee Vertongen)
 
Australia                                                    DNF       
(Peter Dawson, Stephen Wooldridge, Rod McGee, Mark Renshaw)
 
Gold to New Zealand, Silver to Australia
(Australia DNF due to crash.)