Track World Cup Round 2 - CDM
Dunc Gray Velodrome, Sydney, Australia, May 10 - 12, 2002
World champ watches as Eadie wins keirin; Hubbard takes women's
By Karen Forman
Sean Eadie
Photo: © Tom Balks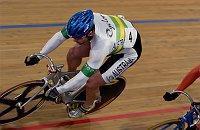 Reigning world champion Ryan Bayley watched with a huge grin on his face as his Australian Institute of Sport team mate Sean Eadie won the gold medal in Bayley's pet event on the first night of the 2002 UCI Track World Cup in Sydney tonight.
Bayley, who was not in the field, said he was "rapt" that the more senior Eadie - who likes to call himself "the old boy" of the team - took the win and in so doing, realised a dream to beat champion Frenchman Arnaud Tournant, (who won both the kilo and the team sprint in the first round in Mexico last month).
"He's great, eh?" Bayley said, obviously full of admiration for the now beard-less Eadie (more on that below).
Eadie, who lives in Adelaide, took first wheel behind the derny. Martin Benhamin of the Netherlands took second wheel and Great Britain rider's Alwyn McMath was following.
For a while it looked like a sprint was in progress, with everybody eyeing off everybody . . . but for Eadie at least, the tactics were spot on. When the bike dropped back, Eadie flew around the outside of the field and was leading at the bell.
Benhamin fought hard and for a split second at the final turn looked like he might seriously threaten Eadie. But Australian was very determined to win and actually surged away on the line to take the gold medal.
He was obviously delighted with his effort, waving his arms in the air and laughing as he completely his victory lap.
"I made my move pretty early," he said, winding down on the rollers afterward. "Marvin (as riders call Australian head track coach Martin Barras) told me that to beat Arnaud, I had to be in front and let everyone fight behind me. So I did all these sprinter kind of things and made him ask the question about how bad he wanted to win this race."
Eadie said he and his coach had worked to a plan for the race and had gotten the results they aspired to.
There seems to be no stopping Eadie, who won this year's Australian sprint and team sprint titles and took silver in the keirin, despite the fact he has a good 10 years on his younger up and coming team mates at the AIS.
"It's racing against the young guys like Ryan Bayley and Jobie Dajka who get me going, who make me beat the likes of Arnaud," he said. "I haven't ridden a lot of international keirins, but I'd like to. I reckon my form is better this year. I mean, I am 33 . . . it is good wine. Nah. The body does exactly what you tell it to. What goes flat is your head. Moving to Adelaide has been good for me, hanging out with 19 year olds certainly keeps you young."
As for his new clean shaven look for this World Cup - compared of course, to the full dark beard which gained him a lot of attention at the Australian championships last month - Eadie, ever the attention seeker, said he had done it "to see if anyone noticed."
Did they? "Yep. But keep your eyes peeled, you never know where and when it will pop up again," he said.
One-two for Australia in women's keirin
By Karen Forman
Hubbard and Ferris
Photo: © Tom Balks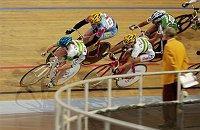 Three events - three medals - all of them gold for Australia.
Following hot on the heals of Western Australian Dawson's win the individual pursuit and Sean Eadie's win in the men's keirin, Rosealee Hubbard took the women's keirin in 12.407 on the first night of the 2002 UCI Track World Cup in Sydney tonight.
And to add extra froth to the cappuccino, another Australian Michelle Ferris took the silver.
It was all a part of a perfectly-planned approach to the event by the Australians and Hubbard, 22, from South Australia, couldn't have been happier.
"One-two for Australia - it's fantastic," she said after accepting her gold medal. "That was the plan, but we just didn't known who would be the one-two."
She described her race as "the same race" as that in which she won the 2002 Australian women's keirin championship on the same track three weeks ago.
Hubbard also picked up silver in the sprint at the nationals.
"I think the nationals gave me a big boost and a lot of confidence," she said tonight.
"I came into it believe that I could do it."
Much to her delight, the win came after she led the race out . . . something she says she had always wanted to do.
"I always wanted to lead out the keirin, I seem to be stronger off the front than coming from behind," she said.
"So I thought I would do it at the nationals and it worked," she said. "SO then I thought I would do it here. But I didn't know the other girls, so I wasn't sure whether it would work or not.
"In the end it was the exact same race I did at the nationals."
Hubbard, who trains under national coach Martin Barras at the AIS in Adelaide, said her training since the nationals had basically been a matter of maintained what she had in her legs.
"Basically, the training maintained any performances we had had for the nationals," she said. "We had peaked for the nationals and then just tried to stretch it out.
"Obviously Martin is doing a fabulous job . . . all the guys and girls are doing so well.
"It was great to have Michelle in second. She is a great rider. She was in second wheel, and our plan was that anyone who wanted to come over us would have to go three wide. Still, the way they came in the straight, she did a great job to win the silver."
While the Australian team has not yet been finalized for the Manchester Commonwealth Games, Hubbard is hoping to have a ride in the sprint - which she says was her specialist event before the women's keirin was introduced.
"Obviously I would love to do a keirin, but there isn't one in Manchester," she said. "So I'd love to have a ride in the sprint. It was my specialist event before. My weakness was the initial jump which is probably why I do well at the keirin."
"Fingers crossed that after that I will be able to ride at the World Championships."
Results
Men
Repecharge round - Friday, May 10th, morning session
1 Alwyn Mcmath (GBr)               11.492
2 Josiah Ng Onn Lam (Mas)
3 Dean Edwards (Rsa) 
4 Wilson Meneses (Col) 
5 Mario Alberto Contreras (Mex)
  Lampros Vasilopoulos (Gre)     DNF
Semi final round - Friday, May 10th, evening session
7  Anthony Peden (NZl)              11.098
8  Lampros Vasilopoulos (Gre)
9  Dean Edwards (Rsa)
10 Wilson Meneses (Col)
11 Mario Alberto Contreras (Mex)
12 Jame Carney (USA)

Final round - Friday, May 10th, evening session
1 Sean Eadie (Aus)                  10.821
2 Josiah Ng Onn Lam (Mas)
3 Alwyn Mcmath (GBr)
4 Arnaud Tournant (Fra)
5 Grzegorz Krejner (Pol)
6 Martin Benjamin (Ned)
Women
Repecharge round - Friday, May 10th, morning session
1 Lori-Ann Muenzer (Can)             12.307
2 Szilva Szabolcsi (Hun)
3 Sarah Hammer (USA)
4 Denise Hampson (GBr)
5 Julie Paulding (GBr)
6 Tammy Thomas (USA)
Semi-final round - Friday, May 10th, evening session
7 Denise Hampson (GBr)
8 Julie Paulding (GBr)
9 Sarah Hammer (USA)
  Tammy Thomas (USA)       DNS
Final round - Friday, May 10th, evening session
1 Rosealee Hubbard (Aus)             12.362
2 Michelle Ferris (Aus)
3 Lori-Ann Muenzer (Can)
4 Fiona Carswell (NZl)
5 Nancy Liarely Contreras (Mex)
6 Szilva Szabolcsi (Hun)