Track World Cup Round 2 - CDM
Dunc Gray Velodrome, Sydney, Australia, May 10 - 12, 2002
Anne Maree's still patching up the wounds after 20 years
By Karen Forman
"Please Anne Maree... not the rubber glove again!"
Photo: © CN/Tom Balks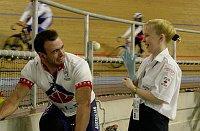 Anne Maree Scarth will never forget the first time she got to apply some first aid at a bike race. She was seven years old and had just passed her basic "band aid" training; the rider was a 12 year old Sean Eadie, who had crashed the previous night and needed to have a dressing replaced on his right shoulder.
"He was only a little fellow and he didn't seem to mind that I was so young," she says. "I put on a non-stick dressing for him and off he went out onto the track. I can remember it all so clearly."
Eadie obviously didn't have any further problems with that particular injury. Fast forward 21 years to May 2002, and a considerably larger rider is fighting fit and collecting the gold medal for the keirin at the 2002 UCI Track World Cup in Sydney.
Meanwhile, a now grown-up Scarth, decked out in the distinctive uniform of the Red Cross, is watching her long-ago patient from in-field, bandages at the ready - just in case...
Just as Sean Eadie has become part of the furniture of Australian track cycling in the past decade or more, so has Anne Maree Scarth become a regular sight in the first aid area at Sydney's Tempe and more recently, Dunc Gray velodrome.
She might only be 27 years of age, but she has been helping fallen riders for two decades. And while she mightn't ride a bike herself - "are you kidding?" she asks incredulously - "not after what I've seen" - she is as much a part of the Sydney cycling scene as Eadie is.
When Shane Kelly crashed during the Australian track championships three weeks ago, it was Scarfe who was there to attend to his dislocated shoulder. She didn't do a bad job of deterring the media from annoying her patient while she administered first aid, either.
And it's the same when male patients decide to use the fact she is female to gain some extra sympathy:
"After so many years you can tell them to pull their heads in!" she says with a laugh. A bit hard to imagine.
Scarfe might have grown up considerably since she stuck her first band-aid onto a cyclist, but she's still a petite little thing.
Apart from the fact she will marry a rider, Glenn Trudgett, in September, she says she can't imagine life without cycling. She has treated the full range - from juniors right through to the likes of former world champion Gary Neiwand. At one stage, she was spending up to four nights a week volunteering her first aid services for cycling events.
It all began when she was six when she went along to a St John's Ambulance cadet juniors meeting. She ended up staying for 18 years (at the organisation, not the meeting), achieving her advanced life support qualification and making cycling her speciality.
The worst injury she ever treated came in the form of Damien Battiro's fracturerd skull in a crash at Tempe when she was 16; Battiro was in a coma for three months, but managed to recover.
Anne Maree made the change to the Australian Red Cross last year, and now has her advanced rescusitation certificate.
Luckily, so far she hasn't had much work to do at this World Cup. So what is it? What has kept her coming back for 20 years? To most cyclists' suprise, Anne Maree says it's really not all that different to what draws in the likes of Eadie to the track:
"I love the atmosphere," she says. "It's the type of thing where you are just sitting there, watching - then all of a sudden you hear the 'ka-boom,' and it's such a rush."
Interestingly, she hasn't practiced first aid on her fiance too much.
There was just the once... he had a fall three weeks before I made my debut, and couldn't come with me because he was on crutches" she says.
Hmmm... we wonder how many band-aids she will have on hand for the leadup to the wedding.