Track World Cup Round 2 - CDM
Dunc Gray Velodrome, Sydney, Australia, May 10 - 12, 2002
Scratch Race
Men's 15km scratch race to Slippens; Ulmer nails Women's 10km
by Karen Forman
Robert Slippens
Photo: © CN/Tom Balks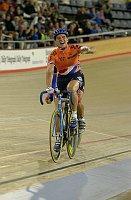 ROBERT Slippens scored the first gold medal for the Netherlands in an aggressive 15km men's scratch race at the 2002 UCI Track World Cup Sydney round tonight.
The 27 year old from a city 50km from Amsterdam rode a fast, tactical race to beat other key players Jame Carney (USA) and Leonardo Duque (Colombia) in what he described as "a really hard ride" to the line.
"It was a short event and all the guys kept attacking," he said. "It was a difficult race to make tactics, (because) you don't known when the attacks will go. In a points race you know when the sprints up then you try to keep the tempo up, but here, it is wait, wait, wait, watching the guys."
"The first 15 laps I did easily, and then the tempo was going up. When you see them move, you have to go. A few times the peleton goes and then comes back and then goes and then you have the final attack . . . and you have to be there."
Slippens came to Sydney with tomorrow's madison in mind. He was eighth in that event last time he rode in this country and on this track, at the Sydney 2000 Olympics. His team also placed seventh in the teams pursuit in 2000.
The first serious attack of the race came when Julien Tejada of France achieved a solo breakaway six laps in and quickly grabbed half a lap on the classy field which included riders like Australian Darren Young, Belgium Matthew Gilmore, German Eric Weispfenning and Carney.
He wasn't allowed to remain out there for long and the attacks continued until Slippens and New Zealand rider Greg Henderson took off with Carne and Weispfenning hot on their heels.
Jame Carney
Photo: © CN/Tom Balks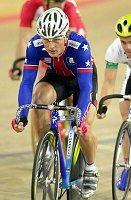 The middle part of the race became a team time trial, with the breakaway of five working to stay away from a chasing group of seven led by Young.
There was a fair bit of shuffling around with 17 to go, with Weispfenning avoiding turns of pace and the second group splitting. Gilmore led the second group with 14 to go and his efforts saw the two groups joined with 10 to go.
With four to go, Duque attacked hard off the front and Slippens and Carney gave chase. Gilmore, Henderson and Young tried to reel them in, but in the end, it was Slippens, Carney and Duque taking gold, silver and bronze in what was the most excited race of this World Cup round so far.
Second World Cup gold for Ulmer
by Karen Forman
New Zealander Sarah Ulmer took her second gold of the 2002 UCI Track World Cup in Sydney tonight after extinguishing all but two of her opponents in the women's 10km scratch race by lapping the field - and then attacking the remaining girls with five laps to go.
Sarah Hammer
Photo: © CN/Tom Balks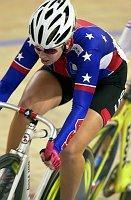 Ulmer, a pursuit specialist who was only contesting the event "because I am here", led a three-woman breakaway with Cathy Moncassin of France and Sarah Hammer of the USA and they lapped the field with 13 to go. Under newly introduced UCI rules, that meant the rest of the field had to pull out of the event, which was added to a World Cup round for the first time.
But that wasn't enough for the super-fit Kiwi, who again attacked off the front with five laps to go, gaining some 20 metres on the two other riders within one lap and continued on in an impromptu pursuiting performance. The other two riders were working together well but when they realised they were never going to catch the flying kiwi - who increased her lead with each lap - they decided to ease up on the last lap and save themselves for the sprint for silver.
As they slowed their pace in the closing lap, Ulmer still had plenty in reserve and kept going to cross the line nearly half a lap ahead to take the gold. Hammer was second in a sprint to the line, leaving Moncassin to take the bronze medal.
The win followed Ulmer's gold medal winning ride in the women's individual pursuit the previous night. "It's about time New Zealand charted up some against you guys," she said with a wide grin to the Australian media.
"It was good fun. My intention was to get away and stay away, so when the bunch got weaker, I went," she said. "I was going for a breakaway because I knew I wouldn't win a bunch sprint. That was really good, a good race. It was a fast, short hammer session, really.
"Women have traditionally been a bit short on events in the World Cup, so it was great to have a scratch race."
Although she is a pursuit specialist, she only rode the scratch even because it was on and she was here, she described her gold medal as a "nice wee bonus".
Photos
Photography by Tom Balks
Men
Women
Results
Men
15km Scratch race - Saturday, May 11th, evening session
Time                 18.04.06     UCI Points
 
1  Robert Slippens (Ned)          12
2  Jame Carney (USA)              10
3  Leonardo Duque (Col)            8
4  Greg Henderson (NZl)            7
5  Darren Young (Aus)              6
6  Marcin Mientki (Pol)            5
7  Jean-Pierre Van Zyl (Rsa)       4
8  Eric Weispfenning (Ger)         3
9  Tony Gibb (GBr)                 2
10 Vassilios Gianniosis (Gre)      1
11 Julien Tejada (Fra)         
   Zoltan Bebko (Hun)              DNF
   Mario Alberto Contreras         DNF
Women
10km Scratch race - Saturday, May 11th, evening session

                           Time        World Cup Points 
1  Sarah Ulmer (NZl)        13.05.63    12         
2  Sarah Hammer (USA)                   10
3  Cathy Moncassin (Fra)                8
4  Rochelle Gilmore (Aus)               7
5  Eleftheria-Maria Ellinikaki (Gre)    6
6  Luisa Maria Calle (Col)              5
7  Erin Mirabella (USA)                 4
8  Marielle Van Scheppingen (Ned)       3
9  Denise Hampson (GBr)                 2
10 Monika Tyburska (Pol)                1
(Ulmer, Hammer and Moncassin lapped the field, which was then made to withdraw.)