Track World Cup Round 2 - CDM
Dunc Gray Velodrome, Sydney, Australia, May 10 - 12, 2002
Individual Pursuit
Dawson clinches first gold for Australia; Ulmer claims women's for NZ
By Karen Forman
Peter Dawson
Photo: © Tom Balks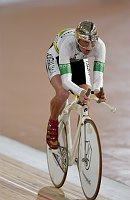 Australian Peter Dawson took the first medal of the 2002 UCI Track World Cup in Sydney tonight - clinching the men's individual pursuit gold in a slower time than the personal best he recorded during qualifying this morning.
It might have been slower than the PB of 4.26.933 which was six seconds better than his previous best, but still, the 21 year old from a small country town 120km west of Perth, crossed the line more than two seconds before New Zealander Hayden Roulston to give Australia the first medal - and a gold one at that - of the event.
Dawson, who with his slim build and fair skin bears a striking resemblance to Australian Stuart O'Grady, was rapt with his win but admitted he was a little disappointed he hadn't managed to better his time.
He went out very hard and got ahead of Roulston very early on, but his early effort saw him slowing toward the end, just as the New Zealander seemed to find some extra energy.
"I am feeling a bit tired now," he conceded, after it was over and he had his gold medal around his neck.
"I rode pretty hard this morning. I was hoping I could better that time, which was six seconds faster than my previous personal best, but I am happy, happy to get the gold medal."
Dawson was still obviously in good shape after winning the individual pursuit at the Australian national titles on the same track three weeks ago. He also picked up bronze in the points race and scratch race there.
He describes himself as an all-rounder, liking both track and road. He's aiming at the 2004 Olympics and after that intends to sign up with a professional road team.
"Last year I raced on the road in Italy with Shayne Bannan and Brian Stephens for two months and I will do that again this year," he said.
Dawson started riding bikes 12 years ago. His father Doug was - and remains - president of his local cycling club. He got the youngster a bike for Christmas and the rest, as they say, is history.
But it hasn't all been easy. The family has to travel 120km each way to train on the track in Perth, because their town doesn't have one.
He has been training the past two months under Ian McKenzie at the AIS in Adelaide, doing "individual pursuit-specific work".
"It has been a bit more intense than what I was doing before, but obviously it worked," he said.
Womens individual pursuit to New Zealand
by Karen Forman
Sarah Ulmer
Photo: © Tom Balks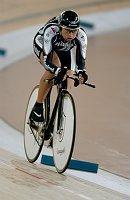 New Zealander Sarah Ulmer won the gold women's individual pursuit in 3.34.132 after catching Great Britain rider Sara Symington, recording her fastest time at sea level.
It was the first event of the night that Australia did not take the gold medal in . . . having won the first four events.
Ulmer, 27, from Cambridge on New Zealand's north island, is the reigning New Zealand points race, individual pursuit and criterium champion. The pursuit, she says, is her specialty.
Last year she won the individual pursuit at the Mexico World Cup, a stage of the Tour de l'Aude, three stages of the Tour of Willamette, a stage of the Tour de Snowy and the criterium of the New Zealand road titles.
"It was the same schedule I rode to this morning . . . it all pretty much went to plan. actually I think I must have gone a bit faster this morning...it was good fun, thought...good fun.
She says she is probably in the best form of her career..."I am going faster than I ever have . . . well, at least I hope I am," she says.
"From here she head to Belgium to race on the road - alone, not with a team. And then she will do her final track preparation for the Manchester Games in the south of France.
Ulmer isn't thinking much beyond Commonwealth Games, but hints that she will be ready to retire from racing at some stage soon.
"Well, I have been doing it for 10 years," she says. "I have to find myself a job sometime and make some money. I am definitely stopping. I'd like to go to Athens, but I certainly won't be continuing past the Olympics."
What will she do? "Well, I have been teaching myself French," she says."
Having lived overseas to train and race for most of the past four years, she says she envies the European riders who get the chance to train and race where they live, "with their own food, own friends, own family and own language".
As for Manchester, she says she is most afraid of . . ."myself". (laughs) No, actually, mostly the Poms . . . and the Aussies.
Amy Safe (who won the Australian individual pursuit title three weeks ago) is one to watch, she has only just started and yet she is so strong," Ulmer says.
"And the Australians and the English have got such good programs."
Results
Men
Qualify round - Friday, May 10th, morning session
1 Peter Dawson (Aus)           4.26.933
2 Hayden Roulston (NZl)        4.27.520
3 Stefan Steinweg (Ger)        4.33.772
4 Robert Karsnicki (Pol)       4.38.216
5 Jose Serpa (Col)             4.42.178
6 David Merianos (Gre)         4.43.554
7 Lennart van Drimmelen (Ned)  4.43.596
  Heath Blackgrove (NZl)       N/A
Final round - Friday, May 10th, evening session
3 - 4 Final
 
3 Stefan Steinweg (Ger)        4.37.675
4 Robert Karsnicki (Pol)       4.46.272
 
1 - 2 Final
1 Peter Dawson (Aus)           4.28.842
2 Hayden Roulston (NZl)        4.30.876
Women
Qualify round - Friday, May 10th, morning session
1 Sarah Ulmer (NZl)              3.34.598
2 Sara Symington (GBr)           3.43.330
3 Erin Mirabella (USA)           3.43.871
4 Cathy Moncassin (Fra)          3.44.249
5 Amy Safe (Aus)                 3.44.615
6 Luisa Maria calle (Col)        3.45.321
7 Marielle Van Scheppingen (Ned) 3.54.549
Final round - Friday, May 10th, evening session
3- 4 Final
 
3 Cathy Moncassin (Fra)          3.45.199
4 Erin Mirabella (USA)           3.46.622
 
1 - 2 Final
 
1 Sarah Ulmer (NZl)              3.3.34.132
2 Sara Symington (GBr)           caught