An interview with Alessandro Petacchi, June 21, 2007
Alessandro Petacchi: The phoenix
After a year of suffering the effects of a broken kneecap sustained during the 2006 Giro d'Italia, Italian Alessandro Petacchi rediscovered his Grand Tour stage winning speed on the third stage of this year's Tour of Italy. The relief of knowing that he still can win was so intense that it brought the Milram sprinter to tears. Cyclingnews' Hernan Alvarez found out just how much that one day meant to the humble Italian.
Wrapping up a victorious 2007 Giro
Photo ©: Sirotti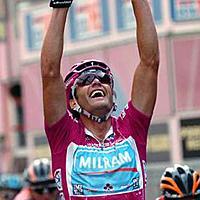 To watch Alessandro Petacchi winning bunch sprints in Grand Tours is something so familiar that it's almost predictable, especially in his favourite race, the Giro d'Italia. The man who holds the record for stage wins in a single Giro - nine in 2004 - had a disastrous 2006 Giro when he broke his kneecap in a crash on stage 3 and had to abandon. He had an operation on the knee days later, but what followed was a long and demanding recovery period.
Petacchi's return to racing in 2006 was unsuccessful, and after being shut out of stage wins in the Vuelta a España, he punched a team bus out of frustration on stage 15 and broke his hand. After a long winter of rebuilding his strength, he took multiple stage wins and the overall in the Volta ao Algarve and Niedersachsen Rundfahrt, but it was his three second place finishes to Tom Boonen in the Tour of Qatar that had the cycling pundits wondering if he'd lost his top speed.
Petacchi came into the Giro d'Italia this year to prove the pundits wrong, and it wasn't long before he exacted his revenge. After a frustrating loss to Robbie McEwen and Paolo Bettini in stage two, everything came together for the Milram sprinter on stage three to Cagliari, where he took his first ProTour win in more than a year.
The win in Cagliari was an emotional comeback for the Italian. "I enjoyed [that] victory the most," Petacchi told Cyclingnews. "Because I waited for that victory for a long time and because it meant for me that I had come back." Once he'd broken the ice with that first stage win, 'Ale-Jet' was able to cruise to a remarkable five stage wins (3, 7, 11, 18 and 21) in this year's Giro, something that even after 24 career Giro wins doesn't get stale. "To win is my job. I like to win a lot of stages," said Petacchi.
"It is as if I have come back to the top for the second time in my career."
-Petacchi on his phoenix-like return to top form.
In this year's Giro, he was able to add three additional awards to his collection: the sprinter's Maglia Ciclamino, the most combative rider prize and also the Azzurri d'Italia prize. "The maglia ciclamino is the prize for best consistency [in the Giro]. Above all, in Italy, it is very important for an Italian rider," explained the 33 year-old. "The most combative rider prize and the Azzurri d'Italia prize are other ones for me and my team. We rode a very good race."
"Many team-mates have been important for me," he stated, but did not single any one rider out. "Everyone played a good part," he noted, "It's a team with harmony."
His rough 2006 season made his 2007 Giro's success feel "like a liberation." Petacchi continued, "It is as if I have come back at the top for the second time in my career." However, out of all the victories he obtained in the Giro throughout all the past four years, he remembers the first one the best: stage one of the 2003 Giro in Lecce.
"It's the most beautiful day of my life," he said to the press that day. "I defeated Cipollini and it meant that I was a top sprinter," he recalled four years later.
An emotional comeback.
Photo ©: Roberto Bettini

The comparison between his brilliant sporting career and Mario Cipollini's is almost unavoidable. 'Super Mario' obtained an astonishing 42 wins in the Corsa Rosa - an outright record for career wins. Alessandro honestly doesn't think he will be able to get as many victories as Cipollini. "It's very difficult," he said openly. Cipollini tallied up more than 180 wins in different races and countries, and while the 33 year-old currently has 125 victories in his palmarès, it will take some work to surpass that number, but can Ale-Jet come close to that mark? "I hope so," said Petacchi.
The road to recovery
Petacchi soars to victory
Photo ©: Sirotti
After breaking his knee in May, 2006, Petacchi spent a long summer undergoing physical therapy to recover from his injury. His return to racing in August proved to be difficult, but after entering several events with only the hope of finishing, Petacchi went on to race the Regio Tour, where he had mild success with a fifth place on stage five.
The progress earned Petacchi a slot on his team's Vuelta squad, where he clearly suffered through the early stages, but was gaining strength. By stage six, he was having his first go at a stage win. Everything went south for the Italian on stage 15, however, and after objecting to the sprinting style of Danilo Napolitano he angrily slammed his hand onto a team bus and fractured a bone.
"I was very angry," explained Petacchi after the injury was diagnosed. "After being injured so many months, I had the concrete possibility to finally return to success. I wanted to give my season a sense at all cost... In any case, I admit it was a stupid gesture... But the anger was so intense that I couldn't control myself. I condemn my gesture very severely, but I am just a man, not a machine, and sometimes men make mistakes."
Petacchi ended his season early, and after spending the winter rebuilding his strength, he began his 2007 season in January when he headed to Qatar to battle the likes of Tom Boonen on the flat desert landscape. While he came away with three second places, it was still significant progress over the end of his 2006 season. "I felt good during the whole race and got my self-confidence back. That is the most important thing," Petacchi said after the race.
Ale-Jet then went home to Italy and took his first win of 2007 in the GP Costa degli Etruschi in early Feburary, and then went on to the overall win in the Volta ao Algarve where he took the last three stages (3, 4 and 5). "It was very good for my self-confidence even though it was very hard to win the overall classification," he described of that race. Then, building towards the Giro, Petacchi triumphed in the Niedersachsen Rundfahrt where he again won three stages (1, 2 and 4) and the the overall. "It was very important for my confidence and for my sponsor", said Petacchi of the April race in Germany.
Prior to the Giro d'Italia, Petacchi indicated that his recovery was complete. "I did specific work in the winter. I am now able to put a load on my left leg, with the same weight that I was able to use when I was healthy," he told La Gazzetta dello Sport, "That was as important as a win to me." He was deprived of his pre-Giro ambition of taking the maglia rosa on stage one after his Milram team, lacking a bit of firepower due to injuries, performed poorly in the opening team time trial. But the win on stage three was an important signpost for his season. "Had I not won at the Giro, nothing else done before would have counted," Petacchi said after the victory.
After a hectic three weeks of racing, Petacchi took some time to slow down before his next goal, the Tour de France. "I spent the week after the race with my wife, resting," explained Ale-Jet, who confirmed that he would be in London for the start of the 2007 Tour de France. With renewed confidence and a bit of relaxation behind him, he can now focus on adding to his four career Tour wins, all of which were obtained in 2003.
Looking further down the road, can the 33 year-old add anything new to his long list of victories? "I think I have to win some more Classics." Petacchi downplayed his chances to take the coveted rainbow jersey at the road World Championships in Stuttgart, Germany. "I don't know the course. I will talk about it with [Italian National team selector Franco] Ballerini," Petacchi coyly noted. "First I have to be selected for the World Championships."