12th GP Costa degli Etruschi - 1.1
Italy, February 10, 2007
2006 Results Results Past winners
Petacchi takes three in a row in Donoratico
By Gregor Brown
Alessandro Petacchi (Milram)
Photo ©: Sirotti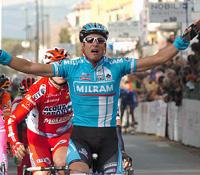 Alessandro Petacchi (Milram) has put himself firmly in the annals of Donoratico by taking the one-day race for a third year running. Lo Spezzino topped Gabriele Balducci (Acqua & Sapone) and Daniele Bennati (Lampre-Fondital) in the sprint to the line after 193 kilometres of racing. With the win he wipes out the bad memories of being conquered in the Tour of Qatar and marks his 120th career victory.
Asked about taking his first win for ten months, Petacchi told Rai 3, "I am content, really content. In the end it was not easy but I did well."
"I started in Qatar with good feelings but today it [the sprint] worked. It was a difficult sprint. The last kilometre with a small descent. I thought I stayed on the front for too long. Because De Jongh had anticipated the sprint first at 250 metres, forcing me to start early; first to take his wheel and then to continue to the line. It seemed like the finish line would never arrive. Being a favourite is not so easy."
He commented on his season ahead, "The season is long but the more I race the better I feel. I lack a lot of races in my legs. At my age I need more racing."
How it unfolded
The race was dominated by an escape of four, Rubens Bertogliati (Saunier Duval-Prodir), Yauhen Sobal (Cinelli-Endeka-OPD), Giuseppe Palumbo (Acqua & Sapone) and Cristiano Salerno (Tenax-Salmilano). The escapees were away for 152 kilometres, only be to be taken in at 15 kilometres to go.
In the sprint Steven De Jongh (Quick-Step) crashed after bumping with Balducci. The Dutchman lodged a complaint with the race jury, claiming irregular sprinting on the behalf of the Italian of Acqua & Sapone. World Champion Paolo Bettini (Quick-Step) finished in the group to conclude the start of his 2007 season.
Photography
For a thumbnail gallery of these images, click here
Images by Roberto Bettini/www.bettiniphoto.net
Images by Fotoreporter Sirotti
Results 193 km
1 Alessandro Petacchi (Ita) Milram                                   4.38.00
2 Gabriele Balducci (Ita) Acqua & Sapone                                    
3 Daniele Bennati (Ita) Lampre-Fondital                                     
4 Robert Hunter (RSA) Barloworld                                            
5 Giosuè Bonomi (Ita) Barloworld                                            
6 Crescenzo D'Amore (Ita) OTC Doors-Lauretana                               
7 Krzysztof Szczawinski (Pol) Miche                                        
8 Francesco Chicchi (Ita) Liquigas                                          
9 Jochen Summer (Aut) Elk Haus-Simplon                                      
10 Tiziano Dall'Antonia (Ita) Ceramica Panaria-Navigare                     
11 Claudio Cucinotta (Ita) Tenax-Salmilano                                  
12 Roberto Ferrari (Ita) Tenax-Salmilano                                    
13 Werner Riebenbauer (Aut) Volksbank                                       
14 Enrico Rossi (Ita) OTC Doors-Lauretana                                   
15 Paride Grillo (Ita) Ceramica Panaria-Navigare                            
16 Andrus Aug (Est) Ceramica Flaminia                                       
17 Antonio Bucciero (Ita) Ceramica Panaria-Navigare                         
18 René Weissinger (Ger) Volksbank                                          
19 Stefan Rucker (Aut) Elk Haus-Simplon                                     
20 Roy Sentjens (Bel) Predictor-Lotto                                       
21 Greg Van Avermaet (Bel) Predictor-Lotto                                  
22 Luciano Pagliarini (Bra) Saunier Duval-Prodir                            
23 Roberto Petito (Ita) Liquigas                                            
24 Adam Wadecki (Pol) Ceramica Flaminia                                     
25 Marco Velo (Ita) Milram                                              0.05
26 Enrico Degano (Ita) Barloworld                                           
27 Balint Szeghalmi (Hun) Team Cornix                                       
28 Wolfgang Murer (Aut) Elk Haus-Simplon                                    
29 Harald Totschnig (Aut) Elk Haus-Simplon                                  
30 Tobias Eggli (Swi) Hadimec                                               
31 Thomas Rohregger (Aut) Elk Haus-Simplon                                  
32 Ivan De Nobile (Ita) Universal Caffè-Ecopterol                           
33 Marco Carletti (Ita) Universal Caffè-Ecopterol                           
34 Emanuele Bindi (Ita) Universal Caffè-Ecopterol                           
35 Hubert Krys (Pol) Ceramica Flaminia                                      
36 Bert Roesems (Bel) Predictor-Lotto                                       
37 Donato Cannone (Ita) OTC Doors-Lauretana                                 
38 Christian Murro (Ita) Tenax-Salmilano                                    
39 Gergely Kiss (Hun) Team Cornix                                           
40 Manuele Mori (Ita) Saunier Duval-Prodir                                  
41 Sergio Lagana (Ita) Tenax-Salmilano                                      
42 Diego Caccia (Ita) Barloworld                                            
43 Markus Eibegger (Aut) Elk Haus-Simplon                                   
44 Giairo Ermeti (Ita) Tenax-Salmilano                                      
45 Lorenzo Cardellini (Pol) Miche                                                     
46 Daniele Di Nucci (Ita) Universal Caffè-Ecopterol                         
47 Rino Zampilli (Ita) Aurum Hotels                                         
48 Alessandro Ballan (Ita) Lampre-Fondital                                  
49 Matteo Priamo (Ita) Ceramica Panaria-Navigare                            
50 Gert Steegmans (Bel) Quick-Step                                          
51 Steven De Jongh (Ned) Quick-Step                                         
52 Simon Wyss (Swi) Hadimec                                                 
53 Adrian Honkisz  (Pol) Miche                                                       
54 Marco Jimenez (Swi) Hadimec                                              
55 Juan David Torres Durango (Ven) Cinelli-Endeka-OPD                       
56 Alfonso Falzarano (Ita) Cinelli-Endeka-OPD                               
57 Maurizio Bellin (Ita) Team LPR                                            
58 Gergely Ivanics (Hun) Team Cornix                                        
59 Jonathan Righetto (Ita) Universal Caffè-Ecopterol                        
60 Attila Arvai (Hun) Team Cornix                                           
61 Yauhen Sobal (Blr) Cinelli-Endeka-OPD                                    
62  Luca Solari (Swi) Team LPR                                              
63 Alessandro Vanotti (Ita) Liquigas                                        
64 Alessio Signego (Ita) OTC Doors-Lauretana                                
65 Alberto Ongarato (Ita) Milram                                            
66 Gilberto Simoni (Ita) Saunier Duval-Prodir                               
67 Marco Bertozzi (Ita) Hadimec                                             
68 Olivier Kaisen (Bel) Predictor-Lotto                                     
69 Alessandro Cortinovis (Ita) Milram                                       
70 Paolo Fornaciari (Ita) Lampre-Fondital                                   
71 Leonardo Giordani (Ita) Aurum Hotels                                     
72 Massimiliano Mori (Ita) Lampre-Fondital                                  
73 Andrei Kunitski (Blr) Acqua & Sapone                                     
74 Brett Lancaster (Aus) Milram                                             
75 Slawomir Kohut (Pol) Amore & Vita-McDonald's                             
76 James Perry (RSA) Barloworld                                             
77 Sébastien Rosseler (Bel) Quick-Step                                      
78 Claudio Corioni (Ita) Lampre-Fondital                                    
79 Jure Golcer (Slo) Tenax-Salmilano                                        
80 Hubert Schwab (Swi) Quick-Step                                           
81 Stefano Boggia (Ita) Ceramica Flaminia                                   
82 Pascal Hungerbühler (Swi) Volksbank                                      
83 Fabio Baldato (Ita) Lampre-Fondital                                      
84 Patrick Riedesser (Aut) Volksbank                                        
85 Geraint Thomas (GBr) Barloworld                                          
86 Walter Proch (Swi) Team LPR                                              
87 Alberto Di Lorenzo (Ita) OTC Doors-Lauretana                         0.20
88 Piergiorgio Camussa (Ita) OTC Doors-Lauretana                            
89 Francesco Reda (Ita) OTC Doors-Lauretana                                 
90 Zoltan Csomor (Hun) Team Cornix                                          
91 Samuele Marzoli (Ita) Team LPR                                            
92 Stefano Zanini (Ita) Predictor-Lotto                                     
93 Daniele Righi (Ita) Lampre-Fondital                                  0.35
94 Luca Mazzanti (Ita) Ceramica Panaria-Navigare                            
95 Paolo Bettini (Ita) Quick-Step                                           
96 Massimiliano Maisto (Ita) OTC Doors-Lauretana                            
97 Florian Stalder (Swi) Volksbank                                          
98 Giovanni Visconti (Ita) Quick-Step                                       
99 Massimo Giunti (Ita) Miche                                             
100 Alessandro Maserati (Ita) Team LPR                                      
101 Fabio Gilioli (Ita) Universal Caffè-Ecopterol                           
102 Emanuele Sella (Ita) Ceramica Panaria-Navigare                          
103 Gerhard Trampusch (Aut) Volksbank                                       
104 Ryan Cox (RSA) Barloworld                                               
105 Mattia Turrina (Ita) Serramenti PVC Diquigiovanni-Selle Italia          
106 Dario Andriotto (Ita) Acqua & Sapone                                    
107 Moisés Aldape Chavez (Mex) Ceramica Panaria-Navigare                    
108 Branislau Samoilau (Blr) Acqua & Sapone                                 
109 Alexander Efimkin (Rus) Barloworld                                      
110 Denis Shkarpeta (Uzb) Miche                                           
111 Fabio Sabatini (Ita) Milram                                             
112 Michael Randin (Swi) Hadimec                                            
113 Alessandro Donati (Ita) Acqua & Sapone                                  
114 Nicola D'Andrea (Pol) Miche                                                  
115 Roman Kreuziger (Cze) Liquigas                                          
116 Alessandro Bertolini (Ita) Serramenti PVC Diquigiovanni-Selle Italia    
117 Alexander Gufler (Ita) Hadimec                                          
118 Luis Felipe Laverde (Col) Ceramica Panaria-Navigare                     
119 Maarten Wynants (Bel) Quick-Step                                        
120 Hugo Sabido (Por) Barloworld                                            
121 Volodymyr Dyudya (Ukr) Milram                                           
122 Andriy Grivko (Ukr) Milram                                              
123 Mikhaylo Khalilov (Ukr) Ceramica Flaminia                               
124 Fortunato Baliani (Ita) Ceramica Panaria-Navigare                       
125 Daniele Colli (Ita) Ceramica Panaria-Navigare                           
126 Paolo Bossoni (Ita) Lampre-Fondital                                     
127 Franco Pellizotti (Ita) Liquigas                                        
128 Eugenio Loria (Ita) Universal Caffè-Ecopterol                           
129 Gabriele Bosisio (Ita) Tenax-Salmilano                                  
130 David Loosli (Swi) Lampre-Fondital                                      
131 Jan Valach (Svk) Elk Haus-Simplon                                       
132 Guido Trenti (USA) Liquigas                                             
133 Massimo Codol (Ita) Acqua & Sapone                                      
134 Jurgen Van den Broeck (Bel) Predictor-Lotto                             
135 Raivis Belohvosciks (Lat) Saunier Duval-Prodir                          
136 Daniele Nardello (Ita) Team LPR                                          
137 Luca Pierfelici (Ita) Aurum Hotels                                      
138 Valerio Agnoli (Ita) Aurum Hotels                                       
139 Juan Pablo Dotti (Arg) Cinelli-Endeka-OPD                               
140 Andras Berkesi (Hun) Team Cornix                                        
141 Eddy Serri (Pol) Miche                                                  
142 Matej Mugerli (Slo) Liquigas                                            
143 Carlo Scognamiglio (Ita) Milram                                         
144 Francesco Tizza (Ita) OTC Doors-Lauretana                               
145 Luca Sabatino (Ita) Tenax-Salmilano                                     
146 Diego Genovesi (Ita) OTC Doors-Lauretana                                
147 Tomas Konecny (Cze) Elk Haus-Simplon                                    
148 Marco Fabbri (Ita) Aurum Hotels                                         
149 Miculà De Matteis (Ita) Tenax-Salmilano                                 
150 Dario Cioni (Ita) Predictor-Lotto                                       
151 Luigi Sestili (Ita) Aurum Hotels                                        
152 Geert Steurs (Bel) Predictor-Lotto                                      
153 Michele Scotto D'Abusco (Ita) Ceramica Flaminia                         
154 Maxim Rudenko (Ukr) Cinelli-Endeka-OPD                                  
155 Rubens Bertogliati (Swi) Saunier Duval-Prodir                           
156 Kevin Van Impe (Bel) Quick-Step                                         
157 Leonardo Scarselli (Ita) Quick-Step                                     
158 Kjell Carlström (Fin) Liquigas                                          
159 Giuseppe Muraglia (Ita) Acqua & Sapone                              1.05
160 Domenico Loria (Ita) Universal Caffè-Ecopterol                          
161 Elia Rigotto (Ita) Milram                                               
162 Giampaolo Cheula (Ita) Barloworld                                       
163 Matteo Bono (Ita) Lampre-Fondital                                   1.20
164 Charles Wegelius (GBr) Liquigas                                         
165 Emanuele Rizza (Ita) Aurum Hotels                                       
166 Marius Stoica (Rom) Amore & Vita-McDonald's                             
167 Stefan Koychev Hristov (Bul) Cinelli-Endeka-OPD                         
168 Stefan Cohnen (Ned) Aurum Hotels                                        
169 Andrea Noè (Ita) Liquigas                                               
170 Luca Celli (Ita) Team LPR                                                
171 Piotr Mazur (Pol) Saunier Duval-Prodir                                  
172 Giuseppe Palumbo (Ita) Acqua & Sapone                                   
173 Addy Engels (Ned) Quick-Step                                            
174 Cristiano Salerno (Ita) Tenax-Salmilano                                 
175 Manuele Spadi (Ita) Ceramica Flaminia                                   
176 Adriano Angeloni (Ita) Ceramica Flaminia                                
177 Santo Anzà (Ita) Serramenti PVC Diquigiovanni-Selle Italia              

Starters: 179
Classified: 177

Past winners
2006 Alessandro Petacchi (Ita) Team Milram
2005 Alessandro Petacchi (Ita) Fassa Bortolo
2004 Yuriy Metlushenko (Ukr) Landbouwkrediet-Colnago
2003 Jaan Kirsipuu (Est) Ag2r-Prevoyance
2002 Yuriy Metluschenko (Ukr) Colnago-Landbouwkrediet
2001 Nicola Gavazzi (Ita)
2000 Mario Cipollini (Ita)
1999 Endrio Leoni (Ita)
1998 Mario Cipollini (Ita)
1997 Biago Conte (Ita)
1996 Fabrizio Guidi (Ita)