11th GP Costa degli Etruschi - 1.1
Italy, February 4, 2006
2005 Results Results Past winners
First test passed for Petacchi
Alessandro Petacchi (Milram)
Photo ©: Roberto Bettini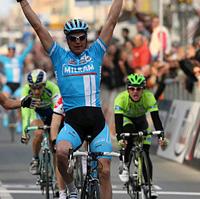 As expected, a bunch sprint concluded the 11th edition of the GP Costa degli Etruschi, the opening race of the Italian cycling calendar. And, as expected, the first appearance of Alessandro Petacchi in the colours of his new team Milram also saw the World class sprinter take the victory. The rider from La Spezia, who also won the race last year, beat a Lampre tandem composed by Daniele Bennati and Danilo Napolitano and thereby answered the questions regarding his form after the numerous victories conquered in Qatar by fellow fast man and World Champion Tom Boonen.
"Today was an important test," said Petacchi. "I felt very good after about 200 kilometres. Now, I will work hard to reach a better condition on the climbs."
The final sprint was a close one between the two Lampre riders and the man from team Milram. "Bennati and Napolitano tried to anticipate, so I had to come off their wheel already 250 metres before the finish line," Petacchi said. "For a moment, I was afraid I would lose, but then I progressively succeeded." In the GP Costa degli Etruschi's list of honour, the Italian is now on the same level as Mario Cipollini and Yuri Mitlushenko, as all three have won the race twice.
Photography
For a thumbnail gallery of these images, click here
Images by Roberto Bettini/www.bettiniphoto.net
Images by Fotoreporter Sirotti
Results 193 km

1 Alessandro Petacchi (Ita) Team Milram                             4.39.40 (41.381 km/h)
2 Daniele Bennati (Ita) Lampre-Fondital                                    
3 Danilo Napolitano (Ita) Lampre-Fondital                                  
4 Andrus Aug (Est) Acqua Sapone                                            
5 Krzysztof Szczawinski (Pol) Ceramica Flaminia                            
6 Domenico Loria (Ita) Team Universal Caffe'-C.B. Immobiliare              
7 Paolo Bossoni (Ita) Team Tenax Salmilano                                 
8 Daniele Colli (Ita) Liquigas                                             
9 Gabriele Bosisio (Ita) Team Tenax Salmilano                              
10 Giosuè Bonomi (Ita) Barloworld                                          
11 Daniele Di Nucci (Ita) Team Universal Caffe'-C.B. Immobiliare           
12 Marco Marcato (Ita) Team Androni Giocattoli-3C Casalinghi               
13 Roman Luhovyy (Ukr) OTC Doors-Lauretana                                 
14 Werner Riebenbauer (Aut) Team Vorarlberg                                
15 Eros Capecchi (Ita) Liquigas                                            
16 Luciano A. Pagliarini Mendonca (Bra) Saunier Duval-Prodir               
17 Emanulele Rizza (Ita) Naturino-Sapore Di Mare                           
18 Francesco Failli (Ita) Liquigas                                         
19 Marco Velo (Ita) Team Milram                                            
20 Graziano Gasparre (Ita) Amore & Vita-McDonald's                     0.04
21 Gluca Geremia (Ita) Ceramica Flaminia                               0.07
22 Da Dalto Mauro (Ita) Liquigas                                       0.08
23 Enrico Degano (Ita) Barloworld                                          
24 Crescenzo D'amore (Ita) Acqua Sapone                                    
25 Alberto Ongarato (Ita) Team Milram                                  0.13
26 Fabio Sacchi (Ita) Team Milram                                      0.14
27 Alessandro Ballan (Ita) Lampre-Fondital                                 
28 Daniele Callegarin (Ita) Team Androni Giocattoli-3C Casalinghi          
29 Ivan De Nobile (Ita) Team Universal Caffe'-C.B. Immobiliare         0.17
30 Claudio Corioni (Ita) Lampre-Fondital                                   
31 Rinaldo Nocentini (Ita) Acqua Sapone                                0.18
32 Manuele Mori (Ita) Saunier Duval-Prodir                             0.29
33 Hugo Sabido (Por) Barloworld                                            
34 Blazej Janiaczyk (Pol) Team Androni Giocattoli-3C Casalinghi            
35 Cristian Bonfanti (Ita) Team Androni Giocattoli-3C Casalinghi           
36 Roberto Petito (Ita) Team Tenax Salmilano                               
37 Paolo Fornaciari (Ita) Lampre-Fondital                              0.34
38 Anibal Borrajo (Arg) Team Universal Caffe'-C.B. Immobiliare         0.43
39 Javer Sainz Jimenez (Spa) Team Universal Caffe'-C.B. Immobiliare        
40 Alessio Signego (Ita) OTC Doors-Lauretana                               
41 Mauro Facci (Ita) Barloworld                                            
42 Aliaksandr Kuchynski (Blr) Ceramica Flaminia                            
43 Vladimir Duma (Ukr) Team Universal Caffe'-C.B. Immobiliare          0.48
44 Donato Cannone (Ita) Team Universal Caffe'-C.B. Immobiliare             
45 Armando Rupa (Ita) Miche                                                
46 Jakub Lorek (Pol) Amore & Vita-McDonald's                               
47 Alessandro Cortinovis (Ita) Team Milram                             1.01
48 Volodymyr Dyudya (Ukr) Team Milram                                      
49 Luigi Sestili (Ita) Naturino-Sapore Di Mare                         1.06
50 Tomasz Marczynski (Pol) Ceramica Flaminia                               
51 Leonardo Giordani (Ita) Naturino-Sapore Di Mare                         
52 Davide Bragazzi (Ita) Team Endeka                                       
53 Matteo Lasurdi (Ita) OTC Doors-Lauretana                                
54 Artur Krol (Pol) Amore & Vita-McDonald's                                
55 Marco Pinotti (Ita) Saunier Duval-Prodir                                
56 Ruslan Pidgornyy (Ukr) Team Tenax Salmilano                             
57 Giuseppe Palumbo (Ita) Acqua Sapone                                     
58 Denis Shkarpeta (Uzb) Miche                                             
59 Devis Miorin (Ita) Team Endeka                                          
60 Daniele Migliorati (Ita) Team Endeka                                    
61 Kimmo Kananen (Fin) Amore & Vita-McDonald's                             
62 Dainius Kairelis (Ltu) Amore & Vita-McDonald's                          
63 Juan Pablo Magallanes A. (Mex) Team Androni Giocattoli-3C Casalinghi    
64 Matteo Carrara (Ita) Lampre-Fondital                                    
65 Mauro Santambrogio (Ita) Lampre-Fondital                                
66 Cristiano Salerno (Ita) Team Tenax Salmilano                            
67 Massimo Mazzanti (Ita) Team Androni Giocattoli-3C Casalinghi            
68 Maurizio Bellin (Ita) Team Androni Giocattoli-3C Casalinghi             
69 Simone Bruson (Ita) Team Universal Caffe'-C.B. Immobiliare              
70 Przemyslaw Niemiec (Pol) Miche                                          
71 Davide Torosantucci (Ita) Team Universal Caffe'-C.B. Immobiliare        
72 Jure Zrimsek (Slo) Acqua Sapone                                         
73 Diego Genovesi (Ita) OTC Doors-Lauretana                                
74 Harald Morscher (Aut) Team Vorarlberg                                   
75 Sylvester Szmyd (Pol) Lampre-Fondital                                   
76 Riccardo Ricco (Ita) Saunier Duval-Prodir                               
77 Francisco Ventoso (Spa) Saunier Duval-Prodir                            
78 Rubens Bertogliati (Swi) Saunier Duval-Prodir                           
79 Gcarlo Ginestri (Ita) Team Tenax Salmilano                              
80 Tiaan Kannemeyer (RSA) Barloworld                                       
81 Alessio Ricciardi (Ita) OTC Doors-Lauretana                             
82 Christian Murro (Ita) Team Tenax Salmilano                              
83 Antonio Quadranti (Ita) Naturino-Sapore Di Mare                         
84 Eddy Ratti (Ita) Naturino-Sapore Di Mare                                
85 Nicolas Fritsch (Fra) Saunier Duval-Prodir                              
86 Mirco Lorenzetto (Ita) Team Milram                                      
87 Gian Paolo Cheula (Ita) Barloworld                                      
88 Tom Southam (GBr) Barloworld                                            
89 Maxim Rudenko (Ukr) Ceramica Flaminia                                   
90 Alex Efimkin (Rus) Barloworld                                           
91 Andreas Matzbacher (Aut) Team Vorarlberg                            1.43
92 Alexander Bazhenov (Rus) Naturino-Sapore Di Mare                    1.47
93 Raivis Belohvosciks (Lat) Team Universal Caffe'-C.B. Immobiliare    2.04
94 David Loosli (Swi) Lampre-Fondital                                      
95 Christian Lener (Aut) Team Vorarlberg                               2.07
96 Patrick Riedesser (Aut) Team Vorarlberg                                 
97 Raffaele Ferrara (Ita) Team Androni Giocattoli-3C Casalinghi            
98 Paolo Bailetti (Ita) Team Androni Giocattoli-3C Casalinghi              
99 Luca Pierfelici (Ita) Naturino-Sapore Di Mare                           
100 Arkadiusz Wojtas (Pol) Miche                                           
101 Daniele Righi (Ita) Lampre-Fondital                                    
102 Oleksandr Kvachuk (Ukr) Team Androni Giocattoli-3C Casalinghi      2.23
103 Leonardo Caneschi (Ita) Miche                                      3.21
104 Alessandro Donati (Ita) Acqua Sapone                               3.23
105 Fabio Baldato (Ita) Team Tenax Salmilano                           3.44
106 Giovanni Visconti (Ita) Team Milram                                4.16
107 Daniele Pietropolli (Ita) Team Tenax Salmilano                         
108 Elia Rigotto (Ita) Team Milram                                     5.09
109 Fabio Borghesi (Ita) OTC Doors-Lauretana                           5.11
110 Emanuele Bindi (Ita) OTC Doors-Lauretana                               
111 Andrea Noe' (Ita) Liquigas                                         6.29
112 Charles Wegelius (GBr) Liquigas                                        
113 Sergio Cuesta (Spa) Team Endeka                                        

Starters: 141
Classified: 113

Courtesy of Stephane David

Past winners
2005 Alessandro Petacchi (Ita) Fassa Bortolo
2004 Yuriy Metlushenko (Ukr) Landbouwkrediet-Colnago
2003 Jaan Kirsipuu (Est) Ag2r-Prevoyance
2002 Yuriy Metluschenko (Ukr) Colnago-Landbouwkrediet
2001 Nicola Gavazzi (Ita)
2000 Mario Cipollini (Ita)
1999 Endrio Leoni (Ita)
1998 Mario Cipollini (Ita)
1997 Biago Conte (Ita)
1996 Fabrizio Guidi (Ita)