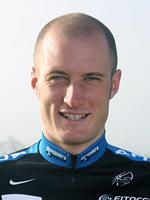 Photo: © Discovery Channel
Eyes on the road: The Steve Cummings Giro diary 2007
Well known for his role in Great Britain's fearsome team pursuit squad, 26 year-old Steve Cummings now has his sights firmly set on the road with Discovery Channel. And it doesn't get much bigger than the Giro d'Italia where Steve is making his Grand Tour debut.
Follow his progress on Cyclingnews as he helps Discovery's bid for Giro glory whilst also keeping one eye on the finish in Milan.
Wednesday, May 23, 2007
Bidonitis on stage nine
It's hot out here, and I have caught 'Bidonitis'. I don't know how many bottles I carried yesterday... (Tuesday, I think ?) but it was a lot! Up and down, up and down - the peloton as well as the hills and mountains. But despite that, I felt OK despite it being a tough stage and very hot. Popo did a good ride and isn't too far behind overall.
The funny thing is I couldn't have felt worse on Monday's stage, I do not know why. It didn't seem one thing or the other. The stage annoyed me - I know it sounds weird but it the only way I can describe it!
I promised to tell you about an incident when we landed in Italy. Well, one of our support staff, (which is all I better say), got offered a laptop computer for €500. It seemed a good deal, especially when he knocked the guys down to €100. He saw the "goods" and thought great I'll have some of that!
However he must have took his eye off the ball for a sec, because he ended up with a computer bag full of salt!
Soccer now! Again: Liverpool is playing tomorrow in the Champions League Cup FINAL and I hope they won't take their eyes off the ball. As I told you before, it is a very, very big deal in Europe and especially for a massive Liverpool supporter like me. (I had better keep it a secret in Italy, but knowing my PR crazy manager Rich, he will tell all the Italian media as we are playing Milan, that I am a big Liverpool fan, and then we will be probably attacked in Thursday's stage... thanks pal.)
It's a very big day in the Giro tomorrow so I won't be able to celebrate after we win. I will need all the rest I can get!
Thanks again for your interest.
Best
Steve