Recently on Cyclingnews.com
An interview with Riccardo Riccò, June 2, 2007
Riccardo Riccò: too much like Pantani?
Riccardo Riccò (Saunier Duval-Prodir)
Photo ©: Sirotti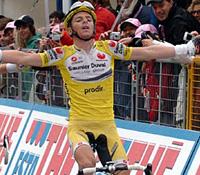 Danilo Di Luca may very well be on his way to winning his first Giro d'Italia at age 31, but Italy has turned its attention to a new hero in the person of Riccardo Riccò. The 'cobra', as he is called, seems to vindicate the heritage of Marco Pantani. The tifosi and the press have made frequent comparisons between the two, and Cyclingnews' Jean-François Quénet finds that the comparisons are sometimes positive, and sometimes not.

Italy has found itself a new young climber to admire and adore. One who wears a yellow team jersey and flies up the mountains with effortless grace. He voice is loud and clear, and just like the tifosi's all time hero, Marco Pantani, Riccardo Riccò is a friendly bloke - someone you'd like to be your mate. The Pirate died in February 2004, but Italy hasn't completed their mourning, and so they've reached out to embrace a new idol. The young Saunier Duval rider isn't afraid to be likened to the fallen hero, on the contrary, he encourages the comparisons.

When Riccardo Riccò looks at the recent record book of the Giro d'Italia which features a string of Italian winners dating back to the 1996 victory of Russian Pavel Tonkov, only one name thrills him: Marco Pantani. "He's been my idol and he still is," the 23 year-old from Modena says. He echoes the impressive number of tifosi who, along the roads of the Giro d'Italia, post their usual favourite sign: "Pantani, per sempre nei nostril cuori" (Pantani, in our hearts for ever).

Riccò comes from the same region of Emilia-Romagna as Pantani, although he's from Formigine near Modena, inland, while the winner of the infamous 1998 Tour de France was from Cesenatico on the coast. When he's at home, Riccò also uses the services of controversial masseur Roberto Pregnolato who was Pantani's soigneur. Pregnolato was found guilty in possession of drugs and trying to get rid of them during the 'blitz' at the Giro in 2001. "He's not my preparatore (trainer), he only gives me massage sometimes; he's from Modena and he's a good masseur," 'Ricky' acknowledges.
"I enjoy racing in Italy more than anywhere else."
-Riccò shares the love of the Italian cycling scene
Riccò sports a similar look which blends a certain awkwardness with rebellion - 'the Pirate' had his big ears and an earring and bandana while 'the Cobra' has some piercings and a few tattoos. One of them is a cobra – his nickname – and another one shows a finger, the cartoon hero looks like saying 'f… you'. Riccò might be even more provocative in his speeches than Pantani was at the same age.
Pantani sad death from a recreational drug overdose at age 34 followed a long, slow dénouement of a majestic career that began with the humiliation of failing a hematocrit test during the 1999 Giro. Just as Pantani faced constant scrutiny after that test, Riccò has been under suspicion since he was stopped from racing by the former president of the Italian cycling federation (FCI) Giancarlo Ceruti. "This person has made me cry, but it belongs to the past and I only want to look ahead," he emphasises. The FCI didn't allow him to start his pro career with Panaria in 2005. He wasn't listened to when he claimed that his blood values were natural. He was an amateur with a team club called Grassi Marco Pantani…
According to the legend, Riccò was driving on a highway, on his way to go and sign a contract with Naturino team manager Vincenzo Santoni (now director of the Aurum Hotels team), when he received a phone call from Saunier Duval's director Mauro Gianetti who suggested to make a U turn and go with him to the UCI laboratory in Lausanne prior to signing with Saunier Duval.
In Switzerland, the scientists stated that his hematocrit was naturally over 50%. "I'm just like Damiano Cunego, I have an exemption by the UCI for the blood tests," he uses as an answer to the suspicion. In fact, he's watched out closely by the UCI doctors because no one in cycling wants the full history and the sad end of Pantani to be repeated. In the evening after stage 17 up to the Zoncolan, he had to undergo a urine and blood test conducted by the Italian Olympic Committee (CONI), along with Danilo Di Luca, Gilberto Simoni and Eddy Mazzoleni, but not Cunego.
Riccardo Riccò wins one
Photo ©: Roberto Bettini

Riccò outspoken attitude shocked a few people when he declared after winning two stages of Tirreno-Adriatico this year, "Most of the riders are like vegetables, they only have a passive attitude in the bunch." Italian media hyped the story to such an extent that Paolo Bettini, who didn't appreciate these unfriendly comments from a colleague, has been suspected to have chased Riccò down on purpose at the end of Milan-San Remo. Riccò had attacked on the Poggio with Philippe Gilbert from Française des Jeux, but the World Champion claimed that he acted as a team-mate of Tom Boonen in anticipation of the bunch sprint, not for any kind of vendetta.
The story has pursued Riccò to the analysis of stage 8 in the Giro, when he was away in a group of 27 riders, including Bettini, and he decided to sit up out of the move with four other riders. "I've made a mistake, but I suppose it's due to my youth and lack of experience," Riccò repeated in different interviews. He thought that he should have stayed in the breakaway, no matter what Bettini or some other riders told him to do, but Danilo Di Luca was adamant that the group would not have stayed away as long as Riccò stayed with them. Breakaway riders from Lampre and CSC only worked when Riccò was no longer with them.
If Riccò has made a mistake, it's because his team-mates from Saunier Duval had to chase for a long time together with T-Mobile (Marco Pinotti was in pink) as they had no one in the front anymore. In all likelihood, Riccò was wrong to imagine that he could have gained any time on the overall classification by staying in the break with Bettini.
Riccò takes a second in Tirreno
Photo ©: Sirotti

At the very least, this incident in the Giro shows how much respect Riccò has attracted in his first season as a successful pro cyclist. Last year, as a neo pro, he rode the Tour de France but in the role of a mainly unremarkable 'vegetable'. This year is different, and he's the same ferocious style that earned Pantani so many fans.
"I enjoy racing in Italy more than anywhere else," he explained. "Abroad, the race that fascinates me the most is Liège-Bastogne-Liège. I'd like to win it one day." While he came in a distant 17th in the race this year, he did manage a strong fifth place in the Flèche Wallonne, showing that his talk is backed up by his legs.
Prior to Milan-San Remo, he promised he'd attack on the Poggio and he did. He showed that he really has the explosive power and pedalling style that made Pantani famous and well beloved by the fans. He said he'd ride the Giro in support to Simoni and he did. He sacrificed himself for his team captain over the climbs of Agnello and Izoard towards Briançon. He only went for a stage win 99 kilometres away from the Tre Cime di Lavaredo because Simoni told him to go together with Leonardo Piepoli. "I wouldn't have done it if it wasn't because of Gibo's instructions," Riccò recalls.
Pantani had been in the same situation in 1993. He was a young climber in the Carrera team where Claudio Chiappucci was the star, but he ended up winning two prestigious mountain stages in a row, in Merano and Aprica, and the fans quickly fell in love with him. However, the fame created jealousy inside the team and Pantani left the team to start his own career apart from Chiappucci and Carrera. Chiappucci and Pantani used to be roommates, and at the 2007 Giro d'Italia, Simoni and Riccò are also roommates.
Pantani's favourite colour was yellow. Remember the bandanas? The Pirate also managed to get Bianchi paint his bikes half yellow and half 'celeste', Bianchi's trademark color. Riccò rode his first bike, a grey Virginia because it was supplied by his club and built by a local producer, Marco Calmieri, in Modena, but the next day, since he did well, his father bought him another Virginia bike - a yellow one.
"I rode my bike since I was able to use it without the third wheel, I was 3 and half years old," 'Ricky' said. "As a kid on a bicycle, I was a little bit crazy. I never saw the danger. I always wanted to make a spectacle."
Riccò and Vania at the 2006 Tour
Photo ©: Roberto Bettini

In his time as a show man, Pantani was engaged to a Danish dancer. Riccò's girlfriend is a cyclist: Vania Rossi, Italian champion for cyclo-cross. "It's was she who picked me," he described. "We met when I was racing cyclo-cross as well [Riccò has 19 wins in cyclo-cross as a Junior - ed.]. I was shy, not like today. Now it would be myself asking her. Sometimes we ride our bike together when I have an easy day. I love her, she's a wonderful girl, but I don't like that she is a cyclist."
Riccò has informed her that he wants at least three children, and the first one within two years, so she might have to quit competitive cycling. While Pantani's relationships never quite worked out and he died alone, the whole of Italy hopes that Vania will be the one to support their new found star, and prevent any danger of a repeat of that tragic loss.